Coffee & Tea
Showing all 3 results
15% OFF ENTIRE PURCHASE Taste the Tradition of Taiwan - Meet Fresh Delivers the Finest Desserts to Your Palate!
① Buy One Get One 50% OFF, ② Free Drink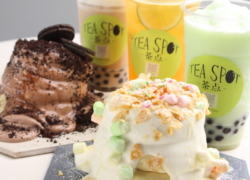 Experience Refreshing Bliss: Tea Spot's Exquisite Tea Creations Await!
15% OFF ENTIRE PURCHASE Step into the World of Tiger Sugar - Indulge in Bubble Tea Bliss!