On Sunday, many people will likely make their way to their favorite burger joint for National Cheeseburger Day.  Whether they opt to dine at McDonald's or Morton's for one of America's institutions, we are not here to judge.  However, we feel it is our fiduciary duty to throw out some of our top recommendations for those seeking one to better their current champion.  
The Butcher & Bird
Hawaii's premiere full-service butcher and deli promises locally-sourced specialty meats, along with house-crafted sausage and charcuterie.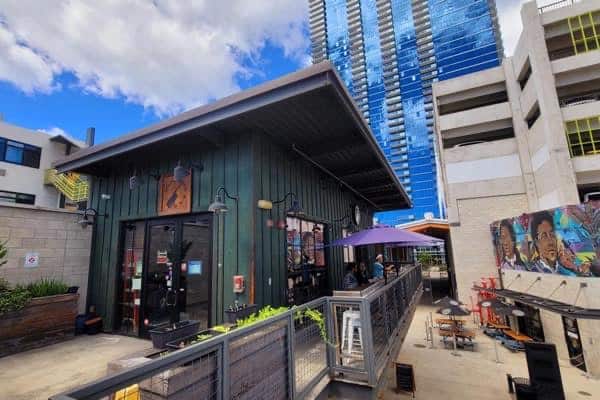 At the full deli serving a variety of sandwiches and salads, Head Butcher Chuck Wakeman serves up award-winning burgers.  We say go for the Double Cheeseburger, with two all-beef patties, lettuce, tomato, cheddar, and mayo for a truly satiating burger.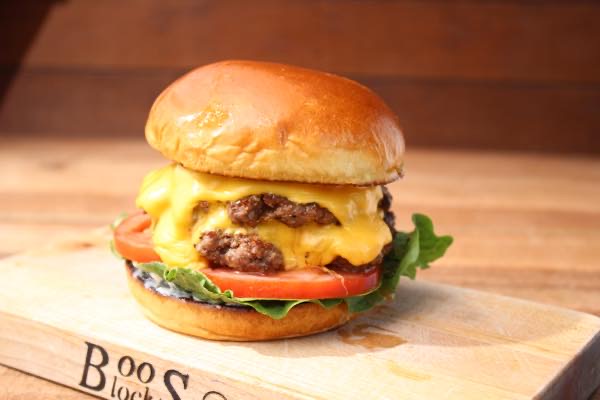 The Butcher & Bird >> Get a special offer!
Location : 324 Coral St. SALT At Our Kaka'ako 2nd Floor
Hours: 11am – 6pm *Closed Mon
Phone: (808) 762 – 8095
Wolfgang's Steakhouse
Sometimes going to a steakhouse can be pretty steep for someone seeking a casual lunch.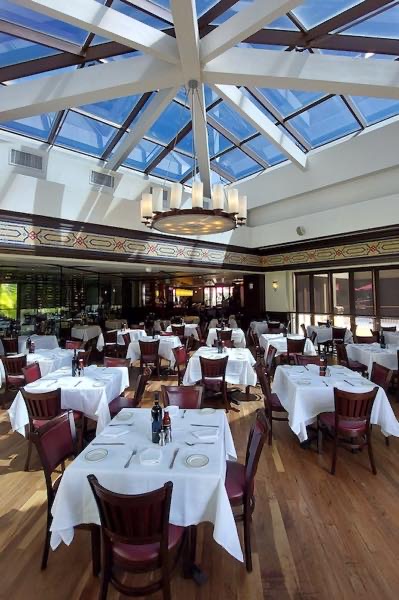 Fortunately, at Wolfgang's Steakhouse, the lunch menu features its Classic Burger, a beefy patty that incorporates 100% USDA Prime beef for just $18.95.  Add cheese for $2.00, and other options as well, including avocado or bacon for an additional $2.00 for each additional topping.
Wolfgang's Steakhouse >> Get a special offer!
Location: 2301 Kalākaua Ave. (Royal Hawaiian Center 3F)
Hours: Breakfast: 7am – 11am daily, Lunch: 11am – 3pm daily, Happy Hour: 3pm – 6:30pm (Mon – Fri), Dinner: 3pm – 10:30pm (Sun – Thur), 3pm – 11pm (Fri & Sat)
Phone : (808) 922 – 3600
Kua 'Aina
The humble sandwich shop chain that started in the historic town of Haleiwa now boasts locations in Japan, Taiwan, and the United Kingdoms.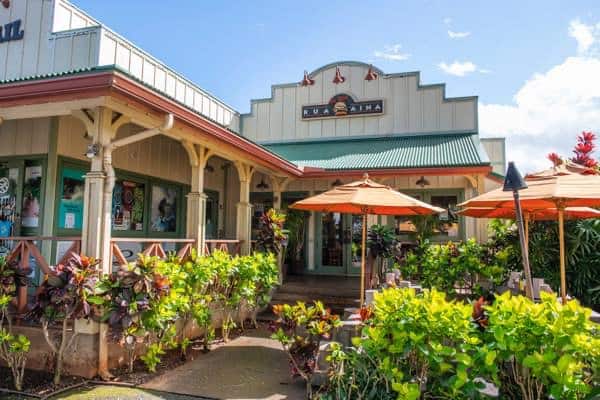 What could be the magic behind its international appeal?  It could be the fact the burgers are made with steakhouse quality ingredients, and the fries and sauces are made in-house.  It may have to do with the fact that they are cooked to order, flame grilled over lava rock.  Or perhaps it is because the burgers are customizable with a variety of toppings including the avocado, pineapple, bacon, Ortega chilis, grilled onions, and various cheeses.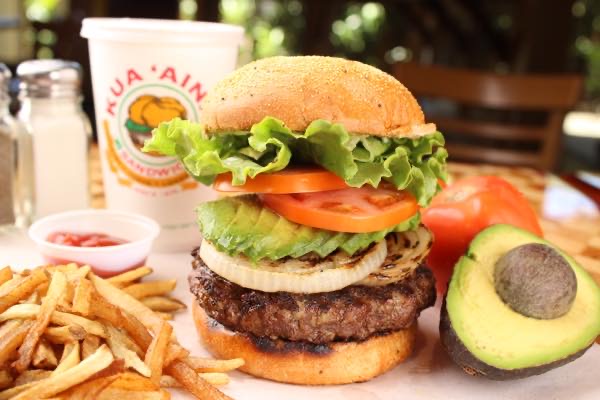 When making a visit to Kua 'Aina anywhere in the world, consider the Pineapple Burger which establishes a harmonious flavor with the savory beef patty and contrastingly sweet tropical fruit.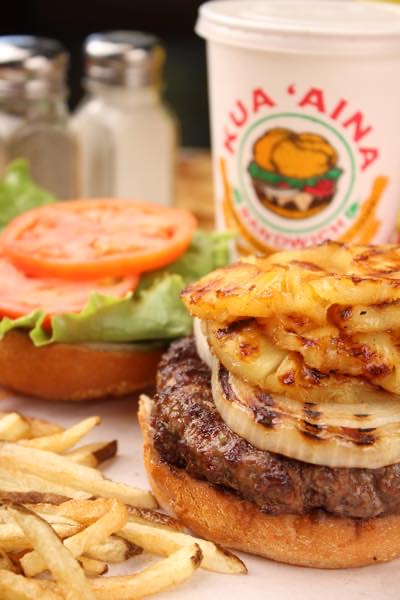 Kua 'Aina >> Get a special offer!
Location: 66-160 Kamehameha Hwy, Haleiwa
Hours: 11am – 8pm daily
Phone: (808) 637-6067
The Daley
Smash burgers may have originated back in the mid-20th century, but it only recently emerged into mainstream culinary culture.  The Daley, located in Honolulu's historic Chinatown, serves up some of Hawaii's finest smash burgers incorporating Hawaii grass fed beef dressed with a house sauce, cheese, and grilled onions on a toasted potato bun.  What could possibly be better than that?  Well, we think the Double Down, which adds an additional patty and slice of cheese.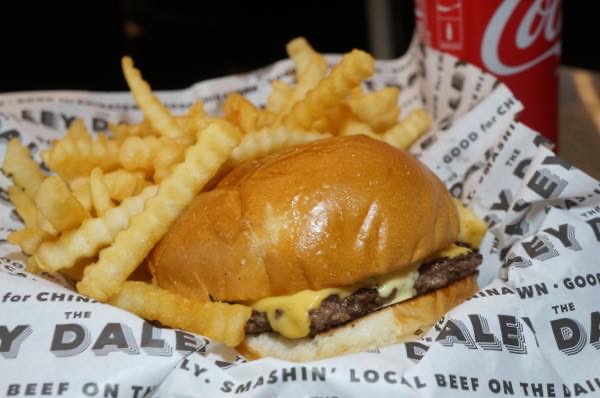 The Daley
1110 Nuuanu Avenue, Honolulu, HI
Business hours:  Mon-Sat, 11:00am – 8:00pm; Sun, 11:00am – 6:00pm
The Cheesecake Factory
The Cheesecake Factory has such a wide variety of international dishes on its menu, including a number of bougie burgers which they refer to as Glamburgers.  There are about a dozen to choose from, but among the simplest is an Old Fashioned Burger served charbroiled on a brioche bun with lettuce, tomato, onion, pickles, and mayo.  From there, fun twists include a French Dip Cheeseburger with au jus, a Macaroni and Cheese Burger with creamy fried macaroni cheese and cheese balls, and a Smokehouse B.B.Q. Burger with smoked bacon, melted cheddar, and B.B.Q. Ranch sauce.  However, our favorite is the Mushroom Burger, an award-winner, featuring a charbroiled patty smothered with sauteed mushrooms, onions, melted Swiss cheese, Fontina cheese, and mayo that will deliver you to burger heaven.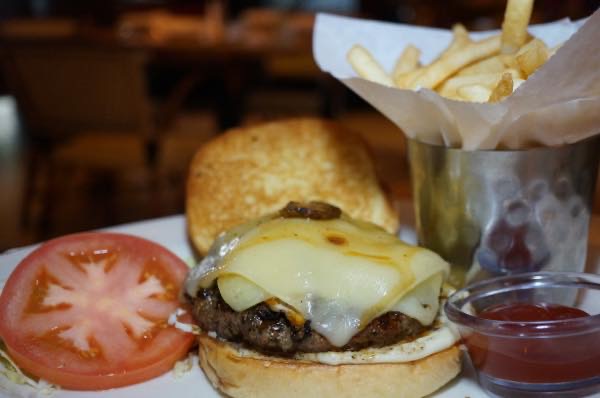 The Cheesecake Factory
Royal Hawaiian Center, 2301 Kalakaua Avenue, Honolulu, HI
Phone:  (808) 924-5001
Business hours:  Mon-Fri, 11:00am – 11:00pm; Sat & Sun, 10:00am – 11:00pm
Sistah Truck
Another smash burger is available inside The Hall by BeerLab in Pearlridge. Sistah Truck operates the kitchen in the beer hall, serving up its Korean and local-inspired plates such as Snowflake Mandoo, Korean Fried Chicken, Gochujang Chili con Carne Fries, Fried Saimin, and Crispy Lechon. However, the Wagyu Cheeseburger is a strong contender for one of the best burgers in Hawaii with Muenster and cheddar cheeses, sautéed mushrooms, caramelized onions, and aioli on a brioche bun.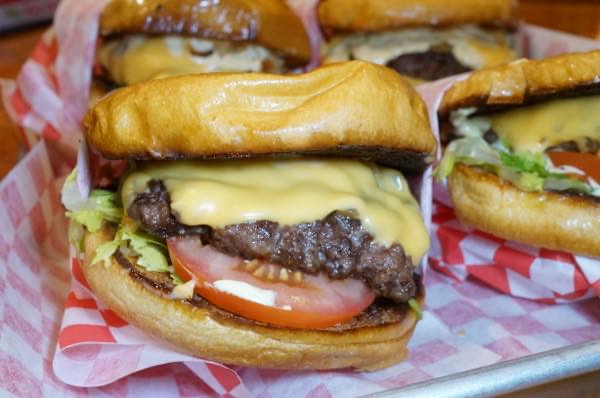 Pearlridge Center, 98-1005 Moanalua Rd, #884, Aiea, HI 
Phone:  (808) 762-0027
Business hours:  Mon – Thu,  8am – 10pm; Fri – Sat, 8am –  12am; Sun, 8am – 8pm
Ruscello
Just a short time ago, Ruscello on the third floor of Nordstrom in Ala Moana Center introduced a new supplemental menu of chef's features as prepared by Chef Erick Goodhew.  Besides the classic menu items of Lobster Bisque and Crisp Calamari with jalapeño basil aioli on the starter menu, the Cilantro Lime and Green Goddess salads, Shrimp Scampi pizza, Spicy Chicken Parm sandwich, Spicy Wild Shrimp Pomodoro pasta, and Wild Salmon & Cauliflower entree, a new favorite has emerged…the Blended Mushroom Burger. Sure, it's another mushroom burger on the list, but this one made the decision truly difficult…imagine a pillowy brioche bun sandwiching a thick certified Angus beef patty with sautéed shimeji and cremini and veils of Gruyere cheese.  The chargrill adds dimension to the extracted beefy qualities, which is given a dose of beautiful earthy notes from the mushroom blend.  Tempered sweetness is imparted by caramelized onions, with fresh peppery punches of baby arugula and a magical slather of black garlic aioli punctuating each bite with a creamy, captivatingly luscious pungence.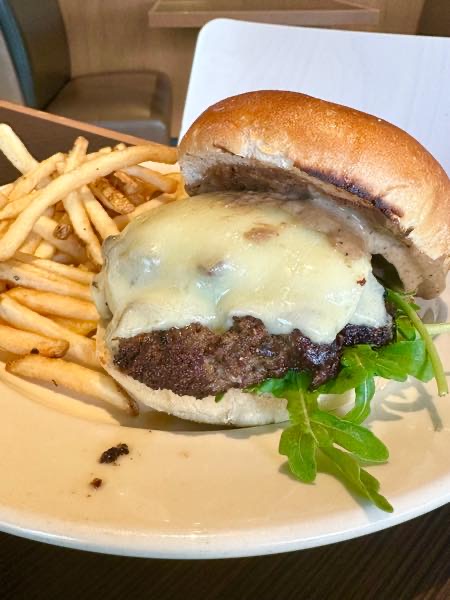 Ruscello
Ala Moana Center, 1450 Ala Moana Blvd., Suite 2950, Honolulu, HI
Phone:  (808) 953-6110
Business hours:  Mon-Sat, 11:00am – 8:00pm; Sun, 11:00am – 7:00pm
So go out and get yourself a cheeseburger for lunch and maybe another cheeseburger for dinner.  There will probably be special offers abound, such as McDonald's offer of 50 cent cheeseburgers or Wendy's Junior Bacon Cheeseburgers for 1 cent, but if you really want to taste some of Honolulu's finest and don't mind splurging a little, then check out some of these picks.  Or maybe just take advantage of the special deals for the day and eat here on another day to see what you missed.