One of the most representative things about a culture is their instruments, and you can't get much more "Hawaii" than an Ukulele. Although the 4 stringed instrument found in Ukulele stores around the world is deeply associated with Hawaiian culture, the insturment has a relatively modern origin. It's said that the origin of the instrument is Portuguese immigrants, who brought their small guitars like the Cavaquinho to the islands in the late 1800s. King Kalakaua, being a patron of the arts, pushed for the instruments inclusion in royal music performances which led to wide spread adoption on the islands. 
In recent years, Ukuleles have exploded in popularity around the world. The tropical tones, portability, and versatility make it a great choice for beginner musicians to veterans of other musical disciplines alike.   As such, we know there's a lot of you out there interested in Ukuleles. No better place to look for an authentic Ukulele purchase or experience than Hawaii, right?  We've got our two favorite Ukulele stores in Waikiki listed below for you, so look no further for your Ukulele needs!
Ukulele Puapua 
2255 Kalakaua Ave, Honolulu, HI 96815
With over 2000 ukuleles available for purchase, Ukulele Puapua is a must visit for the enthusiast visiting Honolulu. The original location in Sheraton Waikiki offers a free 30 minute Ukulele Lesson at 4PM daily.  It's a great activity for beginners, familys, and even for experienced musicians.  It's always good to get some hands on time with the instruments and ask the friendly staff for help.  They recently opened a 2nd store in Princess Kaiulani Hotel, so make sure to check that location out as well!
Ukulele Store
226 Lewers St #218, Honolulu, HI 96815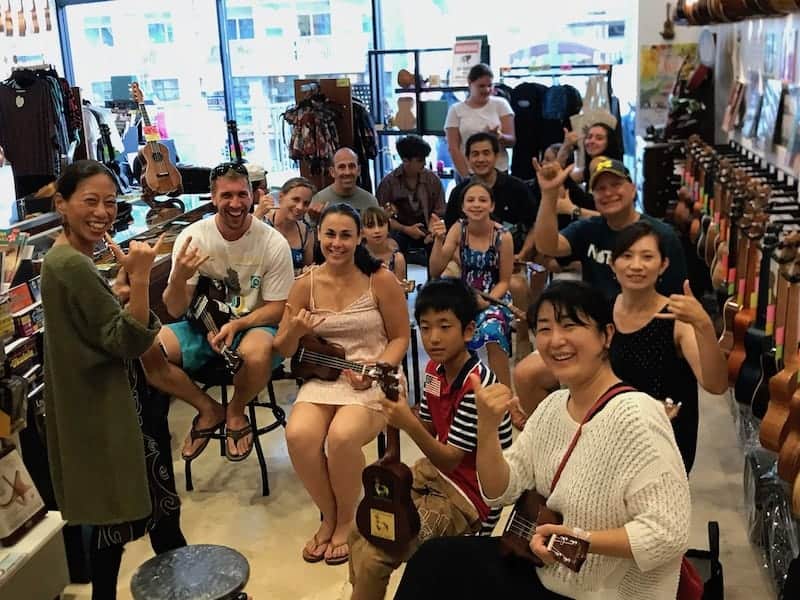 Simply named "Ukulele Store",  this fantastic Ukulele shop is centrally located on Waikiki Beachwalk .  They also offer free ukulele lessons; the first session starts at 10:30AM, and the second starts at 4:30PM.  You can also find CDs, books, and handmade Hawaiian crafts along with ukulele related accessories and tools. 
Make sure to visit these two stores if you're looking for an Ukulele store in Hawaii. As always, make sure to check with us at Oahu's Best Coupons for discounts and deals for your Ukulele store needs. 
Here you can find good deals for 2 Ukulele Stores in Waikiki,
1.Ukulele PUAPUA>>>Available Coupons Here
1)Sheraton Waikiki Hotel 1F
  8am-10pm daily
*Lessons only available at Sheraton Waikiki Hotel store.
2)120 Kaiulani Ave. (next to Princess Kaiulani Hotel)
  9am – 10pm daily
1)2) Phone: (808) 923-9977
Website: www.GCEA.com
2.Ukulele Store >>> Available Coupons Here
226 Lewers St. #218
(Waikiki Beachwalk 2nd Floor)
Phone:(808)888-5496
Hours:10am – 10pm
– Free Ukulele Lesson starts from following schedule EVERYDAY ! –
1. 10:30 am
2. 4:30pm