North Shore is a must visit area on Oahu.  It's a surfing mecca for one, but you can also snorkel, go boating, and see whales – all the things you've been dreaming about on your vacation! Furthermore, you've got food and drink like Hawaiian coffee, macadamia nuts, and garlic shrimp to enjoy. What's not to love, right? One area that we've covered often is Haleiwa. A sleepy surf town in the 70s,  Haleiwa has become a popular destination for visitors in recent decades.  When we want some food truck grinds but feel a little garlic shrimped out, we like to head to The Chill Grill for some other tasty local flavors and plates. 
The Chill Grill owner Danny Lee opened his food truck to offer his customers something a little different. The market for Garlic Shrimp is a little saturated nowadays, and there weren't many trucks serving fresh, tasty local dishes.  What really sets them apart from others is that they serve up their plates using veggies from their farm down the road. 
Once you visit, you'll find a surprisingly robust menu for a food truck awaiting you. We've picked three of our favorite items below! 
1)  Kalua Pork Plate
According to Danny, good, authentic Kalua Pork is hard to find in Haleiwa. The pork on the plate served at The Chill Grill is delicious and immediately melts in your mouth, so we take his word for it. The fresh veggies are grown right in North Shore, so there's some bonus points right there as well. Wash it down with their freshly squeezed lemonade and you've got yourself a great meal!
2) Garlic Butter Steak Plate
Garlic, butter, and steak. Can't mess that one up! We have it on good authority that the guys at the truck smoke the meat for some extra flavor, and they fry it up on the grill right in front of you so you know it's fresh. If you're feeling more turf than surf, this is a great alternative to a garlic shrimp plate. 
3) Quesadilla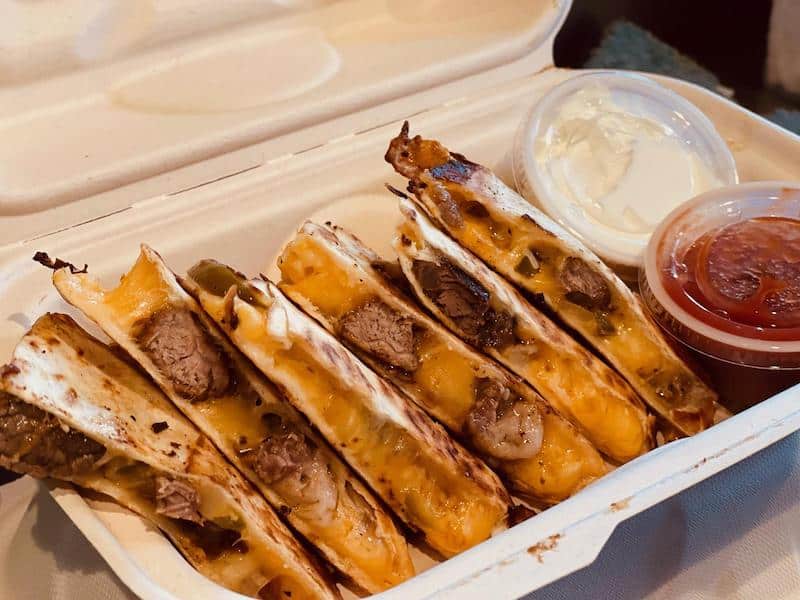 Quesadillas are a pretty rare dish around the north shore area, so make sure you try one if you're in the area. Melting cheese, meat, and fresh veggies grilled up in a tortilla is always a good time. Bonus points for portability as well – this is a great order to devour on the beach!
The Chill Grill is located at 66-472 Kamehameha Hwy Haleiwa, HI 96712, right next to Giovannis Shrimp Truck. You'll find a bunch of other trucks in the area, so it's a great option if you've got a big family and they want to eat different things. Being open air, the food trucks in the area are a good option if you're concerned about eating indoors at a restaurant due to the coronavirus. 
Make sure to check out out our North Shore coupon page deals for The Chill Grill as well!