11 new spots, including a new store specializing in matcha green tea drinks!
New and Relocated Restaurants and Cafes in Hawaii in November 2022
1)  Westman Cafe + Lounge
Westman Cafe + Lounge opened on November 1 at the former site of Bill's Hawaii on Beach Walk in Waikiki, alongside Hard Rock Cafe.  The breakfast and brunch restaurant open from 7:00 am to 2:00 p.m. will hopefully add dinners to their lineup next year.  The menu includes many visually appealing dishes, ranging from sweet items such as French toast and soufflé pancakes with to savory offerings as toast topped with salmon and avocado.  This breezy, stylish spot is the perfect place to start your day.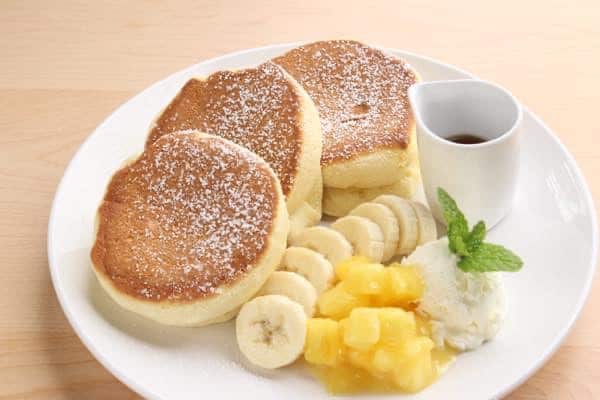 Westman Cafe + Lounge
280 Beach Walk
7am – 2pm *Store hours subject to change
(808) 922-1500
https://www.instagram.com/westmancafe/
2)  Junbi
Jumbi, a matcha-themed drink store hailing from Los Angeles, opened at the former site of Malie Kai Chocolate at the Royal Hawaiian Center in Waikiki!  The Milky Matcha and Matcha Latte are signature items, with other options including green and black tea-based beverages.  The ingredients are 100% natural, ensuring the freshest flavors.  Being in the heart of Waikiki, this trendy café is easy to access, making it an ideal respite from shopping!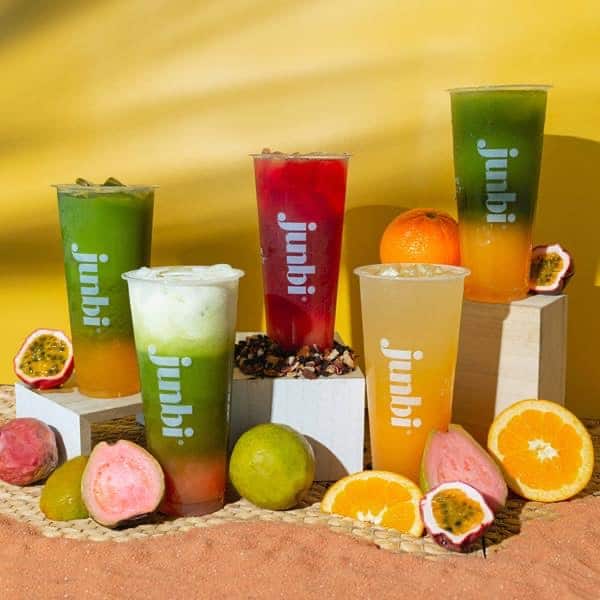 Junbi
2301 Kalakaua Ave, Honolulu, HI (Royal Hawaiian Center)
11am – 8pm
(808) 892-1221
https://junbishop.com
3)  Oyster Hale by Crush
Crush, a cosmetics and nail supply store in Waikiki, opened a restaurant called Oyster Hale by Crush along Lewers Street.  Here, patrons may delight in sweets during the day and fresh oysters and other savory discoveries at night.  Consider giving the Japanese owner's specialties a try.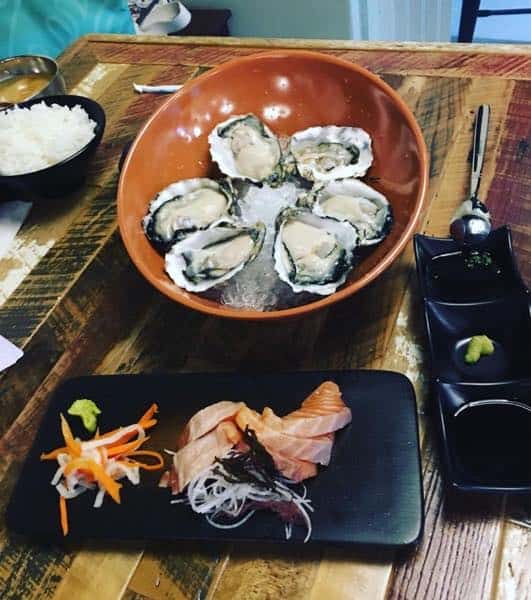 Crash/ Oyster Hale by Crush
346 Lewers St, Honolulu, HI
Lunch 10am-2:30pm, Dinner 5:30pm-11pm (LO 10:30pm)
(808) 926-7674
4) 85°C Bakery Café
85°C Bakery Cafe is a bakery that opened on the 3rd floor of Ala Moana Center, near Macy's.
The owner, who is experienced in working at a five-star hotel, opened this bakery in California in 2008, with the notion of providing high-quality breads, pastries, cakes, and coffee at reasonable prices. The shop features a wide range of baked goods including savory meat pies and cheese breads on the savory end, as well as sweeter options such as danishes and pies. The 85°C temperature in the store's name indicates the ideal temperature for brewing coffee, and the cafe also offers a full menu of coffee and other beverages to enjoy with the bread!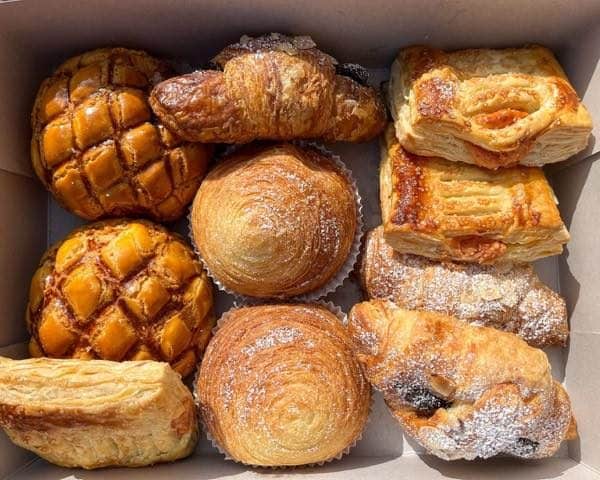 85°C Bakery Cafe
1450 Ala Moana Blvd, Honolulu, HI (Ala Moana Center 3rd floor)
Mon-Thu 10am-6pm, Fri-Sun 10am-8pm
(808) 900-8585
https://www.85cbakerycafe.com
5)  Midnight Dining Hall
Midnight Dining Hall, a food truck, opened in the parking area behind 808 Center, a commercial building in the Keeaumoku area near Honolulu's Walmart.  The menu focuses on Sichuan-style street food, luring in patrons with a variety of spicy grilled meat skewers, chicken wings, and seafood.  The skewers are grilled over charcoal to order, so they are aromatic with exotic spices such as cumin, cardamom, and hua sansho wafting in the surrounding air.  The location may be a little hard to find, but if you enjoy skewers, it will be worth the hunt.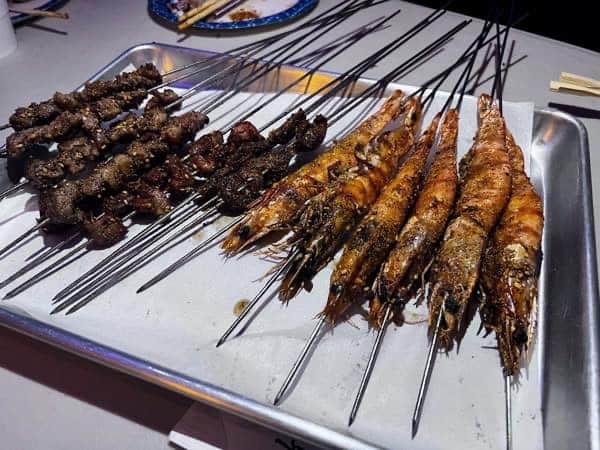 Midnight Dining Hall
824 Sheridan St Honolulu, HI
Wed-Mon 5pm-0am
6)  Hi One Sushi
Hi One Sushi opened near the Patagonia flagship in Honolulu, right in Kaka'ako.  As its name suggests, sushi is the main star on the menu, be it nigiri or makimono (rolls).  Among the impressive lineup of sushi rolls are the ever-popular California Roll and Rainbow Roll which is often found in Hawaii.  However, there are a few original rolls, as well as a selection of donburi (which includes a poke bowl), udon, grilled fish teishoku, and even Vietnamese-inspired summer rolls, making it a popular spot for locals who learned of this hidden gem.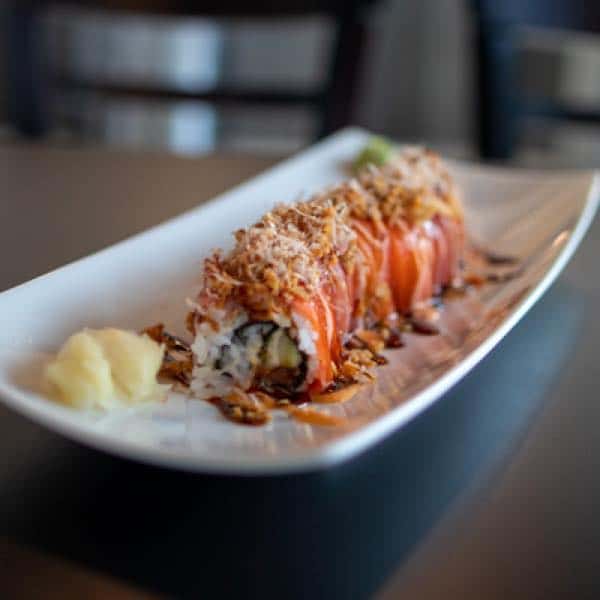 Hi One Sushi
909 Kapiolani Blvd, Honolulu, HI
Monday – Saturday 11am – 8:30pm
(808) 200-4241
https://hionesushi.808.biz
7)  Bocconcino Hawaii
Bocconcino Hawaii, a popular sandwich and pizza store that was once at the various farmers markets, opened a location at Hanakoa Brewing Company in Kakaako.  The shop named after the Italian word for "bite-sized" is the brainchild of Chef Donato Loperfido.  It is a fusion of a sandwich store and an Italian grocer, specializing in pizza and sandwiches made with cheese, ham, and panini imported from Italy.  There is no dine-in option, so consider taking out the food for your reward after hiking a few blocks down to Ala Moana or Kakaako Beach Park to eat.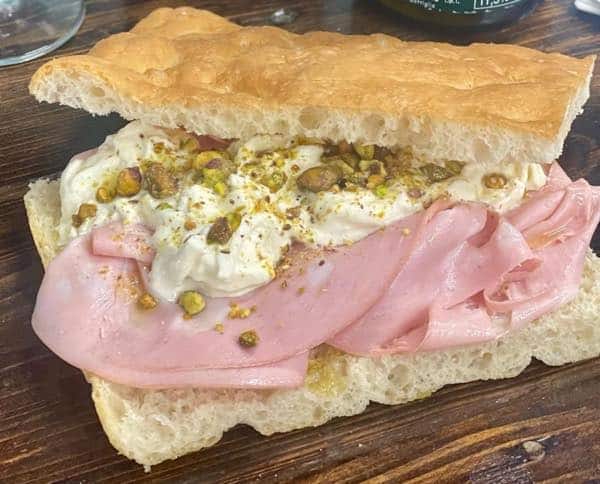 Bocconcino Hawaii
978 Kawaiahao St Honolulu, HI
Tuesday – Saturday 10:30am – 7pm
(808) 200-2830
8)  Yifang Taiwan Fruit Tea
Another fantastic tea-based beverage shop, Yifang Tai Wan Fruit Tea, opened in downtown Honolulu. The casual café offers fresh fruit teas based on the founder's grandmother's recipes, using seasonal fruits, local ingredients, and fruit juices. The fruit tea comes in a wide variety of flavors, including pineapple, passion fruit, mango, lychee, lemon, and more, compounding the already challenging act of making a purchase decision.  The brown sugar tapioca milk tea and salt cream tea are certainly two reasons why many locals have become heavy repeat customers.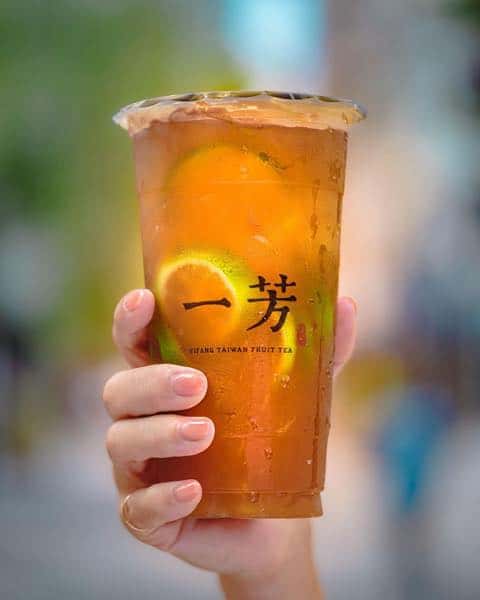 Yifang Taiwan Fruit Tea
1116 Fort Street Mall, Honolulu, HI
Mon-Fri 7:30am-5:30pm, Sat 10am-5pm
(808) 509-8833
https://www.yifanghawaii.com
9) Repetti's Pizza and Provisions
A new Italian restaurant emerged in Hawaii Kai.  Repetti's Pizza and Provisions opened at Hawaii Kai Shopping Center near Costco, featuring a variety of classic Italian dishes such as pizza and pasta, as well as home-style dishes including lasagna.  This eatery may have only been open for a short time, but it comes with rave reviews by local customers.  The most popular item is the pizza, for which there are about ten varieties, including Margherita, Vegetable, and House Special.  Of course, you are more than welcome to customize your pie by selecting your own toppings.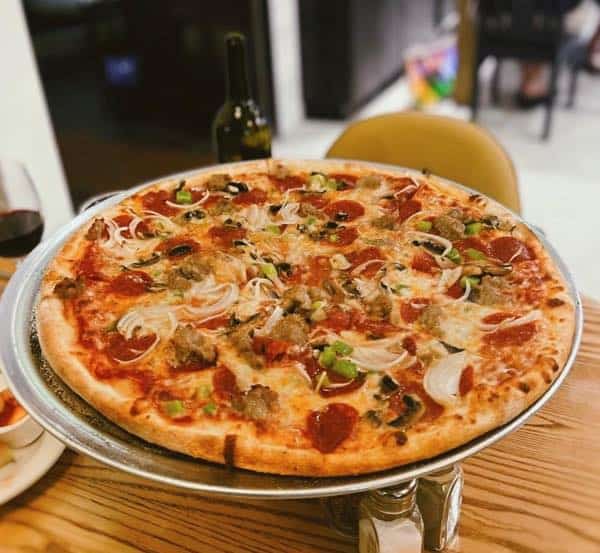 Repetti's Pizza and Provisions
377 Keahole St Ste C5 Honolulu, HI
11am – 9pm
(808)376-8623
https://www.instagram.com/repettishawaiikai/
10) [Relocation] Ireh Restaurant
Known for its home-style Korean cuisine, Ireh Restaurant relocated from its original Keeaumoku location to a lavish new address in the Azure Ala Moana condominium a few blocks down the road.  Hugely popular among locals, the eatery is frequented for its jook (porridge) and rice dishes, but also its bulgogi, tteokbokki (simmered rice cake), bibimbap, variety of noodle dishes.  There is even a new chicken dish that is a must try.   You do not have to be Korean to feel a sense of comfort in relishing the Korean home cooking at Ireh.
Ireh Restaurant
629 Keeaumoku St, Honolulu, HI
10am – 10pm
(808)943-6000
11) [Relocation] @Sushi
Almost impossible to secure a reservation unless you plan for more than a month ahead, @ Sushi was already popular when it was located in the Ohana Hale Marketplace at Ward Village.  Since the closure of Ohana Hale Marketplace, chef and owner Atsushi (how @sushi got its name) Kumagai operated a pop-up counter at Artizen by MW until he finally was able to move into his brick-and-mortar in Waterfront Plaza.  Currently, @sushi only offers lunch, with seating times at 11:30 a.m. and 2:00 p.m.  The omakase may sound steep in price at $150, but once you sink your teeth into his plush sushi with expertly  curated ingredients, you may be booking your next set of reservations as most others do.  The restaurant is currently BYOB, making it even a bigger hit among its regulars, so plan ahead and make a reservation for next year.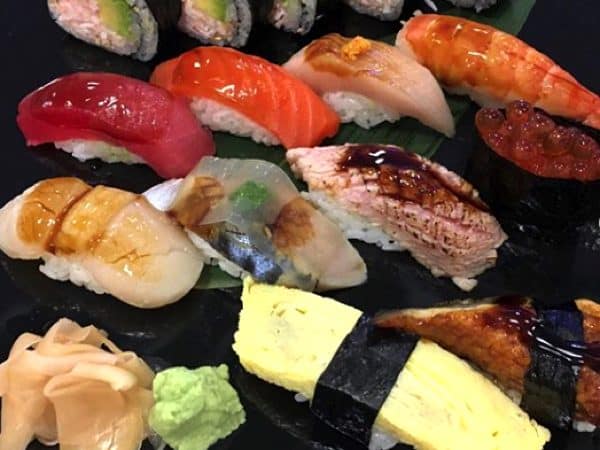 @sushi
500 Ala Moana Blvd.
(808)358-4593
1st seating 11:30, 2nd seating 14:00
As of November, Honolulu witnessed an increase in truly artisanal flavors, making the holiday season more exciting with dining out options as well as spots from which to pick up food for parties.  If you do plan to check out any of these places, be sure to plan ahead as the holidays certainly add to their popularity.