After spending all your money on gifts for others, possibly even scrimping on meals to ensure you have enough cash to go around, now is the time to reward yourself.  Let's face it, being Santa is not cheap, and old Saint Nick has to eat, right?  Plus, the holidays are a great time to dine out because most restaurants serve something not typically on the year-round menu, so the time to act is now!  Here are a few restaurants worthy of consideration:
1) Michel's at the Colony Surf
One of the most romantic restaurants on Oahu boasting breathtaking ocean views, Michel's at the Colony Surf is an institution that has been around for about 60 years.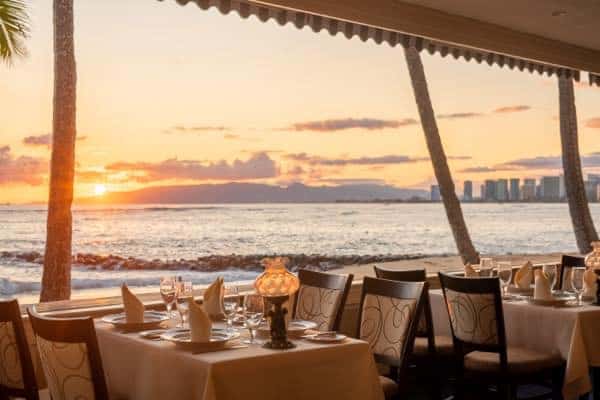 The classic French Continental approaches, that avoid all shortcuts, incorporate regional ingredients to infuse a sense of place.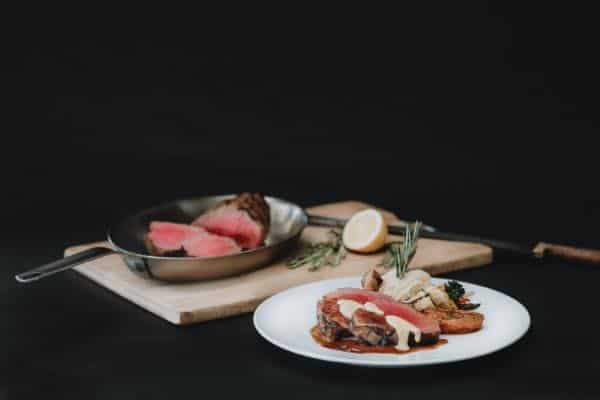 The menu served on Christmas Eve and Christmas night will engage the senses.  It all begins with an amuse bouche of roasted veal and ahi sashimi over a crostini schmeared with yellowfin tuna spread and drizzled with a caper vinaigrette.  Then, options for the first course will include a beef mushroom consomme under a golden puff pastry or a yellowfin ahi carpaccio with cranberry quadruple citrus vinaigrette, black garlic, and a Parmigiana Reggiano crostini.  The second course also includes a choice between a roasted Christmas goose salad dressed with an orange vinaigrette and complemented by mushrooms and chestnuts, or a warm seafood spinach salad with Big Island abalone, rock shrimp, and seared scallop sauteed in white wine are situated over wilted spinach tossed in a lemon vinaigrette.  Two entree selections will feature a Hawaiian grass-fed filet mignon wrapped in applewood smoked bacon paired with lobster thermidor baked with mushrooms and artichoke but dressed with a duality of accents–a port wine demi-glace and a tarragon mustard, or a couliblac of salmon and fresh island fish baked with scallop mousse in a golden puff pastry scented with a dill white wine sauce.  Desserts include a choice of a Christmass panettone with winter berries, cinnamon caramel, and sweet cream, or a dark black forest coupe taking a dark chocolate gelato and luxuriating it with cherry gelee, creme Anglaise, and roasted hazelnuts.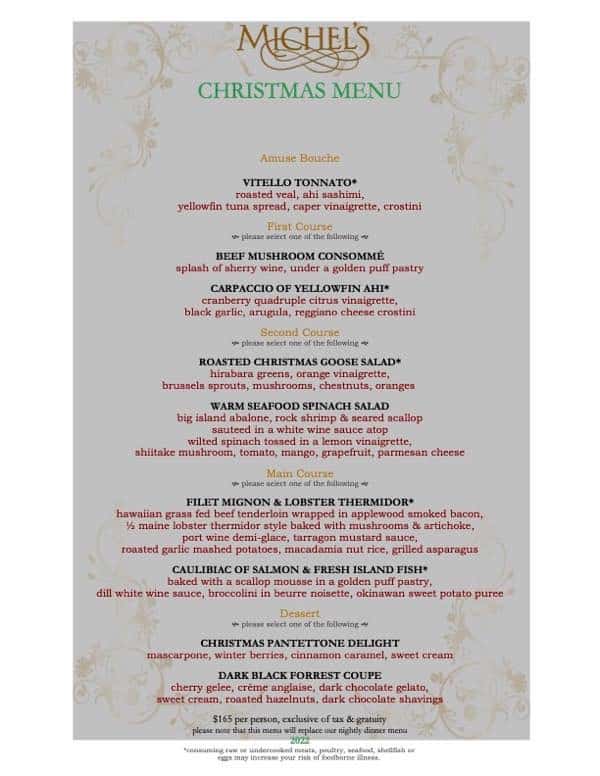 The dinner is priced at $165 per person, plus tax and gratuity, but it is almost sold out.
Michel's at the Colony Surf >> Get a special offer!
2895 Kalakaua Avenue, Honolulu, HI
(808) 923-6552
Sat, 5:00 – 9:30 p.m.; Sun, 5:00 – 9:00 p.m.
2) Arancino at The Kahala
Easily one of the best Italian restaurants in Hawaii, Arancino at The Kahala features al fresco dining under the stars.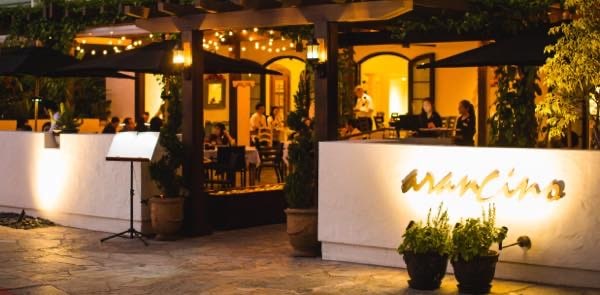 Chef Daisuke Hamamoto, who has studied and worked extensively in Italy, captures the authenticity and majesty of Italian cuisine.  For Christmas Eve and Christmas night (as well as New Year's Eve and New Year's Day), Chef Hamamoto is preparing a 7-course Buon Natale Dinner starting with caviar with local tartare and light Arrabbiata, a holiday haku lei salad, and antipasto of Kona abalone with herb butter risotto and herb spuma.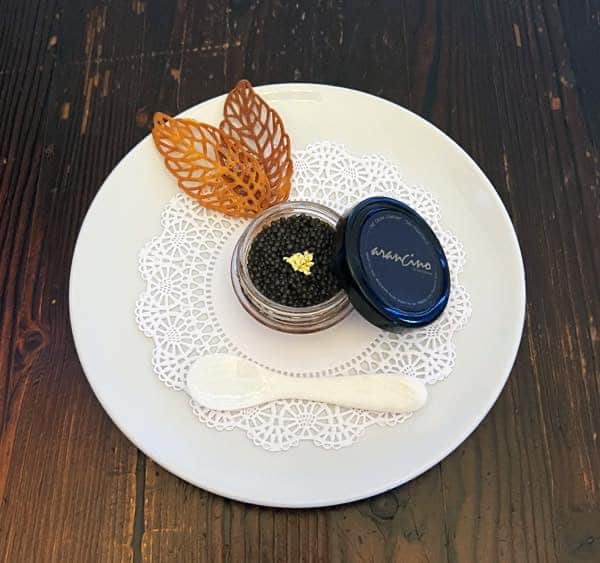 Then, an Icelandic scampi with fresh papperdelle in a garlic tomato and arugula pesto, A5 Miyazaki wagyu with truffle mashed potatoes and arugula pesto, and pizzetta of mozzarella, cacciatorino, goat cheese, and fig jam round out the savory courses.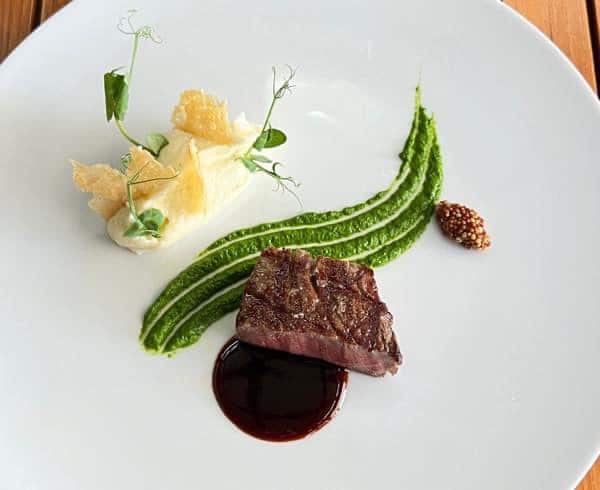 A dessert of raspberry semifreddo with white chocolate lemon ganache and raspberry coulis marks the end of a wonderful Christmas dinner, which goes for $220 per person plus tax and tip, with a $60 wine pairing option.  For children, there is also a menu for $55 per person plus tax and tip, with parmesan potato wedges, corn chowder, tagliatelle Bolognese, cheese pizza, vanilla snowman gelato, and some juice.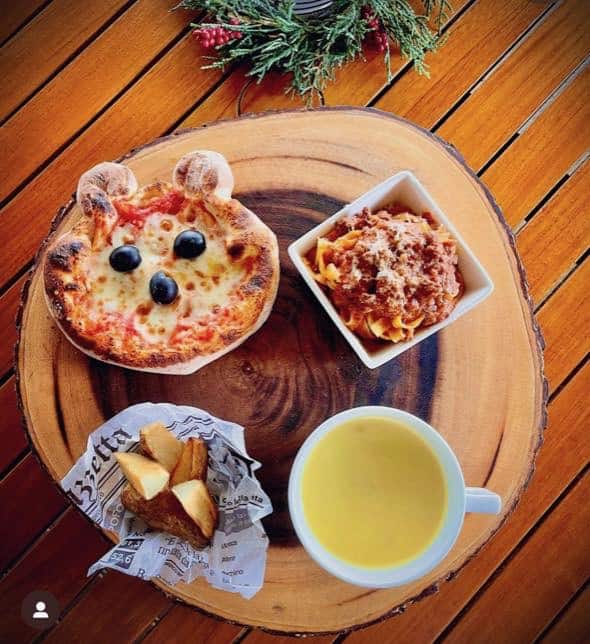 Arancino at The Kahala
5000 Kahala Avenue, Honolulu, HI
(808) 380-4400
Sat & Sun, 5:00 – 9:00 p.m.
*Don't miss out on special offers from their sister restaurant, Arancino di Mare
3) Kapa Hale
Chef Keaka Lee staged and worked in some of the most prestigious American kitchens before opening Kapa Hale.  From Benu to Le Bernardin, Eleven Madison to Cafe Boulud, Grammercy Tavern to The Pig & The Lady, Lee honed his skills, preparing him for opening his own restaurant.  His philosophy of driving local consumption and supporting local farmers, ranchers, and fishermen propelled him to open Kapa Hale, a space where he can tell his narrative but on a plate.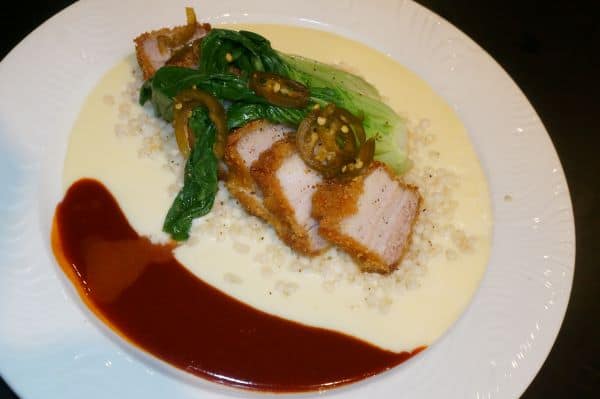 His holiday menu available from now until mid-January is simply brilliant, as he offers a three course dinner for $60 per person plus tax and tip comprised of a vegetable trio, choice of main course, and selection of desserts.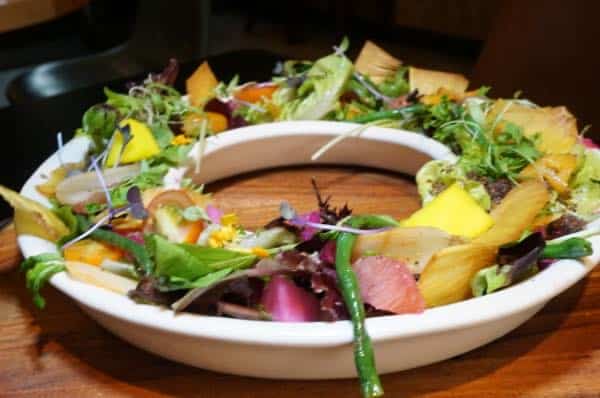 The opening bites of a Ho Farms chilled tomato gazpacho, Aloun Farms kabocha deep-fried dumpling, and Kolea Farm kalo croquette feature a variety of textures of flavors to prepare the palate for the entree.  A choice of three mains all featuring local produce includes a deceptively vegan mushroom and cauliflower "Bolognese" over fresh fresh tagliatelle with tomato, parmesan, and basil; a salmon with maple mustard, star fruit, choy sum, and soy crumble; or a fried pork belly with a dichotomy of sauces with a Mornay cheese and gochujang, accompanied by bok choy and peppers.  For dessert, the buttermilk panna cotta with persimmon and apple streusel makes a fine contender against the chocolate and Kahlua mud pie with Kona coffee syrup.  
However, just for Christmas Eve, the holiday menu will not be available.  Rather, a family-style dinner will include a robust menu of dishes including jalapeno & cheddar cheese biscuit, prime rib, Chinese-style fresh catch, roasted garlic mashed potato, and much more is available for just $100 per person plus tax and gratuity.
Kapa Hale
4614 Kilauea Avenue, Honolulu, HI
(808) 888-2060
Sun-Thu, 5:00 – 8:30 p.m.; Fri & Sat, 5:00 – 9:30 p.m. (closed Christmas)
4) Margotto Hawaii
One of the most luxurious restaurants to open in Hawaii is Margotto Hawaii.  A restaurant that places a significant emphasis on truffles to accentuate fine culinary presentations by Chef Kenta Kayama who worked in numerous two and three-star Michelin restaurants.  Curating fresh local ingredients and incorporating them with the finest elements from around the world, Margotto Hawaii prepares dishes blending European techniques with Japanese sensibilities.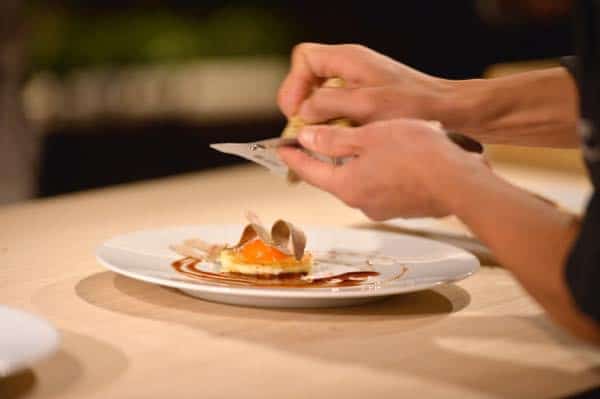 For Christmas, the restaurant is offering three different menus, based on the seasonal truffles imported from France and Italy.  There is a Black Christmas menu for $300, a Black & White Christmas dinner for $400, and a lavish White Christmas for $500.  Each degustation has a few unique dishes but all courses include a chawanmushi (silken Japanese custard) with squid, fried mochi fritter with snow crab in a Chinese-style ankake sauce, bite-sized mushroom tart over flaky pastry crust, caviar sandwiched in monaka (toasty rice wafer), buckwheat crepe filled with grilled unagi, fresh pasta, cheesy risotto, fondant chocolat, and more.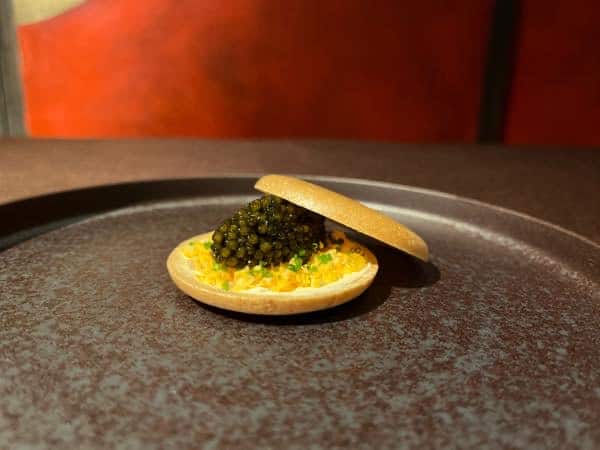 The special menu is available from December 19 to 25, and includes the courses with truffles.  Wine pairings are optional for an additional $50-100 per person.
Margotto Hawaii
514 Piikoi Street, Honolulu, HI
(808) 592-8500
Thu-Tue, 5:00 – 10:30 p.m. (closed Wednesdays)
5) Edge of Waikiki
Designated as one of America's Best Pool Bars, the Edge of Waikiki is a scenic outdoor venue that features panoramic views of Waikiki Beach.  While it regularly makes for a spectacular venue for mai tais with some light bites, on Christmas evening, the setting will also be a romantic outlet for a surprisingly affordable three-course dinner.  Start with a kiawe smoked beet salad arranged with Big Island goat cheese, crispy prosciutto, arugula, quinoa crumble, and drizzled with golden beet vinaigrette. For the entree, choices include an 18-hour slow cooked prime rib with cheesy mashed potato, seafood truffle risotto with Kona lobster and other fruits de mer, and a crispy fried tofu with coconut porridge, wild mushroom, and a seductive ginger moringa pesto.  Finally, dessert will pack a double dose of pleasure with a chocolate gateau as well as a mango roulade with fresh cranberry sauce.  Christmas Dinner at the Edge is just $95 per person plus tax and tip, but is limited to seating times between 5:15 to 8:30 p.m.  Call as soon as possible, as these seats are sure to sell out.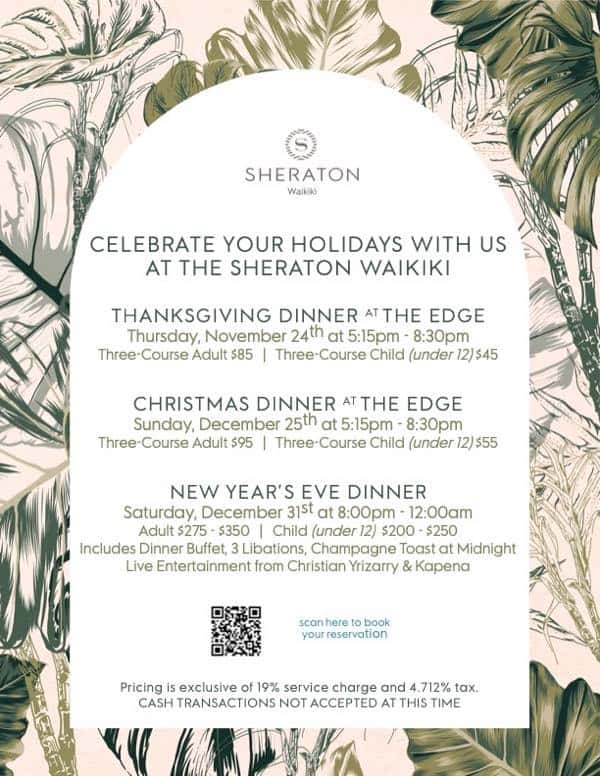 Edge of Waikiki
https://event.marriott.com/hnlws-sheraton-waikiki/events/christmas-dinner-at-the-edge
2255 Kalakaua Avenue, Honolulu, HI
(808) 922-4422
Sunday, December 25, 5:15 – 8:30 p.m.
6) Veranda at The Beachhouse
If you are seeking something to do with the keiki (kids), then consider an afternoon tea surrounded by Victorian charm at Moana Surfrider, A Westin Resort & Spa.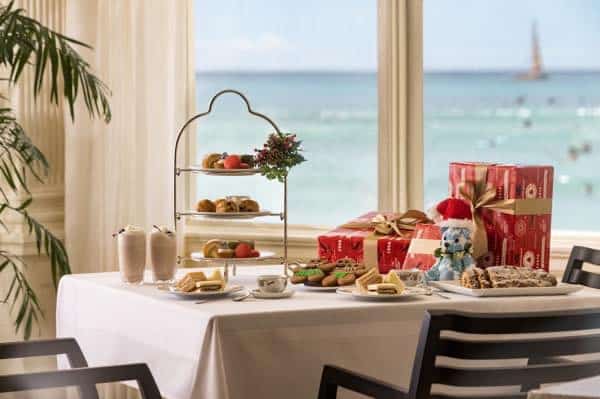 While you indulge in the stately tea service intended for grown-ups, your children will simply adore the selection of finger sandwiches, desserts, chocolate milk shake, decorated gingerbread cookie but will be thrilled to receive a keepsake Hawaiian teddy bear and commemorative Santa hat as well.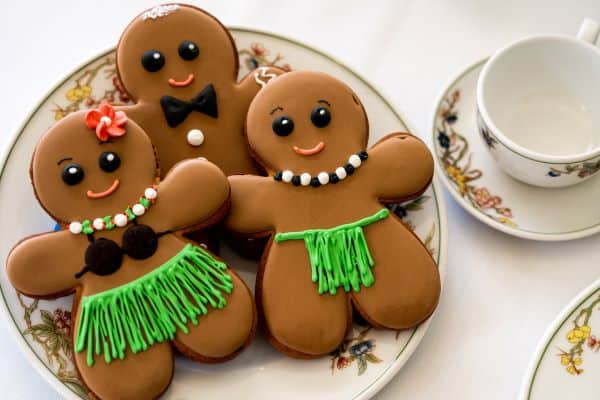 For $65 per child, the Keiki Christmas Tea at the Veranda is available from 11:30 a.m. to 2:30 p.m. every Friday, Saturday, and Sunday for the month of December, with the exception of Christmas Day.
Veranda at The Beachhouse
https://event.marriott.com/hnlwi-moana-surfrider-a-westin-resort-and-spa/events/honolulu-county/keiki-christmas-tea-at-the-veranda
2365 Kalakaua Avenue, Honolulu, HI
(808) 921-4600
Fri-Sun, 11:30 a.m. – 2:30 p.m. (unavailable on Christmas Day)
So if you have any budget leftover from your Christmas shopping, these menus are perfect ways to ensure you will have nothing left.  However, you will be merrier than the entire holiday season once you've tasted the brilliant presentations these top Hawaii chefs have prepared.