When you think of the food of Hawaii, what comes to mind? Whether it's spam musubi or malasadas, dishes here have been shaped by historical waves of migration. Take some of the ingredients found in poke for example. Salmon, soy sauce, and kimchi are not native to Hawaii but somehow end up perfectly mixed in a uniquely Hawaiian dish.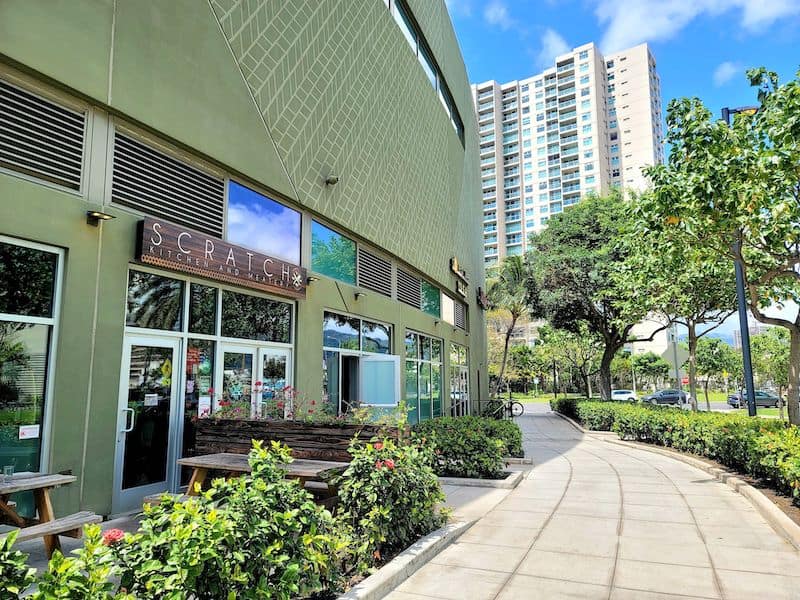 Located in Ward Village's South Shore Market, Scratch Kitchen is adding another layer to that migration based melting pot of Hawaiian food. Browse through their menu and you'll notice the influence of Southern comfort foods. Dishes like Lilikoi BBQ ribs and Cajun Garlic Shrimp read like a mash-up of some of the best flavors that the South and Hawaii have to offer. We visited the restaurant on a Tuesday for lunch, and noticed that the place was buzzing with energy. The staff was busy churning out dishes in the open kitchen, and although socially distanced, there was the pleasant sound of customers enjoying each other's company. We were joined by the friendly owner Gary, who walked us through some of the most popular dishes and let us in on Scratch Kitchen's plans for the future.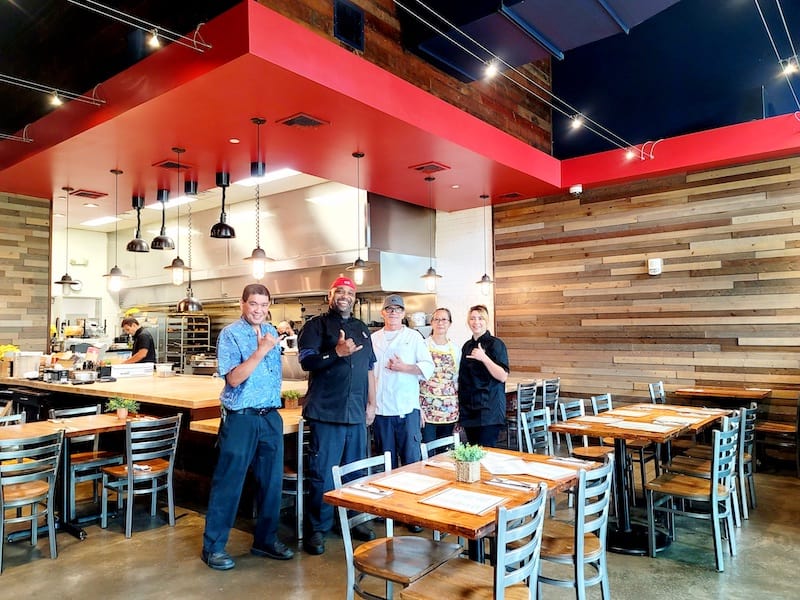 The Milk and Cereal Pancakes they are famous for did not disappoint. The slight crunchiness of the cereal provided a nice contrast to the fluffy stack of pancakes, and the heaping serving of spicy fried chicken on the waffles were tossed in a subtle, sweet and spicy sauce. We definitely noticed that they pay special attention to mouth feel and the layering of flavors in all their dishes.
Although famous for their brunch, Gary was excited about expanding their offerings for the after work and dinner crowd. He plans on substantially lengthening Happy Hour, and is introducing more small sharable plates. We tried the Bone Marrow, Deep Fried Devilled Eggs, Street Tacos and the Cajun Garlic shrimp. All the dishes were bursting with flavor – so much so that we just couldn't turn down the beers Gary kept bringing to the table. Find Scratch Kitchen in Ward Village's South Shore Market. You'll find a mix of nicely curated locally focused retail, along with fantastic dining a short car or bus ride from Waikiki. Scratch Kitchen is offering Oahu's Best Coupon readers 1 cent beer or Mimosa when ordering 2 appetizers. Check the coupon page for details!