If you're looking for some filling local style ramen in the Ala Moana area of Honolulu, we recommend you visit Taiyo Ramen. Located in a nondescript strip mall on Piikoi street, you'll find a large menu with ramen, gyoza, fried rice, katsu, and curry.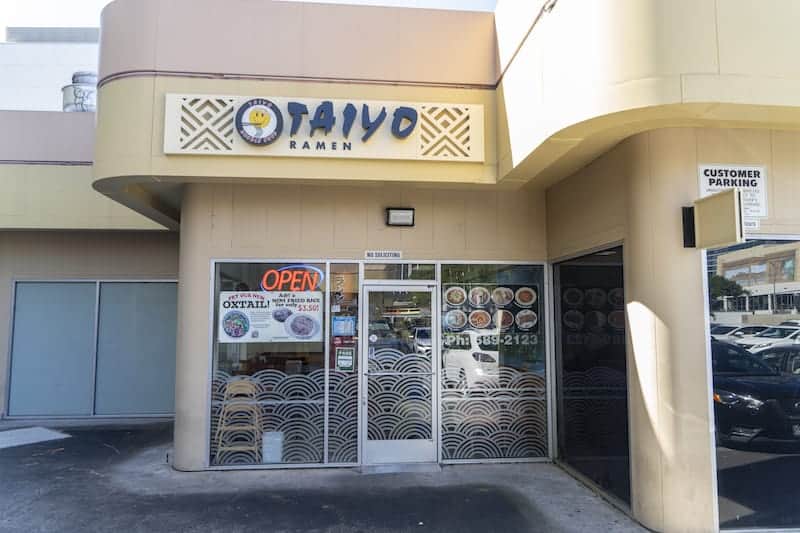 One thing we love about Taiyo Ramen is the variety of ramen broths you can order. You can enjoy a bowl of ramen with soy, salt, miso, or pork broth. Add the topping choices of butter, charsiu, wonton, katsu and there's a ton of variety to suit your tastes. The mabo tofu or curry are also great options if you're in more of a rice dish mood.
They've recently started serving Oxtail soup, which features a savory broth with big, meaty chunks of oxtail meat. You can order the dish as a ramen or with a side of rice. There's something so comforting about oxtail soup for those of us who have grown up in Honolulu.  If you haven't tried the dish, you should definitely stop in for a visit.  One of the great things about Taiyo ramen is that they are open very late. We are talking 1AM on weeknights, and 3AM on Friday and Saturday. This makes the restaurant a good spot to hit to wind down from the bars and nightlife in Honolulu. Big portions of savory ramen are especially tasty after a night of fun. 
To get to Taiyo Ramen from Waikiki, head to Ala Moana center via Ala Moana blvd. Take a right on Piikoi st, and you'll find the restaurant in the strip mall on the right hand side before hitting Kona St. 
Whether it's for lunch, dinner or a late night post bar pit stop, the food here is tasty and satisfying. 
Taiyo Ramen
(808)589-2123
451 Piikoi St., Suite 105
10am-1am (Mon-Thu)
10am-3am (Fri & Sat)
10am-9pm (Sun)