Large sushi and sashimi platters were stacked up inside Domo Café, as the casual eatery's dine-in area was temporarily converted into a makeshift extension of its take away counter—a typical operational shift during major holidays as Mother's Day, The Fourth of July, Christmas, and other celebratory occasions like graduations or the Superbowl.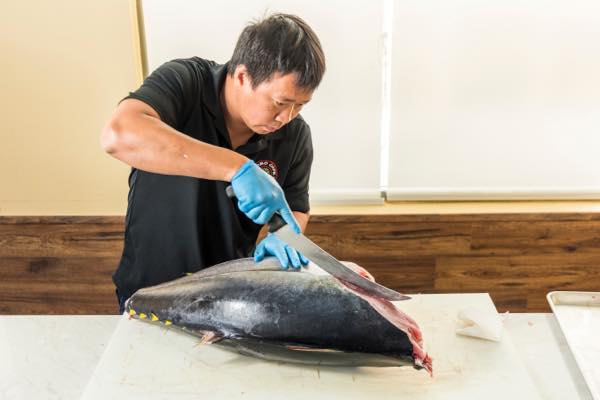 Domo Café has a solid reputation for high-quality cuisine at affordable prices, which extends to the regular menu items.  As a matter of fact, owners Qunney Situ and Shucong Wu purchase a whole ahi from the fish auction every morning, incorporating sushi grade cuts in the sashimi, nigiri, sushi rolls, and poke.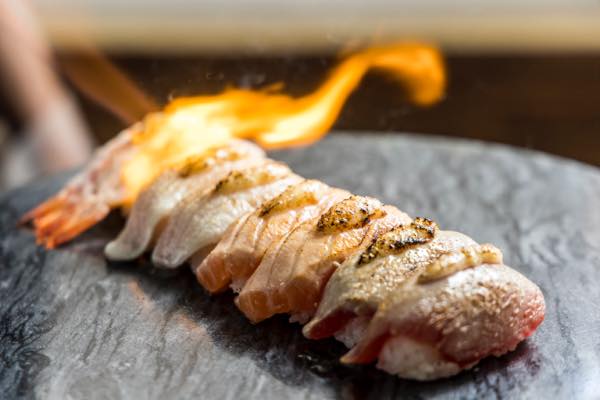 Domo Cafe's menu is impressively extensive.  There are 10 different sushi sets, each containing eight pieces and ranging from $11.95 to $16.95.   Inspired combinations include the Salmon + Ahi + Hamachi + Ebi featuring popular nigiri requests, California Roll + Spicy Ahi Bombs, the latter stuffed into deep-fried tofu pouches, and a taste-tempting Garlic Set showcasing shrimp, with torched ahi, salmon, and Hamachi, all drizzled with eel sauce and a housemade garlic mayo.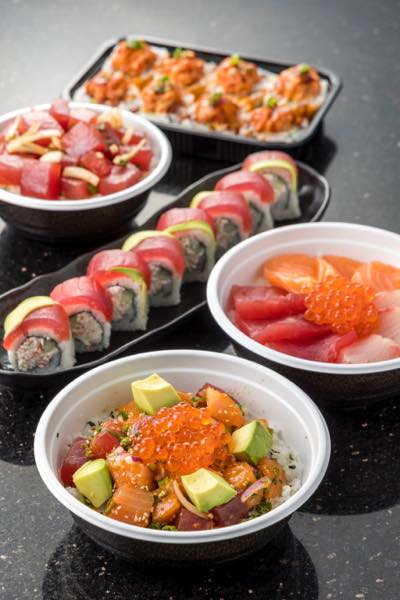 Nine different sushi rolls for $10.95 to $13.95 encompass the classic Rainbow Roll, and more innovative takes as the Volcano Roll—a California Roll topped with fresh spicy ahi.  Fourteen poke bowls over rice span from $12.95 to $17.95, including a Shoyu Ahi featuring a special house sauce, Seared Salmon or Scallop with garlic mayo, and a Spicy Tempura Bowl with spicy ahi, shrimp tempura, and ocean and crab salads, making this a hot seller.  One bite of the poke's plush texture, and you will immediately recognize the difference in quality.  Eight bentos, each $14.95, offer sushi or poke with hot presentations like teriyaki chicken, shrimp tempura, or unagi (freshwater eel).  Udon, rice bowls, and salads, including a lovely Hamachi Kama Salad, add to the diversity.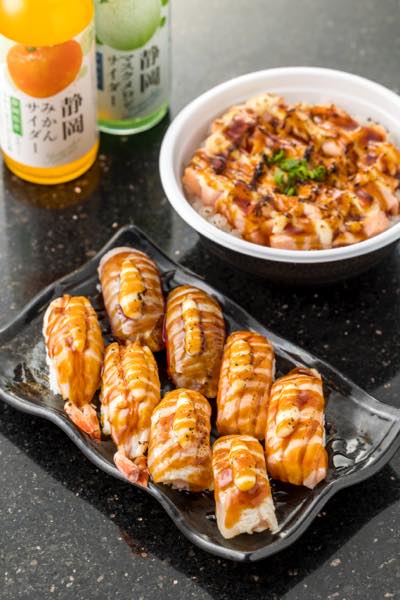 Domo Café may get its name from the Japanese word demonstrating gratitude.  And while Qunney and Shucong show their appreciation to their loyal customers daily, their happy patrons are the ones that seem to be thankful for the sushi restaurant quality at food truck prices.
DOMO CAFE > > Get a Special Offer!
Kahala Location: 4346 Waialae Ave. 
Hours: 10 am – 8 pm daily 
Downtown Location: 016 Maunakea St. 
Hours: 10 am – 6 pm (Mon – Sat) *Closed Sun