Noodles in Asian are believed to have started in China, where the earliest written record of noodles dates back to the Eastern Han period around 25 – 200 A.D.  A staple in Chinese cuisine, noodles made their way throughout Asia, into Korea, Japan, Vietnam, Cambodia, and Thailand.  Amongst the abundance of ramen shops found in Hawaii are a number of noodle shops that stem from various Chinese cuisines, but there are also a number of Vietnamese and Thai eateries that also serve some great noodle dishes.  Here is a short list of some of our favorites.
1) Fun Station
Fun Station blends Cantonese and Sichuan influences to produce a more contemporary noodle experience.  A few different noodles in soup come in a beautifully crafted broth using pork as a base flavor.  Whether topped with flavorful beef brisket, adobo and pickled mustard cabbage, fried intestines, spiced duck, house made wontons, or a luxurious seafood medley comprised of lobster, abalone, and squid, the look funn in soup is always a soul-warming bowl.  The visually striking "flying noodles" presents rice noodles draped over "floating" chopsticks suspended over a wooden porringer and topped with either minced seasoned pork or beef shank in scallion oil for a photogenic meal.  A few noodles mixed with sauce or chow fun stir-fried with a variety of ingredients round out the bountiful selection of menu items.
Fun Station >> Get a special offer!
2919 Kapiolani Blvd., Honolulu, HI  
(808) 773-7367
Sun-Sat, 10:30am – 9:30pm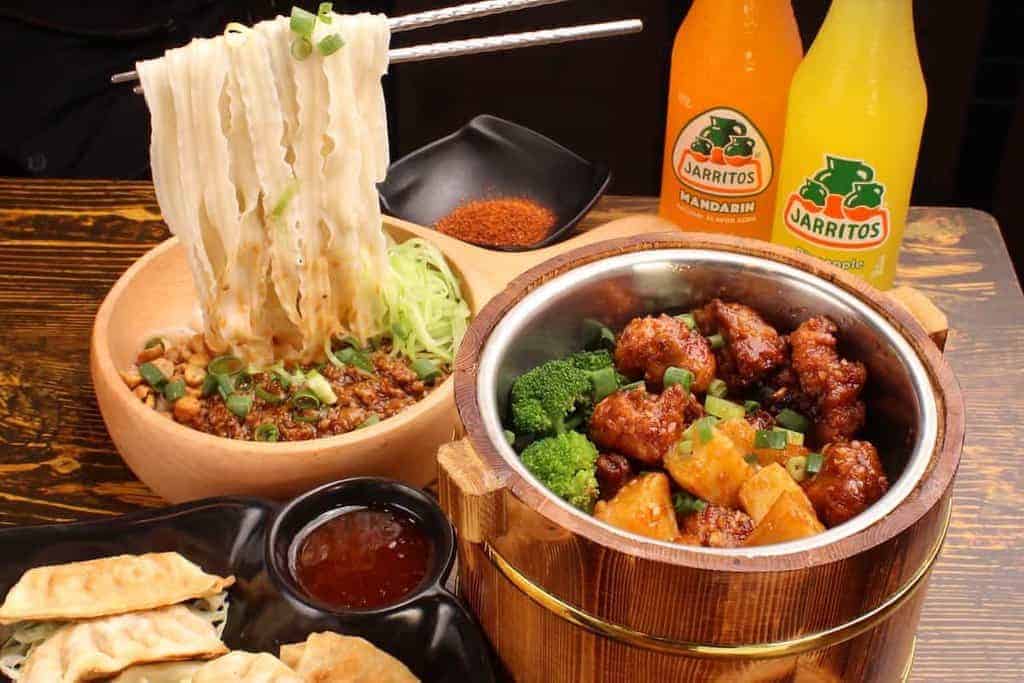 2) Chengdu Taste
A restaurant located in 808 Center on Sheridan Street that specializes in Sichuan cuisine, Chengdu Taste is not for the tame palate.  Most dishes come served blanketed in chili peppers, dried or fresh, if not sprinkled with Sichuan peppercorns which leave a numbing sensation on the lips and tongue.  However, for those who appreciate spicy, this eatery is sheer heaven.  There are a few noodle dishes on the menu worth mentioning, including the mung bean jelly noodle with chili sauce, flavored beef noodle, Sichuan tan tan noodle, or the ever-popular cold noodle with soy-based garlic sauce sprinkled with peanuts and green onions.
Chengdu Taste >> Get a special offer!
808 Sheridan Street, Suite 209, Honolulu, HI
(808) 589-1818
Sun-Sat, 11:00am – 3:00pm, 5:00 – 9:00pm
3) Mian
A sister restaurant to Chengdu Taste, also located in the 808 Center is Mian.  As its name suggests, the restaurant is all about noodles.  With selections including house beef noodles, Chengdu zajiang noodles, tomato and beef stew noodles, Sichuan hot and sour noodles, a number of chaoshou featuring wide ribbons, and a variety of thinner noodles topped with spareribs, intestines, beef, mapo tofu, or gizzards, Mian offers the one of widest selections of Sichuan style noodles on the island.
Mian >> Get a special offer!
808 Sheridan Street, Suite 105, Honolulu, HI
(808) 589-1118
Sun-Sat, 11:00am – 3:30pm, 5:00 – 9:00pm
4) Wu Wei Chong Qing Cuisine
In the Sichuan province of China, there are two major metropolitan areas.  One being Chengdu, the province's capital and seat of government.  The other is Chongqing, where the food is oil-soaked and flavor-forward besides being believed to be quite spicy.  At Wu Wei Chong Qing Cuisine, there are a number of noodles in soup, and fortunately not all of them are spicy.  Perhaps the Wuwei spicy beef noodle, shredded pork pickle noodle, Wuwei spicy noodle with pork intestines, or mapo tofu noodle may be too racy for some, but there is also a house beef noodle, a clear broth noodle, vegetable noodle with pork broth, braised pork noodle, or noodles with pork in mixed sauce may be milder options to consider.  Those who love rice noodles may also choose that option.  There are also a number of mixed noodle dishes where sauce is mixed with dry noodles without soup.  And for the kids, smaller portions of the less spicy bowls are available.
Wu Wei Chong Qing Cuisine >> Get a special offer!
1738 South King Street, Honolulu, HI
(808) 741-2297
Sun-Sat, 10:30 – 9:00pm
5) Thai Issan Cuisine Waikiki
Waikiki's newest Thai restaurant is the second location of the popular Market City Shopping Center eatery.  Located right along Royal Hawaiian Avenue, across the former T Galleria by DFS, Thai Issan Cuisine Waikiki offers a wide variety of Thai dishes, including several noodle dishes.  Besides their pad thai noodles stir fried with the house special sauce in a sizzling wok, the look fun pad thai uses wider chow fun noodles.  Vegetarians will rejoice knowing there is one version sans meat, but with tofu.  The rad nar noodles take chow fun and stir-fry them with broccoli in a chili sauce, while the pad see ew noodles add an egg and use a black bean sauce instead.  A crispy egg noodle version, the bamme rad nar noodles tops the dish with a vegetables and a creamy Thai-style gravy with a choice of meat.  The kee mao, or drunken noodles, are bathed in a chili sauce with garlic, basil, carrots, and broccoli.  Lastly, there is a pad woon sen, or long rice noodle, stir-fried with long beans, onion, and bean sprouts in a soy sauce.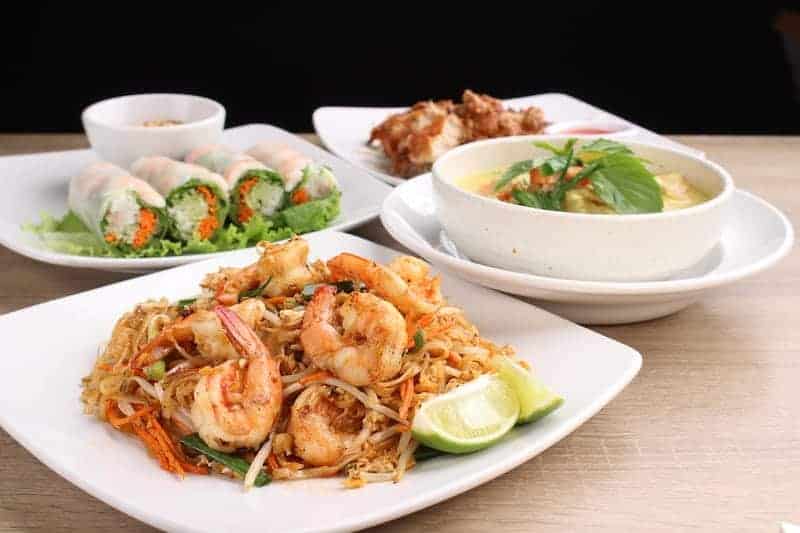 Thai Issan Cuisine Waikiki >> Get a special offer!
339 Royal Hawaiian Avenue, Honolulu, HI
(808) 425-4351
Sun – Sat, 11:00am – 9:00pm
6) Pho Factory
Pho Factory in the Pā'ina Lānai food court of the Royal Hawaiian Center, as well as at Pearlridge and Windward Mall, serves fresh, healthy Vietnamese cuisine, all made-to-order.  In addition to the soups, salads, BBQ plates, summer rolls, and sandwiches, Pho Factory obviously offers a selection of pho, including three beef, rare steak & meatball, oxtail, chicken, wonton, meatlovers, tofu, and vegetable versions.  There are also three vermicelli dishes without soup–the BBQ special, chicken, and spring roll vermicelli.
Pho Factory >> Get a special offer!
2201 Royal Hawaiian Avenue, B207, Honolulu, HI 
(808) 922-1888
Sun – Sat, 11:00am – 10:00pm
The world of Asian noodles seems endless.  Fortunately, Hawaii offers a diverse cross-section of flavors worth experiencing.  With so many Asian noodle shops, you could have a full day of funn!