While ramen seems to be king among those who seek out noodles in Hawaii, there are other types of Japanese noodles, including an unusual take on ramen that may be worth checking out.
1) Shingen Soba Izakaya at Heart Moon
Buckwheat noodles may not be top-of-mind for most, but a great soba has alluring nutty and earthy flavors that are delectable when served in broths or with a dipping sauce.  As its name suggests, Shingen Soba Izakaya at Heart Moon specializes in various versions of the soba noodle, served hot or cold.  The restaurant enables patrons to customize their own bowl with a choice of toppings including tempura.  For those who seek out healthy meals through superfoods, the restaurant offers a moringa soba, made from the plant referred to as a "miracle tree" because it contains more than 90 types of nutrients that is purported to help mitigate a host of health problems.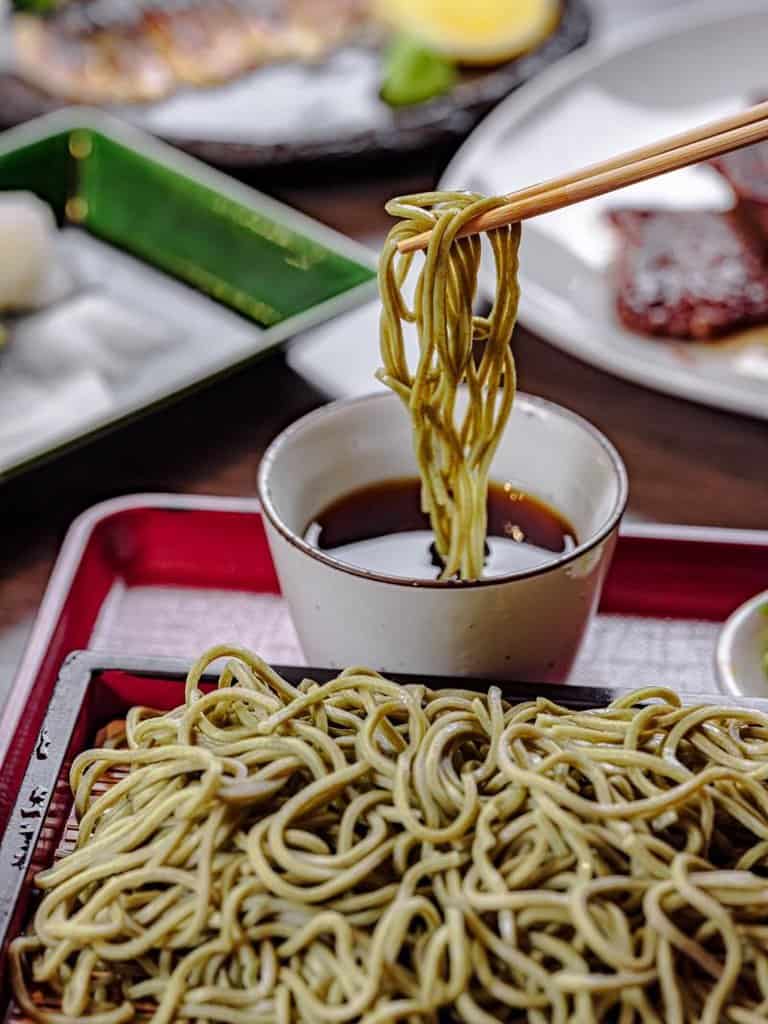 In addition to the regular soba, there are renditions that include a scrambled egg atop soba, a grated radish and green onion soba in hot soup, tempura over noodles in hot soup, chicken or duck with Tokyo leek in hot soup, and many more.  The dipping soba features broths that are more intense in flavor than those served in soup, and some of the different dipping sauces include hot and spicy, ginger, rich sesame, and curry versions, featuring a variety of toppings as chicken, beef, or duck.  Noodle fans who prefer thicker may opt for udon instead.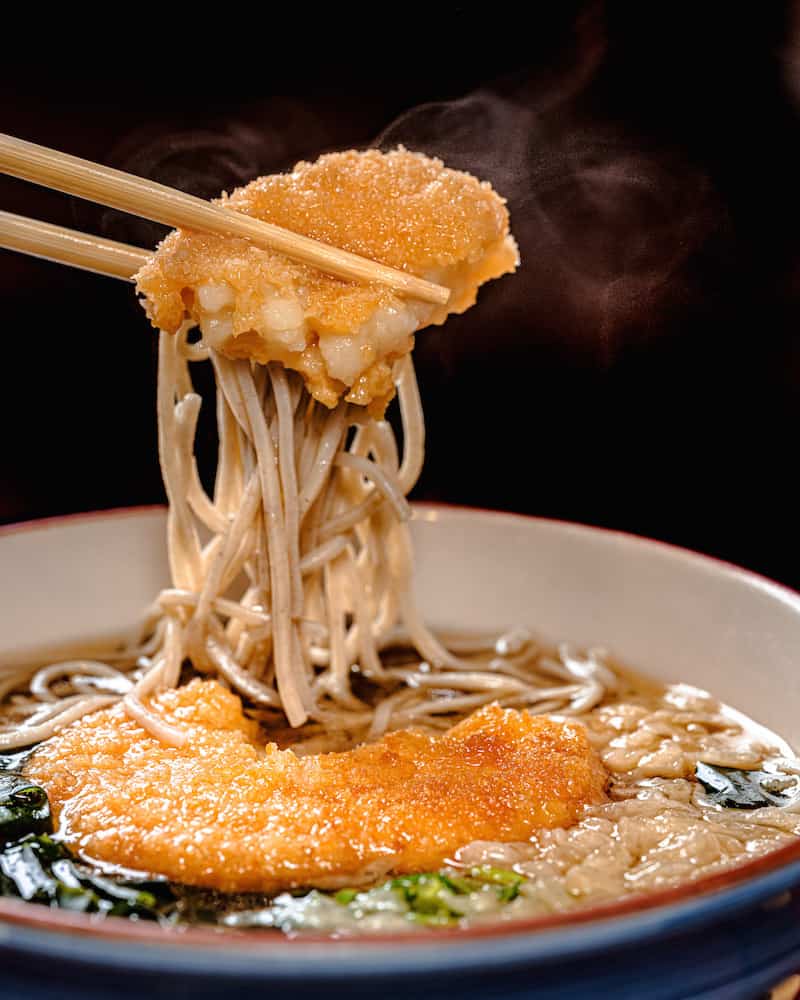 Shingen Soba Izakaya at Heart Moon >> Get a special offer!
2334 S. King Street, Honolulu, HI
(808) 926-0255
Sun-Sat, 11:30am – 2:00pm and 5:00 – 8:30pm
2) Tsuru Ton Tan
Tsuru Ton Tan, the noodle bar in Waikiki is named after the audible element of noodles.  "Tsuru" represents the sound of slurping noodles, "Ton" is the sound of kneading and shaping udon, and "Tan" captures the sound of cutting udon.  Together, the three sounds embody the spirit of the eatery's finest, handmade noodles.  Here, udon is made fresh in-house daily incorporating a curated blend of flours from Japan.  The broth exhibits the highest attention to quality and detail, blending kombu kelp and bonito sourced from various regions, resulting in the optimal expression of umami.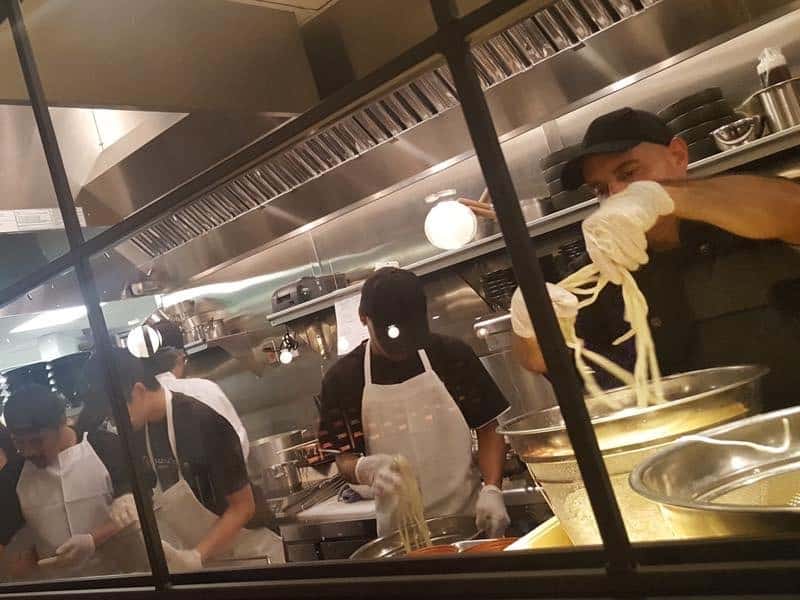 The multiple incarnations of cold and hot udon feature alluring broths or accents such as curry, mentaiko (spicy cured pollack roe), tan tan (sesame), curry, and cream.  Toppings span the gamut to include a slow cooked egg, mentaiko, vegetables, tempura, beef, egg, chicken, and uni.  Pair the bowl with some appetizers and a trendy cocktail and enjoy fine udon with panache.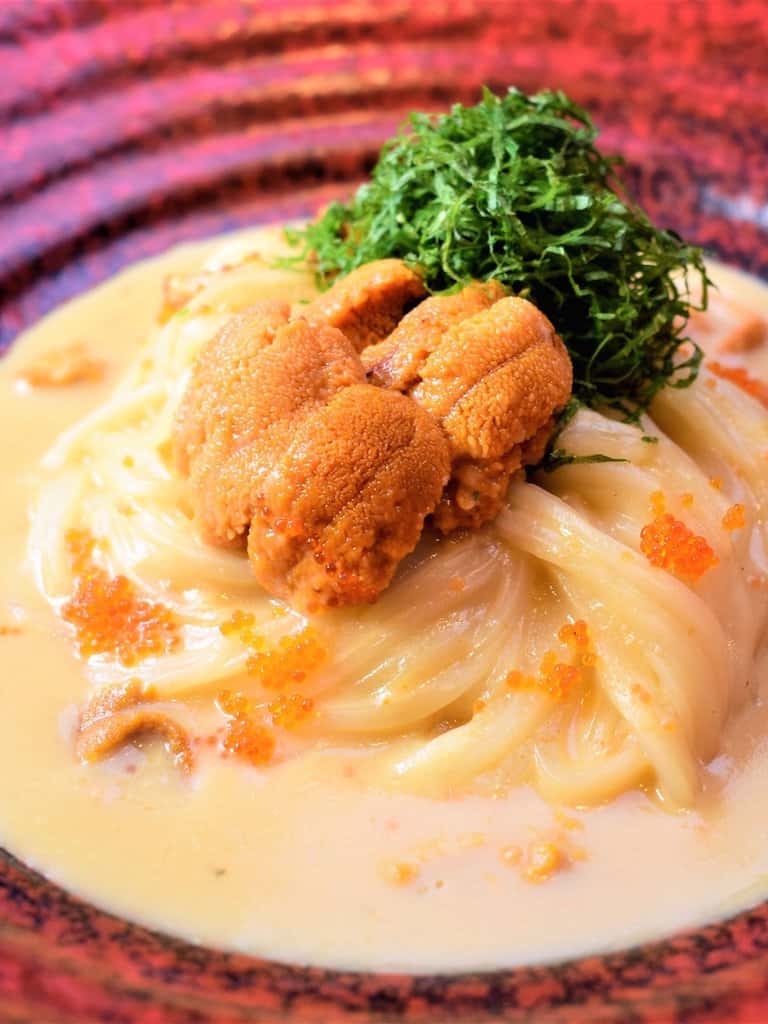 Tsuru Ton Tan >> Get a special offer!
Royal Hawaiian Center, Building B, 2233 Kalakaua Avenue B310, Honolulu, HI
(808) 888-8559
Sun-Sat, 11:00am – 2:00pm and 4:30 – 9:00pm
3) Asahi Grill Kaimuki
Asahi Grill may be best known for its oxtail soup, so why not simply turn that into a noodle dish?  Serving the original Kam Bowl oxtail soup recipe that epitomizes Hawaii's cultural melting pot, the recently relocated Asahi Grill serves a version that includes ramen noodles along with two pieces of meaty oxtails in the extracted beefy broth punctuated by Chinese parsley and green onion.  Other ramen options are available, with miso, kim chee, shoyu, and tan tan men rounding out the selections, but how can anyone consider anything other than oxtail soup or oxtail ramen when dining there?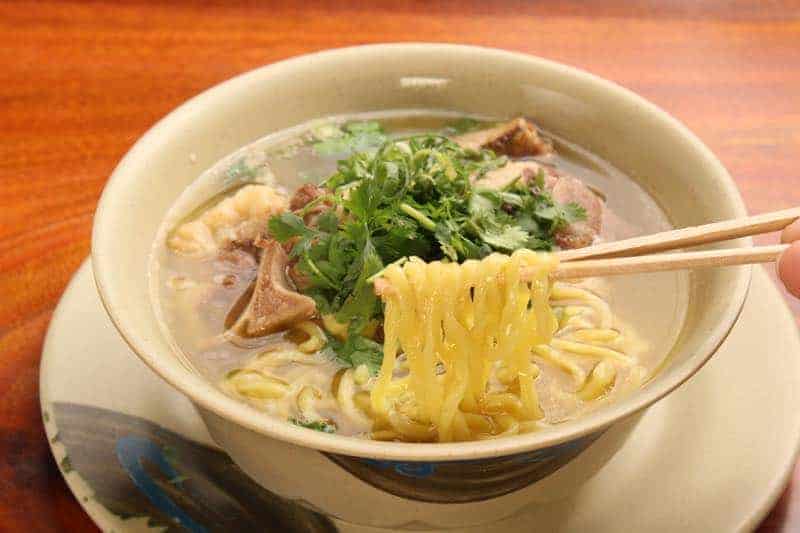 Asahi Grill Kaimuki >> Get a special offer!
3008 Waialae Avenue, Honolulu, HI
(808) 744-9067
Thu-Tue, 8:00am – 2:00pm and 5:00 – 9:00pm (closed Wed)
4) Sekiya's Restaurant & Delicatessen
Saimin, a dish that originated in Hawaii's plantation era, is now ubiquitous in the island's local dining scene. Sekiya's Restaurant & Delicatessen serves the local noodle dish wading in a delicate dashi-based broth, as well as its drier versions, fried saimin and crispy saimin.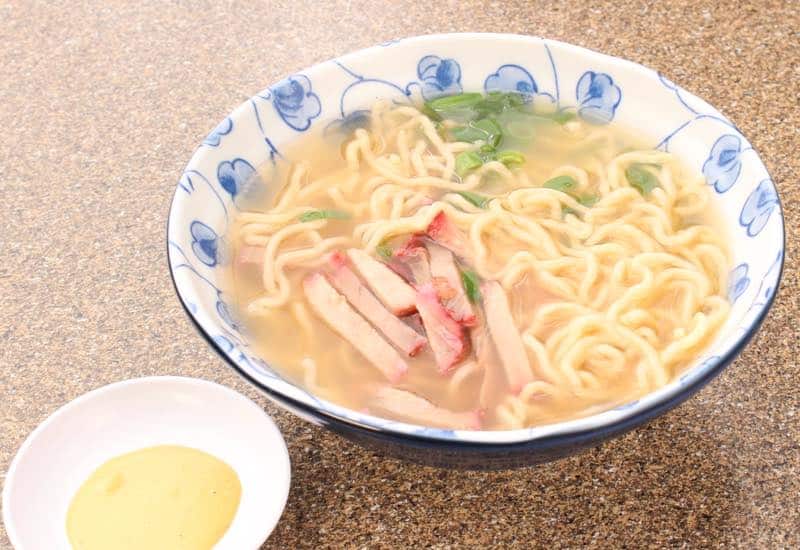 In addition, the local comfort restaurant also serves Chinese-inspired wun ton min as well as hot somen, hiyashi (cold) somen, hot soba, zaru soba, udon including a wun ton udon, and a hybrid saidon which combines both saimin and udon noodles.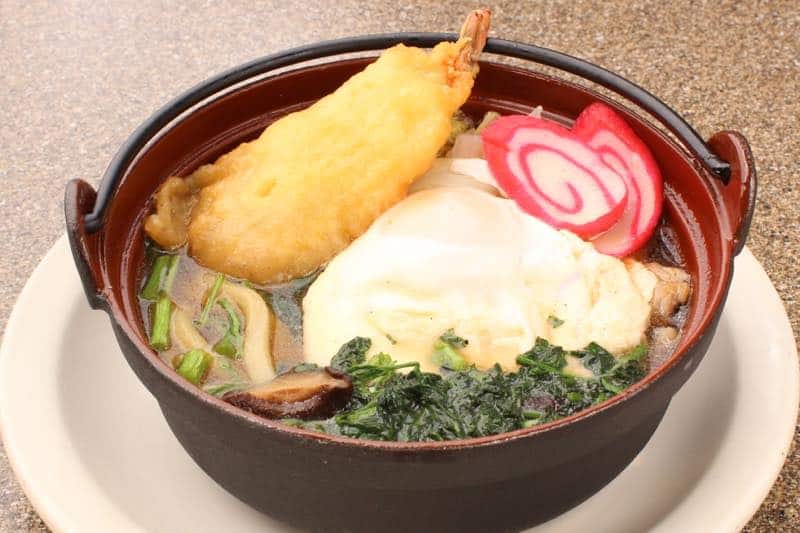 Sekiya's Restaurant & Delicatessen >> Get a special offer!
2746 Kaimuki Avenue, Honolulu, HI
(808) 732-1656
Sun-Mon & Thu, 9:00am – 8:00pm; Tue & Wed, 9:00am – 3:00pm; Fri & Sat, 8:00am – 9:00pm
5) Five Star Shrimp
The shrimp truck-turned-casual counter eatery that showcases everyone's favorite crustacean bathed in a garlicky butter sauce is now at the Waikiki Food Hall, located on the third floor of the Royal Hawaiian Center.  Sure, the garlic shrimp, lemon butter shrimp, pesto garlic shrimp, and spicy shrimp served with rice are all great reasons to not have to drive to the North Shore.  However, ever considered them over a bowl of ramen noodles in a shio (salt) soup base?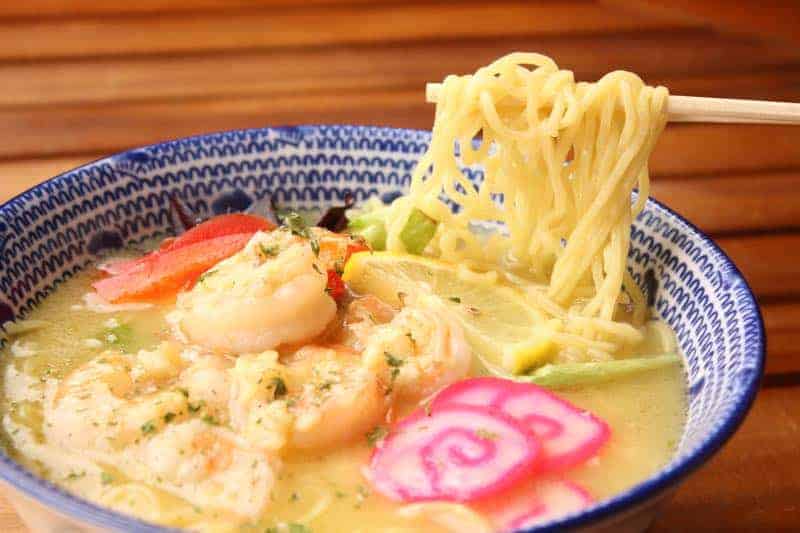 The unique garlic shrimp ramen at Five Star Shrimp features a few garnishes of lettuce, narutomaki (fish cake), and a slice of lemon, with five plump sauteed shrimp drizzled with rich, garlic butter sauce which, by the way, beautifully augments the delicately salted broth of the ramen.  The noodle soup dish is served in a take out bowl unlike the one in the photo which we used to make it look prettier, but we recommend enjoying the entire bowl before the noodles get soggy, and while the shrimp boast their perfectly juicy and tender textures.
Five Star Shrimp >> Get a special offer!
Royal Hawaiian Center, Building C, 2301 Kalakaua Avenue, Honolulu, HI
(808) 376-0435
Sun-Sat, 11:00am – 9:00pm
Whether or not you feel like a bowl of ramen, udon, soba, or saimin, this list should give you enough options to noodle on.  There are so many unusual renditions, and speaking from experience after enjoying a number of them, these are all worth a try!