For most Hawaii locals, the word "tuna" probably conjures up one of two thoughts, either a tuna sandwich or more commonly, a glistening bowl of ahi poke.  Ahi poke is often served either shoyu-style with a sauce generally comprised of soy, ginger, sesame oil, onions, and scallions, or Hawaiian-style rubbed with Hawaiian salt, limu (seaweed), and possibly inamona (kukui nut relish).  However, there are other incarnations of the delightful raw tuna dish, featuring a variety of creative accents.  Here is a roundup of some of our favorites:
1) Poke Fix Hawaii
Poke Fix Hawaii offers traditional and contemporary poke using the freshest fish and seafood and local ingredients, made with aloha.  In addition to shoyu ahi poke and a Hawaiian Style ahi poke, other delectable finds include some with a little more heat, including a spicy ahi poke and a creamy spicy mayo ahi poke.  Poke bowls with rice are available but those seeking a more intense bite should consider the umami bombs, which are balls of rice nestled in little vessels made from abura-age (deep fried tofu) topped with a choice of poke.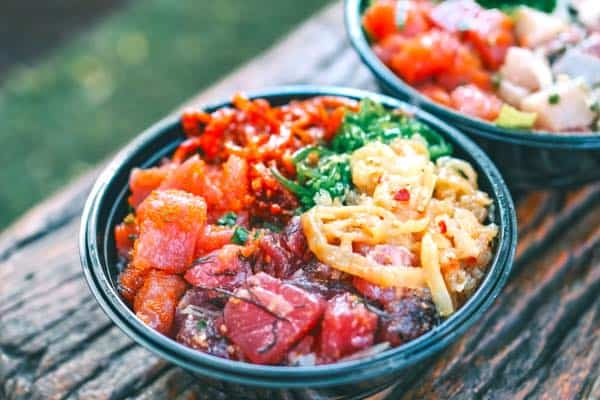 Poke Fix Hawaii >> Get a coupon!
334 Seaside Avenue, #108, Honolulu, HI
Sun, 11:00am – 8:00pm; Mon – Sat, 11:00am – 7:00pm (closed Wed)
https://pokefixhawaii.com/ 
2) Poke Waikiki
Located in the Paina Lanai Food Court at Royal Hawaiian Center is Poke Waikiki, a counter that serves up healthy poke bowls loaded with vegetables.  Chaste cubes of fresh ahi sprinkled with tobiko (flying fish eggs) are incorporated with either salmon or deep-fried mochiko chicken as they sit alongside edamame, lettuce greens, seaweed salad, tomato, red onions, white onions, and crispy garlic chips, and a chiffonade of nori (laver) over a bowl of rice.  Those mitigating their carb intake may consider turning their bowl into a wrap with one of the poke burritos.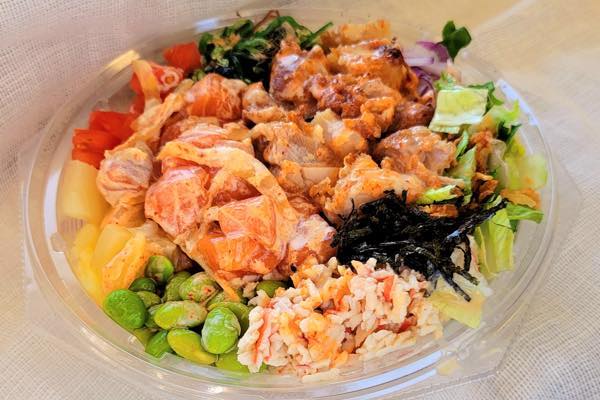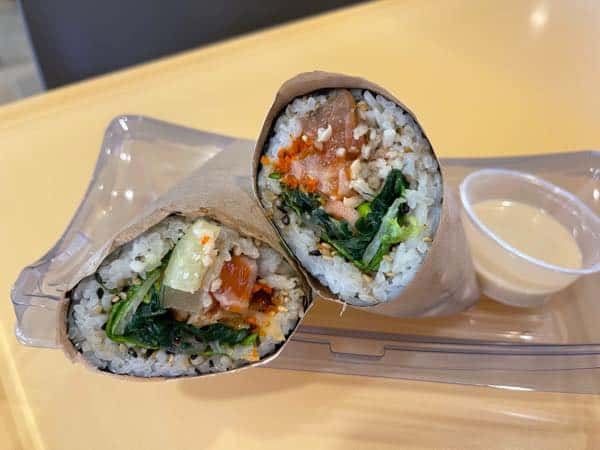 Poke Waikiki >> Get a coupon!
Royal Hawaiian Center, 2201 Kalakaua Avenue, B205, Honolulu, HI
Sun-Sat, 11:00am – 8:00pm
3) Fresh Bites
Don't be fooled by this place because while Fresh Bites appears to specialize in breakfast plates featuring mochi waffles, it is also one of the newer spots in town that prides itself on poke.  A popular dish is a Fresh Bites Don featuring fresh ahi shoyu poke mixed with ikura, masago, edamame, takuan, and an ocean salad.  For those seeking diversity in their poke, a Triple Poke Don includes fresh ahi salmon, madako with ikura in a boldly flavored shoyu poke sauce.  Who knows, maybe their answer to the Southern chicken and waffles plate may one day be a poke and waffles?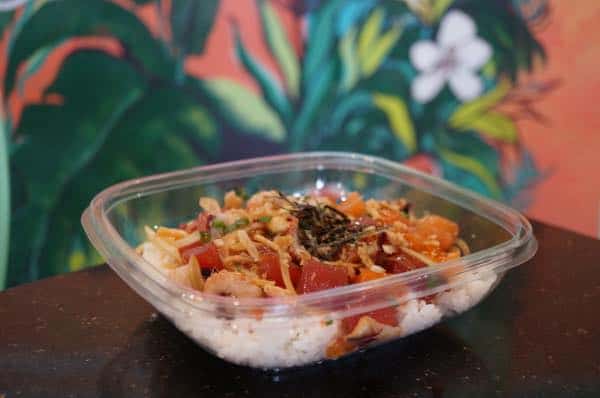 Fresh Bites >> Get a coupon!
2334 South King Street, Honolulu, HI
Mon-Thu, 9:00am – 3:00pm; Fri-Sun, 9:00am – 7:00pm
4) Ono Seafood
On Kapahulu Avenue is Ono Seafood, a poke eatery known for its bowls.  Featuring a wide variety of poke, there are a number of unique renditions as well.  The shoyu ahi is not just your typical version, as Ono Seafoods features a secret shoyu sauce, accented with limu, kukui, chili pepper, and a drizzle of sesame oil.  There is also a spicy ahi in a creamy mayo sauce with tobiko, ginger, green and white onions, and sesame oil.  However, the most dramatically different ones are the miso ahi scented with ginger, white onions, and scallions, as well as the wasabi ahi mixed with wasabi oil, kukui nuts, and onions for a nose-flaring pungence.  And what better way to eat poke than to serve it over a fragrant bowl of jasmine rice!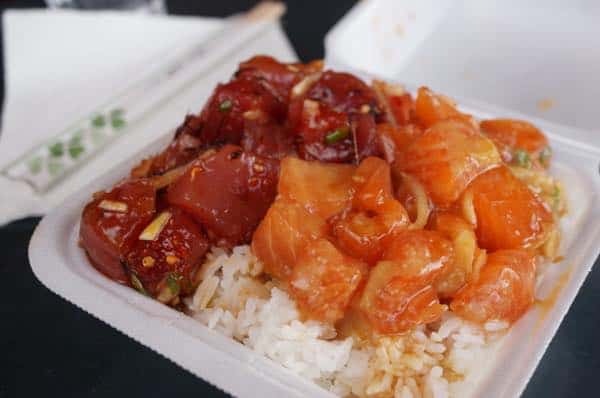 Ono Seafood
747 Kapahulu Avenue, Honolulu, HI
Tue-Fri, 10:00am – 5:00pm; Sat, 10:00am – 6:00pm
5) Tanioka's
One of the most iconic poke spots in town is Tanioka's, located in Waipahu.  This poke mainstay specializes in fresh, locally sourced ahi and aku.  The poke counter is filled with selection to tempt, including a crunchy garlic poke, alae salt poke and onion poke both offering a spicier version with chili and brinier version with crunchy limu.  Through their thoughtful fusion of contemporary local flavors and nostalgic dishes dating to Hawaii's plantation era, Tanioka's establishes one of Hawaii's most sought after eating experiences, including one for poke.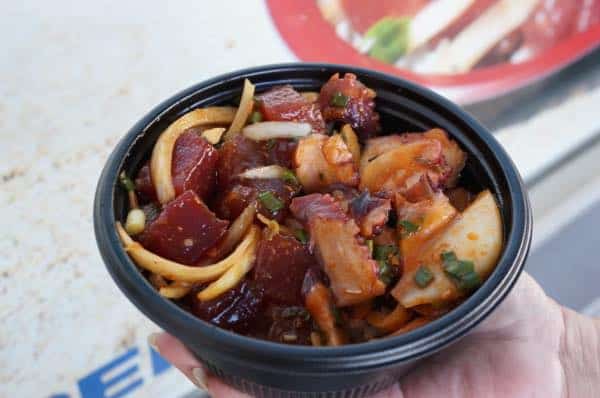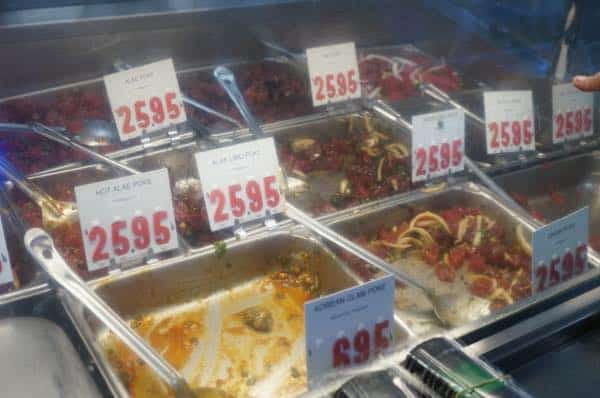 Tanioka's Seafoods & Catering
94-903 Farrington Highway, Waipahu, HI
Wed-Sun, 9:00am – 2:00pm
https://taniokas.com/
With so many options available for ahi poke, it is no wonder that most locals equate tuna with poke.  The raw cubes express such voluptuous opulence that it seems almost sacrilegious to cook the fish.  This list should help get you started in finding your poke preferences.