Despite carbohydrates and calories being vilified as the antithesis of health and nutrition, people are still tempted by them much like sailors to the call of the siren.  Yet, while we know they are not necessarily good for us, we just can't help ordering a hearty portion to help stave off complete drunkenness, especially after a night out with friends.
Sometimes high caloric dishes are just so worth the subsequent workout, or slumber, depending on your preference.  Here are a few considerations for you on your next late night binge session.
1) Kamitoku Ramen
Known for the gyu-kotsu (beef bone broth) ramen, Kamitoku Ramen from the Tottori prefecture in Japan has been serving its rich emulsified beefy broth since 1949.  After opening up a food truck in Waikiki in 2014, Kamitoku migrated to its first brick-and-mortar in Ward Village.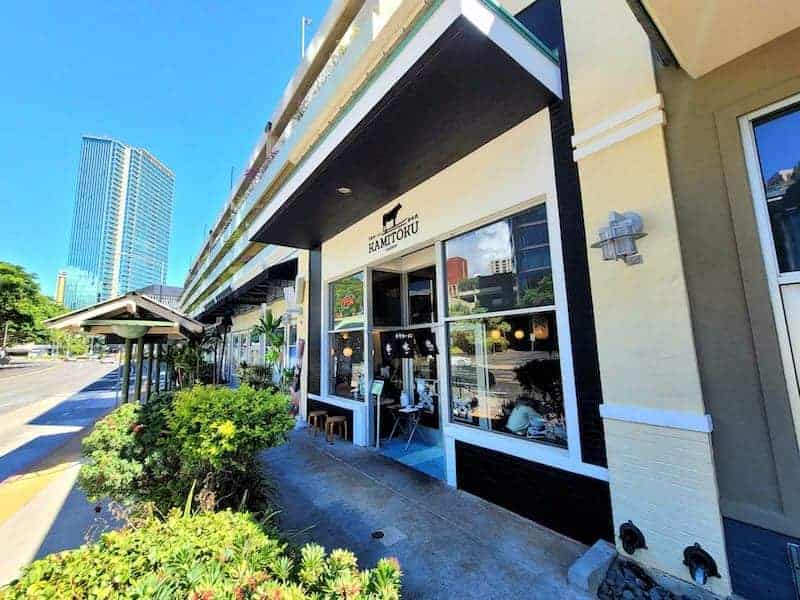 Kamitoku challenges up to 10 ramen eaters per day with its $25 Beefy King, a mega-sized version of the beefy wild ramen featuring an egregious amount of noodles a creamy, non-dairy beef broth topped with beef char siu, chicken karaage, marinated egg, and a tower of mixed bean sprouts and cabbage.  Is your appetite large enough enabling you to finish this monolithic bowl of ramen, enabling you to be crowned the next Beefy King?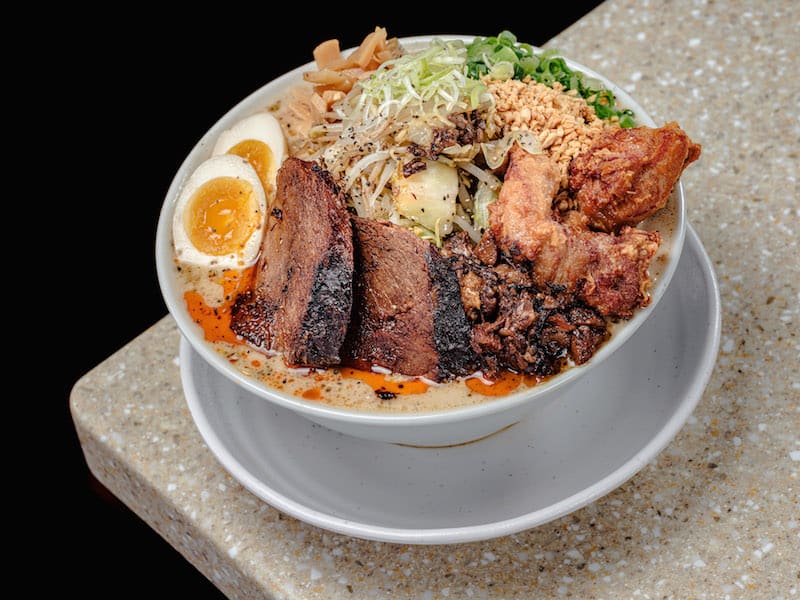 Kamitoku Ramen >> Get a coupon!
1200 Ala Moana Blvd., Suite 657, Honolulu, HI
Mon-Sat, 10am – 2:30pm (Last Call) and 5 – 9:30pm (Last Call); Sun, 10am – 2:30pm (Last Call) and 5 – 8:30pm (Last Call)
https://kamitokuramen.com/?lang=en
2) Honolulu Burger Company
Honolulu Burger Company prides itself on serving the freshest island products grown, bred, and fed right here in the islands.  Using free-range grass-fed beef from family owned ranches such as PuuWaaWaa Cattle Co. on the Big Island, butter lettuce from Mari's Gardens, and tomatoes from Sugarland Farms, the handcrafted burgers have won the hearts of many Hawaii locals.  Whether it be the Mushroom Mushroom Burger, the Blue Hawaii Burger, or even a custom-built burger topped with a selection of toppings such as Black Forest ham, kimchee, or pineapple salsa and dressings including chimichurri, horseradish cream, sweet chili aioli or lemon caper aioli, Honolulu Burger Company may fulfill your deepest burger fantasies.  Now available in Waikiki.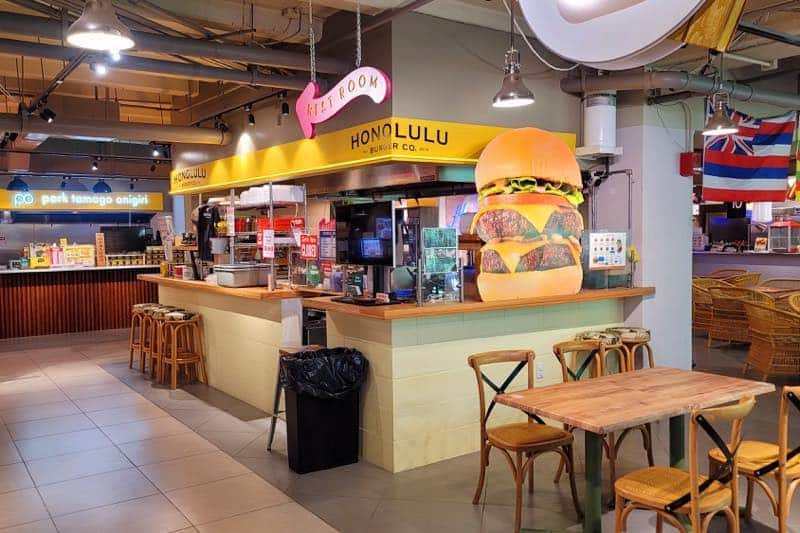 Consider the Aloha Challenge, which features an eight patty burger with each layer representing a different burger available on the menu, served with two orders of French fries, and a milkshake.  If you can finish the entire $70.36 burger within one hour, the burger is free and you also get a free T-shirt, though it may be in a larger size than when you started eating.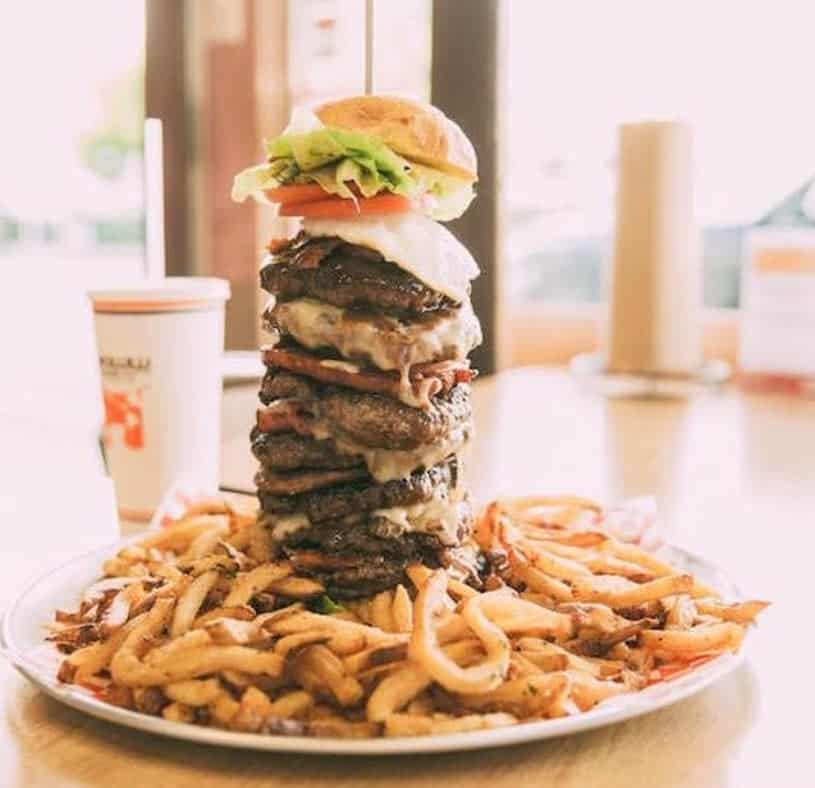 Honolulu Burger Company >> Get a coupon!
Royal Hawaiian Center Bldg C (Level 3)
2301 Kalakaua Ave.
11am – 9pm daily
https://waikikifoodhall.com/shop/honoluluburgar.php
3) Aloha Melt Waikiki
If you cannot resist a grilled cheese sandwich, then Aloha Melt Waikiki may pull at your heartstrings.  Either savor a basic four cheese melt oozing with cheddar, mozzarella, provolone, and American, or add some additional accents, such as bacon, caramelized onion, and a ketchupy aioli, or even a beef patty.  Then simply pull apart the sandwich for an Instagrammable shot worth sharing.  Pair it with a tomato basil soup for dipping, and you have a hearty meal that may induce hibernation.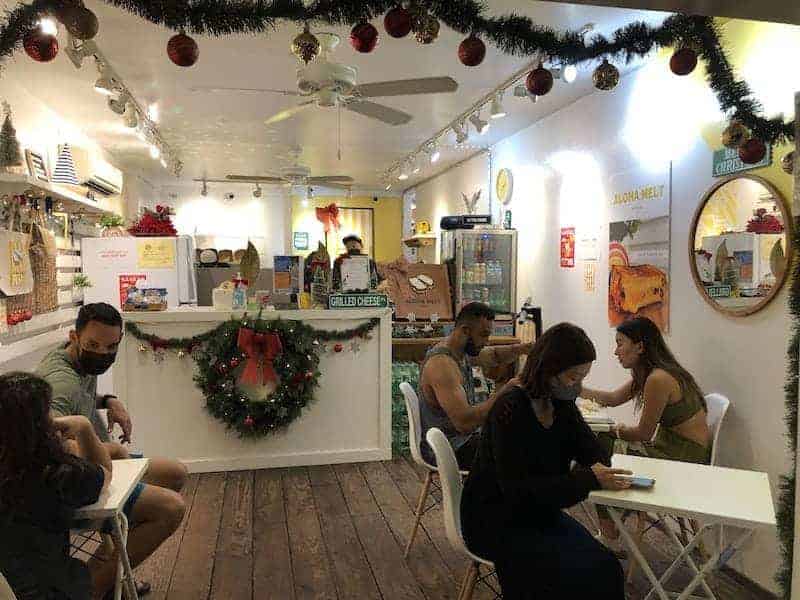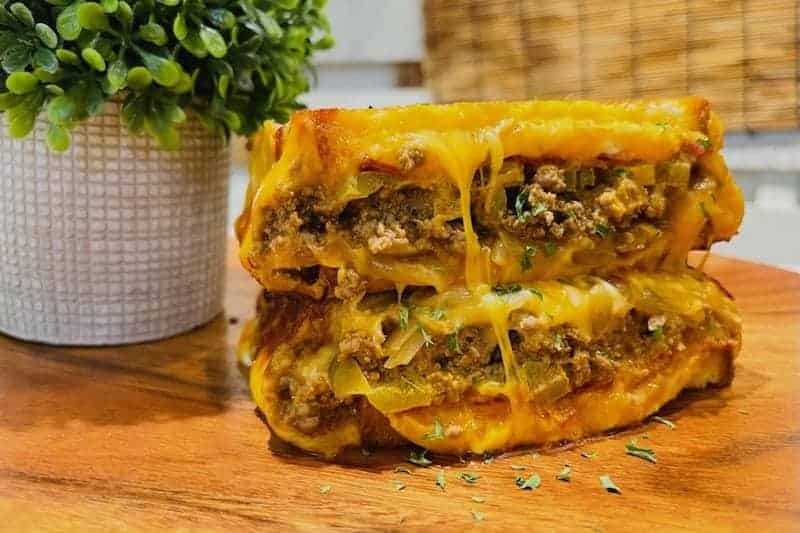 Aloha Melt Waikiki >> Get a coupon!
355 Royal Hawaiian Ave, Honolulu, HI
Mon-Sat, 6pm – 1am; Sun, 6pm – 11pm
After indulging in some of these decadent meals, you will certainly feel satisfied.  We just cannot guarantee that you will have room for dessert, nor any inclination to get up and go to an ice cream parlor for that matter.