National Egg Day is coming up in a few days, and rather than do the obvious breakfast-related feature, we thought to do a roundup highlighting the coveted egg rendition found in ramen.  Ajitama, the abbreviated version of "ajitsuke tamago" which translated into English means "seasoned egg," is a marinated soft boiled egg bursting with soy umami revealing a semi-firm albumin surrounding a custardy yolk.  Because it is light years better than simply dropping a raw egg into a boiling cup of instant noodles, the ajitama is certainly a welcome addition in flavor and texture when enjoying a comforting bowl of ramen at a specialty noodle shop.  Here are a few popular ramen shops in town that offer the perfectly cooked egg as an accompaniment.
1) Ezogiku
One of the ramen pioneers in Hawaii, Ezogiku shares a long history, dating back to 1973, when it first opened in the islands.  Originally from Tokyo, the popular ramen chain currently with a location in Waikiki is most known for its signature miso ramen.  However, the one ramen that features an ajitama is the Simple Ramen, also referred to as Chuka Ramen.  Influenced by a Chinese noodle dish, the Simple Ramen includes char siu, shoyu pork, fishcake, green onion, and a seasoned egg as garnish for the soy-based ramen.  Of course, should you wish to try any of their other delectable presentations, such as the miso ramen, you are more than welcome to order an ajitama as a supplement.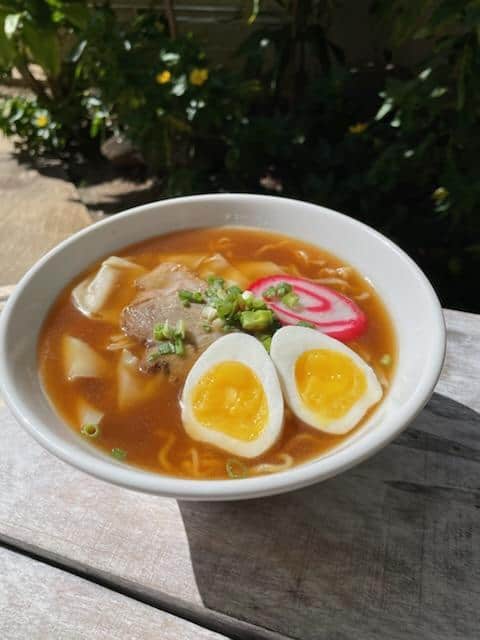 Ezogiku >> Get a Coupon!
2239 Waikolu Way, #6, Honolulu, HI
(808) 379-0490
Sun-Sat, 11:00am – 8:00pm
2) Kamitoku Ramen
Hailing from Tottori, Japan, Kamitoku Ramen prides itself on its gyu-kotsu (beef bone) ramen, noodles bathed in a rich, emulsified beef broth.  After being in business for 65 years, Kamitoku Ramen made the bold move of opening its first brick-and-mortar overseas in Honolulu at Ward Village.  Now, this is the only location in Hawaii where one may find the alluring ramen inspired from the Chinese beef noodle dishes found in Manchuria.  As for the precious ajitama, that is found in just about every ramen option at Kamitoku Ramen, including the shoyu, yuzu, miso, spicy, tantan, se-abura, and the signature "Beefy Wild" presentations.
Kamitoku Ramen >> Get a Coupon!
https://kamitokuramen.com/ward-center/?lang=en
1200 Ala Moana Blvd., Suite 657, Honolulu, HI
(808) 784-0292
Mon-Sat, 11:00am – 3:00pm, 5:00 – 9:00pm; Sun, 11:00am – 3:00pm, 5:00 – 10:00pm
3) Ramen Bario
A ramen shop in the Makai Market food court at Ala Moana Center is Ramen Bario, which specializes in a boldly flavored Tokyo-style tonkotsu (pork bone) shoyu ramen scented with garlic.  The signature ramen pairs the rich broth with a thick noodle, while the original Kyushu-style tonkotsu ramen features a black garlic tonkotsu with skinny noodles.  The shop is known for its generous portions, providing a voluminous serving of noodles and soup above other ramen shops in its class.  As a matter of fact, true gourmets who have dined at the original location in Japan, claim that the Hawaii branch maintains a very consistent flavor and quality.  The ajitama egg, may only be found in a few of the ramen, namely the Bario Egg Ramen, the Bario Special Ramen, or the Tonkotsu Egg Ramen.  However, its slightly sweet soy nuance is derived from the charsiu sauce that Ramen Bario uses as a base for the egg marinade, making it a worthy consideration as an add-on for any of the other presentations.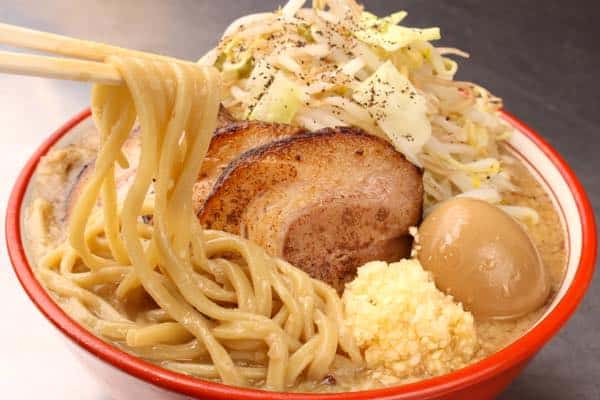 Ramen Bario >> Get a Coupon!
https://www.bario-hawaii.com/
Ala Moana Center, Makai Market, 1450 Ala Moana Blvd., Honolulu, HI
(808) 942-2025
Mon-Thu, 11:00am – 7:00pm; Fri & Sat, 11:00am – 8:00pm; Sun, 11:00am – 6:00pm
4) Hokkaido Ramen Santouka
Hailing from Asahihikawa in Japan, Hokkaido Ramen Santouka is the culmination of founder Hitoshi Hatanaka's efforts to produce delicious ramen.  Known for its shio (salt) ramen featuring a mild-flavored white tonkotsu (pork bone) broth and a small pickled plum in every bowl.  The Hawaii location opened in 2014, adjacent to Don Quijote in Honolulu.  While the ajitama is not included in any ramen, they are available as add-ons.  The delicate, original soy-based marinade with dashi imparts a subtle sweetness to the custardy boiled egg.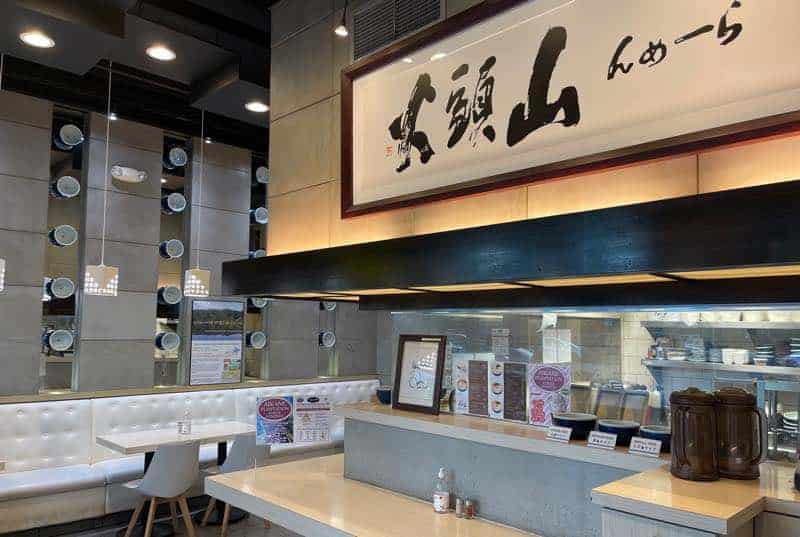 Hokkaido Ramen Santouka >> Get a Coupon!
https://www.santouka.co.jp/en
801 Kaheka Street, A-8, Honolulu, HI
(808) 941-1101
Sun-Sat, 11:00am – 10:00pm (tentatives plans to reopen on June 1)
5) Naniwaya Ramen
With its roots as a restaurant that once operated at the Royal Hawaiian Center, Naniwaya Ramen emerged in the Makai Market food court at Ala Moana Center.  Offering traditional-style ramen with a parent broth made from boiling down pork and chicken bones, Naniwaya Ramen offers a variety of flavors, including shoyu, salt, miso, and spicy ramen.  The noodles are crafted from an original recipe.   As for the ajitama, none of the ramen feature the seasoned egg but patrons are able to add on the ajitsuke tamago for a nominal fee to elevate the entire presentation.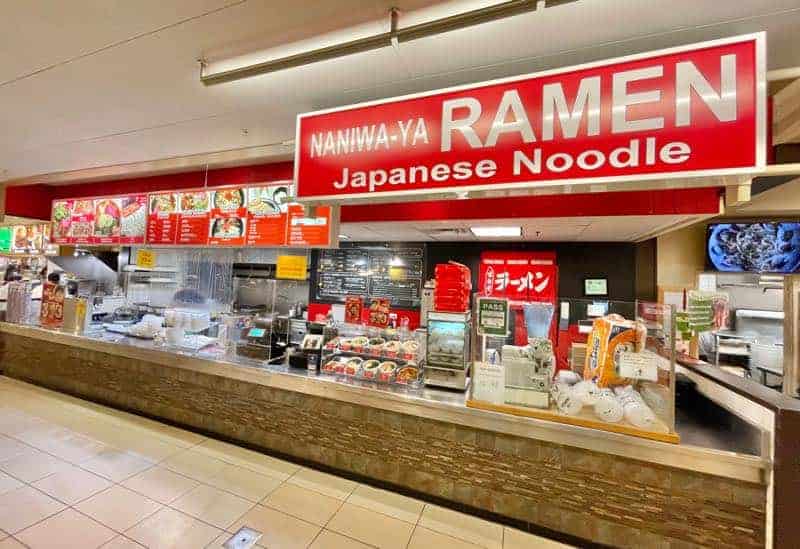 Naniwaya Ramen >> Get a Coupon!
Ala Moana Center, Makai Market, 1450 Ala Moana Blvd., Honolulu, HI
(808) 955-0066
Mon-Sat, 10:00am – 8:00pm; Sun, 10:00am – 7:00pm