The cost of beef in America seems to be outpacing the rate of inflation.  Sure, the increased labor and fuel costs combined with the increase in the price of grains have all made their impact but another factor is the overall expanded demand for meat.  That being said, steakhouse dinners are starting to look more and more like a true luxury.  Fortunately, there are a number of spots in Hawaii where you can enjoy some great quality beef at affordable prices.
1) Beef Volcano
A tiny shop in the heart of Waikiki, Beef Volcano serves up big flavors.
Most known for its Japanese-inspired beef bowls ($14.50 – $23.70), the take-out eatery layers slices of quality USDA Black Angus beef dressed in a variety of sauces over Japanese rice or fresh greens.  The Hawaiian Style Bowl features a dreamy, creamy drizzle of a savory pineapple-infused sauce.  Those who prefer things spicy may opt for the Korean Style Bowl with a chili sauced accent.  A Japanese Sukiyaki Bowl adds a slightly sweet, savory soy-based sauce to the entire composition.  Or customize your own by choosing the portion of beef, a type of sauce among a house special sauce, a signature steak sauce, or oroshi ponzu featuring grated Chinese radish in a brightly citric soy-based sauce.  Add a side of poached egg or truffle mashed potato to add another luxurious layer of flavor and experience an eruption of flavors.
Beef Volcano >> Get a special offer!
429 Nahua Street, Honolulu, HI
Phone:  (808) 650-8907
Thu-Tue, 10:00am – 2:30pm
2) Steak Farm Waikiki
In its second year of business in Waikiki, Steak Farm Waikiki is a casual eatery located on Waikiki Beach Walk offering well-portioned plate lunches. 
Affiliated with Steak Shack, a takeaway steak outfit in the Castle Waikiki Shore that serves two steak-centric plates, Steak Farm Waikiki offers an expanded menu.  Here, plate lunches spotlighting steaks seasoned with a proprietary dry seasoning rub are served with two scoops of rice, a green salad with a popular house-made creamy garlic dressing, and a choice among five different steak sauces:  teri miso (similar to a yakiniku sauce), teriyaki, sweet chili, ponzu, or A-1 Steak Sauce.  Popular plates include the Steak Onion Mushroom Plate and the Steak & Chicken Combo, both $20, but there is also a heavenly Bulgogi Cheesesteak Sandwich ($18) featuring 6 ounces of marinated beef with melted Swiss, pickled red cabbage, and spicy mayo loaded up on a hoagie.  
Steak Farm Waikiki >> Get a special offer!
260 Beach Walk, #101, Honolulu, HI
Phone:  (808) 888-0987
Sun-Sat, 7:00am – 8:00pm
3) Asahi Grill Kaimuki
Asahi Grill, the popular local eatery that just opened up a new Kaimuki location, continues to serve the original Kam Bowl oxtail soup ($23.95).  The extracted beefy broth loaded with oxtails, Chinese parsley, and green onions goes beautifully with a ginger and soy sauce dip.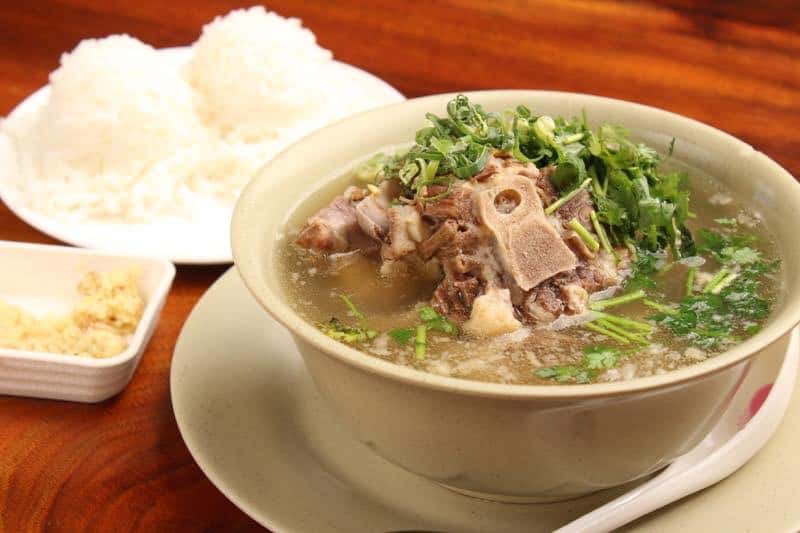 Committed to serving classic island-style flavors, Asahi Grill serves up authentic local plates that highlight beef, such as kalbi fried rice ($14.95) with sliced marinated short ribs served with two eggs, hamburger steak with a rich brown gravy ($13.95), loco moco featuring two homemade hamburger patties over rice slathered with either brown gravy or a local-preferred curry gravy ($15.95), Korean-style kalbi ($19.95), and teriyaki beef.  Old school hamburgers ($10.50) and cheeseburgers ($11.50) are also available, delivering the flavors that both residents and visitors to Hawaii will just love.
Asahi Grill Kaimuki >> Get a special offer!
3008 Waialae Avenue, Honolulu, HI
Phone:  (808) 744-9067
Thu-Tue, 8:00am – 2:00pm; 5:00 – 9:00pm
4) Fire Grill Waikiki
This stylish, modern eatery in the heart of Waikiki offers creative American cuisine, brews, and craft cocktails. 
Currently serving breakfast and dinner, the restaurant is well-known for its Angus beef smoked prime rib ($39 for 10 oz, $62 for 16 oz) which comes to the table on an acacia wood board under a glass dome filled with smoke.  The flash grilled cut is tender and juicy, served with mashed potatoes and grilled asparagus.  Another popular option is the BBQ baby back ribs ($37 for a full rack) basted in a tangy house BBQ sauce and served with French fries and coleslaw.  Burgers are also available, be it the Aloha Cheeseburger ($18) or the Aloha Double Cheeseburger ($25) featuring a 7-ounce patty with lettuce, tomato, onion, American cheese.  A Loco Teri Burger ($18) adds a mango teriyaki sauce and an egg for a slightly more Asian twist, but if you are a fan of the smoked prime rib, definitely consider the Angus Prime Rib Burger ($25) with a 4-ounce cut.  
Fire Grill Waikiki >> Get a special offer!
Hilton Garden Inn Hotel Waikiki Beach, 1F, 2330 Kuhio Avenue, Honolulu, HI
Phone:  (808) 744-3300
Sun-Thu, 6:00 – 10:00am, 3:00 – 9:00pm; Fri & Sat, 6:00 – 10:00am, 3:00 – 10:00pm
So leave your concerns about inflation at home, and enjoy some hearty beef dishes at reasonable prices.  The only inflation you may want to keep an eye on is that of your expanding waistline.