Each Fourth of July, most of Honolulu's residents enjoy the fireworks display set off at Magic Island, courtesy of Ala Moana Center and its tenants.  However, since the pandemic, the annual tradition of aerial bursts synchronized to music has been canceled.  Fortunately, there are other locations throughout Oahu where people may view a Fourth of July fireworks presentation.  
Here are some to consider:
1) Weyand Field – Schofield Barracks
An Independence Day celebration will take place on the army base in Wahiawa on July 2, two days earlier than the holiday.  From 2:00 to 9:00 p.m., there will be a live concert with special performances by Marc E. Bassy, The Red Jumpsuit Apparatus, Chase Rice, and 25th ID Band at Weyand Field at Schofield Barracks.  However, there will also be a fireworks show along with carnival games.  While this event is usually reserved for the Department of Defense card holders and their families, this year's event is free and open to the public.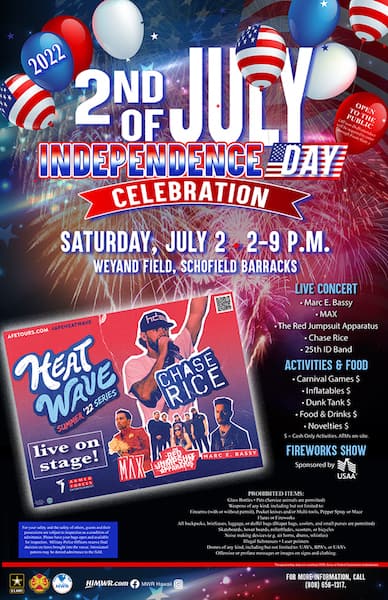 Schofield Barracks
https://hawaii.armymwr.com/application/files/7216/5350/7074/WEB_FINAL1_2022_Independence_Day_Poster.pdf
2) Kailua Beach
After two years of challenges brought on by the pandemic, Kailua Beach will be resuming its fireworks show on July 4.  The show will begin at 8:00 p.m., so people may turn it into a day to enjoy the beach with a picnic.  On the day of the event, Alexander & Baldwin will sponsor shuttle service between Kailua Long's Drugs and The Beach Center between 4:30 and 10:30 p.m. since there is a limited number of parking spots around the area.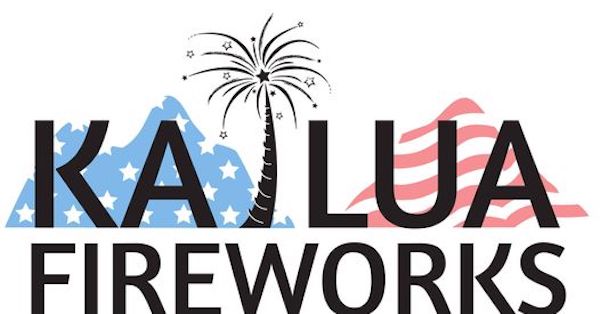 Kailua Beach
https://www.kailuafireworks.com/
526 Kawailoa Road, Kailua, HI  96734
3)  Haleiwa Beach Park
On the North Shore of Oahu, the North Shore Chamber of Commerce is hosting "The First Annual 4th of July, North Shore Festival" at Haleiwa Beach Park from 10:00 a.m. to 8:30 p.m.  This event will feature vintage car, truck and motorcycle shows with food, live music, hula, bounce houses, face painting, a food eating contest, and a robotics competition making it fun for the entire family.  The afternoon musical entertainment will feature Liquid Amber, a five-piece band playing swing jazz, rhythm and blues, classic rock, old school funk, and modern pop.  Then, the 50-piece Marine Corps concert band will perform patriotic music from 6:00 to 7:00 p.m.  The evening will culminate with the Marine Corps rock and roll band and a fireworks show starting at 8:00 p.m.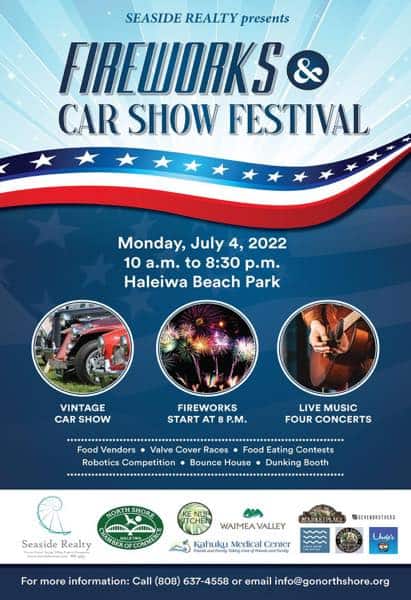 The First Annual 4th of July, North Shore Festival
Haleʻiwa Beach Park, 62-449 Kamehameha Hwy, Haleiwa, HI  96712
4)  Hukilau Marketplace
Farther north on Oahu in Laie is Hukilau Marketplace's Fourth of July celebration promising food, fireworks, free activities, and live entertainment.  The vintage throwback to Hawaii in the 1950's located at the Polynesian Cultural Center will host this free event from 4:00 to 9:00 p.m.  Local artists Kekoa Kane, B.E.T., Peni Dean, and Johnny Suite will perform live while people enjoy free inflatables, balloon animals, face painting, carnival games, and more.  Local flavors will be offered by the community food vendors in an non-alcoholic, non-smoking, and non-vaping environment.  Then, end the celebration with a fireworks show by GRUCCI starting at 9:00 p.m.  Spend an entire day in Laie and experience festivities with the most aloha on the 4th of July!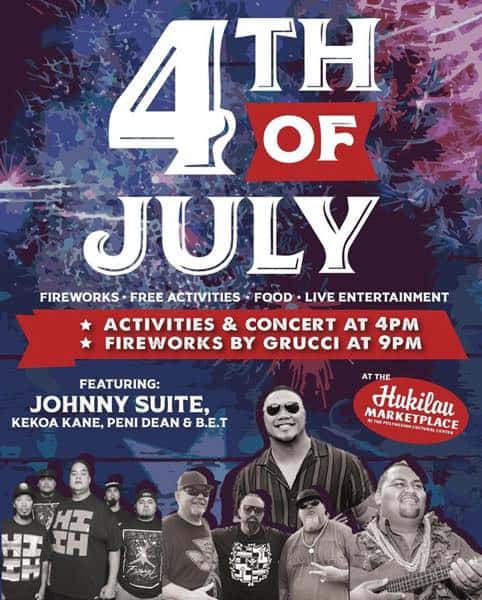 Hukilau Marketplace >> Get a special offer!
https://hukilaumarketplace.com/events/?gvh
Polynesian Cultural Center, 55-370 Kamehameha Hwy, Laie, HI  96762
These four celebrations scattered across the island may end up drawing Oahu residents to venture outside of Honolulu for a glimpse of aerial fireworks.  Be sure to plan early and you may end up being able to enjoy a few over the long weekend.