National Ice Cream Day is almost here, and the humidity in Hawaii just begs for a daily dose of frozen treats.  However, should you decide to celebrate ice cream's special day on Sunday, July 17, we hope that in lieu of ordering your typical favorite flavors, you will consider exploring a new preferred pick by experiencing a few tastes inspired by the islands.  So leave the vanilla and chocolate ice creams in the freezer, and try one of these spots for a taste of tropical Hawaii.
1) Lawson Station 
When in Hawaii, one of the obvious fruit flavors of ice cream to experience would be pineapple.  At the famous Japanese convenience store Lawson Station, particularly at the Moana Surfrider, A Westin Resort & Spa location, the Dole pineapple soft serve is extremely popular. 
Those who may not have the time to head north to the Dole Plantation may still relish the creamy, brightly acidic concoction right along Waikiki Beach.  And for those who cannot get enough of Hawaii's favorite Vitamin C-loaded bromeliad, Lawson Station also offers a version that includes pineapple chunks nestled inside.
Lawson Station at Moana Surfrider, A Westin Resort & Spa >> Get a good deal!
2365 Kalakaua Avenue, Honolulu, HI
Phone:  (808) 926-1819
Sun-Sat, 9:00am – 11:00pm
2) 7Gradi Gelato
Even though gelato is made differently from ice cream, we felt that 7Gradi Gelato should be on this list.  One of the newest dessert shoppes to open at the end of April in Honolulu, 7Gradi Gelato came about after owner Tim Chung felt that there were not enough great gelato spots in Hawaii.  A serial entrepreneur that currently operates a poke spot and Korean fried chicken outfit, Chung extensively studied the field of gelato-making, and even enlisted help from his friend who is a bona fide gelato maker.  Meaning "7 degrees" in Italian–the freezing point of gelato expressed in Fahrenheit, 7Gradi Gelato slowly churns the milk, no cream-based mixture to elicit a dense yet soft gelato incorporating less air than ice cream.  He even crafts water-based sorbetto for those seeking vegan-friendly options.
Using machines from Italy, Chung fashions incredible tropical-inspired flavors such as peach mango sorbetto and green apple & lilikoi sorbetto, an unusual blend that is further invigorated by the textural addition of crunchy passion fruit seeds.  On National Ice Cream Day, 7Gradi Gelato is expected to also bring back its ever-popular ube gelato.
7Gradi Gelato >> Get a good deal!
SALT at Kaka'ako, 324 Coral Street, Honolulu, HI
Phone:  (808) 773-7009
Mon-Thu, 12:00 – 9:00pm; Fri, 12:00 – 10:00pm; Sat, 11:00am – 10:00pm; Sun, 11:00am – 8:00pm
3) Magnolia Ice Cream & Treats
Magnolia Ice Cream & Treats is a well-frequented dessert shop known for its Halo Halo (or haluhalo), a cold dessert originating from the Philippines that is made primarily with crushed ice, evaporated milk or coconut milk, and various tropical ingredients topped with a scoop of ice cream.  And even though this is almost considered a national dessert of the Philippines, its expression here in Hawaii is most relatable to just about any local.  
At Magnolia Ice Cream & Treats, there are a number of desserts that are perfect for the warm weather.  The Mahalo-Halo mixes up banana, coconut, azuki beans, mongo beans, jackfruit, date palm jelly, and coconut gelatin before adding a topping of ube ice cream and crispy rice.  The I Lava Lychee adds a lychee ice cream, azuki beans, and lychee fruits over a base of lychee jelly, lychee popping boba, and mochi.  So if you are in the mood for a tropical-inspired sundae, Magnolia Ice Cream & Treats may be the perfect spot to satisfy that need.
Magnolia Ice Cream & Treats >> Get a good deal!
International Market Place, 2330 Kalakaua Avenue, Honolulu, HI
Phone:  (808) 489-9355
Sun-Sat, 10:00am – 10:00pm
4) Asato Family Shop
Neale Asato and his family seek to recreate flavors that made them happy when they were young children through Asato Family Shop.  One of the most coveted desserts found in the islands, the Asato's local style sherbert flavors sell out quickly, with pre-orders highly recommended.  Customers place an order online one week prior to pick up, lining up for the pre-paid treats on Wednesdays or Sundays (except this week when the store will be open on Saturday, July 16, and closed on July 17).  
With a number of Asato Family Shop favorites making a return this month, it is no surprise that the July 20 pre-order packs are already sold out.  While you can take a trip over to see if anything will be left for purchase at the store on July 20, there may be hope for a remnant pint of li hing float, passion orange guava, or super li hing mui.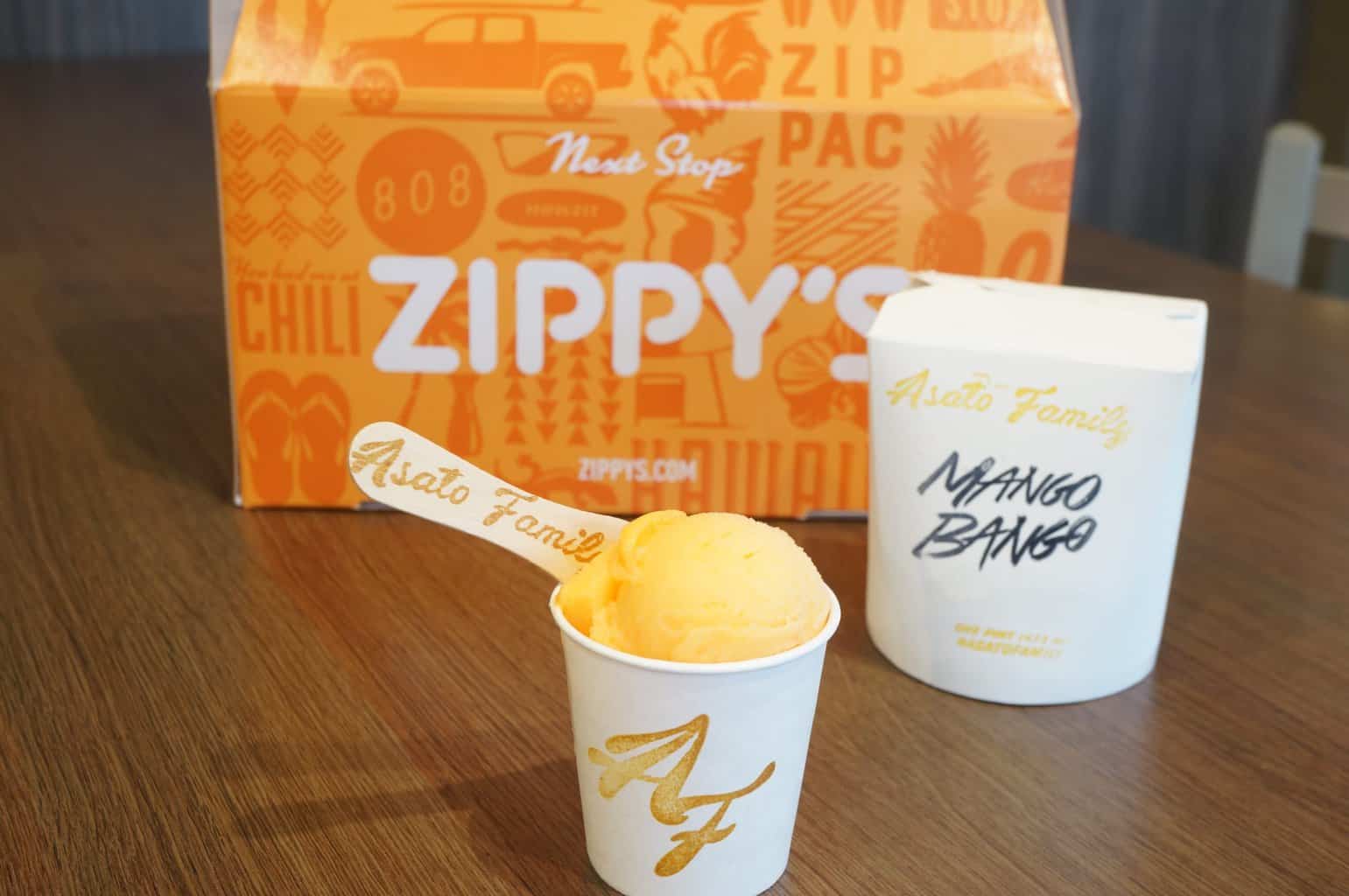 If you really want to experience the frozen concoction, you are in luck for the month of July.  All locations of Zippy's restaurants will be serving up a Mango Bango, a flavor that blends mango with Zippy's signature Orange Bang drink into a sherbert, available throughout the month.  If you are willing to line up on Sunday, July 17, Zippy's McCully will be selling pints and scoops of Asato Family frozen treats inspired by Zippy's famous Dobash cake–the local rendition of the Louisiana Doberge cake which is one of Hawaii locals' most beloved chocolate desserts.  The event in the parking lot starts at noon and will last until the 100 pints of Frozen Dobash and 2 tubs last, which may not be long, so get there early.
Asato Family Shop
1306 Pali Highway, Honolulu, HI
Sat (July 16), 10:00am – 2:00pm; Wed (July 20), 10:00am – 2:00pm
Zippy's McCully
1725 South King Street, Honolulu, HI
Phone:  (808) 973-0877
5) Sage Creamery
Sage Creamery focuses on creating ice cream of the highest quality, incorporating organic dairy and locally-sourced ingredients.  Avoiding the use of artificial dyes or commercial stabilizers, Sage Creamery delivers the optimal expression of flavor and texture in each of its frozen desserts.  
While the ice creams are sold primarily at pop-ups and farmers markets–namely the Honolulu Farmers Market fronting the Neal Blaisdell Concert Hall on Wednesdays, the Kailua Farmers Market adjacent to Down to Earth on Thursdays, and the Mililani Farmers Market at Mililani High School on Sundays, a few retailers to carry select flavors in pints–Diamond Head Market & Grill on Monsarrat, Chadlou's Coffee Shop in Kailua, and Feast by Jon Matsubara in Manoa.
Two flavors incorporating local ingredients and sought after flavors include a Hapa Matcha, a layering of green tea ice cream with hojicha honey ice cream made with Manoa Honey for a creamy, mildly sweet and roasted notes yet herbaceous dessert.  Another, the Paniolo Chocolate, expresses Hawaii-nuanced Mexican hot chocolate flavors through a combination of Manoa Chocolate with cinnamon, and a touch of Hawaiian chili pepper to exhibit a spicy, chocolatey note that finishes with a soupcon of heat that tickles the throat.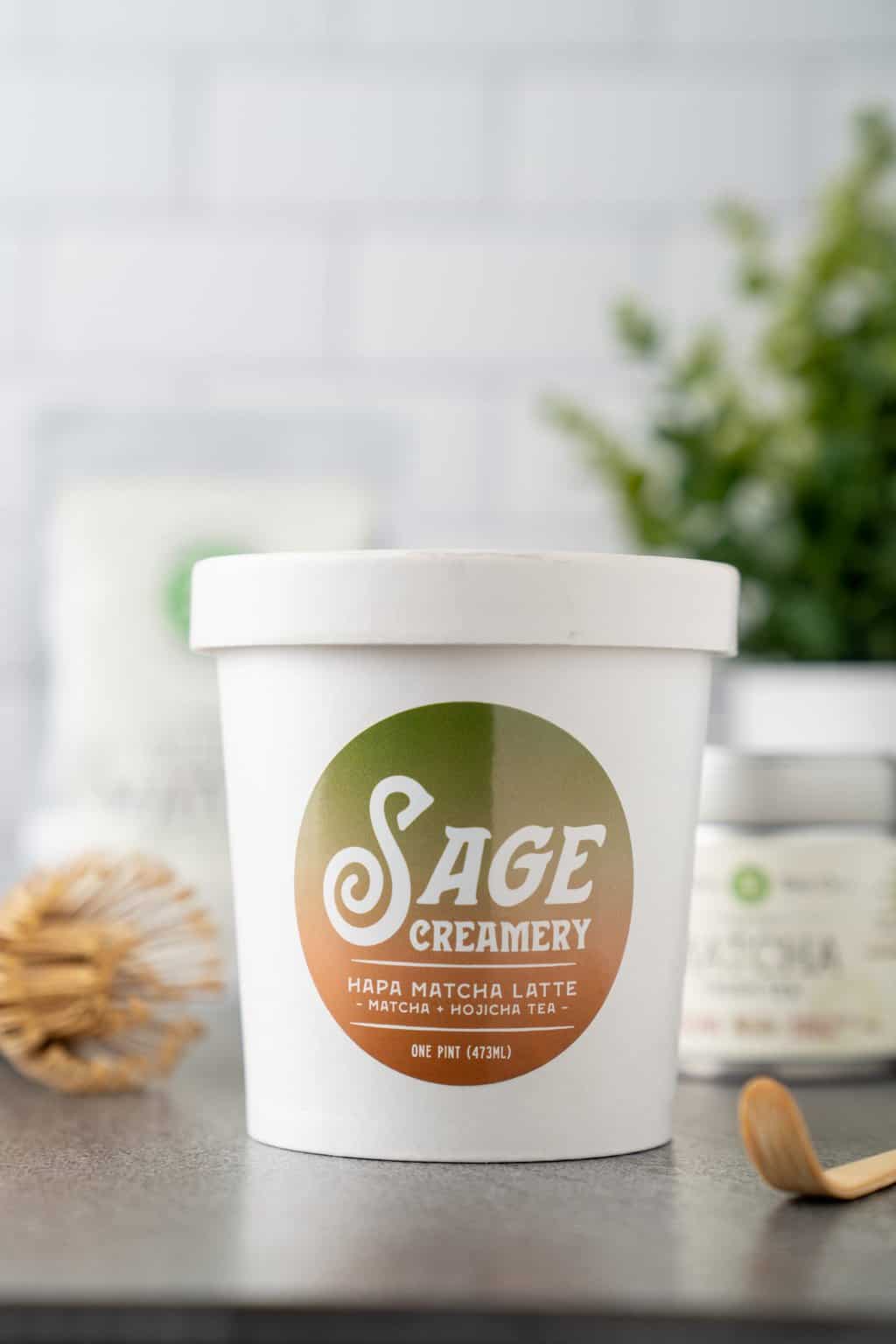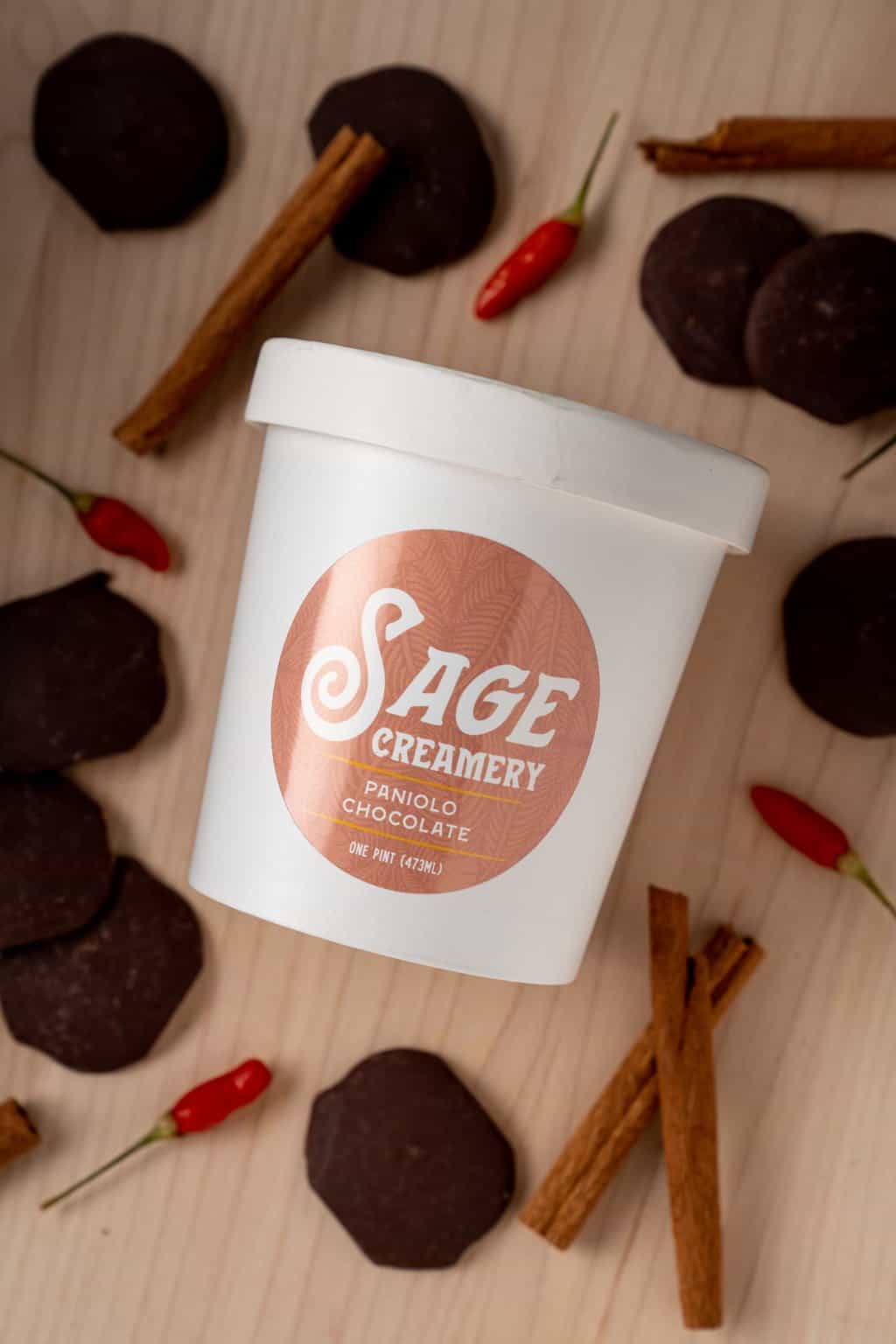 Sage Creamery
https://sagecreamery.com/
There are so many wonderful ice cream brands in Hawaii, with a multitude of flavors.  The question is where will you be spending your National Ice Cream Day?  With a little planning, you may be able to coordinate some popular local frozen desserts after each of your breakfast, lunch, and dinner this coming Sunday.