Feeling Santa-mental?  Here is a holiday gift guide with our top recommendations featuring tons of limited-edition packages and flavors from some of Hawaii's most popular stores.
2021 Holiday Packages and Flavors
The Honolulu Cookie Company, known for their adorable pineapple-shaped shortbread cookies, are releasing their limited-time holiday flavors and gift packages.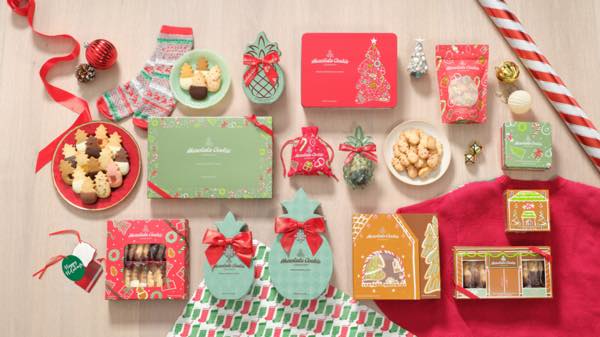 In just for the holiday season are:
Peppermint Macadamia
Dark Chocolate Peppermint Macadamia
White Chocolate Ginger Spice
White Chocolate Pumpkin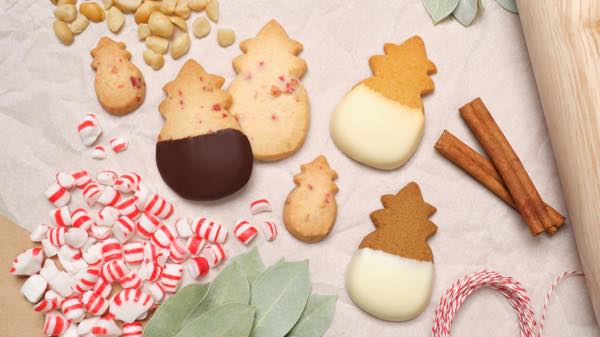 Special holiday packaging is available, from small stocking stuffers including the Mele Pineapple Ornament or Mele Tin containing three to six cookies to larger presents such as the Mele Window Gift Box and Mele Pineapple Tin, which comprise of nine to 30 cookies.  There are a few online exclusive items, like the Single Flavor Box which includes 16 cookies of any one of the holiday flavors
Don't miss out on this jovial season to indulge in these classic holiday flavors or to give a little aloha to someone you love this Christmas.
2) Hawaiian Host
One of Hawaii's most popular souvenirs are chocolates from Hawaiian Host.  Known for their crunchy macadamia nuts enrobed in luscious chocolate, Hawaiian Host is offering an online exclusive Holiday Advent Calendar, which depicts Christmas in Hawaii via seasonal shapes such as a Christmas tree, nutcracker, Santa, and snowman. 
Holiday Advent Calendar $24.95
Each day leading up to Christmas will be delicious with a daily bite of melt-in-your-mouth chocolates filled with macadamia nut butter ganache.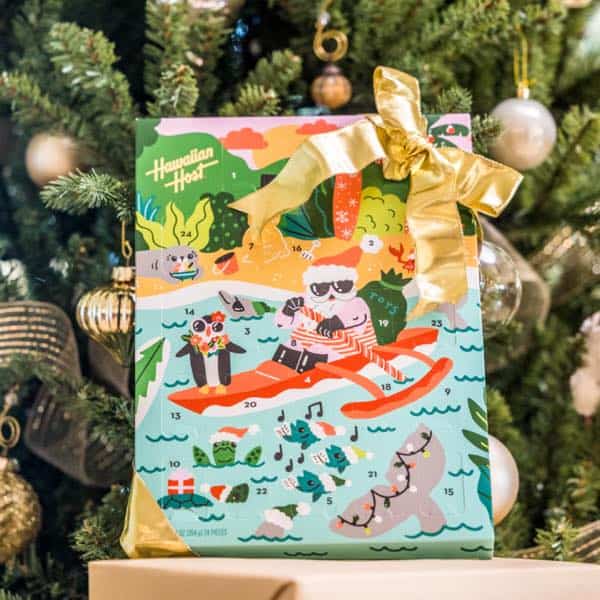 Holiday AlohaMacs Dark Chocolate $5.95
The classic macadamia nuts in silky chocolate may be familiar, but just for this season, they are wrapped with island holiday cheer, featuring a special edition box donning a cute sweater-inspired design of palm trees and sunsets.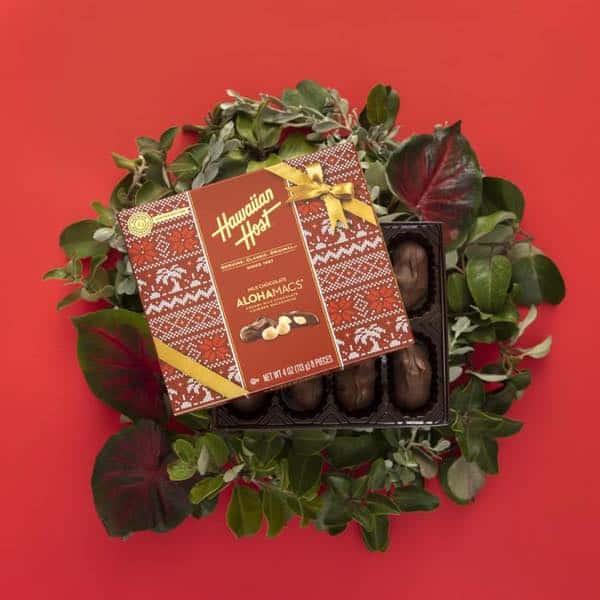 In addition to the festive holiday packages, a number of limited-edition holiday flavors are also available.
Holiday Paradise Collection Gingerbread $9.95
These gingerbread-flavored chocolate-covered macadamia nuts are dusted with fragrant warm baking spices of ginger, cinnamon, and allspice blended.  These perfect companions with some hot buttered rum or egg nog come beautifully packaged in a ruby-colored bag, making for a great Yuletide present.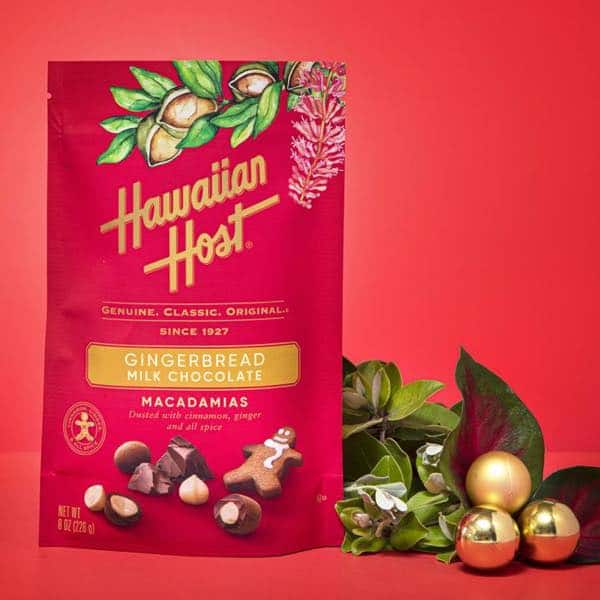 Holiday Paradise Collection Peppermint Mocha $9.95>>
The Peppermint Mocha is another classic holiday flavor bursting with refreshing mint, aromatic coffee, and heavenly rich chocolate flavors that will make you rethink buying candy canes.  Imagine peppermint-laced chocolate coating buttery macadamia nuts before being glazed with Kona coffee for a bite-sized ticket to a wintry Hawaiian wonderland.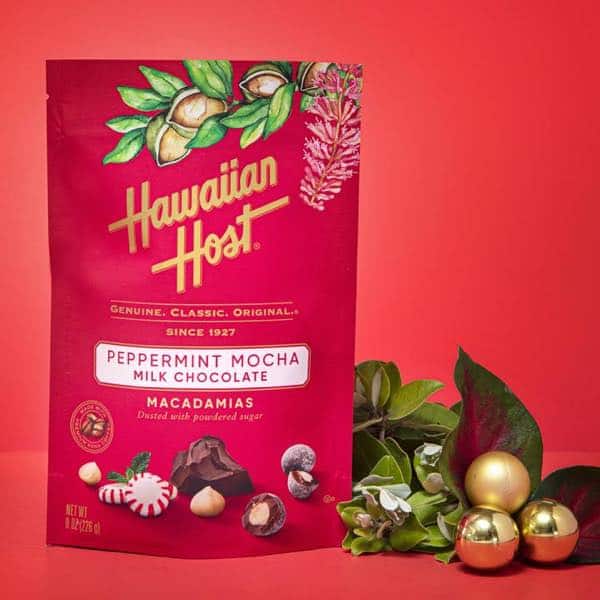 3) The Cookie Corner
The Cookie Corner, another popular shop that specializes in cookies in Hawaii, is also offering holiday packages.  A few signature items, such as the Hawaiian macadamia nut shortbread cookies and Hawaiian fruit bars are packaged with holiday-themed sleeves to give off a Christmas vibe.  Holiday edition cookies are also available by the piece, so savor the pumpkin spice snickerdoodle, cranberry raisins, gingersnaps, and melting moments while they are available.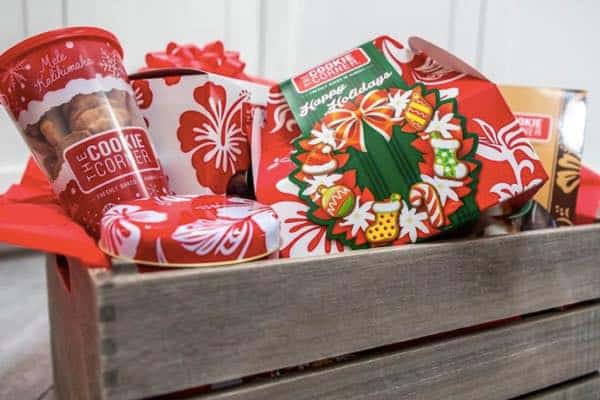 Hawaiian Fruit Bars $12.00 (9-piece) and $33.50 (27-piece box)
The assortment of sweet and tangy dessert bars include lemon, key lime, and lilikoi (passionfruit) flavors over buttery shortbread crusts.  A complimentary holiday sleeve is provided, transforming the popular personal snack into a gift for others.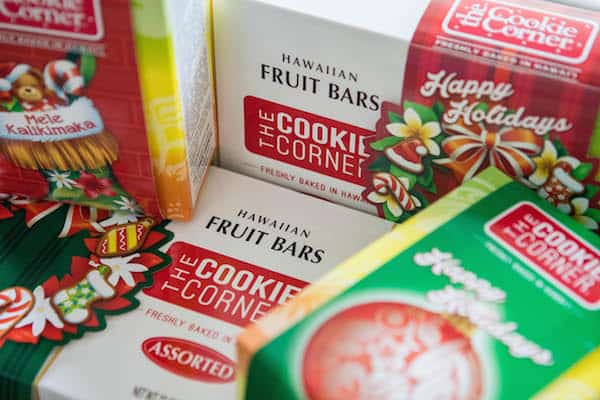 Pumpkin Spice Snickerdoodle ($18/pound, and there are about 8-9 cookies per pound)
Cinnamon cookies enhanced by sweet pumpkin flavors make this a popular holiday treat among locals.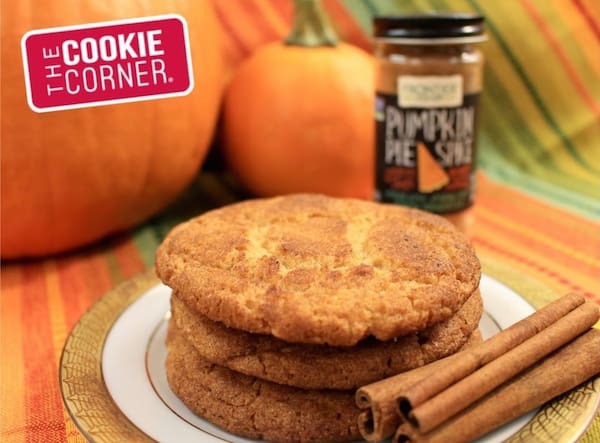 4) Big Island Candies
Big Island Candies, one of Hawaii's leading brand of confections from the Big Island, is offering a Christmas-exclusive flavor—the Dark Chocolate Covered Peppermint Brownie.  While the other holiday item of Cinnamon White Dipped Shortbreads are sold out for the season, there are also a number of holiday gift boxes still available.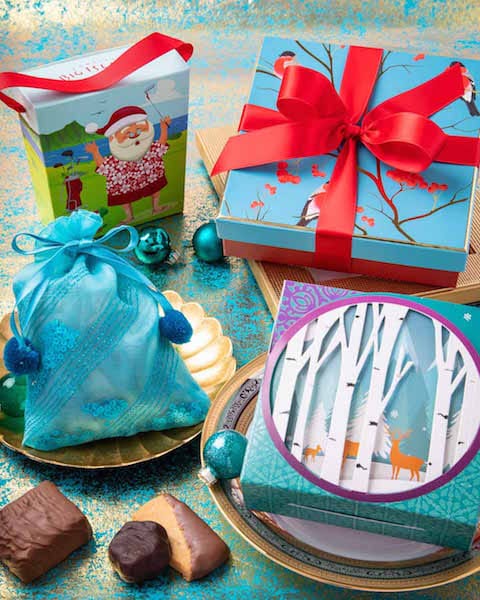 Golfing Santa Tote:  $13.00
The small box tote donning a happy Santa playing golf on Oahu contains three Dark Chocolate Dipped Macadamia Nut Shorbread, three Chocolate Chip Macadamia Nut Shortbread, two Milk Chocolate Covered Macadamia Nut Brownies, and two Mika Mints.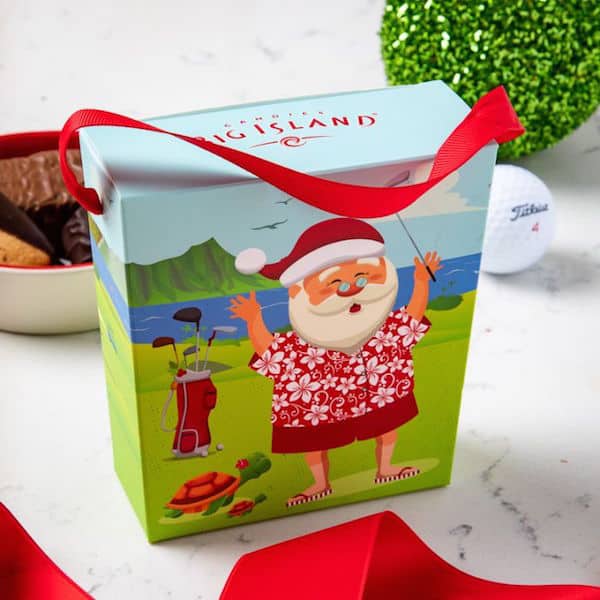 Dark Chocolate Covered Peppermint Brownie $14.75>>
An iconic flavor for the winter, decadent brownies are sprinkled with peppermint candy flakes and veiled with a cool peppermint layer of crème before being enrobed in chocolate.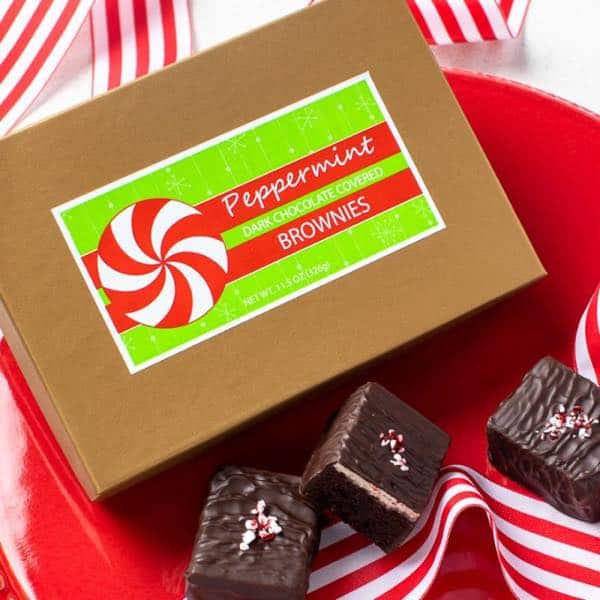 5) Lion Coffee
Lion Coffee is offering three holiday flavors.  All flavored coffees are unsweetened, brimming with the aromas of Christmas.
Kaka'ako Caramel
Named after the Honolulu district known for its building art murals, the Kaka'ako Caramel blend is fragrant with the sweet, buttery notes of caramel.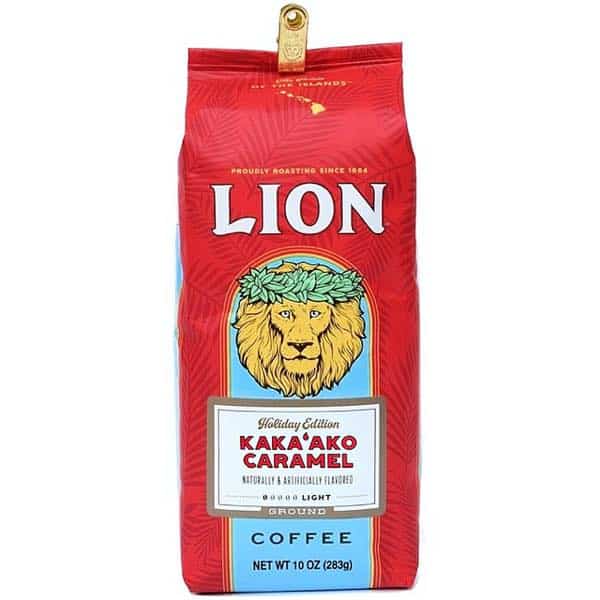 Frosty Vanilla
Creamy vanilla blended with nutty praline flavors and hints of maple will surely ignite the holiday spirit in you.  Think sugar cookies with sweet vanilla icing, and you will want to cozy up by the fireplace.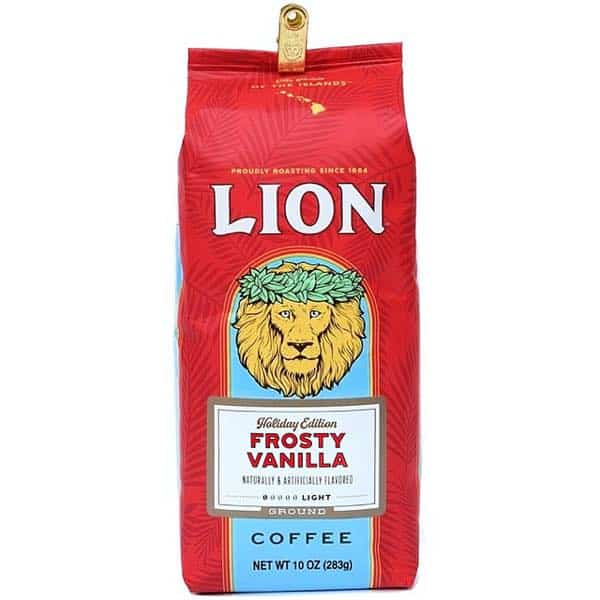 Swiss Chocolate Almond
Decadent flavors of rich Swiss chocolate will give you a warm embrace while the nuttiness of almonds will tempt your tastebuds for another sip.
6) Royal Kona
The sister brand of Lion Coffee, Royal Kona boasts a rich history in coffee.  The coffee from the Kona coast have three Christmas flavors infused to help ring in the holidays.
Mele Kalikimaka
The Hawaiian phrase for "Merry Christmas" made popular by Bing Crosby is also the name of one of the holiday flavors.  The Kona blend is given chocolate and cinnamon notes to add sugar and spice to the richly flavored coffee.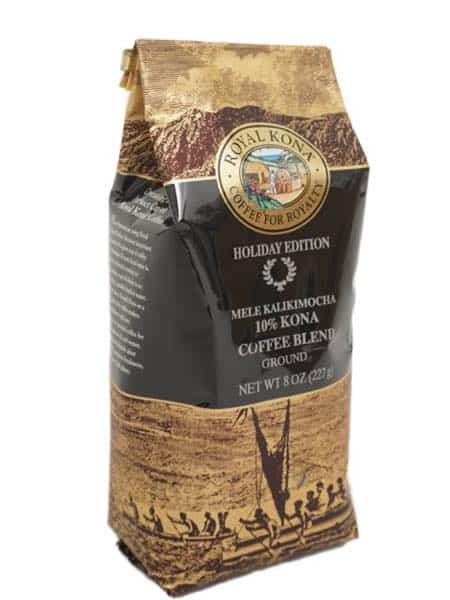 Butter Pecans
A holiday season classic, the flavor of candied pecans with sweet, buttery caramel make for an indulgent coffee.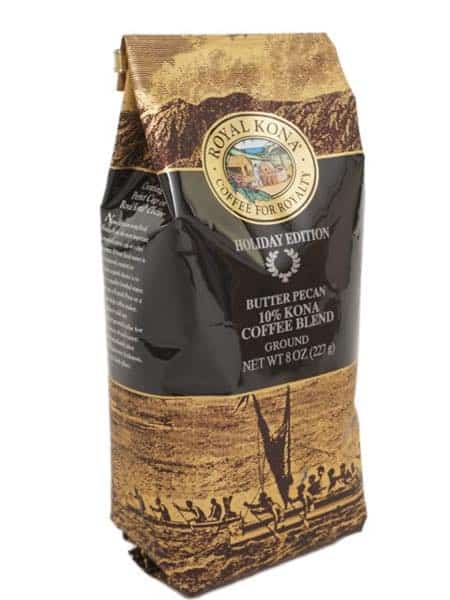 Bananas Foster
A flambeed Southern dessert encapsulated in a coffee, the Bananas Foster Kona blend boasts aromatics of butter, brown sugar, holiday spices, and the tropical flavors of sweet banana and rum.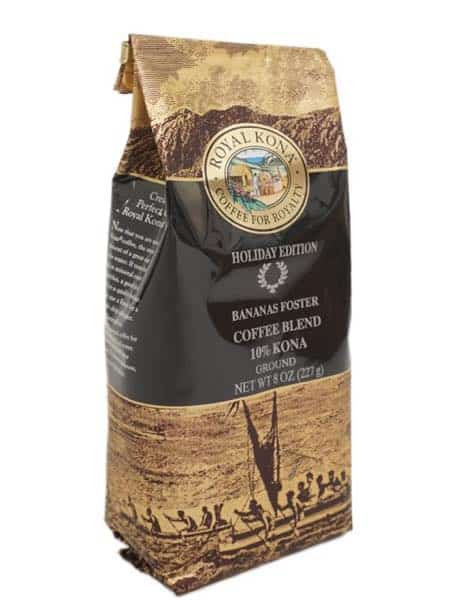 7) The Coffee Bean & Tea Leaf
A café originating in Southern California, The Coffee Bean & Tea Leaf chain made its way over to Hawaii, with stores conveniently located in Ala Moana Center and Ward Village's South Shore Market.  The holiday season brings two limited-edition coffees to savor.
Holiday Blend $12.95
This dark-roasted coffee blend with a hint of dark chocolate and a kiss of spice is available in limited quantities.  It makes for the perfect gift for java lovers.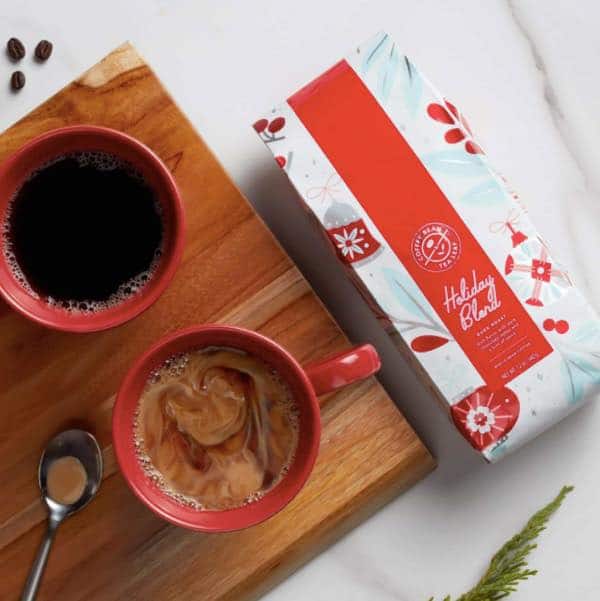 Cookie Butter $12.95
A returning holiday favorite possessing notes of cinnamon, creamy cookie butter, and a ginger finish, this medium roast coffee will envelop you with the aromatics of warm baking spices.
Please enjoy Holidays!