Aloha Table is on the 2nd floor of a small building tucked away behind the Waikiki Shopping plaza, and is one of our go-to restaurants. The restaurant mainly serves chef-inspired Hawaiian favorites. Think deliciously elevated versions of loco moco, mochiko chicken, and garlic shrimp. 
Once you get up the short flight of stairs, you're greeted with a sleek, tropical interior. 
We love sitting outside on the breezy lanai terrace seating. If visiting for dinner, you'll often be treated to live music from the bar next door which adds to the ambiance. 
Chef Junichi Sakamoto has been working with the company since 2014, and has held down Aloha Table since 2019. His kitchen staff cranks out delicious, savory dishes every day and we are definitely big fans!
The top seller at Aloha Table is the Kobe-Style Beef "Supreme" Loco Moco. Featuring high quality Kobe beef and gravy made from copious amounts of mushrooms and onions, you can't go wrong ordering this one. 
We also love the Tase of Aloha Sampler. Perfect to order to share at the table, the dish features a great balance of hot and cold appetizers. Order some beers and Hawaiian cocktails and you'll have a nice pau hana going! 
For all you meat lovers out there, we recommend the Beef Kalbi Diamond Head Style. You'll get a mountain of kalbi beef, marinated in a sweet and spicy sauce piled on a sizzling plate. It even looks like Diamond Head!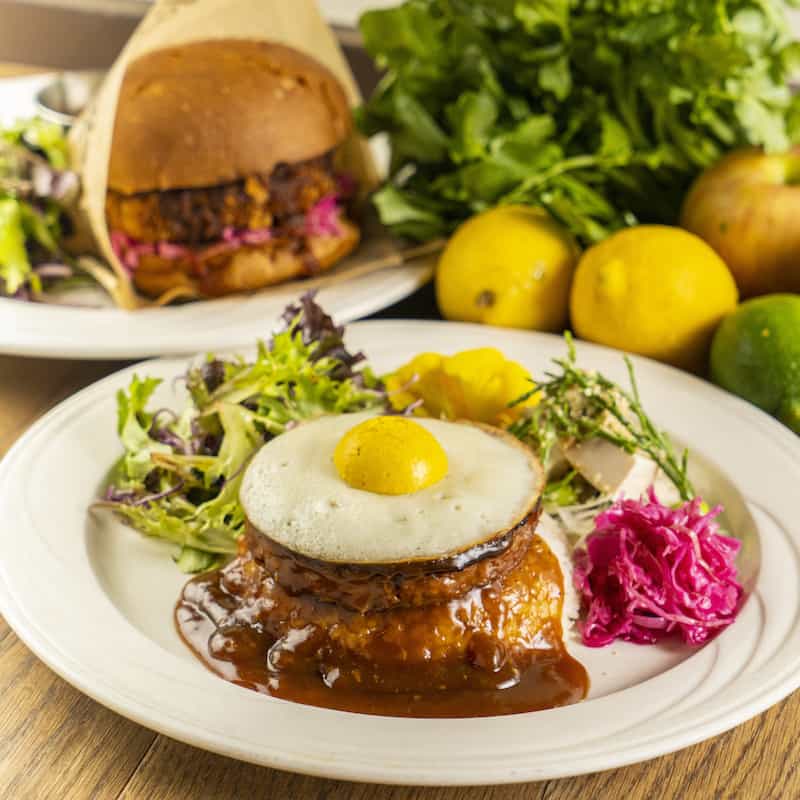 If you've got vegetarians in your party, no problem! Aloha Table provides a variety of vegetarian and vegan dishes. One of their signature dishes on this end is the Vegan Loco Moco. The dish features a home made plant-based patty and vegan eggs. Vegan guests can finally enjoy loco moco! 
Whether you're looking for a quick business lunch, pau hana, or relaxing with friends over drinks, Aloha Table is a fantastic choice. Friendly staff, reasonable prices, great atmosphere, and delicious food are always a recipe for success. 
Make sure to check out our coupon deals for Aloha Table and other restaurants on our Food Coupon Page!