The holiday season is ideal for festivities, and what better way than to enjoy the company of friends and loved ones with superb cuisine paired with craft mixology?  A number of new drinking and dining options in Honolulu, including a pop-up bar and a recently reopened local favorite watering hole, are now adding to the list of reasons to celebrate.
1)Bar Maze
One of the most anticipated openings in Hawaii was that of Bar Maze in August.  Tom Park of Leather Soul and his business partner, esteemed mixologist Justin Park of Bar Leather Apron, teamed up with Chef Ki Chung, formerly of the Michelin-starred Aubergine in Carmel.  Seats at Bar Maze are among the most coveted in town, be they for the five-course $150 omakase with add-ons on the first floor, or the ala carte menu in the mezzanine upstairs.  The omakase pairs seasonal ingredients deftly prepared into brilliant culinary creations with inspired cocktails to balance the composition of flavors.  Some indulgent courses include Hokkaido uni over a starchy potato puree drizzled with sweet soy reduction over crispy potato croquettes; konbu-cured kampachi scented with tomato-chili water and accented by smoked trout roe and white kimchi granita; seared scallops in a Beurre Monté with Imperial Golden Osetra caviar and brioche; and triple seared beef with a donabe of beef fat rice veiled with fragrant matsutake.  The pairings are equally alluring with an aromatic concoction of Hyaku shochu, tomato mastic, elderflower, and perfumed gin botanicals, or a foamy libation consisting of pandan vodka, grapefruit, cucumber, green tea yogurt, and egg white.
Part of the first course on the omakase is a seasonal snack box for two comprised of a crispy seared amadai from Toyosu with a dab of yuzu kosho; nori tuille filled with creamy avocado puree and shiitake jam; and ahi tartare served in a bric cone paired with a riff on the French 75 featuring Hitakami Chokara sake blended with kiwi, pear, yuzu, and Champagne possessing delicate fruity notes to complement the briny composition.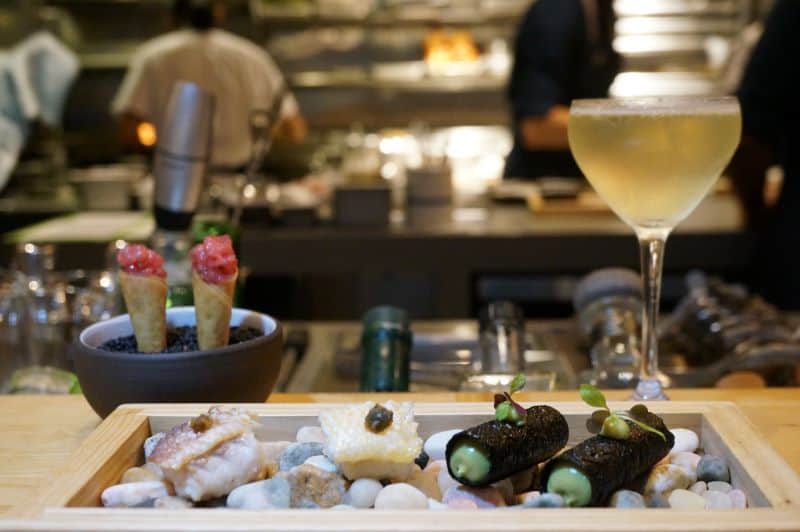 In the mezzanine, cocktails such as the Tea Melon Tea (vodka, rooibos tea, honey, grapefruit, carrot, lemon, carbonated watermelon, and lime leaf), Margarita (2019 Bar Maze El Tesoro reposado single barrel tequila, lime, bergamot, and red shiso), and Niseko Neko (carbonated with pear, yuzu, kiwi, yerba mate), are perfect sippers for lounging.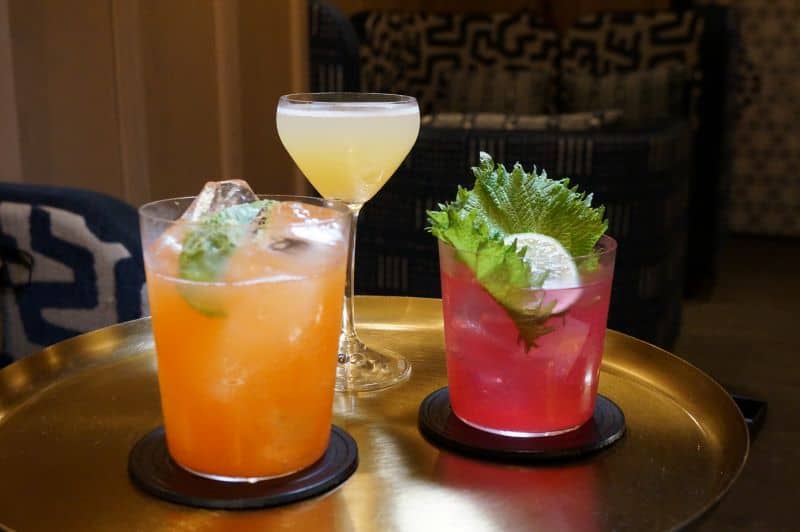 Bar Maze
The Collection, 604 Ala Moana Blvd., (entrance on Auahi Street)
Business hours:  Wed-Sun, 5:30 – 10:30 p.m.
No phone number
https://www.barmaze.com/
2)Podmore
Located in the nationally historic Joseph W. Podmore Building established in 1902, is a new bar by Anthony Rush, Executive Chef of Senia in Downtown Honolulu.  Podmore is a "brunch by day, cocktails by night" concept that transports the patron to a parlor in London or boutique hotel lobby in New York, with jewel-toned furnishings of velvety emerald banquettes and plush amethyst-hued seats.  Drinks include classic and inventive signature cocktails crafted with a culinary mindset that delivers the unexpected.  To complement the cocktails, a selection of sweet and savory brunch selections is available in the morning, such as the "Christmas Breakfast" of crisp potato rosti layered with house-smoked salmon, spinach, a double yolk coddled egg, and a brown butter Hollandaise.  In the evening, a roster of snacks includes a Hamachi roll with Japanese amberjack in a mayonnaise-based dressing punctuated by salted and acidic bursts with celery smoked roe and finger lime.  Here, the culinary experience is as intoxicating as the libations.
Start off the morning with a Blood Mary, Podmore's answer to the popular tomato-based cocktail, spiked with Reyka vodka and dressed with some housemade pickles.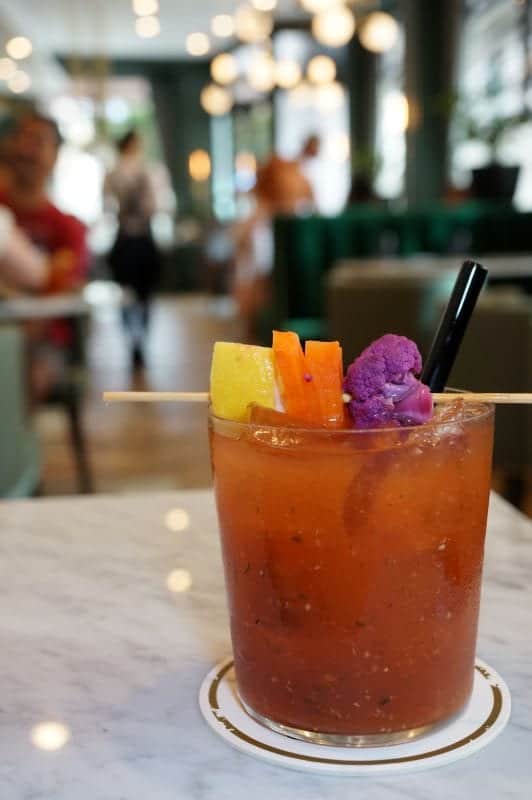 The brunch Beer Battered Crispy Egg over mushroom ragout blankets a slice of grilled bread, accented by with pickled tomatoes and red onions and crumbles of bleu cheese.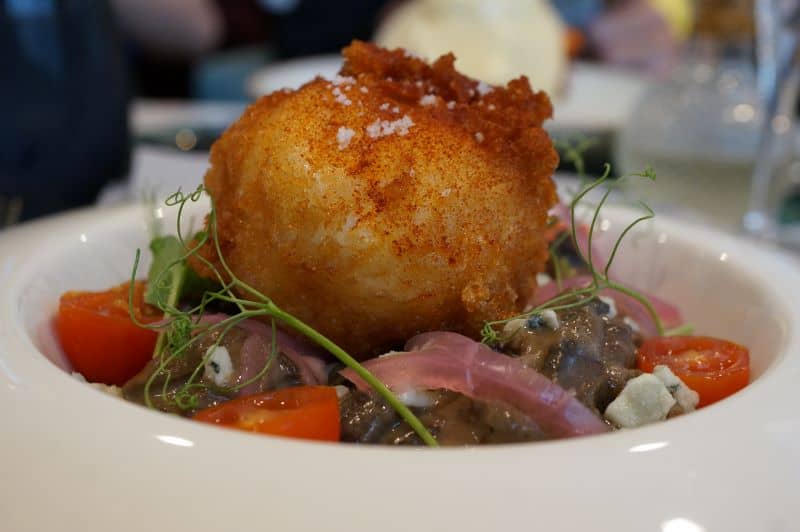 Evening snacks include a foie gras parfait stratified with peach compote, pate, and raspberry gelee, and accompanied by Yorkshire pudding bites.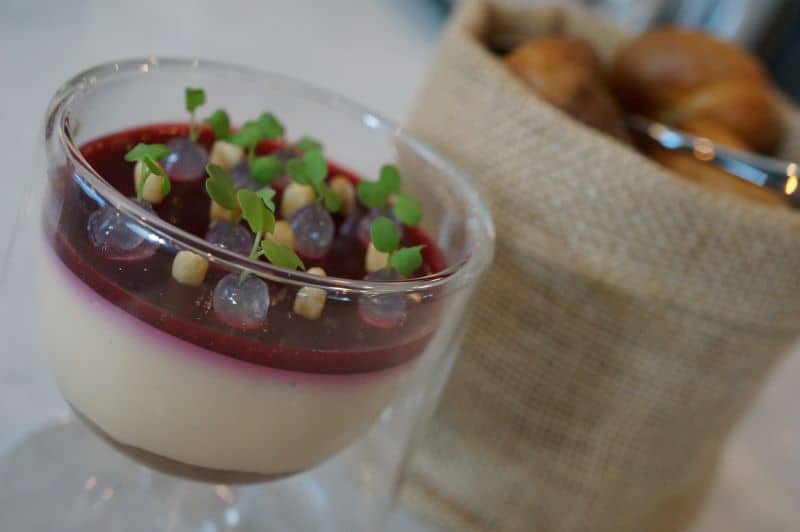 Podmore
202 Merchant Street
Business hours:  Wed-Sun, 8:00 a.m. – 1:00 p.m., 4:00 p.m. – 12:00 a.m.
808-521-7367
https://www.barpodmore.com/
3)ELEVEN
ELEVEN is a 1,100 square foot space cocktail lounge ensconced in the back corner of the Foodland Farms supermarket in Ala Moana Center.  Featuring potent mixology in a subdued yet stylish milieu, the bar offers artisanal libations and timeless classics, complemented by tartines that add a few innovative twists on familiar flavors.  Opt for a conservative sip of the Vieux Carre or Hemingway Daquiri or accept the challenge by a goading Ce Soir ou Jamais (Tonight or Never).  Then, pair the beverage with open-faced sandwiches such as the prosciutto asparagus with Boursin cheese or the ahi tartare over a rice cracker with cilantro, jalapeno, lemon, capers, lime, ginger, tobiko, and an untamed pickled serrano chili.  However, be sure not to fill up on the addictive bacon fat popcorn which is served as a chaser, but may end up being a main attraction.
The Negroni Bianco with its Piùcinque gin, Salers Gentiane aperitif, and Carpano vermouth bianco  will go down effortlessly, especially with the bacon fat popcorn.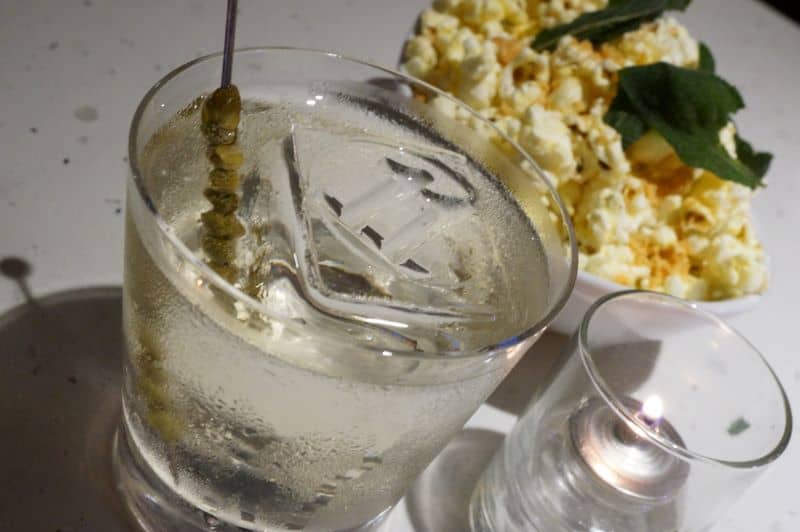 The lacinato kale on garlic focaccia features smashed avocado with white anchovy and a truffle lemon vinaigrette for a perfect balance of creamy, salted, earthy, and acidic flavors.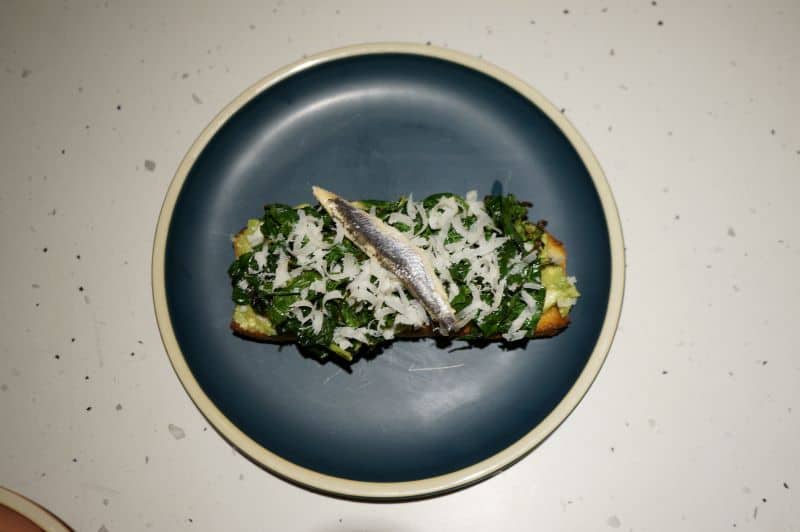 ELEVEN
Foodland Farms Ala Moana, 1450 Ala Moana Blvd.
Business hours:  Wed, Thu, Sun, 4:00– 11:00 p.m.; Fri & Sat, 4:00 p.m. – 12:00 a.m.
808-949-5044
https://www.elevenhnl.com/
4)Sippin' Santa Pop-Up Bar
Just for the holidays through December 31 is the Sippin' Santa at Prince Waikiki pop-up holiday bar, the first Miracle Cocktails experience in Hawaii.  Cocktails bearing whimsical names express aromatics of baking spices and refreshing tropical flavors while served in adorable mugs and glasses, which are also served as merchandise.  Situated in the spacious, shade-covered outdoor patio fronting the hotel property, this Tiki-themed winter wonderland showcases fun cocktails such as The Regifter with Martinique Rhum Agricole, caramelized pineapple-garam masala syrup, cherry liqueur, and lemon, or the Mistletoe-To-Toe for two with bourbon, walnut liqueur, Jamaican and Puerto Rican rums, lime, orange, and maple syrup.  Walk-ins are welcome but if you choose not to tame your inner tipsy Santa with some light snacks such as a small charcuterie board or Chex mix from Fig & Ginger Honolulu, you may end up stumbling out a hot holiday mess.
Enjoy the Hawaiian winter wonderland setting while sipping on a Sippin' Santa of aged demerara rum, Amaro, lemon, orange, and gingerbread mix.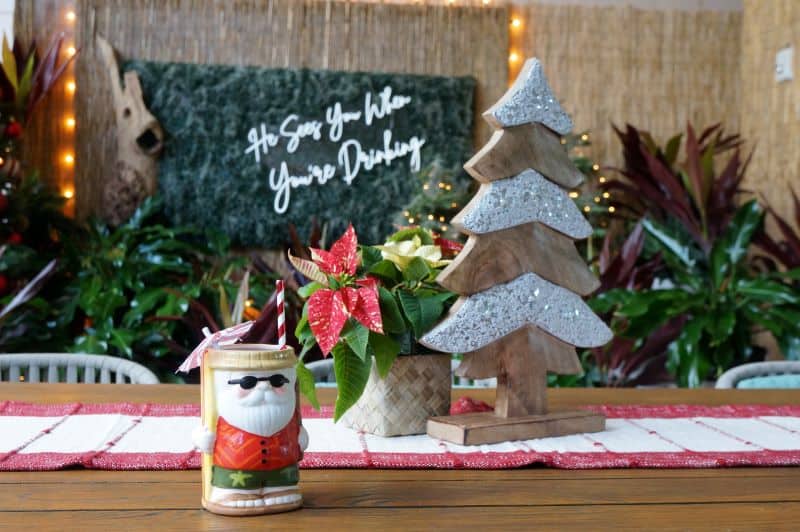 Float in ecstasy with the Azul Navidad, a refreshingly smoky blend of tequila, mezcal, lime, cream of coconut, blue curacao, hazelnut liqueur, and pineapple rum.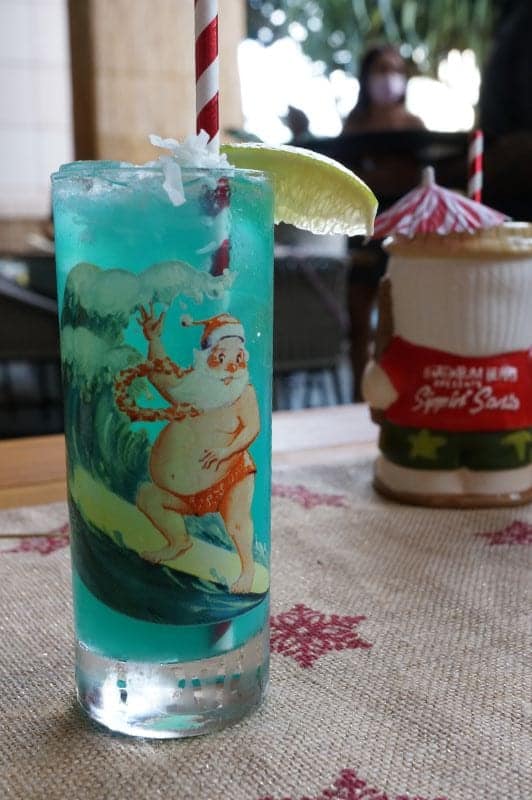 Sippin' Santa Pop-Up Bar
Prince Waikiki, 100 Holomoana Street
Business hours:  Sun-Sat, 4:00 – 10:00 p.m.
855-622-7558
https://www.princewaikiki.com/experience/holidaze-at-prince-waikiki/
5)Mahina & Sun's
Hawaii's foodies are thrilled that Mahina & Sun's reopened at the Surfjack Hotel & Swim Club in September.  Under the guidance of a new executive chef, Erik Leong, the restaurant serving elevated home cooking takes its inspiration from the people and places of Hawaii.  Mixologist Christian Taibi will start the meal off with one of his inspired cocktails, such as the Hanalei Moon, a punch for grown-ups fragranced with island spices and juices spotlighting Bruno Mars' SelvaRay coconut rum.  To pair with Taibi's fine mixology are savory courses such as the "Naked Pig Pizza" scattering morsels of salted uncured bacon and sweet onion over a fromage blanc canvassing a chewy crust, and the smoked ahi toast, a delightfully smoky interpretation of an open-faced tuna sandwich glorified with pickles and capers.  The vintage retro atmosphere transports patrons to a Christmas during a different era making this an ideal locale for themed holiday parties.
Christian Taibi presents his rendition of a Singapore Sling with citrus and Luxardo cherry flavors imparted by Sangue Morlacco liqueur blended with D.O.M Benedictine and Maui-based KUPU Spirits' gin.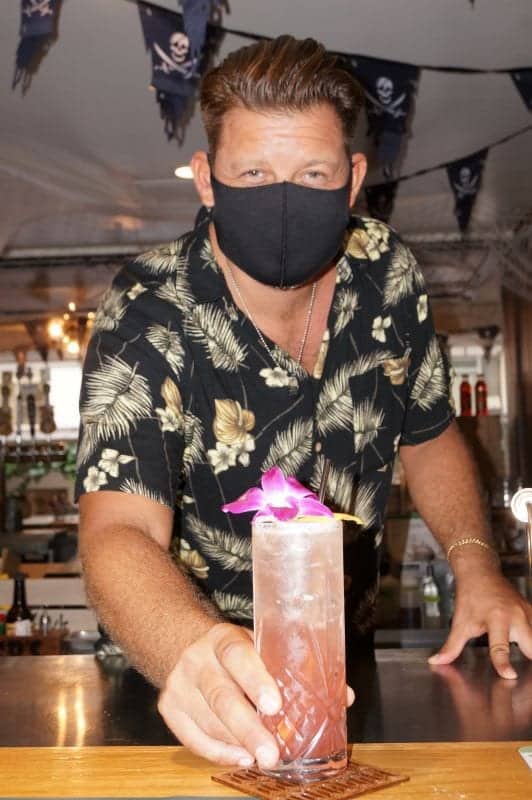 Chef Erik Leong's Whole Fried Fish, which comes as a part of the Mahina Family Feast, is served with a variety of side dishes, including roasted roots poke, cucumber ume salad, buttered ulu with chili pepper water aioli, and pickles, among other dishes.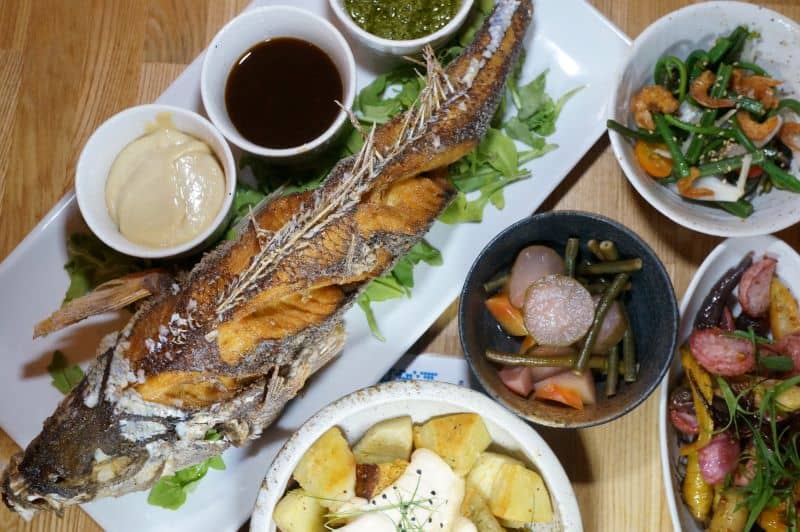 Mahina & Sun's
Surfjack Hotel & Swim Club, 412 Lewers Street
Business hours:  Sun-Sat, 8:00 a.m. – 10:00 p.m.
808-924-5810
https://surfjack.com/dine/