One of the oldest drinks in the world, beer is the most popular among all the alcoholic drinks in the world.  With such an international appeal, it seems that just about every destination in the world produces its own rendition of this cherished beverage.  Hawaii is no different, with a budding industry of breweries and microbreweries, some large enough to supply a number of states in America if not international destinations, and others priding themselves on small batches for local consumption.  Here are a few Hawaiian beers worth checking out, along with locations that serve bites to complement.
1) Maui Brewing Company 
Founded in 2005, Maui Brewing Company passionately crafts 100% of its beer on Maui.  Its philosophy of care and respect are imbued in its products.  With seven types of beers available year-round, Maui Brewing Company makes its beers available in supermarkets and restaurants throughout the islands.  Among the popular are the Bikini Blonde Lager, a crisp and clean Helles with little astringency, the Coconut Hiwa Porter, a chocolatey brown porter that infuses hand-roasted coconut chips for flavor to complement the sweet and spicy notes, and the golden Big Swell IPA bursting with tropical and piney hop flavors.  A few seasonal or limited release brews are available throughout the year, but the best venue to experience the complete roster of Maui Brewing Company's beers would be at one of its restaurants, with two on Maui and two on Oahu.  There, pizzas/flatbreads, sandwiches, deep-fried delights, and plant-based options are prepared with the highest quality ingredients to enhance the enjoyment of every pint served.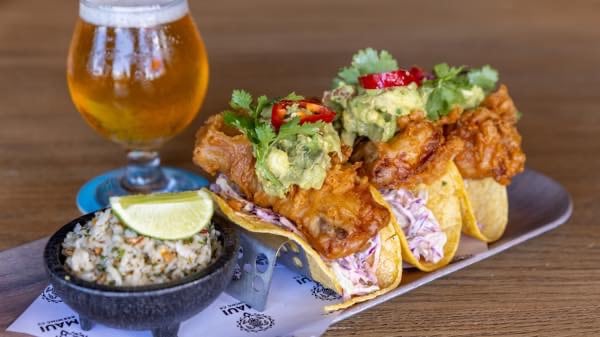 Maui Brewing Company
Waikiki Beachcomber by Outrigger, 2300 Kalakaua Avenue, Honolulu, HI
Phone:  (808) 843-2739
Sun-Thu, 11:30am – 10:00pm; Fri & Sat, 11:30am – 11:00pm
2) Kona Brewing Co.
Founded in Kailua-Kona on the Big Island of Hawaii in 1994, Kona Brewing Co. produces a number of beers and hard seltzers, many found in markets and restaurants throughout the United States as well in a number of international locations such as Canada and Australia, but in Hawaii, they are certainly served at Kona Brewing Co.'s own pubs.  Coined collectively as "Liquid Aloha," some of the year-round beer discoveries include the Big Wave Golden Ale boasting a lighter body and bright hop aromatics, the Gold Cliff IPA infusing hops and tropical flavors of pineapple, and the Mai Time Light brewed with orange, pineapple, and lime to mimic the flavors found in the classic Hawaiian Mai Tai.  While in Hawaii, consider tasting a few of these beautifully crafted beer while dining on pizzas, burgers, and more at the Kona pub in the place of origin for Kona Brewing Co. in Kailua-Kona, or in the Hawaii Kai location on Oahu.
Kona Brewing Co.
https://konabrewingco.com/
7192 Kalanianaole Highway, Honolulu, HI
Phone:  (808) 396-5662
Sun-Sat, 11:00am – 9:00pm
3)  Aloha Beer Company
In its pursuit to spread aloha and celebrate a life of inclusivity, collaboration, and creativity, Aloha Beer Company brews its beverages in Kaka'ako, in Honolulu.  Ranging the spectrum of flavors, patrons are able to enjoy beers including a thirst-quenching Golden IPA with grapefruit and mango notes, a Queen St. Pils fashioned along the lines of a German-style lager expressing bready malt flavors finishing with a crisp herbal spiciness, and a HI Bitchcus Ale modeled after a light-bodied Belgian pale but tinted with red hibiscus hues and a floral aromatic.  WIth three locations on Oahu, Aloha Beer Company features beer-friendly menus comprised of inspired takes on chicken wings, steak fries, sandwiches, pizzas, and more.  The Waikiki Beer Garden, features an abridged menu, but may be the most convenient for those staying in Waikiki.
Aloha Beer Company
Kaka'ako Brewery
700 Queen Street, Honolulu, HI
Phone:  (808) 544-1605
Mon-Thu, 12:00 – 10:00pm; Fri, 12:00 – 11:00pm; Sat, 10:00am – 11:00pm; Sun, 10:00am – 10:00pm
Downtown Honolulu (inside CPB Bank Lobby)
220 South King Street, Suite 101, Honolulu, HI
Phone:  (808) 200-5353
Mon-Fri, 10:00am – 7:00pm
Waikiki Beer Garden
2155 Kalakaua Avenue, Honolulu, HI  96815
Phone:  (808) 744-2011
Sun-Thu, 11:00am – 9:00pm; Fri & Sat, 11:00am – 10:00pm
4)  Beer Lab HI
Founded in 2015, Beer Lab HI is established on the concept of constant change, experimentation, and small batch brews.  There is always something new brewing at each of the locations on Oahu–on University Avenue, in Pearlridge Center, and in Waipio.  While it is difficult to identify any particular beer in time at Beer Lab HI locations, feel assured that each experience will be unique with varying malt bills, hop profiles, and specialty ingredient infusions.  To give an idea of what is currently being served, there are kitschy names such as Never Gose Without Crowler, a Gose-style sour ale brewed with watermelon, pineapple, and sea salt, a Jazz Funk Crowler which is a golden sour ale brewed with calamansi, and a Crisp Side Crowler which is a German-style pilsner brewed with Czech Saaz hops.  And for those who feel the need to feed, each location does have a different food concept, which could include charcuterie and panini at University, casual snacks such as pork rinds and chips in Waipio, or burgers, fries, and Korean-inspired plates (Pearlridge).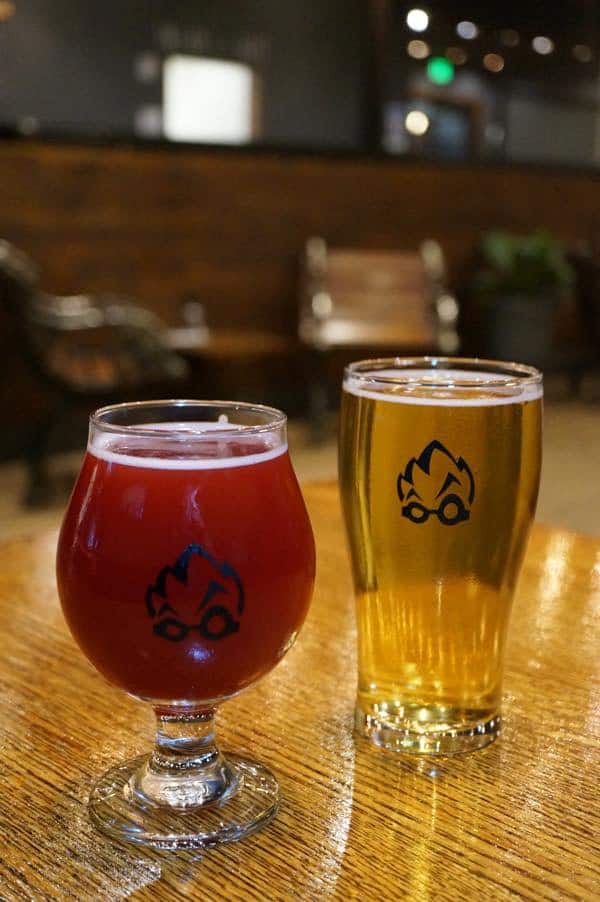 Beer Lab HI
University Location
1010 University Ave., B-1, Honolulu, HI
Phone:  (808) 888-0913
Mon-Thu, 1:00 – 10:00pm; Fri & Sat, 1:00pm – 12:00am; Sun, 1:00 – 7:00pm
Waipio Location
94-515 Uke'e Street, #310, Waipahu, HI
Phone:  (808) 517-3128
Mon-Fri, 4:00 – 10:00pm; Sat, 12:00 – 10:00pm; Sun, 12:00 – 7:00pm
Pearlridge Location
Pearlridge Center, 98-1005 Moanalua Road, #884, Aiea, HI 
Phone:  (808) 762-0027
Mon-Thu, 8:00am – 10:00pm; Fri & Sat, 8:00am – 12:00am; Sun, 8:00am – 7:00pm
After experiencing some of the finely crafted beers, you will be foaming at the mouth, but in a happy way.  Give some Hawaii breweries a try, and pair them with some locally inspired flavors.  With such amazing flavors and combinations, you may find that your pub crawl may just turn literal.