July 2022 New Restaurants and Cafes in Hawaii
1) Penny's malasada
Penny's Malasada, which gained traction among locals since 2018, as a food truck operating in Laie on Oahu , now has a brick-and-mortar space in the Royal Hawaiian Center in Waikiki.  In addition to the regular malasadas coated in either Hawaiian sugar or cinnamon sugar, there are ones stuffed with creamy ube, coconut, peach, or Nutella fillings.  Another option is the Malasada Ice Cream Sandwich, which compresses a scoop of ice cream between two malasadas.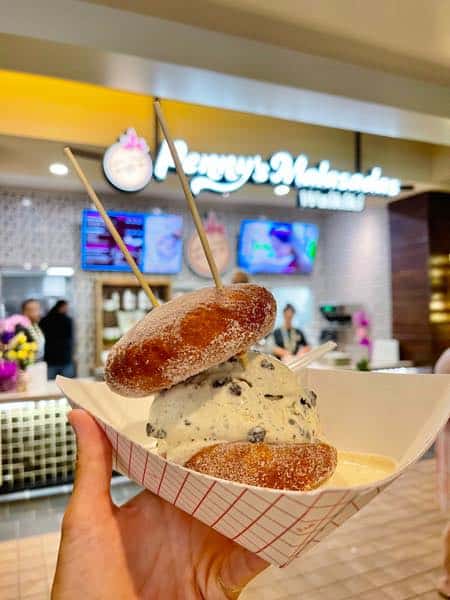 Penny's Malasada
2233 Kalakaua Ave, Honolulu, HI
6am – 9pm
(808) 744-0422
https://pennyswaikiki.com/
2) Gelatissimo
Gelatissimo, a gelato store hailing from Sydney, Australia, will open soon at the Royal Hawaiian Center.   The store prides itself on the use of high-quality ingredients without any artificial colors or flavors.  Be adventurous and experience unique flavors such as apple pie, bourbon caramel & pecan, chili chocolate, and cotton candy.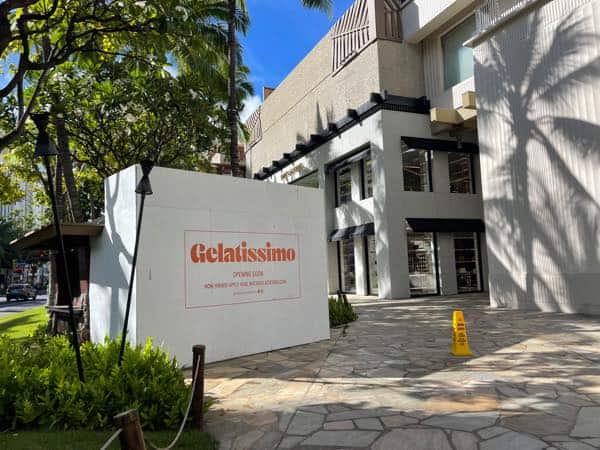 Gelatissimo
Royal Hawaiian Center Kiosk
Coming soon!
https://gelatissimo.com/
3) KYRA THE BAKER
Kyra made news as a savvy 16-year-old who opened a thriving business to help those in need, while spreading happiness throughout the island.  Her pop-up cookie store at the International Market Place, which will be open for just about another week until August 14, offers cookies in a variety of flavors including S'mores, Biscoff, carrot cake, white chocolate macadamia nut, strawberry cheesecake, Oreo milkbar, and more.  Most days, the cookies sell out by around 4:00 or 5:00 p.m., allowing Kyra to close the store a few hours early.  If you are desperate to sample a particular flavor, consider getting there early.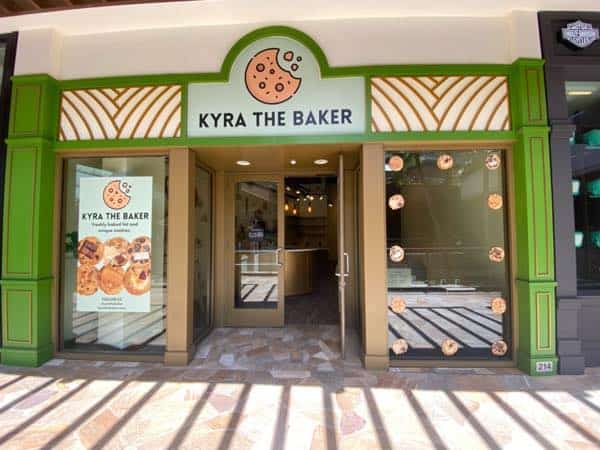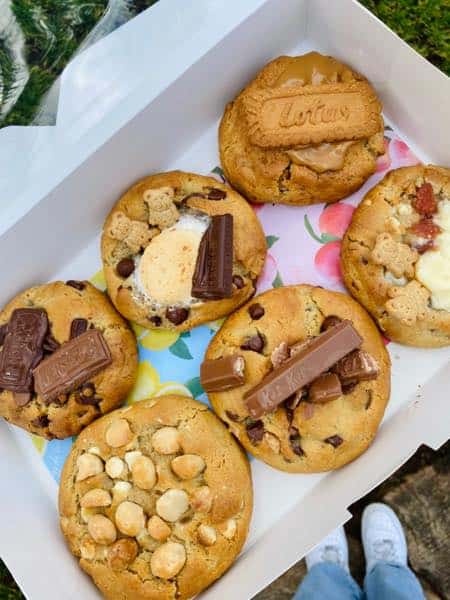 KYRA THE BAKER
2330 Kalakaua Ave, Honolulu, HI
(808) 391-1189
Mon-Thu 9am-6pm, Fri-Sun 9am-8pm
4) Crackin' Kitchen
Those who fell in love with the unique seafood boil concept that opened on Seaside Avenue in Waikiki but grew despondent after they shuttered during the pandemic, fear not!  Crackin' Kitchen will be making a comeback, this time at the International Market Place.  Occupying the 3rd floor space previously done so by Goma-Tei, the restaurant plans to do a soft opening on August 22.
5)Kamukura Ramen
Kamukura Ramen, a ramen restaurant from in Osaka, Japan, is now open in the Lanai Food Court at Ala Moana Center.  Serving its ramen in take away containers, many people have quickly become addicted to the delicate flavor from the French consommé soup created by the founder, who was once the owner and chef of a French restaurant in Japan.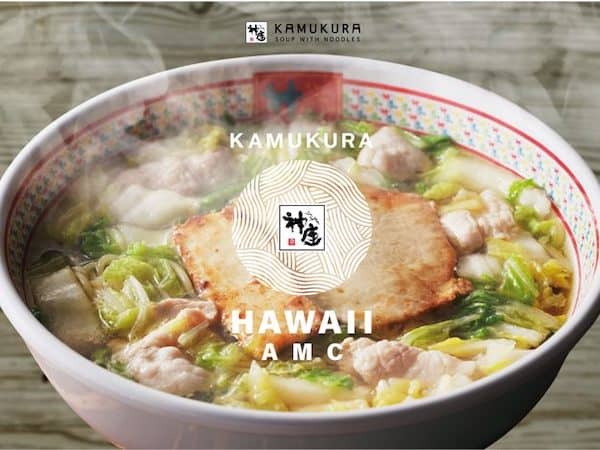 Kamukura Ramen >> Get a Special Offer!
The Lanai Food Court
Ala Moana Center 2F (Macy's side)
1450 Ala Moana Blvd.
9am – 8pm (until 7pm Sun)
6) Honolulu Bistro
People familiar with Honolulu Bistro, formerly located in the Ohana Hale Marketplace, will recognize its signature rainbow grilled cheese that elicits an Instagrammable moment with the chromatically beautiful cheese pull.  Recently opened on July 25 at Ala Moana Center's street level, patrons may also enjoy other popular items such as the smoothies made with natural and organic fruits.
Honolulu Bistro
1450 Ala Moana Blvd, Honolulu HI
10am – 6pm
(808)728-5894
https://honolulubistro.com/
7) Sunrise Shack
Sunrise Shack is a humble café and juice bar from the North Shore of Oahu that is popular for its bullet coffee and healthful smoothies.  Now with a second location at Ala Moana Center's Makai Food Court, the casual take away eatery also offers acai bowls, blue bowls made with blue spirulina, and more.
Sunrise Shack
1450 Ala Moana Blvd Honolulu, HI
9am – 6pm
(808)482-0321
https://www.sunriseshackhawaii.com/
8) Oreo Cafe
A café for Oreo lovers has opened inside It's Sugar, the candy store located on the third floor of the Ala Moana Center.  The bright space offers a wide variety of Oreo-inspired sweets such as milkshakes, brownies, cookies, and soft-serve ice cream, also selling Oreo T-shirts and sundries for the die-hard sandwich cookie fans.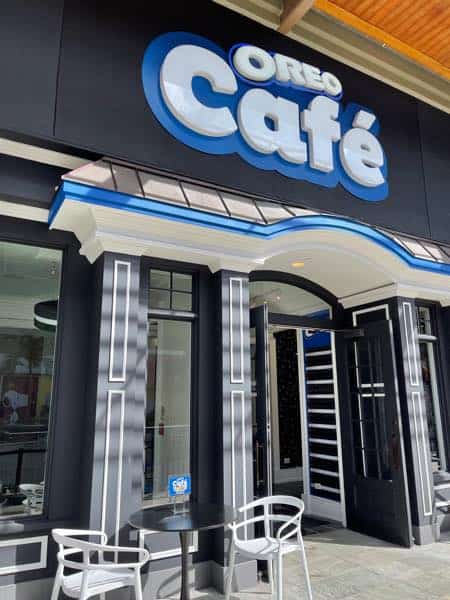 Oreo Cafe
1450 Ala Moana Blvd, Honolulu, HI
(808)391-1189
Mon-Thu 11am-8pm, Fri-Sat 10am-9pm Sun 11am-7pm
9) Sugarlina Bake Shop
Sugarlina Bake Shop opened in the Ward Center in Kakaako.  The store's concept is designed to create a taste that elicits a warming feeling of happiness, as if done by magic.  Its cupcakes and macaroons come highly recommended, particularly the ube cupcakes, which often sell out.  The colorful confections are all photogenic, making them a popular spot among many Instagrammers!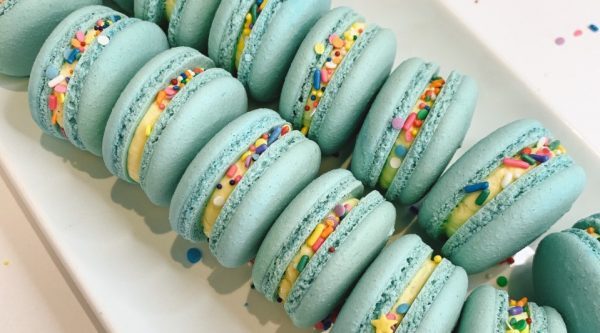 Sugarlina Bake Shop
1200 Ala Moana Blvd. Suite 6000130 Honolulu, Hawaii
(808) 200-6169
Mon-Sat 10am – 8pm, Sun 10am – 6pm
https://www.sugarlinabakeshop.com
10) Pizza Dadi
New York Italian pizza now open in Ward Village at Pizza Dadi.  The walls lined with pages of magazines define the pop culture of the times.  The most popular choice is the NYC pizza, a chaste but classic combination of pepperoni and cheese over a thin but chewy crust that elicits a light crackle, especially when the cornicione, or perimeter crust, is snapped in half and the pizza is bent lengthwise for proper consumption.  Other flavors for the adventurous include garlic, hot honey, and carbonara, among others.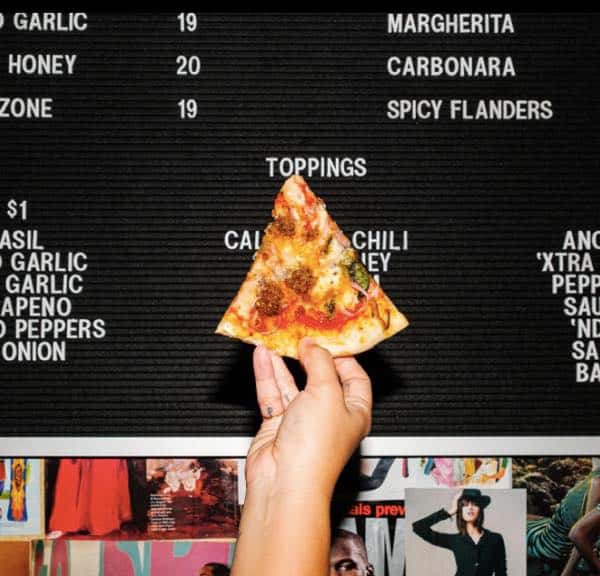 Pizza Dadi
1200 Ala Moana Blvd, Honolulu, HI 96814
Tue-Sun 11: 30am-8pm
(808)744-2221
https://www.pizzadadi.com/
11) Jinya Ramen
Jinya Ramen Group just opened its first restaurant in Honolulu days ago.  Located in Ward Village in the large space formerly occupied by NOBU Honolulu, the new eatery will feature three concepts:  JINYA Ramen Bar, Robata JINYA, and LBD Japanese Bar & Lounge.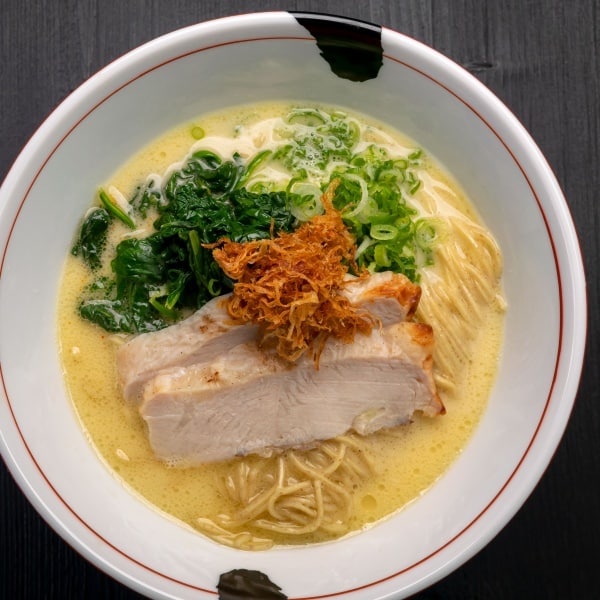 Jinya Ramen
https://www.jinyaholdings.com/
12) Smoke House University
A new barbecue joint in Puck's Alley along University Avenue, Smoke House University is immediately adjacent to Betty's Burgers.  Here, the Southern-style American cuisine, features hearty barbecued dishes such as beef brisket and pulled pork, along with other comfort plates such as fried chicken and waffles.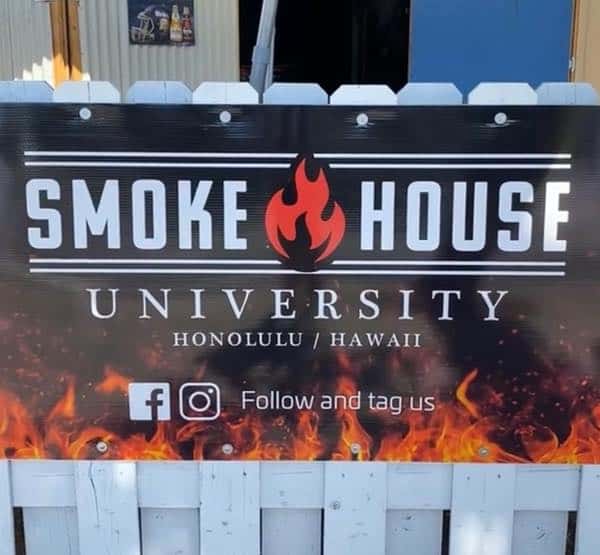 Smoke House University
1019 University Ave, Honolulu HI
(808)773-7382
Monday – Friday 12pm – 8pm
https://www.instagram.com/smokehouseuniversity.808/
13) Uncle's Chicken
A Chinese-style fried chicken and boba drinks eatery opened in Kalihi.  The casual, order-at-the-counter restaurant showcases a variety of chicken sandwiches, wraps, wings, and other savory bites alongside more than 10 types of boba teas.  The chicken is pillowy, with a light crispy-battered exterior that begs for more bites.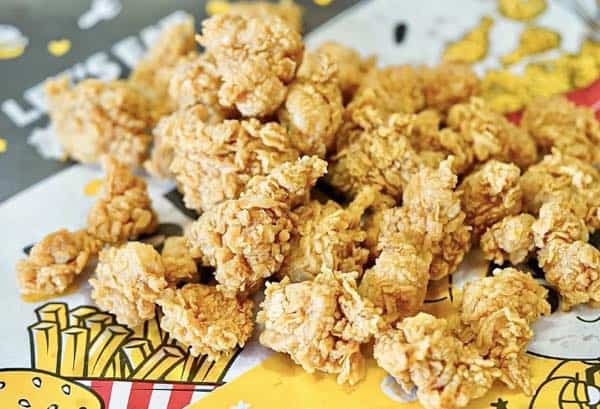 Uncle's Chicken
1311 N King St, Honolulu HI
Sun-Thu 10:30am-9:30pm, Fri-Sat 10:30am-10pm
(808)888-0918
https://www.uncleschickenhi.com/
14) Paia Fish Market Kailua
Paia Fish Market, a sought-after restaurant from Maui that also has a second location in Waikiki, also opened in the former Boots & Kimo's location in Kailua.  In addition to the fresh fish prepared in a variety of ways, customers may savor fish tacos, fish & chips, seafood pasta, and more.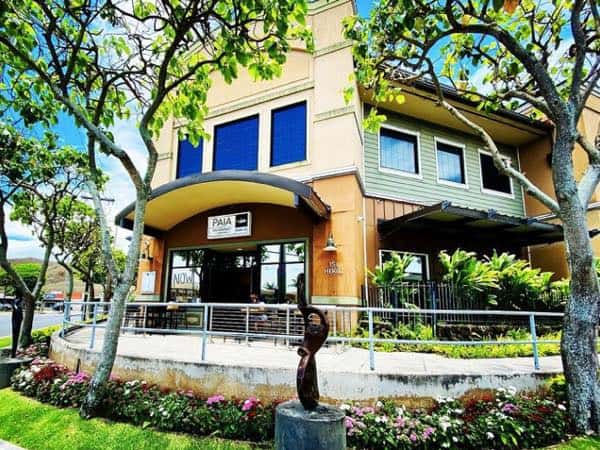 Paia Fish Market Kailua
151 Hekili St, Kailua, HI
(808)772-4270
11am – 8pm
https://paiafishmarket.com/
New Spa & Retail Openings in Hawaii in July 2022
15) Sheep Deep Sleep
Waikiki's and America's first dry head spa, Sheep Deep Sleep fully immerses the customer into a setting that inspires relaxation.  With blue lighting and relaxation sounds setting the tone, patrons receive full body treatments or dry head spa massages that induce a restful sleep.  Produced by Mie, a famous Japanese model who now resides in Hawaii, this will transform any stay in Waikiki with its treatments designed to help people achieve a deep sleep each night.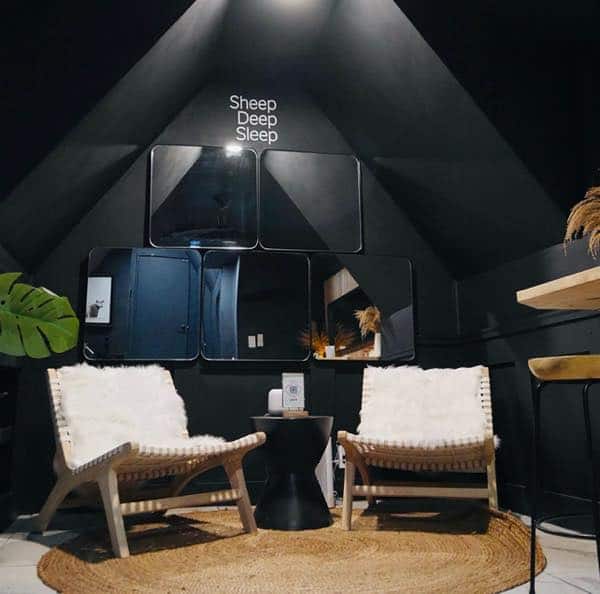 Sheep Deep Sleep
2290 Kuhio Ave. 2F Honolulu, HI
11am – 10pm
(808)744-3776
https://www.sheepdeepsleep.com/ja
16) Nectar Bath Treats
Nectar Bath Treats, a bath and body cosmetics store, opened in the Sheraton Waikiki.  The aesthetics of the store are irresistibly cute, with bath bombs, soaps, and body scrubs merchandised in an alluring way, fashioned after colorful pop cupcakes, doughnuts, and ice cream.  The items featured make for perfect gifts and souvenirs, even favors to spruce up any party or special occasion.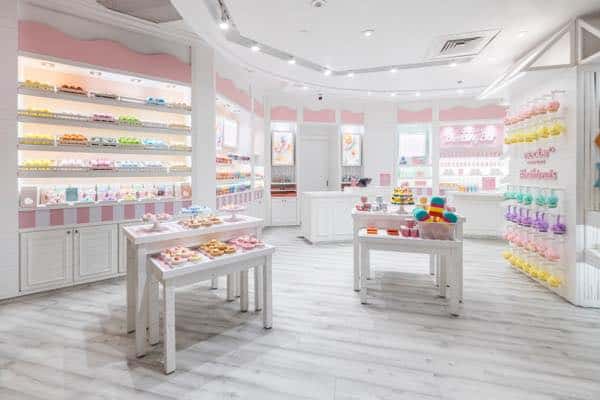 Nectar Bath Treats
2255 Kalakaua Ave. Honolulu HI
10am – 9pm
https://nectarusa.com/
17) Sweet Honey Hawaii
The store on the 3rd floor of Ala Moana Center's Ewa Wing offers baby apparel, beachwear, hats, bags, and more.  Sweet Honey Hawaii also offers women's bikinis, so mothers and children may don matching designs.
Sweet Honey Hawaii
1450 Ala Moana Blvd, HI
Mon-Thu 11am-7pm, Fri-Sat 10am-8pm, Sun 11am-6pm
https://sweetsweethoneyhawaii.com/