Few fruits have the ability to assume a leading role in a savory dish, let alone be versatile enough to also be incorporated into sweeter presentations.  The avocado has a buttery flesh that boasts a high nutritional value and concentration of healthy fats, making it a hearty component in whatever dish it is used.  Here are a few of our favorite spots that incorporate this botanical marvel, be it as a main component or an accent.
1) 808 Juice Bar & Grill
Avocados are spotlighted in two delectably healthy presentations at 808 Juice Bar & Grill.  The casual eatery known for its use of organic produce spotlights the alligator pear in its Avocado Toast ($9).  Imagine mashed Haas avocados seasoned with a secret house mixture of herbs and spices slathered over white or whole wheat toast, or even a bagel (which will be starting on August 1).  Add a fried egg of choice, and a sprinkling of Everything Bagel seasoning with strokes of onion, garlic, sesame, poppy seed, and salted flavors to make this rendition simply irresistible.  If that wasn't enough to tempt you, a side fruit salad of pineapple and fresh berries adds even more value to this already affordable meal.
The Green Smoothie ($7) blends avocado, spinach, pineapple, banana, Greek yogurt and almond milk into a rich, hearty concoction.  All smoothies are made with fresh or frozen produce, insulating a chill that will not dilute the flavors.  And if, for some reason, you prefer to increase the sweetness level to your drink without any added guilt, consider the monk fruit sugar, a no-calorie sweetener.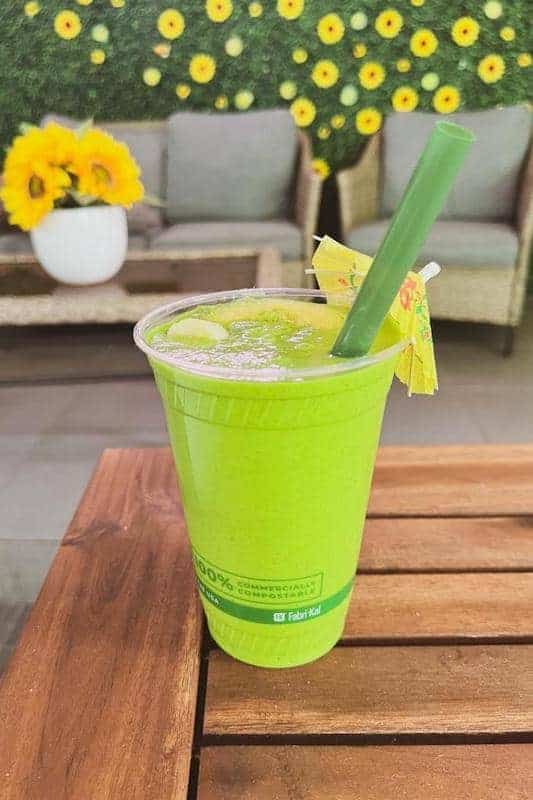 808 Juice Bar & Grill >> Get a special deal!
Restaurant Row, 500 Ala Moana Blvd., #5-G, Honolulu, HI
Phone:  (808) 294-7216
Mon-Sat, 9:00am – 4:00pm
2) Kua 'Aina
Nestled in the quaint town of Haleiwa on the North Shore of Oahu, Kua 'Aina Sandwich & Burgers is the oldest running food establishment in the district.  Featuring juicy, beef patties flame-grilled to order over lava rocks, each sandwich may be customized with toppings such as pineapple, bacon, ortega chilis, grilled onions, cheese, and of course, avocado.  As a matter of fact, the Avocado Burger ($12.10 for ⅓ pound burger, $12.50 for ½ pound burger) fans out slices of the heavenly fruit atop the hearty hamburger patty to infuse a beautiful creaminess.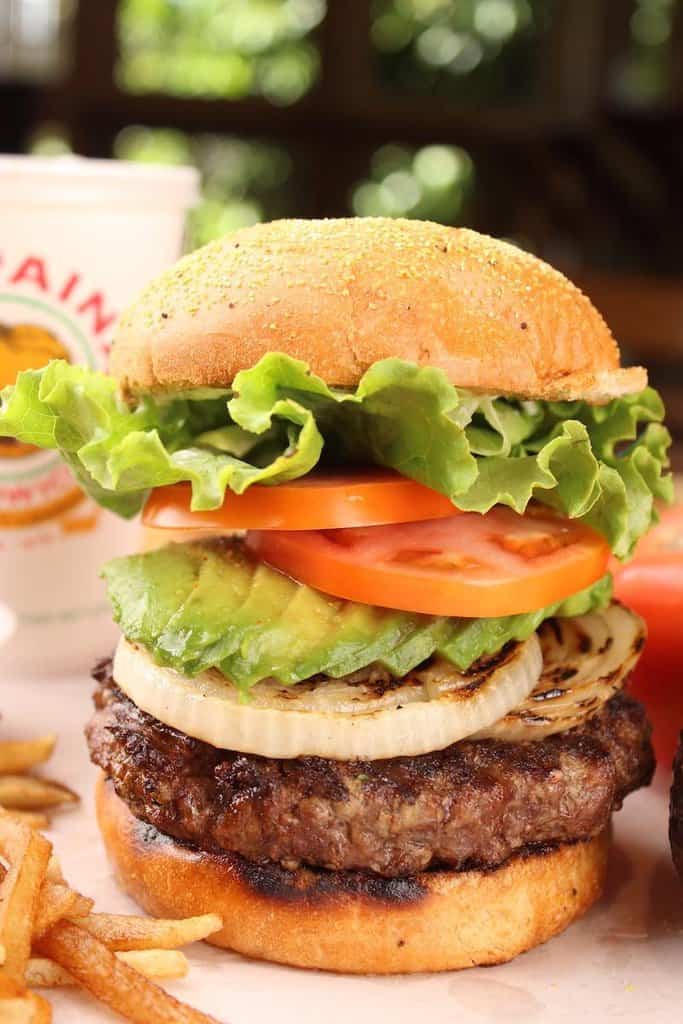 Not in the mood for a burger, but still want a healthy dose of avocado?  Well, consider one of the other sandwich options including a plain Avocado Sandwich ($10.00), Tuna / Avo ($11.20), Turkey & Avocado ($11.50), Roast Beef & Avocado ($11.50), BLT & Avocado ($12.00), or an Avo, Bacon & Cheese ($12.00).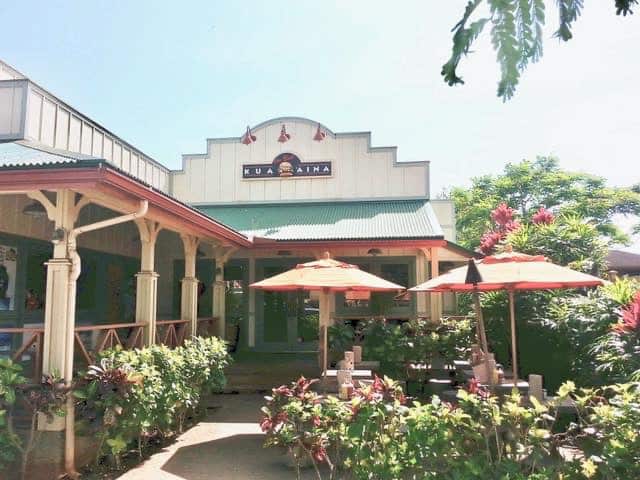 Kua 'Aina >> Get a special deal!
66-160 Kamehameha Highway, Haleiwa, HI
Phone:  (808) 636-6067
Mon-Sun, 11:00am – 8:00pm
3) Imanas-Tei
One of Hawaii's long running izakaya, Imanas-Tei serves traditional Japanese dishes, spotlighting a variety of seafood with contemporary twists, set in a cozy, pub-style environment.  Patrons love the variety of otsumami appetizers which range from simple plates of edamame and cold tofu to more elaborate discoveries such as stewed beef & tofu with white miso, ahi poke with wasabi salsa, and fresh oysters accented with yam, quail egg, masago, green onion, and ponzu sauce.  Then, there are a number of salads, deep-fried plates, grilled or stir-fried dishes, sashimi, and an impressive roster of sushi.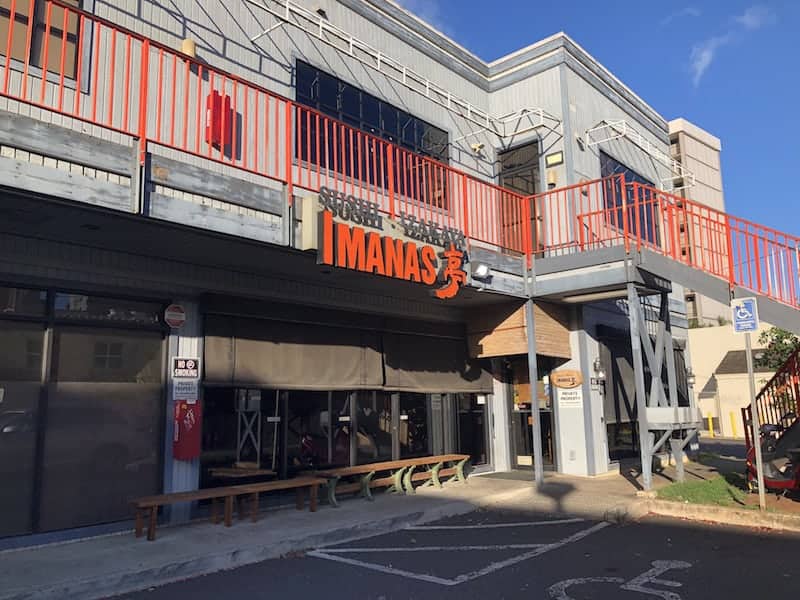 Avocado is found in a number of roll sushi, including the Rainbow Roll ($22.00) with salmon, tuna, hamachi, and shrimp contributing a spectrum of colors atop vinegared rice.  For those who prefer cooked ingredients, the California Roll ($8.50) with snow crab meat, cucumber, and avocado, possibly the Unakyu Roll ($14.50) with grilled eel, cucumber, and avocado, or even the Spider Roll ($13.50) with soft shell crab, masago, and avocado are great options for more conservative palates.
Imanas-Tei >> Get a special deal!
2626 South King Street, Honolulu, HI  96826
Phone:  (808) 941-2626
Mon-Sat, 5:00 – 10:30pm
4) Alejandro's Mexican Food
Alejandro's Mexican Food serves authentic flavors derived from homestyle recipes.  Founder Alejandro Alvarado delivers tacos, quesadillas, burritos and Mexi bowls crafted with fresh and simple ingredients at his Kalihi establishment as well as newly opened Kapahulu Avenue location.
Avocado may be added to any of the menu items, be it the carnitas, beef, or carne asada tacos ($0.75 extra), the Mexi bowl ($1.50 extra) of Mexican Rice, pinto beans, cheese, sour cream, onions, cilantro, and choice of meat, the burrito ($1.50 extra) with Mexican rice, pinto beans, onions, cilantro, salsa verde, and choice of meat, or the macho burrito ($2.25 extra) which uses a larger tortilla and in addition to the regular-sized burrito filling, adds cheese and sour cream to the edible beast of burden.  If you are lucky, you may find Alejandro's guacamole on special for the day for just $3.00.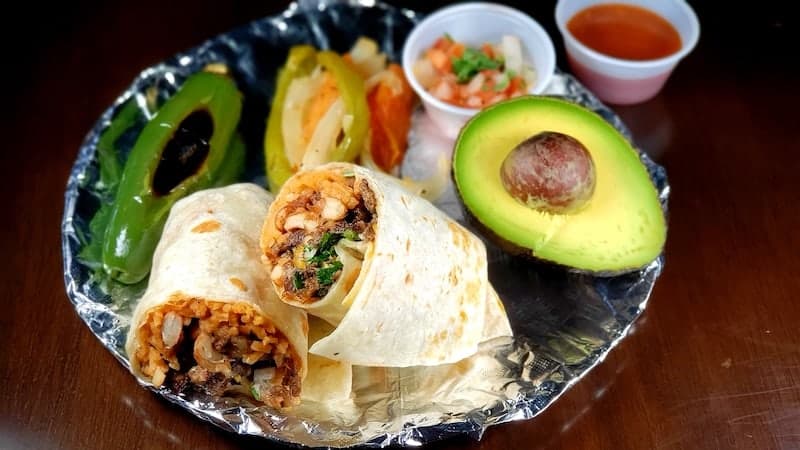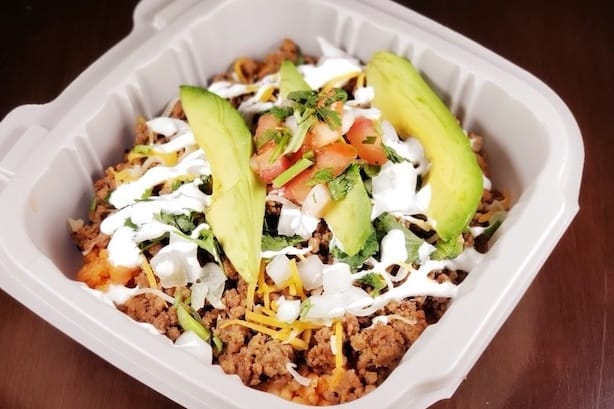 Alejandro's Mexican Food >> Get a special deal!
949 Kapahulu Avenue, Honolulu, HI
Phone:  (808) 888-8090
Tue-Sat, 11:00am – 9:00pm; Sun, 4:00 – 9:00pm
2831 Kalihi Street, E, Honolulu, HI 
Phone:  (808) 777-0038
Mon-Fri, 11:30am – 7:30pm; Sat, 11:00am – 4:00pm
5) Aloha Kitchen
Tucked away on a side road at the edge of Waikiki is Aloha Kitchen, a cozy diner that serves continental and Hawaii regional dishes for breakfast and lunch.  Most known for its ethereal souffle pancakes topped with a variety of fruits, the cafe also serves up a number of egg dishes, sweet plates as French toast and waffles, fruit bowls, salads, pasta & risotto, burgers & sandwiches, and entrees such as various loco mocos and garlic butter ahi.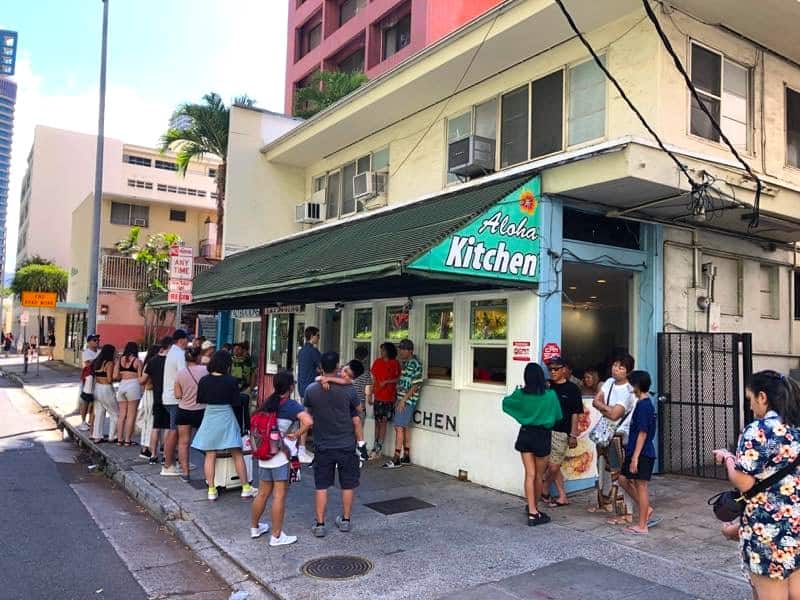 Avocados are found in the sandwiches, which include an Egg Sammy ($16) with eggs, cheese, bacon, potatoes, avocado, and tomatoes loaded in a bagel and a Lox Style Sammy ($18) which features smoked salmon, cream cheese, avocado and tomato on the side.  There is even a ½ avocado sold for $4, which could be great on one of the salads or in any of the burgers.
Aloha Kitchen
432 Ena Road, Honolulu, HI
Phone:  (808) 943-6105
Tue-Sun, 7:30am – 1:30pm
This tropical and Mediterranean berry has obviously found its way to grace dishes well outside of its native region. Its ubiquitous nature compliments the gamut of international cuisines, and with Hawaii being a hub that bridges Asia with the America, it is a perfect locale to appreciate the avocado in its infinite incarnations.