Christmas may be a challenging time for people financially.  It is the season for giving and while we are so used to buying for ourselves the other eleven months of the year, the added expense of purchasing gifts for friends and family all at one time can be taxing.  One way to manage the finances is to cut costs, or at least reduce them, and these meals under $10 may provide a gratifying way to shave some expenses while still enjoying tasty meals.
1) Guava Smoked
Smoked meats are perfect for satiating any holiday hunger.  With three locations on Oahu–Kalihi, Pearlridge, and on Kapahulu Avenue, closer to Waikiki, Guava Smoked serves a variety of smoked meats including beef, chicken, duck, and pork, and incorporates them into plates, bowls, and sandwiches along the lines of smoked meat chili, smoked loco moco, and smoked kalbi short ribs.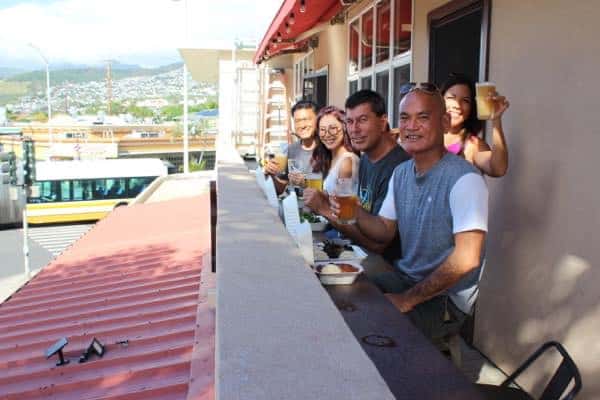 Fish are also smoked, salmon and butterfish specifically.  One affordable plate lunch option is the smoked chili ($9.55) with mixed white and brown rice, and a choice of macaroni salad, green salad, or kim chee.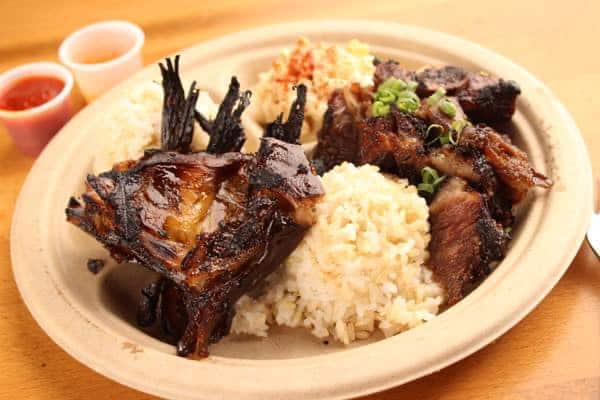 The smoked chicken sandwich ($8.12), smoked pork burger ($8.60), and falafel burger ($8.60) certainly also fall under $10, as do just about any of the bowls ($7.16 to $9.07), which tops the hapa (brown and white mixed) rice with delectable proteins as smoked boneless chicken, smoked beef stew, smoked hamburger steak, smoked duck, smoked butterfish collars, and smoked salmon belly, among other choices.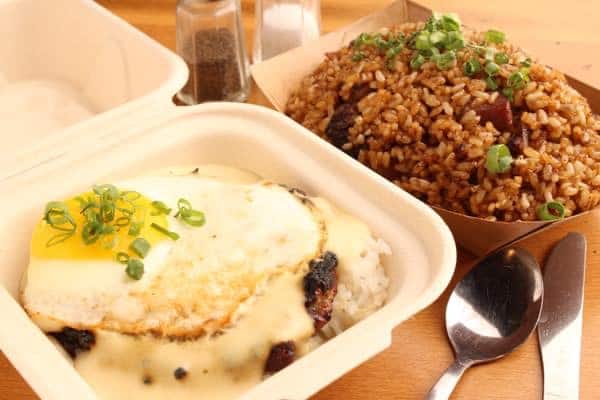 Guava Smoked >> Click here for details and special offers!
2) U KITCHEN
The popular local plate lunch outfit from Kalihi opened its second location in the Royal Hawaiian Dining Plaza on Waikolu Way.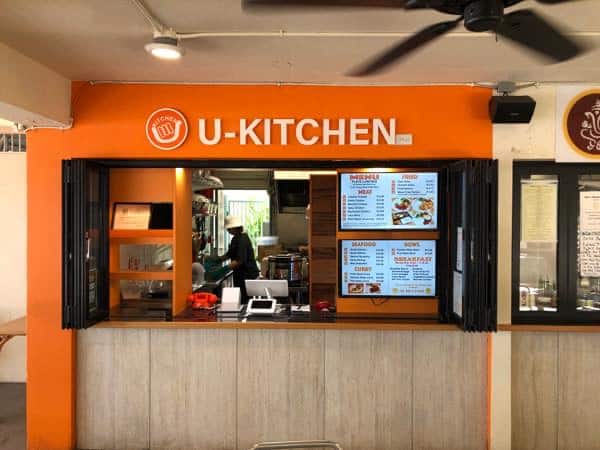 Whether it is the creamed salmon with brown rice, SPAM musubi, yakisoba, hamburger steak with egg, menchi katsu (deep-fried hamburger patty), garlic shrimp, or salmon dynamite covered in a mayonnaise-based sauce, locals go absolutely insane for their affordable, and well-portioned meals.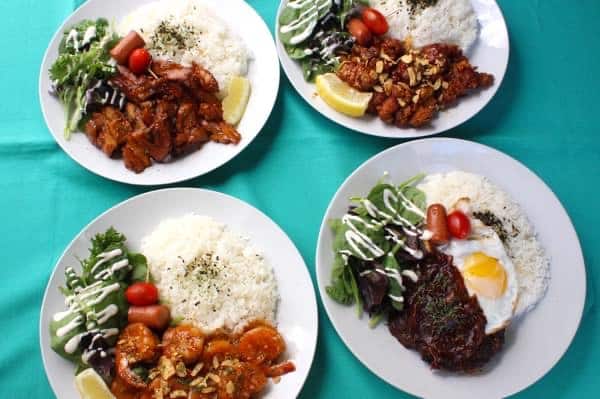 If on a budget, definitely consider the nori bento with fried fish and croquettes over rice, macaroni salad, and mixed greens which goes for an unbelievable $5.99!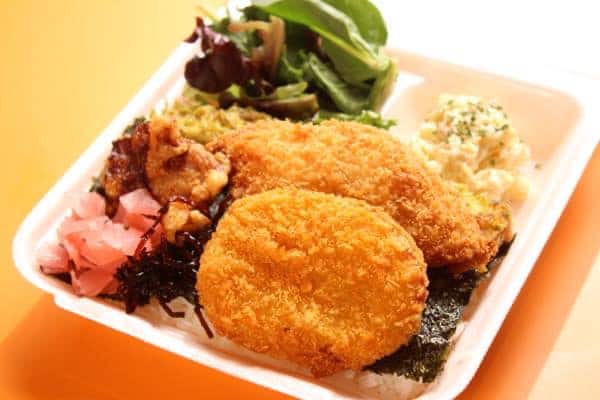 U Kitchen >> Click here for details and special offers!
3) Musubi Cafe Iyasume
Japanese onigiri, which are often called "musubi" in Hawaii are rice balls either topped or filled with protein or some other flavor-imparting ingredient.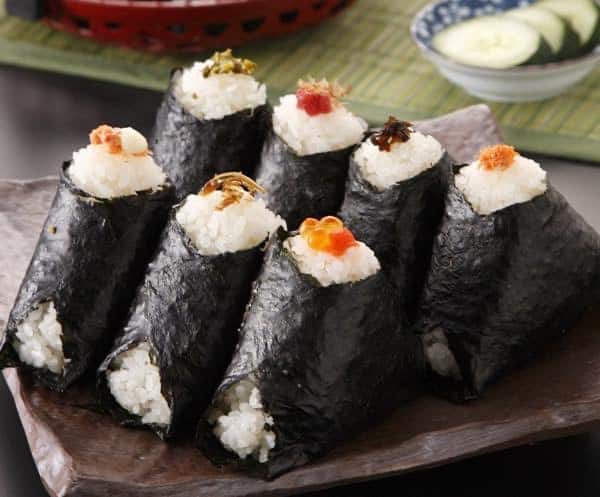 They are filling snacks and if you have a few, they also make for a satisfying meal. Musubi Cafe Iyasume, which specializes in serving a wide variety of rice balls, has several locations in Waikiki, in and around Ala Moana, as well as in Kahala Mall.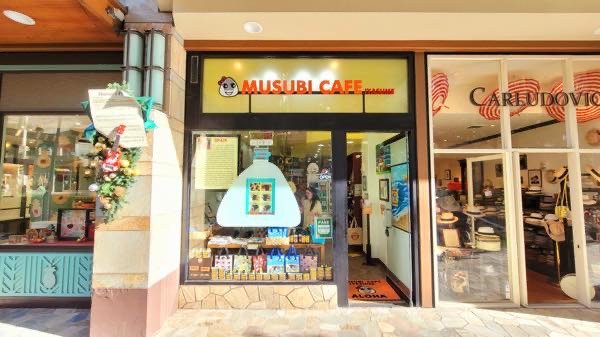 Resembling giant nigiri sushi, individual musubi typically run from $2.18 to $4.78, and present just about any permutation with SPAM, be it plain, teriyaki-style, with avocado and bacon and egg, layered with cheese, featuring shrimp and avocado, complemented by tart ume or Japanese preserved plum, with eel and egg, as well as a number of other variations.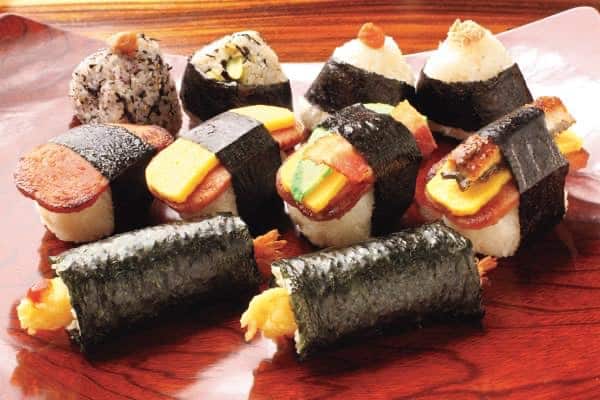 More traditional Japanese renditions which are triangular in shape, are often filled with plum, seaweed, salmon mayo, fried chicken mayo, double tuna mayo, spicy cod roe and salmon roe, and other savory fillings.  And if you are really trying to spare the cash, consider a plain rice ball with sea salt for just $1.88.
Musubi cafe Iyasume >> Click here for details and special offers!
4) Lawson at Sheraton Waikiki
Lawson Station is a popular convenience store in Japan, and with two locations in Hawaii, it is also gaining a great reputation for quick and delicious meals.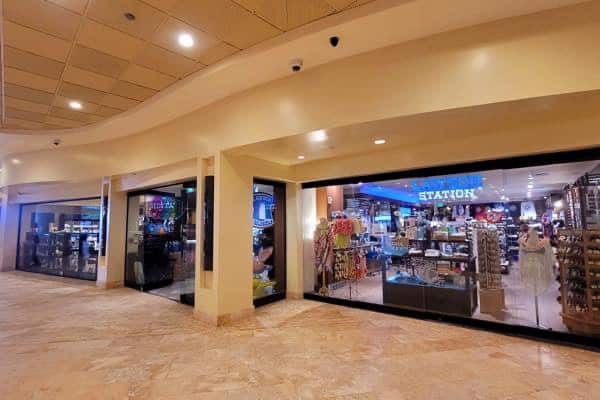 Exclusive to its location nestled in the Sheraton Waikiki is the Tokyo Shoyu Ramen, which is a simple but satisfying bowl of noodles in soy-based broth that is quickly heated up for you by the store staff members.  The best price is that it is only $9.99, which is cheaper than just about any ramen you will find in Honolulu.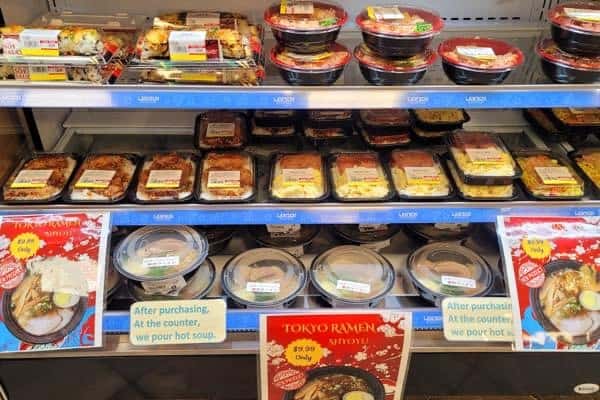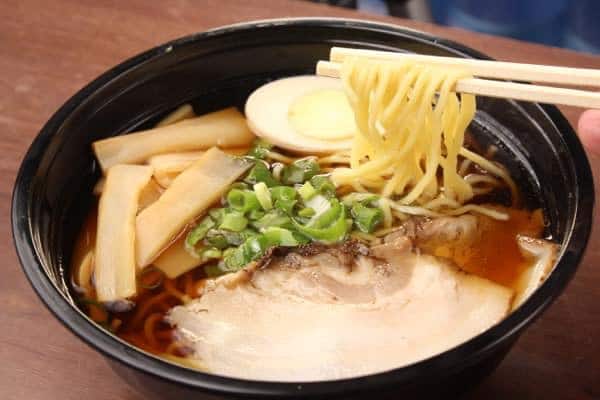 Lawson at Sheraton Waikiki >> Click here for details and special offers!
5) Hawaii's Favorite Kitchens
Feeling like you want a bunch of local plates but don't want to run all over town for them?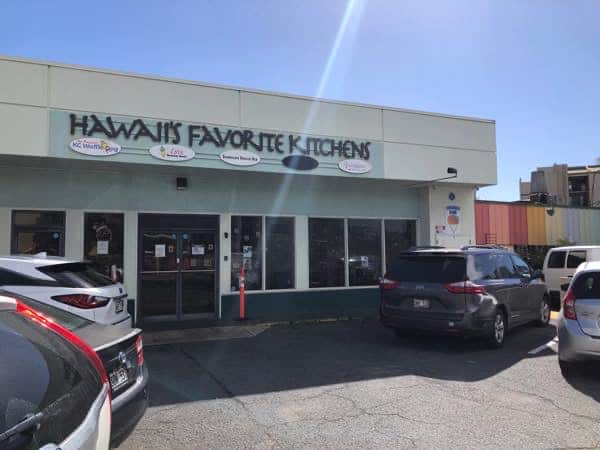 Look no further than Hawaii's Favorite Kitchens, which offers garlic shrimp, hot inaiwa udon, Shimazu Shave Ice, poke made by Makai, Poke by Rainbows, plate lunches by Rainbow Drive-In, crack seed by Lin's Hawaiian Snacks, and even KC Drive Inn's famous Waffle Hot Dogs.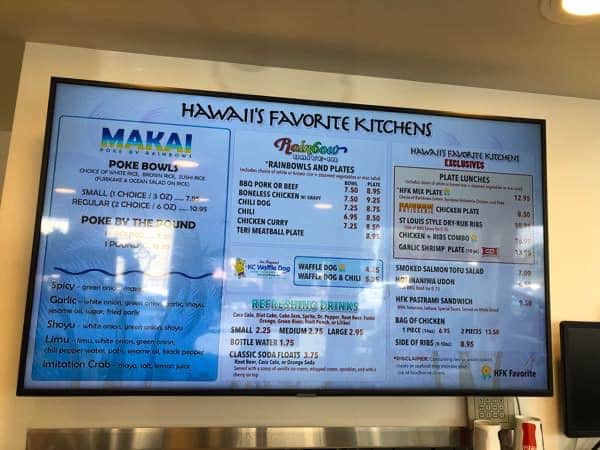 These are great meals that are incredibly affordable, such as the small poke bowl with rice for $7.95, KC waffle dogs for just $3.95, and Rainbow Drive-In plates such as chili dog plate ($8.75), BBQ pork plate ($8.95), and boneless chicken with gravy plate ($9.25) among other options running under $10.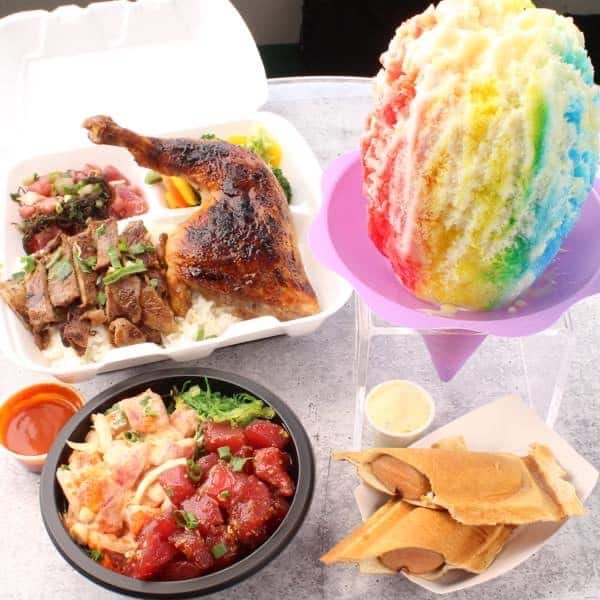 Hawaii's Favorite Kitchens >> Click here for details and special offers!
6) Oh My Grill
Known for its large portions and incredibly affordable prices, local plate lunch outfit Oh My Grill prides itself on having a number of meals well under $10.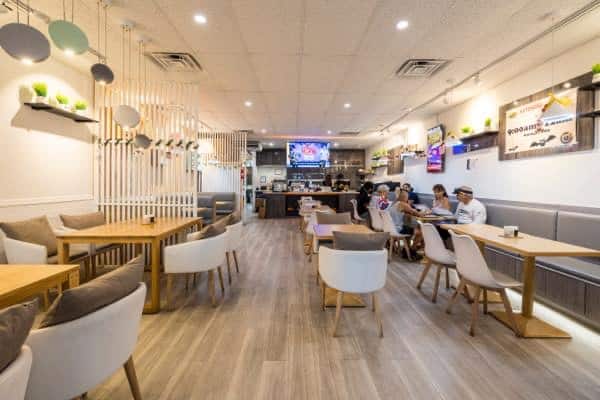 For starters, most of its breakfasts range from $2.50 to $8.99 with options including two pancakes with eggs, omelette with a choice of breakfast meat, French toast with two eggs, and breakfast sandwiches.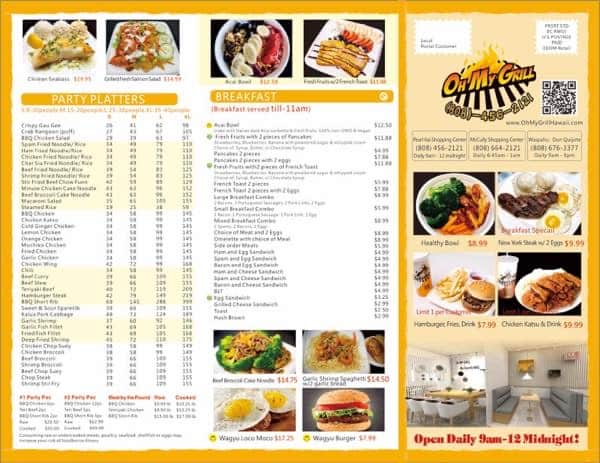 Mini plates of BBQ chicken, lemon chicken, garlic chicken, deep fried shrimp, shrimp curry, and garlic fish filet, are offered alongside teri beef saimin, hot dog, teri cheeseburger, chili cheese fries, and katsu musubi which are shockingly low in price.  If you plan it right, you may be able to get several menu items and still come under $10!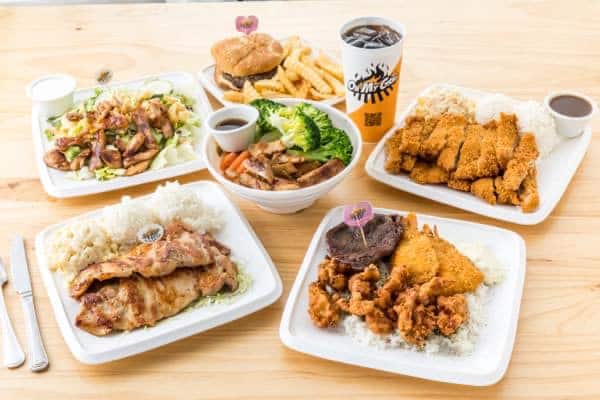 Oh My Grill >> Click here for details and special offers!
So while you carefully decide what to get your mother for Christmas, remember that the sacrifice you make to afford her something a little nicer will not be as tough as you think.  You can actually have your figurative Christmas cake and eat it too!