Dreaming of a White Christmas?  Well, since Hawaii does not get much snow albeit flurries atop Mauna Kea and Mauna Loa, the Christmas spirit is often felt around town via breathtaking Christmas trees and holiday decor.  These are some of the top holiday decorations on Oahu that will most likely get you into the holiday mood.
1) Ala Moana Center
Most people who grew up in Honolulu start to feel the holiday spirit when they see the giant Santa Claus make his appearance on the Makai parking deck of the shopping center.  A whopping 50 feet tall, the historically recognized Christmas icon for over 60 years was made from almost 2,500 square feet of fiberglass, and about 2,000 pounds of resin.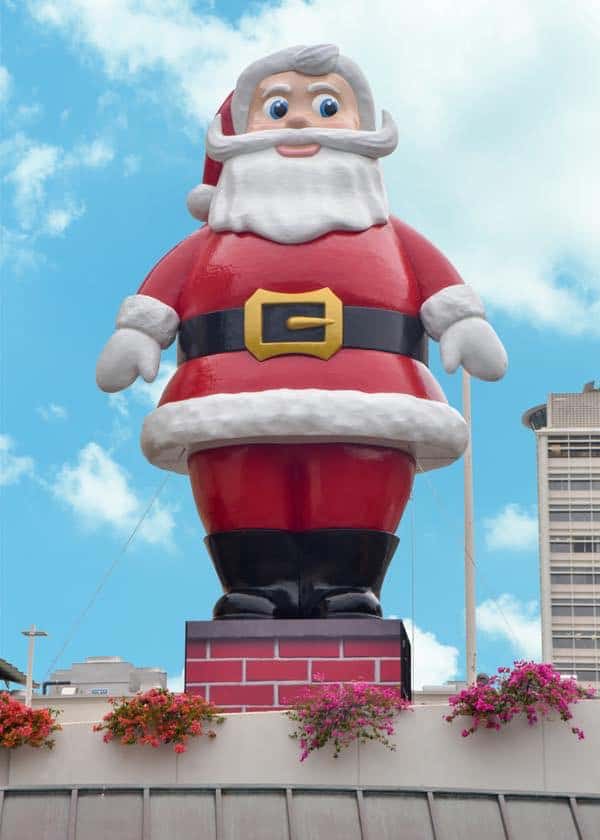 In 2020, Ala Moana Center unveiled a new Big Santa made out of paper mache.  His assembly is not as involved, as the original required a crane for installation.  In any case, Santa Claus' jolly expression continues the annual tradition of signaling the start of the season, bringing comfort and joy to everyone who sees him.
2) Honolulu City Hall
Each year, one of the most elaborate decorations around town is found at Honolulu City Hall and the neighboring area.  
Although branded "Honolulu City Lights" in 1987, the festivities really began in 1985 when the City & County of Honolulu's then Mayor Frank F. Fasi created a free event that included a lighted tree on the main lawn, decorated tree display in the courtyard, holiday performances and displays of light on the trees and buildings that spanned from Downtown Honolulu to the civic center.  Over the years, the decor grew more elaborate, and the Snow Family, Mrs. Claus (now called Mele), Rudolph the Red-Nosed Reindeer, and other adorable installations were added.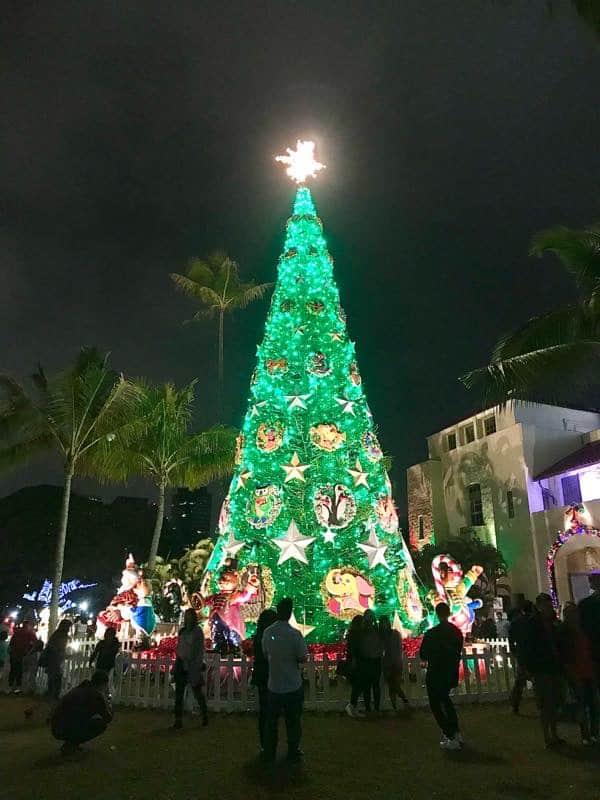 Take a drive around City Hall, and take in the spectacle of these displays, or look for some parking and take a stroll around the area to take advantage of this free attraction.  If you are lucky, you may also be able to book and purchase a Honolulu City Lights bus tour and see it without having to pay much attention to traffic.
3) Sheraton Waikiki 
A striking display worth a detour (if you aren't staying at the Sheraton Waikiki) is the property's Christmas sand sculptures.  Waikiki may not have any snow, but it certainly has a ton of sand, and now a lot more with these works of art.  These are certainly a few notches better the sand castles we used to make on the beach, with past sculptures conveying a gleeful Hawaiian theme.  Conveniently situated at the entrance to the property, it is viewable from driving through the porte cochere, but the intricate nature of the design is worth a closer look.  The sculpture will be available until early January 2023.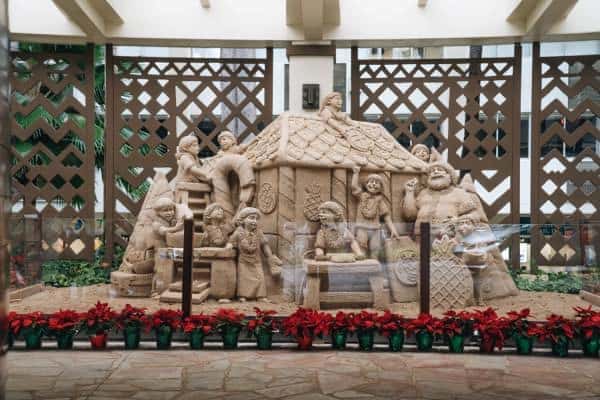 4) Kahala Hotel & Resort
In the lobby of the luxury resort stands a majestic pine that stretches high above.  Each year, The Kahala Hotel & Resort displays one of the most grand expressions of Christmas with its tastefully appointed tree adorned with giant snowflake ornaments as well as gold and silver stars.  Plan a holiday meal at Plumeria Beach Cafe or Hoku's so you can get a good look at the details.  If you plan it right, and are there at around 9:00 a.m. on December 24, you get to see Santa arrive by canoe on Kahala Beach, complete with a hula performance and dolphin show.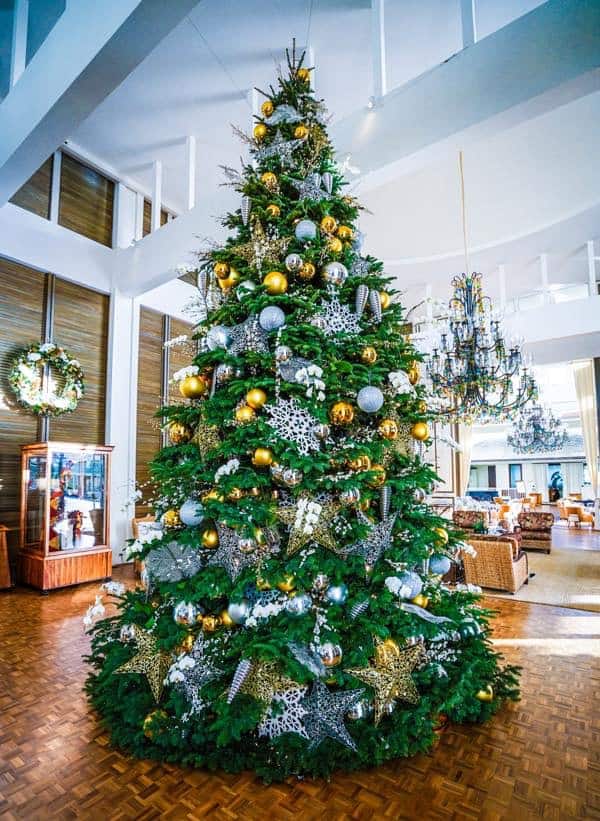 5) Ka Makana Ali'i
On the west side of the island, Ka Makana Ali'i delivers the holiday feel with its holiday decor, situated throughout the shopping center.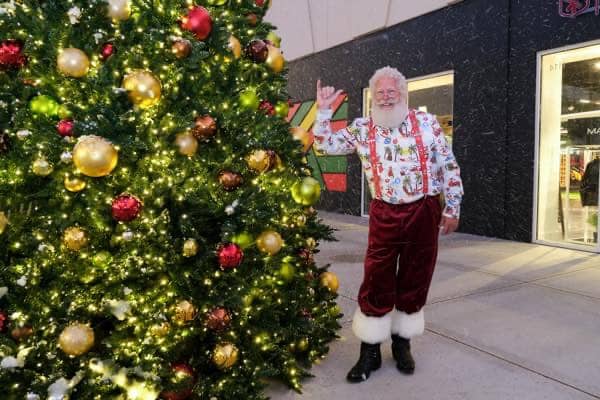 Giant present displays and an illuminated Christmas tree make for great photos, but a truly Instagrammable aesthetic is the brightly lit arch of pine with "Mele Kalikimaka" emblazoned atop, where you may be able to take a photo with Santa while he visits our island.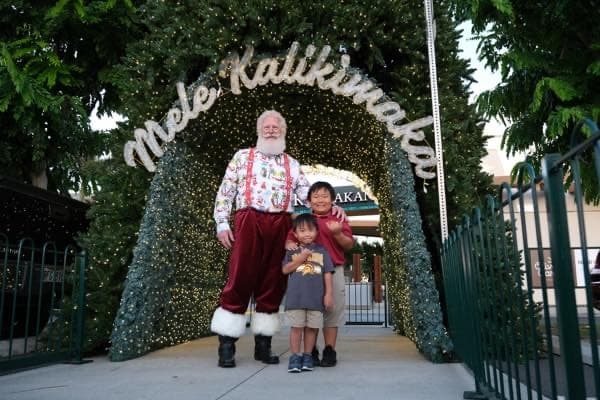 Spend some time to feel a Hawaiian Christmas by making a few stops around the island.  Not only will you have a bunch of photos that make for beautiful Christmas cards, you will realize that the holidays may be equally beautiful without any snow.