A New Sustainable French Restaurant, Oodles of Noodles, Innovative Retailers, More!
The New Year has not even started yet, and with all the new openings this Winter, it is starting to look like a promising 2022.  This guide to the newest restaurants and shops—including relocations and reopenings of popular spots—will help consumers navigate through all the great discoveries Hawaii now has to offer.
New Restaurants
1) NatuRe Waikiki
NatuRe Waikiki, a new restaurant by the Zetton Group that brought Aloha Table and Zigu, opened on December 17.  Embracing sustainability, impact mitigation on the environment, and gender egalitarianism, NatuRe Waikiki serves island French cuisine showcasing the bounty of local ingredients.  The farm-to-table approach supports Hawaii's farmers, while waste mitigation is manifested through whole animal and root-to-stem practices.  Fermentation is incorporated to extend the shelf life of produce, and materials are recycled where possible, such as the use of old cooking oil as candles.  The all-female culinary team, led by Executive Chef Nae Ogawa, seeks to nurture a connection with nature through its regular signature tasting menu and a plant-based version.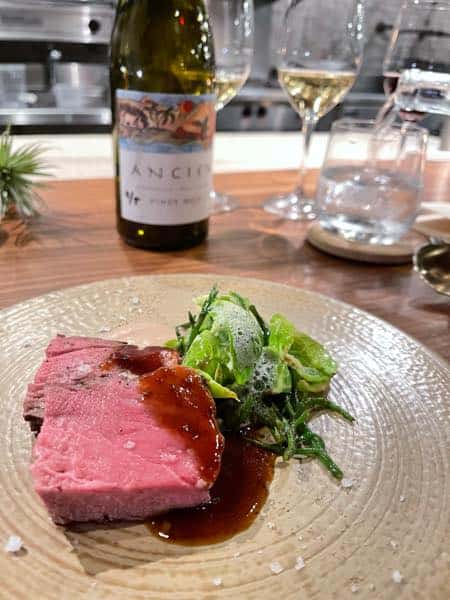 Nature Waikiki
413 Seaside Avenue, 2nd floor, Honolulu, HI
5:30pm – 12am
Tasting Menu: 5:30pm – 8:30pm Last Call
A la Carte : 5:30pm – 9:30pm Last Call
Bar : 5:30pm -11:30pm Last Call
Closed on Tuesday & Wednesdays
(808)212-9282
https://www.naturewaikiki.com/
2) Beef Volcano
Beef Volcano, a roast beef bowl outfit, emerges on Nahua Street in Waikiki.  Grilled USDA-certified Black Angus beef loin comes served atop fluffy Japanese rice or salad greens with a special original sauce.  For those who just love meat, a beef-only option is available, but the eatery does suggest ordering a poached egg or truffle mashed potato to augment the experience.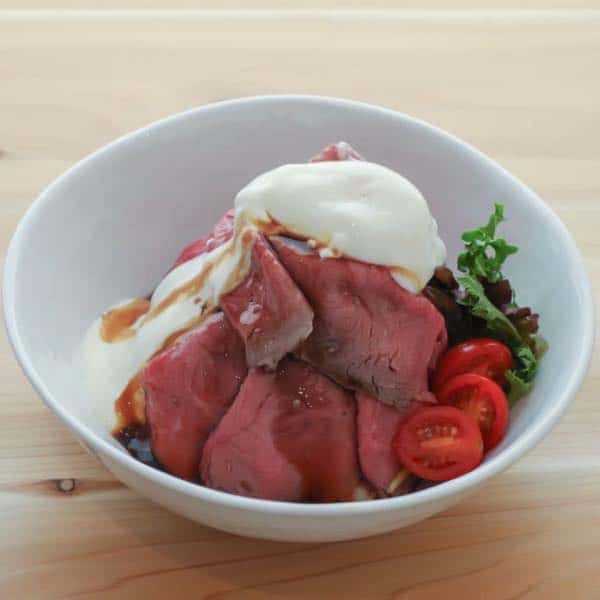 Beef Volcano
429 Nāhua St, Honolulu, HI
5pm – 8pm daily
https://www.instagram.com/beef_volcano/?hl=ja
3) Donut King
Donut King, a donut specialty shop that prides itself on having fresh, hand-made California-style donuts, opens its third location.  With two other locations—one in Kailua, and the other in Kaimuki, Donut King is now able to serve the Waikiki community through its shop on Kuhio Avenue, in the space once occupied by 88 Tees.  The other two locations tend to run out of their large fluffy donuts by noon, so paying a visit to the Waikiki location just as it opens for the day may not be a bad idea.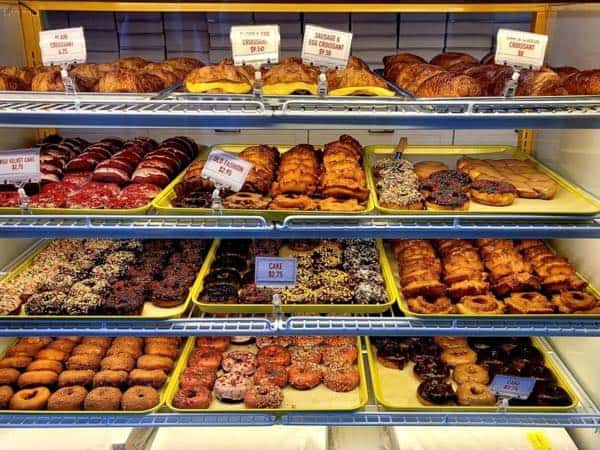 Donut King Waikiki
2310 Kuhio Ave. #103-104, Honolulu, HI
7am – closes when sold out
(808-)784-0116
https://donutkinghawaii.com/
4) ELEVEN
A hidden new cocktail bar tucked away in the back corner of the Foodland Farms supermarket in Ala Moana Center, the swank ELEVEN serves up timeless classics and original artisanal libations alongside snacks and cocktail-inspired desserts made with local ingredients.  Whether choosing the Original 1935 Martini with Ford's gin, Carpano Antica, and orange bitters, or a Pandanimal with Flor de Cana 4-year rum and Avua Cachaca Amburana enhanced by pandan and coconut aromatics, patrons will love that the beverage program is complemented by light snacks as the house-fried potato chips and small plates of tartines, such as a butter-poached shrimp in brioche with tarragon and crème fraiche.  The impressive global roster of whiskeys and whiskies, variety of other spirits, brews, and wines make this an ideal watering hole for the holiday season.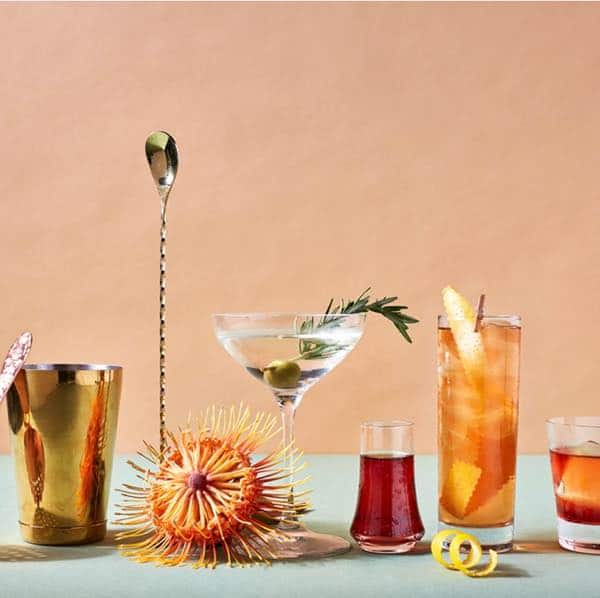 ELEVEN
Foodland Farms Ala Moana, 1450 Ala Moana Blvd., Honolulu, HI
Wed, Thu, Sun 4pm – 11pm, Fri & Sat 4pm – 12am (closed Mon & Tue)
(808)949-5044
https://www.elevenhnl.com/
5) Hook'd Pan Roast
Hook'd Pan Roast, a hot new spot serving seafood and Cajun-style dishes, opens near Ward Village.  Inspired by the Bouill-Roast, a once-secret-now-regular-menu-item at the Oyster Bar in the Palace Station casino in Las Vegas, Hook'd's version of the Louisiana pan roast infuses local flavors such as arabiki, lup cheong, and Portuguese sausage into its creamy, peppery, tomato-based broth loaded with lobster, shrimp, clams, scallops, and crab scented with cayenne and paprika.  The wide variety of menu items also includes steamed clams, fried calamari, crab wontons, lobster sliders, a grilled cheese sandwich, Caesar salad, and kamaboko (fish cake) dip, making this a great spot for gatherings with friends.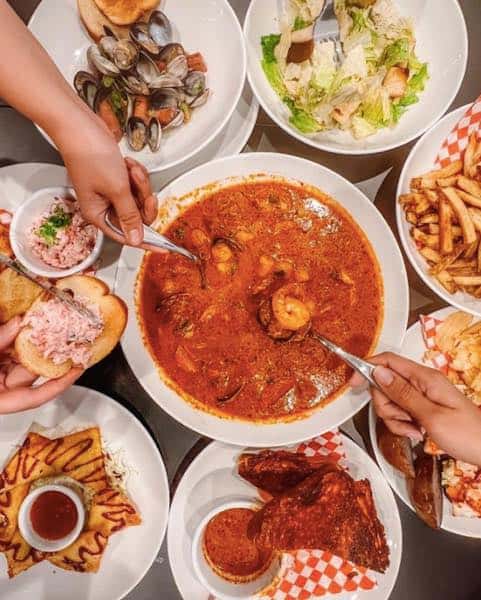 Online ordering and delivery are available.
Hook'd Pan Roast
1035 Kapiolani Blvd., Honolulu, HI
Mon to Thu 5pm -10pm, Fri & Sat 5pm – 12am, Sun 10am – 10pm
(808)698-7677
https://hookdpanroast.com/
6) La Bekk Bakery
La Bekk, a new bakery and dessert shop, sets up in the Ohana Hale Marketplace at Ward Village.  While the bake shop prides itself on its designer cakes, another attraction is the lineup of adorable eclairs available in 10 different varieties, including chocolate, maple bacon, and ube.  Other delights include creamy banana pudding, pumpkin crunch, cream puffs, and a selection of individual slices of cake.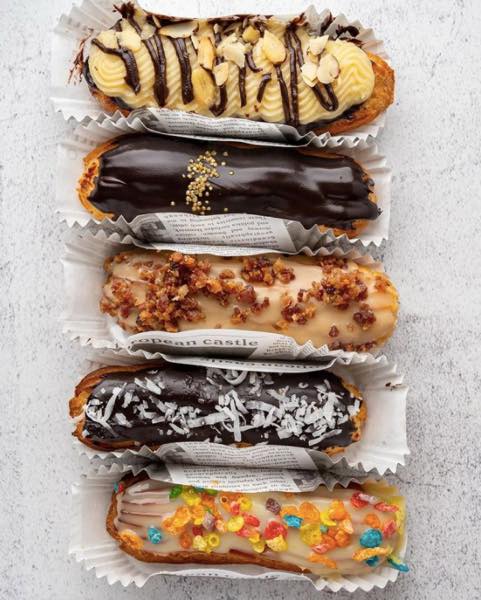 La Bekk Bakery
Ohana Hale Marketplace, 333 Ward Ave Ste 3, Honolulu, HI
Tue to Thu 11am – 4pm, Fri & Sat 11am – 6pm (Closed Sun & Mon)
https://www.instagram.com/la_bekk/?hl=en
7) Thuong An Lac
Newly opened Thuong An Lac in Chinatown serves Vietnamese favorites, such as pho, spring rolls, banh mi sandwiches, rice and noodle dishes, and a large selection of vegan dishes.  Some of the house specials include curry with a choice of rice, noodles, or French bread, and deep-fried noodles with broccoli, carrots, and tofu.  Not found often at other Southeast Asian establishments include rice with sweet sour soup and caramel goby fish, and rice with bittermelon soup and meatloaf, so on a future visit to Downtown Honolulu, consider stopping in for a taste of some authentic Vietnamese.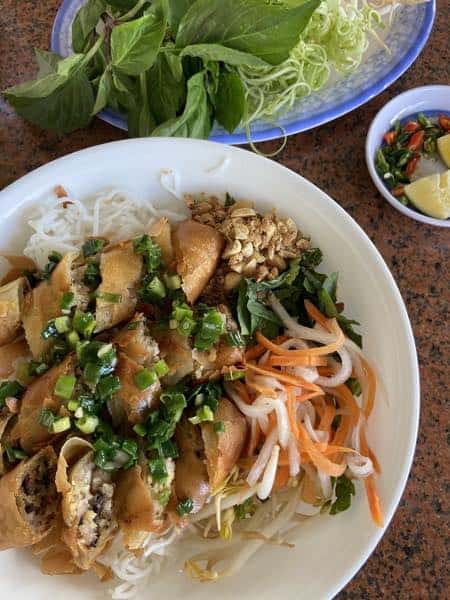 *Photo credit: https://www.yelp.com/biz_photos/thuong-an-lac-honolulu-2?select=0mqXEnhPirymi188gCxgxA
Thuong An Lac
135 N King St 2A Honolulu, HI
7am – 3pm daily
(808)888-8997
8) Fun Station
While its name may sound like it is an arcade full of games, Fun Station is actually a newly opened Chinese fun, or noodle, bar in the Market City Shopping Center.  Serving noodles and rice reflecting a contemporary take on Chinese cuisine, borrowing from influences including Cantonese and Taiwanese disciplines.  A number of dishes are worth considering, including a signature seafood look fun in soup prepared with generous portions of lobster, abalone, calamari and choi sum wading in a delicate pork-based broth.  The "Fly Noodles" drape rice noodles over "floating" chopsticks suspended over a wooden porringer of minced pork seasoned with anise and five spice, and julienned cucumbers.  Rice lovers will appreciate the Wooden Bucket Rice which cooks jasmine rice in wooden buckets to imbue a slightly arboraceous flavor.  Toppings include beef brisket, pickled mustard cabbage adobo with intestines, and crispy spareribs and potatoes tossed in a slightly vinegary sauce.  Throw in a few appetizers such as grilled shrimp dumplings, spiced beef shank, fried chicken wings, and curry fish ball & fish tofu to complete the meal.  Be sure to keep an eye on new noodle menu items coming out in the upcoming weeks, including cheung fun and chow fun dishes, making this a go-to station for fun.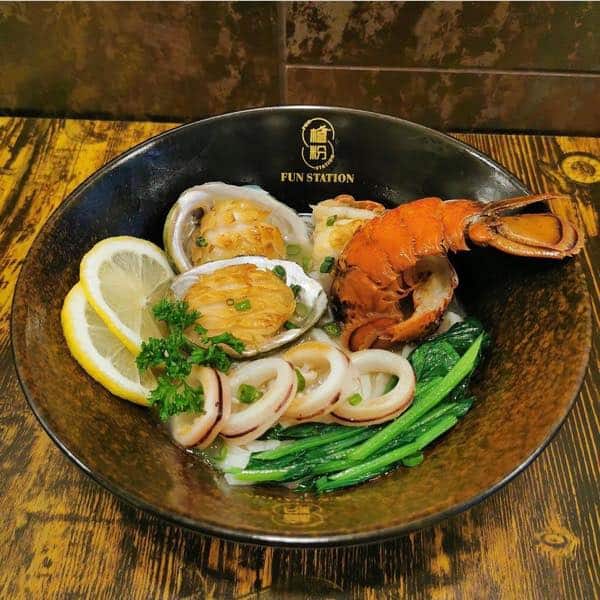 Fun Station
Market City Shopping Center, 2919 Kapiolani Blvd #201B., Honolulu, HI
10am – 9pm daily
(808)773-7367
https://www.instagram.com/funstationhawaii/?hl=ja
9) Koko Inaba Hawaii Kai
Hawaii locals frequent Inaba, a Japanese restaurant recognized for its soba noodles.  Now with a second location in Koko Marina Center in Hawaii Kai, people on the East side of the island may enjoy authentic Japanese cuisine incorporating high quality ingredients flown in directly from Japan, such as buckwheat flour from Shinshu, bonito from Kyoto, and unagi from Shizuoka.  Check out their Instagram to find more details on their lunch menu and weekly specials too.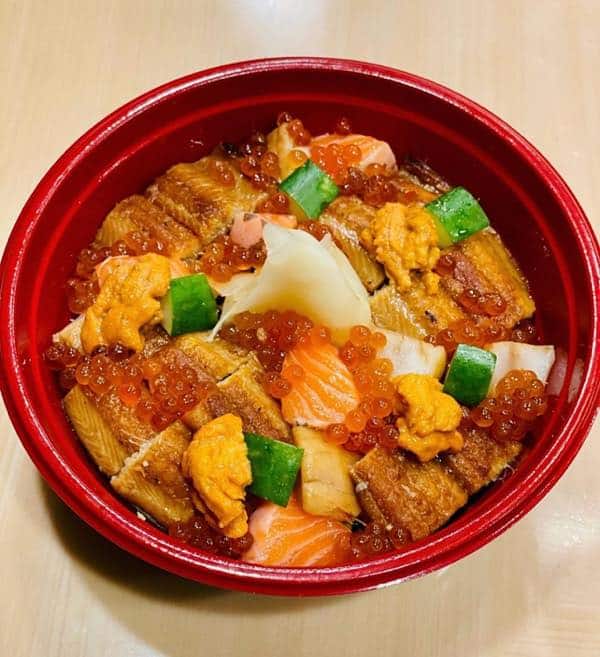 Koko Inaba Hawaii Kai
Koko Marina Center, 7192 Kalanianaole Hwy, Honolulu, HI
Thu – Mon 11am – 3pm (Closed on Tue & Wed)
(808)800-1609
https://inabahonolulu.com/koko-i-naba-hawaii-kai/
Recently Relocated Restaurants
10) Papa Kurt's
When local celebrity chef Chris Kajioka opened his first casual eatery, locals immediately flocked to get a taste of his old school saimin and burgers.  After Papa Kurt's relocated from its original Isenberg Street location to the 808 Center near Ala Moana, the eatery shed the saimin portion of the menu but continues to offer its renowned burgers, including the ahi burger and venison burger.  Add a teri sauce or house burger sauce and an order of crinkle fries to complete the nostalgia.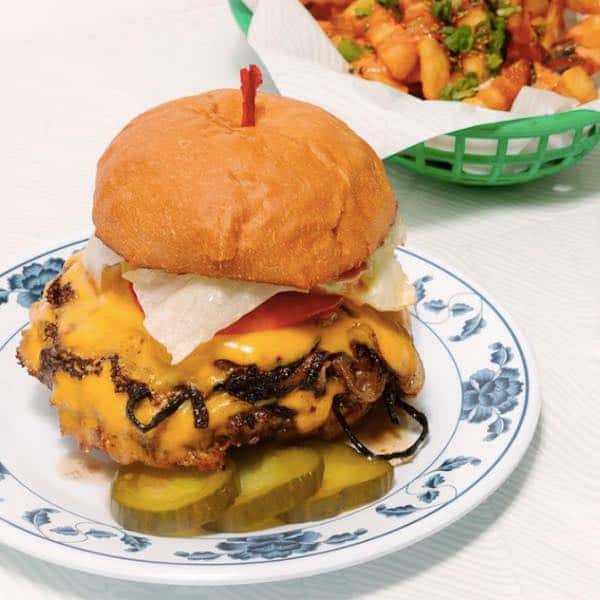 Papa Kurt's
808 Center, 808 Sheridan St Honolulu, HI
Thu, Fri, Sun 10am – 2pm, 5pm – 8pm
(808)348-4613
https://www.instagram.com/papakurts/
11) Shokudo Japanese Restaurant & Bar
One of Honolulu's hottest izakaya just moved…next door to its original space.  Shokudo Japanese Restaurant & Bar continues to serve its popular pupu items such as gyoza, shrimp tempura, chicken karaage, lobster dynamite, and sushi pizza.  Sashimi and sushi are offered alongside ishiyaki dishes of bibimbap and unagi rice, noodles as ramen and udon, a few salads, Japanese takes on pasta, and of course, its original honey toast stacked high with ice cream.  Be sure to make a reservation for dine-in, as it continues to remain one of Honolulu's top hangouts.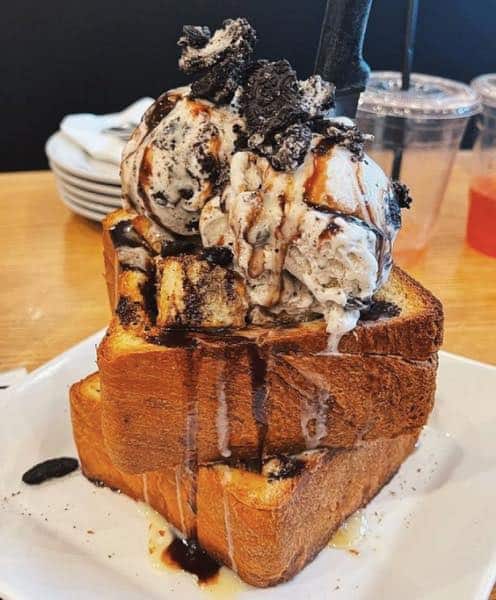 Shokudo Japanese
1585 Kapiolani Blvd., Honolulu, HI 96814
Sun – Thu 11:30am – 10pm (Last order 9pm), Fri & Sat 11:30am – 12am (Last order 11pm)
(808)941-3701
https://shokudojapanese.com/
12) Sushi King
When one of Honolulu's beloved sushi spots announced its closure, Moilili residents and University of Hawaii at Manoa students went for a last bite of their nigiri, rolls, and miso soup.  However, after Sushi King decided to reopen, this time within the Café Waiola located at University of Hawaii's John A. Burns School of Medicine in Kaka'ako, people are thrilled to get a taste of their salmon teriyaki bento, poke bowls, wafu chicken bento, and sushi once more.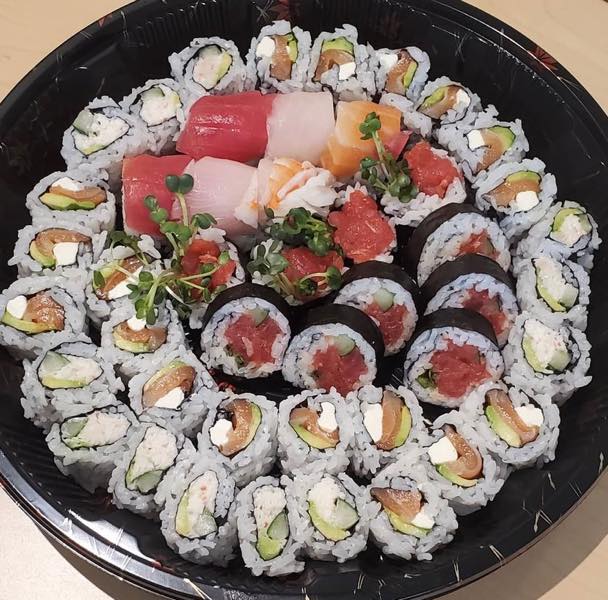 Sushi King
University of Hawaii John A. Burns School of Medicine, Diamond Head side building (Cafe Waiola), 651 Ilalo St. Honolulu HI
Mon to Sat 11am – 1:30pm, 4pm – 6:30pm
https://www.sushikinghi.com/
New Retail Shops
13) Keep It Simple
A new grocery store promoting a zero-waste lifestyle opens a second location on Waikiki Beach Walk.  With its original location in Kaimuki, Keep It Simple seeks to offer eco, health, kitchen, and beauty products with minimal packaging for a better planet.  Its mission, to stock vegan, cruelty-free, non-toxic, and reef-safe products sourced from local and small businesses, allows the eco-conscious customers to bring in their own containers to fill up on products while eliminating the need for plastic bagging, saving people money.  Start practicing a zero-waste way of life now because we only have one planet.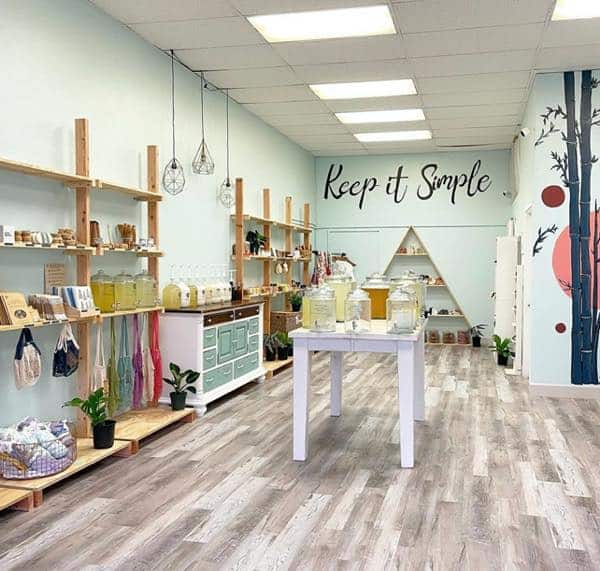 Keep It Simple
Waikiki Beach Walk, 227 Lewers St., Honolulu, HI
9am – 6pm daily
(808)744-3115
https://www.keepitsimplezerowaste.com/
14) It's Sugar.
Gummy bears. Tootsie Rolls. Sour Patch Kids. M&M's. Fruity Pebbles. Kool-Aid. Jelly Belly. Hawaiian Punch…It's Sugar.  Just about everything in the new candy and snack department store on the third floor of Ala Moana Center is made out of sugar, even the large ALOHA display up front.  Whether it be a pouch of Reese's Peanut Butter Cups for snacking, souvenir gift packs of Hershey's Kisses, an international selection of Kit Kats, or novelty merchandise from clothing to collectible figures inspired by America's favorite candies, It's Sugar has it all.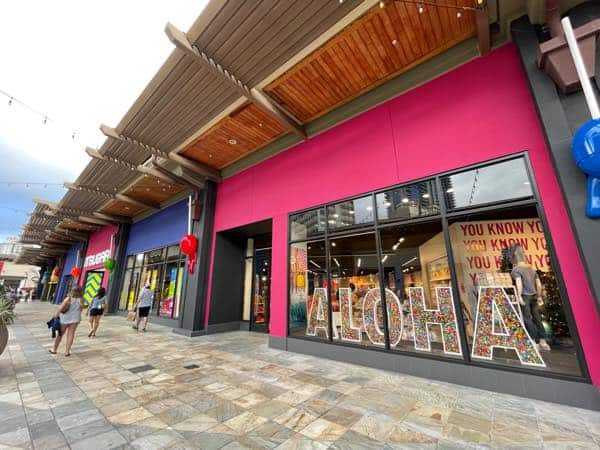 It's Sugar
Ala Moana Center, 3rd floor, 1450 Ala Moana Blvd Ste 3404, Honolulu, HI
(808)400-6008
https://itsugar.com/
15) Laine Honolulu
Starting as a brand that crafted memorable jewelry designs, Laine Jewelry has evolved into Laine Honolulu, a company that focuses on personal growth through self-love, confidence, and comfortability.  Owner Shanalaine fell in love with creating jewelry, and wanted to share her passion with everyone.  She expanded the store concept to include a multitude of curated jewelry and clothing from other amazing creatives, designers, and makers, while supporting small and local businesses.  Be sure to find inspiration at her store on the third floor in the Ewa Wing of Ala Moana Center.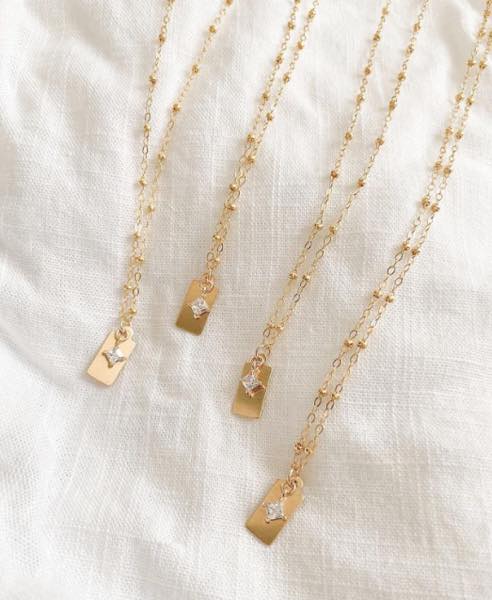 Laine Honolulu
1450 Ala Moana Blvd, Honolulu, HI
Mon to Thu 11am – 7pm, Fri & Sat 10am – 8pm, Sun 11am – 6pm
Laine Honolulu in Honolulu, HI | Ala Moana Center
16) Land and Sea Golf
One of Carmel's leading stores offering gear, accessories, and apparel for golf, surf, the outdoors, and travel makes it over to Hawaii on the third floor of Ala Moana Center.  Land and Sea Golf in Hawaii has golf equipment, hats, and masks exclusive to this location, so be sure to check it out!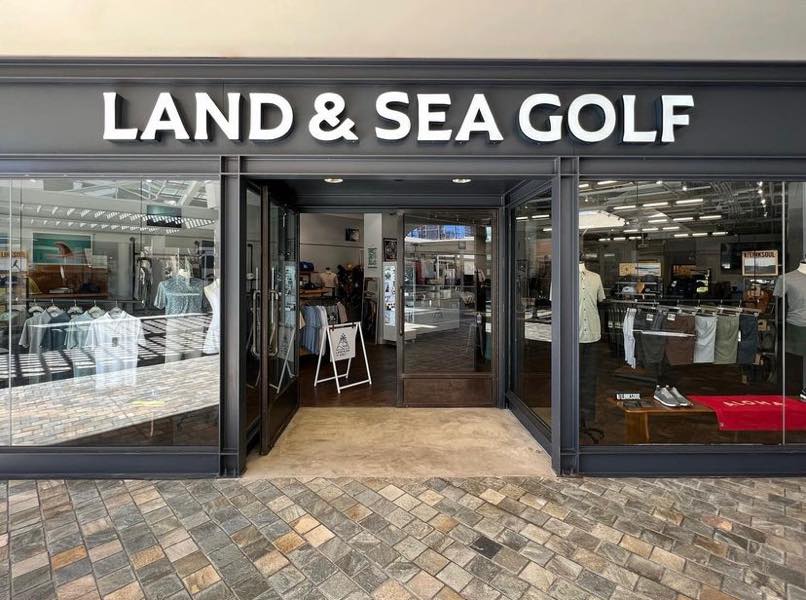 Land and Sea Golf
1450 Ala Moana Blvd. #3101 Honolulu HI (Ala Moana Center, 3rd floor)
Mon to Thu 11am – 7pm, Fri & Sat 10am – 8pm, Sun 11am – 6pm
(808)369-6230
https://landandseagolf.com/
With all of these openings, there is definitely at least one new spot worth checking out in Honolulu.  Whether it be for indulging oneself, doing something special for others, or just helping out the planet, don't forget to put some of these establishments on your next set of places to visit.