The origin of Eggs Benedict may be up to debate, much as is the genesis of the loco moco. However, what cannot be denied is the popularity of the New York-originated brunch dish featuring halved English muffins topped with Canadian bacon or some other protein as these departures are more often found, a poached egg, and a healthy dollop of Hollandaise.
Here is a list of restaurants where you may enjoy Eggs Benedicts in Hawaii.
1) Hau Tree
Hau Tree Lanai, once famous for its classic Eggs Benedict, has reopened under new ownership and management as Hau Tree. While the restaurant still boasts a breezy lanai under the shade of the ocean hibiscus tree, the Eggs Benedict has been slightly revamped with few new enticements. The most exciting is that the English muffins are now crafted in-house. Another is the infusion of tarragon into the presentation, imparting a lovely aromatic to a contemporary take on the dish. Order some crispy potatoes with salsa verde as an accompaniment and you will truly be in paradise.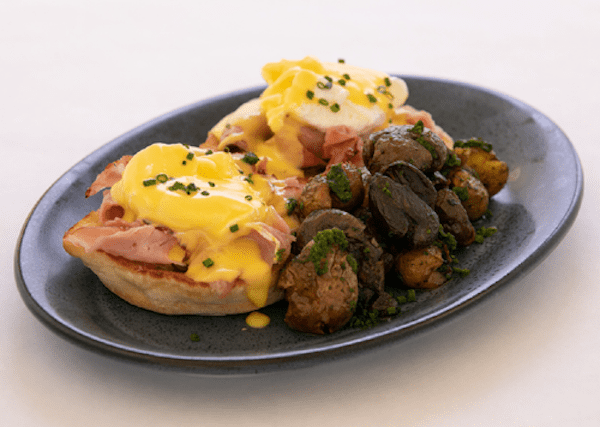 Hau Tree
2863 Kalakaua Ave. Honolulu HI
(808)921-7066
10am – 10pm, Friday-Sunday 8am-
2) Wolfgang's Steakhouse
Wolfgang's Steakhouse recently launched its breakfast menu, available from 7:00 AM to 11:00 AM. There are five Eggs Benedict variations to consider: the Classic Benedict with thick cut bacon, a Salmon Benedict, a Crab Cake Benedict, a Vegetarian Benedict with fresh spinach and tomato, and of course, a hearty Filet Benedict stacking the poached eggs and Hollandaise over a petite filet mignon. Served with a choice of rosemary potatoes or a mixed green salad, this is a decadent brunch option that is available every day of the week.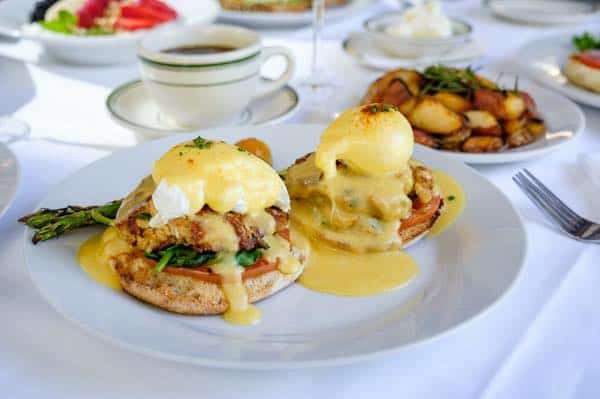 Wolfgang's Steakhouse
Royal Hawaiian Center C, 3rd floor
(808)922-3600
Breakfast 7am – 11am daily, lunch and dinner Sunday-Thursday 11am – 11pm, Friday and Saturday 11am – 11:30pm
3) Cafe Kaila
Cafe Kaila is frequented by Hawaii locals and visitors alike. Located in the Market City Shopping Center, the signature dish sought after most by the Japanese visitor may be the pancake topped generously with fresh fruits, but Eggs Benedict is something that drives locals in. The Smoked Salmon Benedict delivers perfectly poached eggs over lavish slices of lox for a Hollandaise-laced bite of heaven.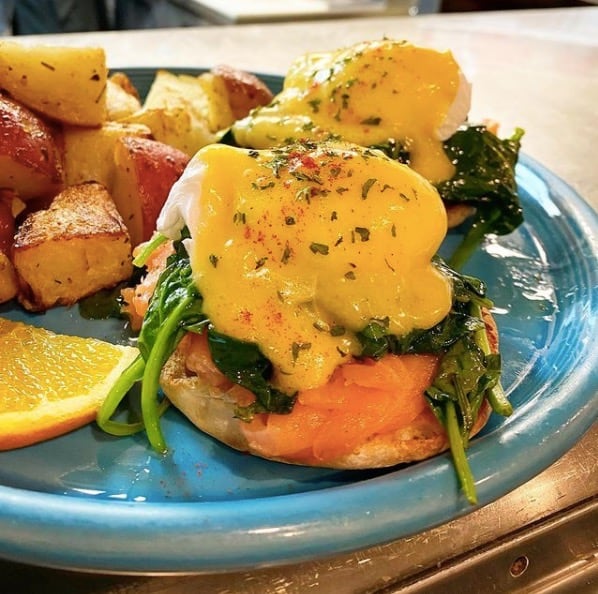 Cafe Kaila
2919 Kapiolani Blvd. Honolulu, Hawaii
(808)732-3330
7am – 3:30pm
4) Highway Inn
Highway Inn is known for its Hawaiian cuisine, such as lau lau and kalua pig, and local flavors including loco moco and mochiko chicken. While these are available at both the Waipahu and Kaka'ako locations, Eggs Benedict is only to be found on the breakfast menu served in Honolulu. The restaurant serves a Hawaiian Eggs Benedict featuring its addicting Kiawe-smoked Kalua Pig. Topped with green onions, lomi tomatoes, and a generous slathering of gravy to replace out the Hollandaise, this local take on the New York dish can only be garnished with Okinawan Sweet Potatoes.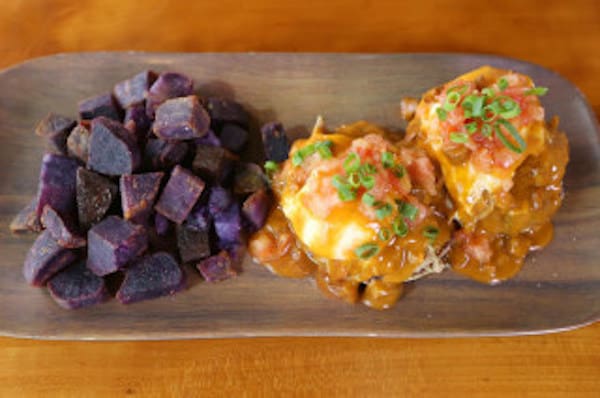 Highway Inn
680 Ala Moana Blvd. Honolulu HI
(808)954-4955
Mon-Thu 10am – 8pm, Fri 10am – 8:30pm, Sat 9am – 8:30pm, Sun 9am – 2:30pm
5) Cinnamon's Restaurant
Cinnamon's established a name for itself in Kailua with the guava chiffon pancakes, with local patrons lining up for the fluffy flapjacks lacquered with a fruity glaze among other breakfast dishes. Among the wide selections of morning plates are eight types of Eggs Benedicts. Besides the Traditional, there is a Veggie with fresh spinach and tomato, a Mahi Mahi featuring one of Hawaii's favorite fish, a Rustic with sauteed fresh spinach, mushrooms, and onions with guacamole, a Kalua Pork with sweet potato, Corned Beef with mustard sauce on dark rye, a Smoked Salmon Lox with cream cheese and capers on dark rye, and a Crab Cake version featuring Chef Carsie's secret recipe. All are dressed with the homemade Hollandaise. Pictured here is the Kalua Pork Benedict, which is worth the drive out to the Windward side of the island.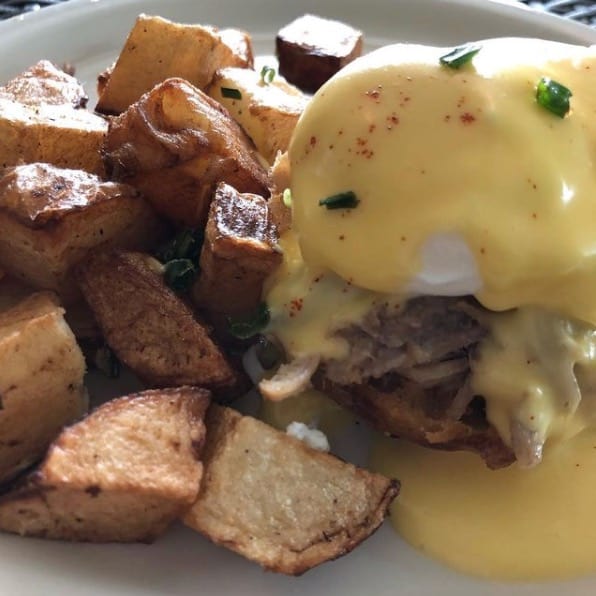 315 Uluniu St. Kailua, HI
(808)261-8724
Wed-Mon 7am – 2pm (Wed & Thu take-out only)
6) Koa Pancake House
With seven locations on Oahu, Koa Pancake House is a frequented local chain. Whether it be at the Kaimuki location, or perhaps the one in Hawaii Kai, even on the West side of Kapolei, patrons may savor delicious pancakes, waffles, hamburgers, loco moco, and the full gamut of classic breakfast dishes. There are four types of Eggs Benedict, including the Traditional, a Koa Benedict which adds turkey to the conventional recipe, an Eggs Florentine featuring tomatoes and spinach, and a Mahi Benedict swapping out the Canadian bacon with dolphinfish. And do you want to know the best part? They are all priced around $10!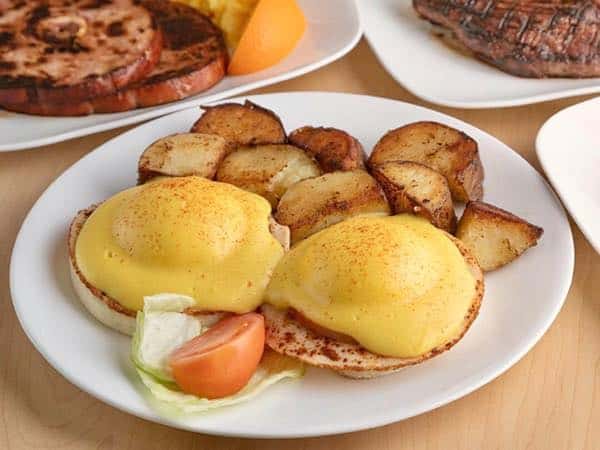 Koa Pancake House Kaimuki Store
1139 12th Ave, Honolulu, HI
(808)739-7778
6:30am – 2pm
Craving an order of Eggs Benedict yet? Well, there's more to come with the second part of the roundup with even more options, so check back soon!