Where Santa has elves to help him, the Easter bunny flies solo.  The fabled rabbit would make morning deliveries of colored eggs, which later evolved to include chocolate and candies, eventually replacing the nests with baskets.  Fortunately, most people end up having brunch someplace, so the bunny does not have to make as many deliveries, and those eggs that would normally be hard boiled are crafted into Benedicts and French toasts.
Easter brunches are among the most coveted Sunday reservations, especially if you desire a spot at the Orchid's new $105 brunch at Halekulani which now includes two glasses of prosecco and a few new upgrades.  If you are only just thinking about booking a Easter brunch reservation now, here are a few ideas for casual spots that either may have openings left or just do not take reservations, giving you a fair shot at a table on Sunday.
1) Eggs 'n Things at Ala Moana
The popular spot that was the typical late night haunt for inebriated nightclubbers still specializes in morning meals with three locations.  The restaurant with one location next to Ala Moana Center sounds like it may only spotlight egg dishes, but it offers other dishes such as burritos and burgers.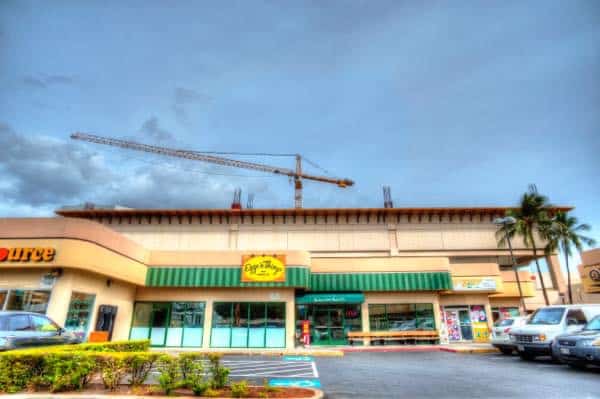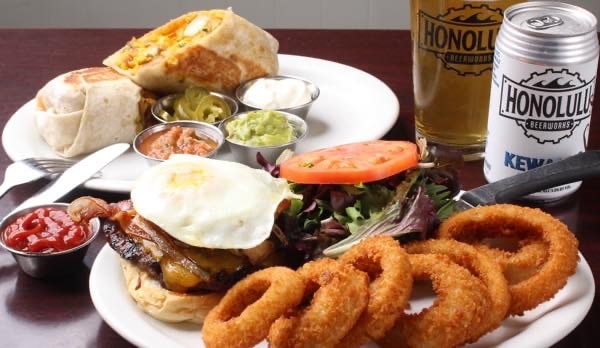 Still, most customers seem to frequent the restaurant for its egg dishes and pancakes.  Besides typical breakfast meats with eggs, there are are more unorthodox offerings, such as a plantation pork chop, fresh line-caught ahi, or kalbi with kimchi.  Since brunch seems a little more elevated, consider having some eggs Benedict, be it the traditional, or opt for versions with crab cakes, smoked salmon, or kalua pig.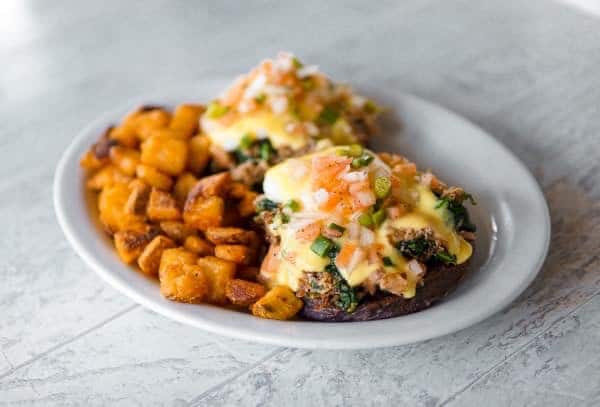 Eggs 'n Things Ala Moana >> Get a special offer!
451 Pi'ikoi St. *Next to the former Nijiya Ala Moana


Free parking available
(808)538-3447
7am – 2pm daily
2) Forty Niner Waikiki
The restaurant that opened in 1947 by Richard and Henry Chagami, two WWII veterans who served in Italy and France with the 442nd Army Regimental Combat Team, is known for its caring service, flavorful cuisine, and reasonable prices.
Now with a second location in Waikiki on Seaside Avenue, the popular breakfast eatery serves a variety of pancakes, such as the signature Forty Niner pancakes which takes a banana macadamia nut pancake slathered with haupia macadamia nut sauce, the ube colada pancakes with purple sweet potato and toasted coconut, lemon ricotta pancake, hapa pancakes with coconut sauce and a Nutella drizzle, and Da Elvis pancakes featuring crispy bacon and banana pancakes layered with creamy peanut butter and banana syrup.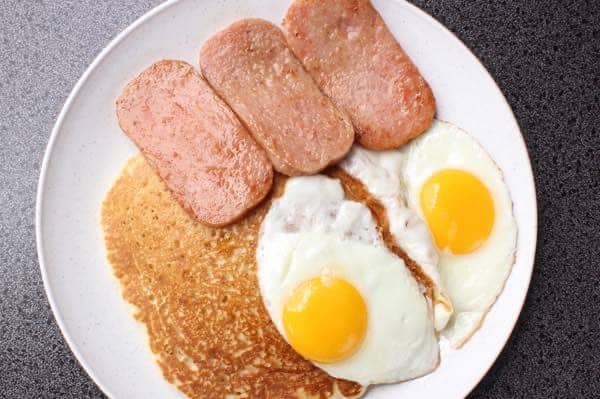 There are some amazing waffle presentations and French toast, and if opting for the latter, consider the banana French toast topped with golden grilled bananas and served with original banana syrup.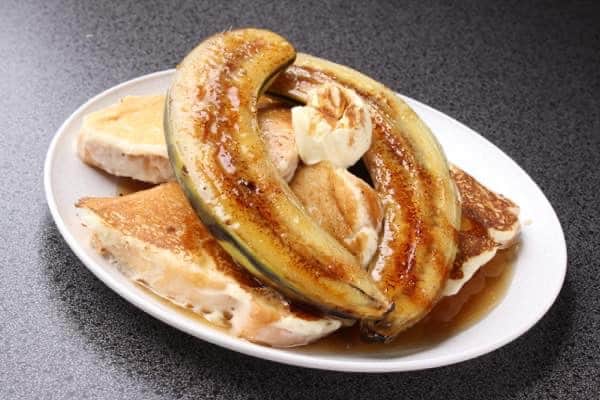 Forty Niner Waikiki >> Get a special offer!
445 Seaside Ave. Island Colony
(808)923-2058
7am – 3pm daily
3) Rooftop Bakery Cafe
Now under new management, the bakery, restaurant, and bar offers a brunch menu of pasta, loco moco, and eggs Benedict.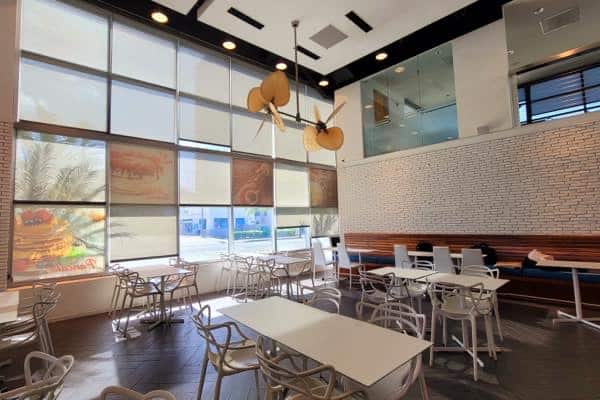 Whether it be the bacon cream, seafood tomato, or shrimp basil pasta, the classic loco moco with hamburger patty or steak, or eggs Benedict comprised of tomato, avocado and ham or smoked salmon and avocado, Rooftop Restaurant & Bar is a viable contender for Easter brunch.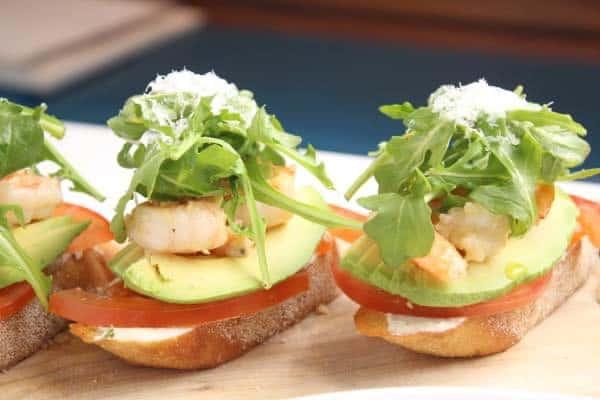 And be sure to contemplate having one of the Croffles, a croissant waffle hybrid that comes in sweet or savory incarnations, with Nutella and banana, with strawberry cream, or with some fried chicken.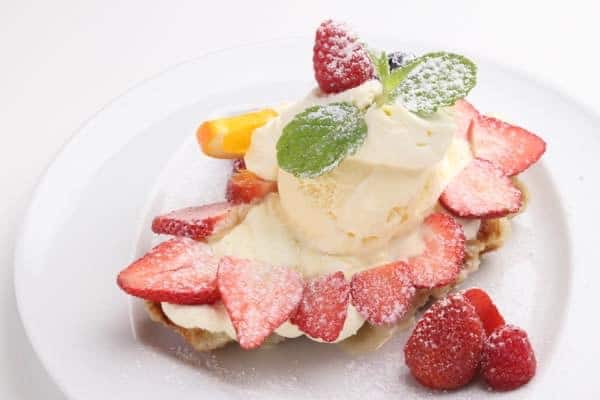 Rooftop Bakery Cafe >> Get a special offer!
938 Piikoi St.


Free Parking Available
(808)200-2140
8am – 10pm *Closed Wed
4) Kaimana Farm Cafe 
For a healthy but still attractively delectable meal, consider the farm-to-table approach of Kaimana Farm Cafe.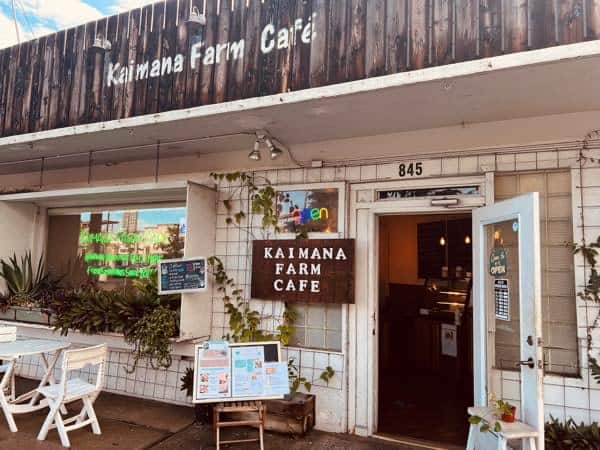 The charming spot on Kapahulu showcases a vibrantly colored display of ingredients crafted into healthful but palate-pleasing options.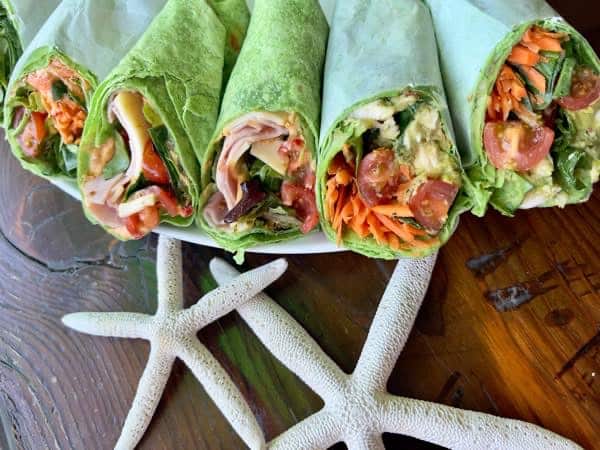 Since Easter is known for its dynamically multi-colored expressions, breakfast plates such as the various acai bowl offerings, garden lox bagel sandwich featuring fresh vegetables, or organic kale Benedict with tomato, organic kale, organic baby spinach and a poached local egg slathered in a Hollandaise sauce fit nicely with the theme.  There are some protein rich dishes as well, including the braised pork egg Benedict, smoked salmon Benedict, and salmon lox bagel sandwich.  French toasts satisfy the sweet tooth, but for those wanting something both hearty and healthy, consider one of the plate lunches or better yet, the Kaimana Power Bento, which showcases five side dishes with rice or organic greens.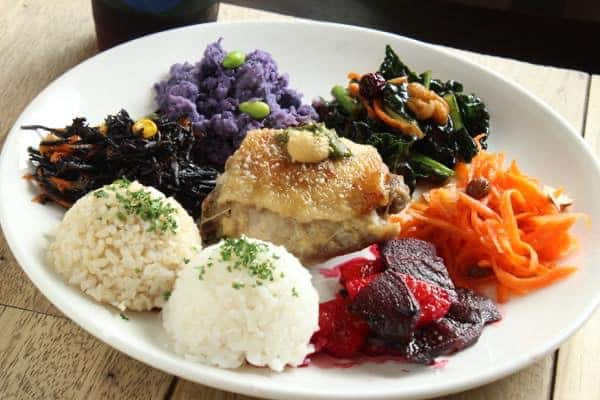 Loaded with vegetable-laden sides, patrons may choose a potato croquette, Molokai sweet potato croquette, grilled Dijon chicken, braised pork, Hawaiian hamburger steak or a vegan alternative, Kauai shrimp croquette, cheese lover croquette, curry risotto croquette, or garlic shrimp to provide satisfying sustenance.
Kaimana Farm Cafe >> Get a special offer!
845 Kapahulu Ave. Right in front of Safeway
7:30am – 3pm (Wed – Sun)


Free Parking Available!
5) Makana Lani A Dining Experience
One of the best hidden buffet secrets in town is the brunch buffet at Makana Lani A Dining Experience located on the third floor of the 'Alohilani Resort Waikiki Beach.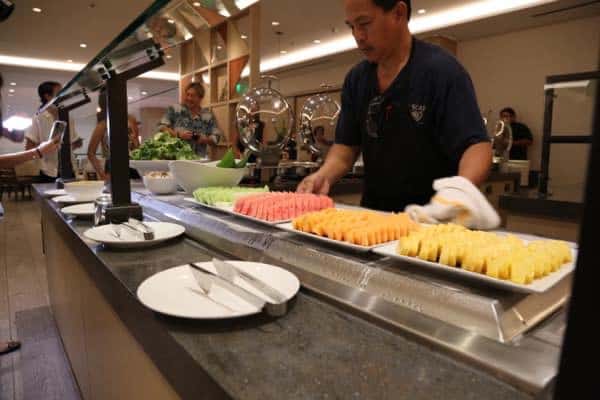 The special, robust $125 Easter brunch lineup will include oysters, shrimp cocktail, poke, eggs Benedict, steamed crab legs, braised lamb, bone-in honey glazed ham, slow-roasted prime rib, crispy lechon (pork), whole turkey and stuffing, whole fish, and so much more.  The restaurant peers into a sizable indoor aquarium, making for a tranquil dining experience energized by an incredible spread of impeccable dishes.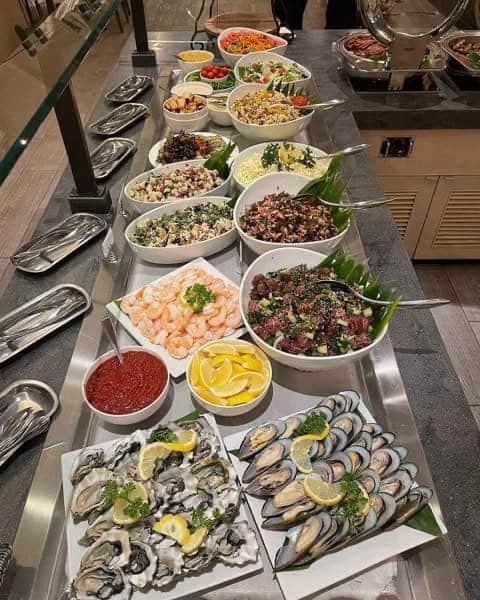 Makana Lani A Dining Experience
'Alohilani Resort Waikiki Beach, 2490 Kalakaua Avenue, 2nd Floor, Honolulu, HI
(808) 921-6198
[Breakfast] Mon-Fri, 7:00 – 11:00am; [Dinner] Wed-Sun, 5:00 – 8:00pm; [Brunch] Sat & Sun, 9:00am – 2:00pm
6) STRIPSTEAK Waikiki
Celebrity chef Michael Mina's steakhouse in Waikiki is typically open for dinner, but on Easter Sunday, the restaurant will open for brunch, offering a special 3-course prix fixe brunch menu for $109 per person.
From 10:00 a.m. to 1:00 p.m.,  patrons may choose from five first course dishes, including hamachi crudo, "instant" bacon, wild mushroom ragout, truffle Caesar salad, or smoked burrata.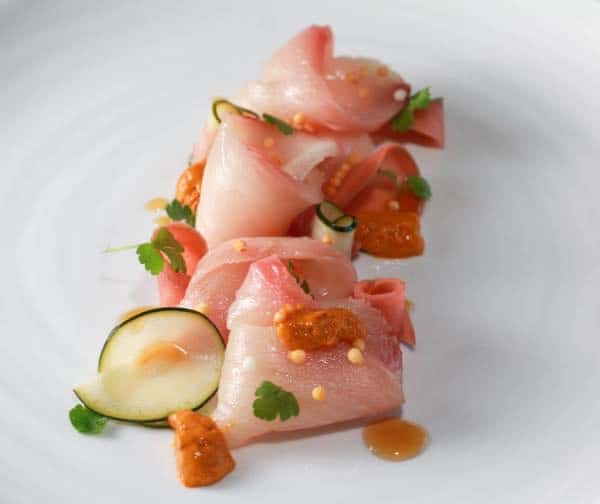 Then, for the entree, selections include 8 ounce filet mignon au poivre, creme brulee French toast, Big Glory Bay king salmon, crab cake Benedict, or 12 ounce Prime New York strip, with accompaniments as broiled shellfish or sides as charred broccolini for a supplemental price.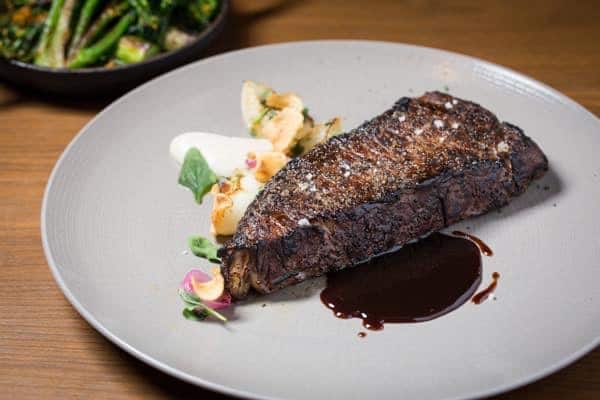 The brunch will end with a dessert option among Basque cheesecake or Kona dark chocolate layer cake.  To transform the brunch into an extra luxe experience, STRIPSTEAK Waikiki is also offering add-ons as a caviar parfait ($165) with 1 ounce of Osetra or a chilled shellfish platter ($145).  Wash the indulgences down with Mimosa bottle service or cocktails as Diane's Bloody Mary or an espresso martini.
STRIPSTEAK Waikiki
2330 Kalakaua Avenue, Suite 300, Honolulu, HI
(808) 896-2545
Sun-Thu, 5:00 – 9:00pm; Fri & Sat, 5:00 – 10:00pm; Easter Sunday Brunch, 10:00am – 1:00pm
There may still be time for those last minute dining options.  Some of these are mostly walk-in based, but if you do need a reservation, it may be a good time to call and check or you may be seeking a coveted seat at one of these fine restaurants as you simultaneously search for hidden Easter eggs.