Eating eggs often seems to be an act of breakfast.  However, some people love morning dishes around dinnertime, or even better yet, after a night of drinking with friends because after anything immediately midnight is considered morning, right?  Well, this list comprises dishes that incorporate eggs that are more accessible for those who do not want eggs from 6:00 to 10:00 a.m.
Beef or Shrimp Omelette on Fried Rice Yi Xin Cafe
The omelettes at Yi Xin Cafe are not your typical morning type of egg dishes; they are not loaded with breakfast meats or vegetables.  Rather, these eggs are scrambled and served blanketed over a generous mound of fried rice.  Better yet, they are then served with proteins cooked in a savory gravy-type sauce.  Try the Chinese-style beef or shrimp version for a savory cafe-style dinner dish to share with friends.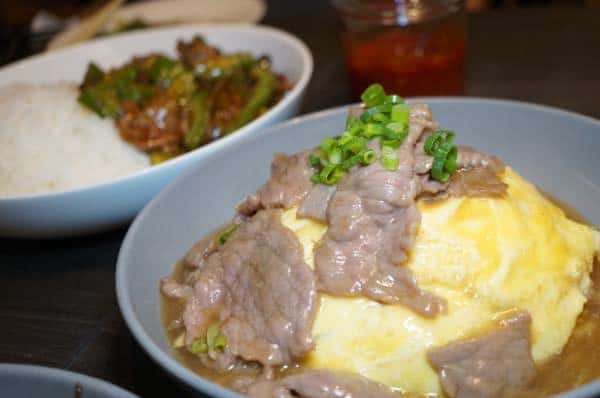 Yi Xin Cafe >> Get a special offer!
2919 Kapiolani Blvd. #218 (in Market City Shopping Center), B.Y.O.B
Phone : (808) 738-0818
Business Hours : 10pm – 9pm daily
Loco Moco at Le'ahi Bar and Grill
Loco moco may be a breakfast dish, but a number of eateries serve it well into lunch.  Le'ahi Bar and Grill finds that their customers even want their rendition for dinner.  The handmade patty atop a bowl of rice slathered with brown gravy is crowned with a poached egg.  If you want more carbs, consider adding a side of macaroni salad because there is something magical about adding mayonnaise and pasta to the overall composition.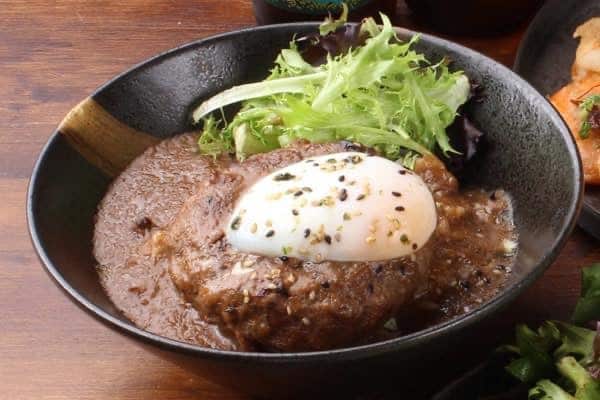 Le'ahi Bar and Grill >> Get a special offer!
2446 Koa Ave.
Across from Hyatt Regency Waikiki Entrance.
Phone: (808) 762-9025
Business Hours:  8am – 2am, Happy Hour between
3pm and 6pm nightly!
Bario Egg Ramen at Ramen Bario
This one may be a little bit of a cheat because just about every ramen has an egg in it, but the Bario Egg Ramen from Ramen Bario is especially alluring.  Start with the tonkotsu or pork bone broth base, a rich creamy broth in structure that expresses a bold flavor that stands up to the thick ramen noodles.  This Jiro-kei or Jiro-style ramen features thick slices of pork char siu and a voluminous pile of cabbage.  Throw in a healthy spoonful of minced garlic and an ajitama, boiled egg with a molten core that has been marinated in a soy-based sauce and you have an addicting bowl worthy of dinner.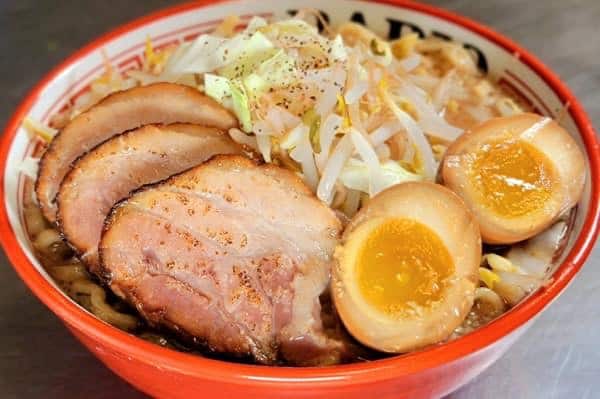 Ramen Bario >> Get a special offer!
1450 Ala Moana Blvd.
Makai Market Food Court, Ala Moana Center 1F
Phone:(808) 942-2025
Business Hours: 11am – 8pm daily
Golden Shishamo at Lobster King
Lobster King is obviously known for its lobsters, but those on a slightly tighter budget may appreciate the Golden Shishamo.  The savory and creamy salted egg yolk often used to make the popular Golden Lobster is applied to willow fish, or saltwater smelt from Hokkaido.  The combination of the supple, tender white meat of the small smelt with the savory quality of the preserved egg yolk yields an incredible dish that is one of the most popular presentations here.  And if you order one entree, you can get a lobster for just $24.95 per pound so it will be worthwhile to splurge and have the Golden Shishamo with maybe a one or two pound Golden Lobster.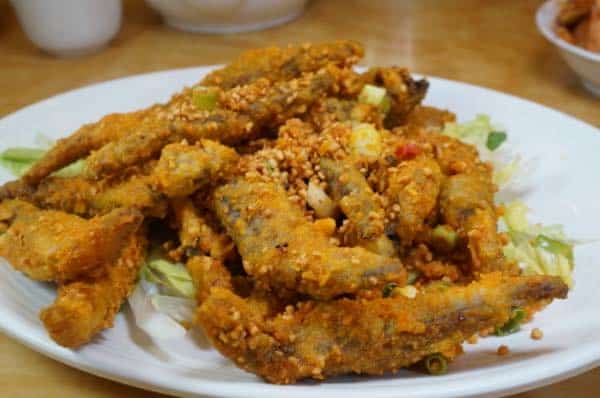 Lobster King
1380 South King Street, Honolulu, HI
Phone:  (808) 944-8288
Business hours:  Sun-Mon, 11:00am – 10:00pm
Tortilla at Rigo Spanish Italian Restaurant
The Tortilla Española at Rigo Spanish Italian Restaurant folds in onion confit, sliced potatoes, chorizo, prosciutto, and Grana Padano.  The fluffy omelette is served like a pie, which is to be sliced and shared.  And since the Spaniards eat this as a tapa, it is certainly a dish to be enjoyed in the evening.  Except in the United States, you may end up taking your siesta afterwards.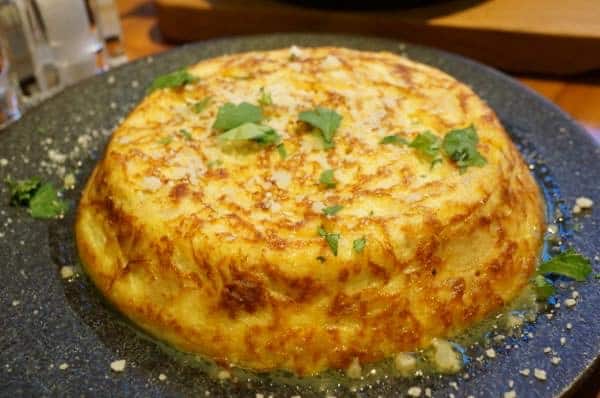 Rigo Spanish Italian Restaurant
885 Kapahulu Avenue, Honolulu, HI
Phone:  (808) 735-9760
Business hours:  Wed-Mon, 11:30am – 2:30pm; 4:30 – 10:00pm
Dashimaki Tamago at Hatsuhana Japanese Restaurant
Dashimaki tamago is a staple in most Japanese restaurants, especially if it has a sushi bar.  Whether the perfectly rolled Japanese omelette is served whole with a little bit of daikon oroshi (grated winter radish), or sliced and placed atop a small bite-size rice ball as a nigiri sushi, both begging for a splash of soy sauce, this is another egg dish perfect for dinner.  Hatsuhana Japanese Restaurant even serves their dashimaki tamago with the restaurant name grilled right onto the Japanese omelette.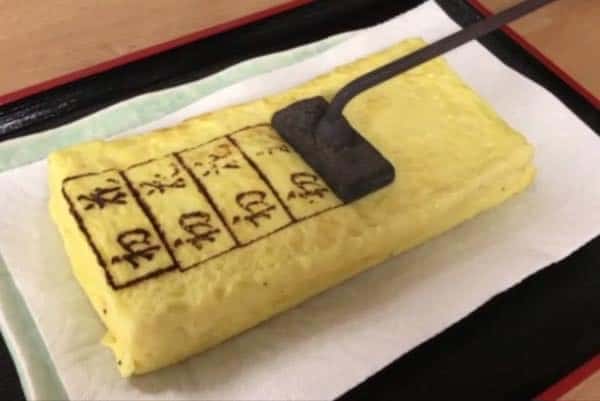 Hatsuhana Japanese Restaurant >> Get a special offer!
Hilton Hawaiian Village Rainbow Bazaar
2005 Kalia Rd.
Reservations: (808) 946 – 8287
Business Hours: Lunch: 10:30am – 2:30pm, Dinner: 5pm – 9:30pm 
Doutonboriyaki at Okonomiyaki & Teppanyaki Chibo
It may be a mouthful to say, but the Doutonboriyaki at Okonomiyaki & Teppanyaki Chibo will make you shovel the dish into your face.  Named after the popular nightlife and entertainment area in Osaka, Japan, this dish takes pork, shrimp, cheese, and suji-kon or simmered tendons and konjac jelly, and cooks them into a savory pancake that is almost like a grilled frittata because it uses egg to bind the ingredients.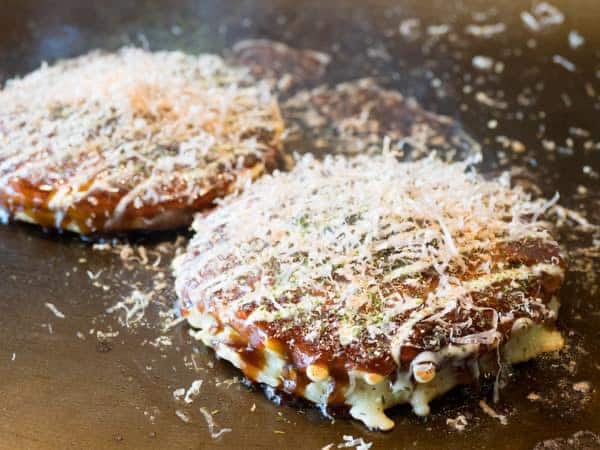 Okonomiyaki & Teppanyaki Chibo >> Get a special offer!
280 Beachwalk
Phone:(808)922-9722
Business Hours: 11:30am – 2pm *Closed Wed, Sun
5pm – 8pm Mon – Tues; 5pm – 8:30 pm Thu – Sat
*Happy Hour 5pm – 6pm daily
Fish Jun at Million Restaurant @Kapiolani
Korean's love savory egg dishes.  Whether it be a steamed egg served as a banchan or side dish, in a pajeon or pancake filled with seafood and green onions, or a fritter with a protein dredged in an egg wash before frying, eggs are certainly part of the Korean dinner scene.  At Million Restaurant, one of the most ordered dishes is the Fish Jun, thin slices of mahimahi cooked with egg, a synthesis that goes beautifully when plunged into a soy-sauce based dip replete with green onions and chili flakes.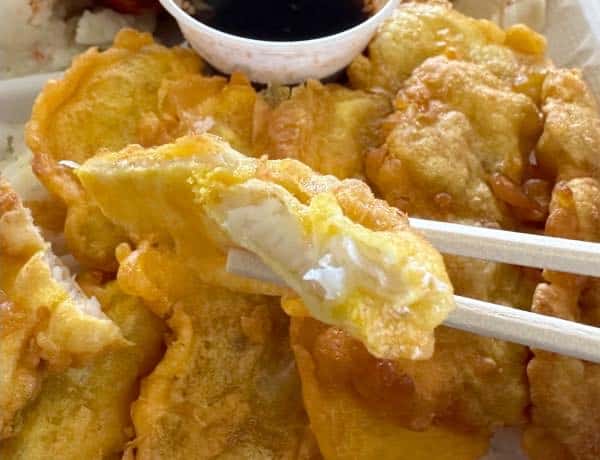 Million Restaurant @Kapiolani
871 Kapiolani Blvd., Honolulu, HI 
Phone:  (808) 200-4385
Business hours:  Sun-Sat, 11:00am – 9:00pm
Eggs seem to be an important part of the life of a late riser or a partygoer that gets hungry at the stroke of midnight.  While most breakfast spots conclude their egg dishes around 10:00 a.m., with a few brunch spots closing up around 3:00 p.m., these eateries make eggs a little more approachable for a meal later in the day…or night.