Aging takes away so much fun from being a foodie, as health becomes a primary influencer on the type and level of consumption.  Some people start early in life taking care of their body, while others eventually shift their dining habits out of survival reasons.  This list is to help provide a few healthful options that are delectable, and make for easier assimilation into one's daily diet.
Power Bento from Kaimana Farm Cafe
The eatery that prides itself on delicious and nutritious healthy foods presents a Power Bento which offers a variety of gluten-free and/or vegan options for main dishes.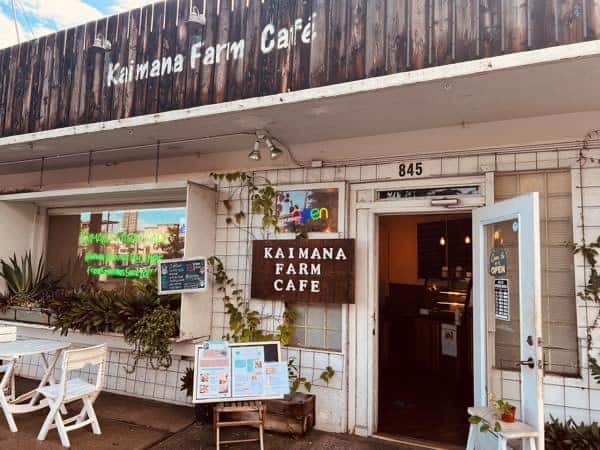 Choose from Dijon chicken (gluten-free), pork kakuni otherwise known as braised pork (gluten-free), hamburger steak, vegan hamburger (vegan and gluten-free), garlic shrimp (gluten-free), or a variety of croquettes:  potato (vegan), sweet potato (vegan), curry risotto (vegan), love cheese, or shrimp.  The bento or boxed lunch is served with white rice, or for those who are serious about their carb intake, brown rice or a house green salad.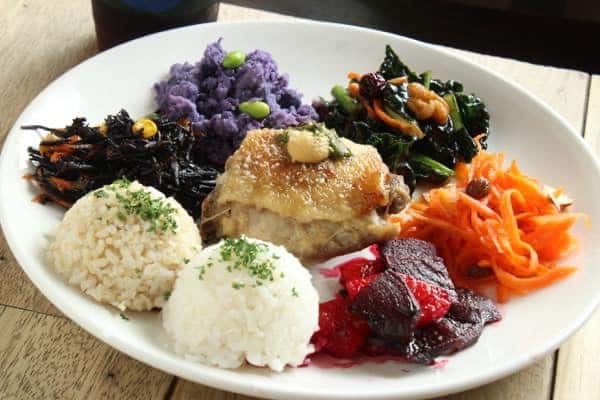 Kaimana Farm Cafe >> Get a special offer!
845 Kapahulu Ave.
Phone : (808) 737-2840
Hours: 7:30pm – 3:00pm (Wed-Sun)
Mulberry Tomato Cold Ramen or Mulberry Noodle from Ezogiku
Want ramen but with healthier noodles and the absence of animal products?  Ezogiku features plant-based broths with noodles made from mulberry leaf and refreshing toppings such as chopped tomatoes.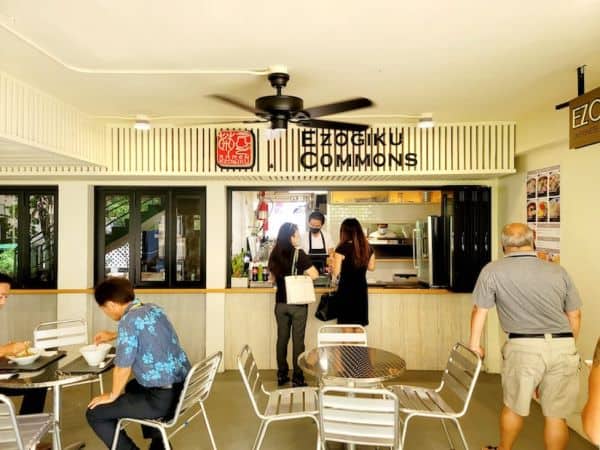 These vegan options are not only earth-friendly but they are also beneficial to the body, especially with mulberry leaves which are loaded with powerful plant compounds such as polyphenol antioxidants, not to mention vitamin C, zinc, calcium, iron, potassium, phosphorus, and magnesium.  On top of that, mulberry leaves have other potential health benefits, including lowering of blood sugar and insulin, promoting heart health, reducing inflammation, and possibly also having anti-cancer effects, liver protection, weight loss, and hyperpigmentation prevention as other advantages.  So have some ramen and feel a little less guilty.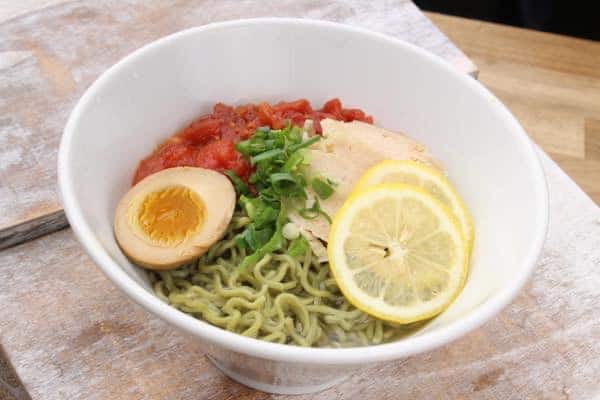 Ezogiku >> Get a special offer!
2239 Waikolu Way.
Phone: (808) 379-0490
Hours: 11am – 8:30pm daily
Keep the Country Country from Seven Brothers Burgers
Many burger joints have a vegetarian option; most have their version of an Impossible Burger.  However, the non-meat option at locally-started, owned, and operated Seven Brothers Burgers is completely devoid of a patty.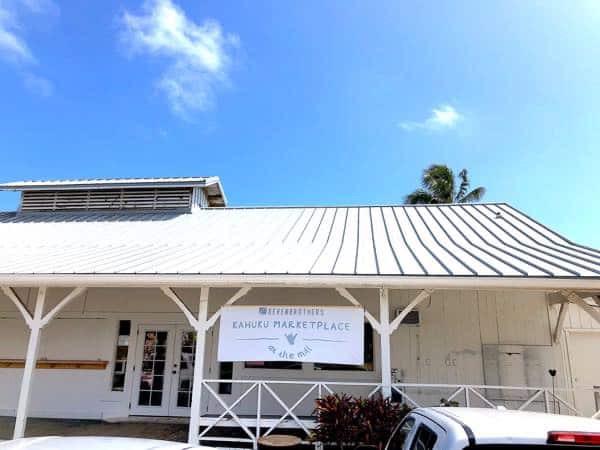 Rather, the Keep the Country, Country sandwich relies on the synthesis of flavors from a grilled pineapple, fresh avocado, sauteed mushrooms, melted Swiss cheese, and a homemade onion ring dressed with a house sauce.  It is a pure incarnation of a meatless product that seems to fit their customers' bills, so give it a try and keep the country country.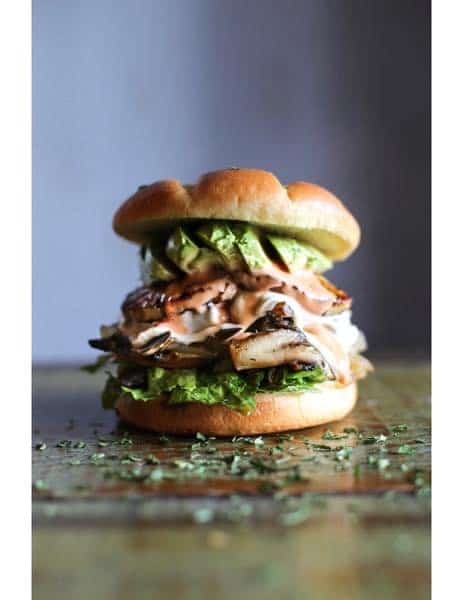 Seven Brothers Burgers >> Get a special offer!
Haleiwa: 66 -197 Kamehameha Hwy.
Phone: (808) 460 – 5751
Kahuku "at the mill" :  56-565 Kamehameha Hwy.
Phone: (808) 852 – 0040
Laie: 55-510 Kamehameha Hwy.
Phone: (808) 744 – 6440
Sharks Cove: 59 -712 Kamehameha Hwy.
Phone: (808) 490 – 9625
Vegan Pho from  The Pig & The Lady
If you are in Downtown Honolulu and are craving a pho but without the beef broth, consider The Pig & The Lady's vegan pho.  The delicate broth elicits bold flavors  with its spiced vegetable and kombu broth bathing fresh rice noodles and topped with kabocha, enoki, tomato, okra, fried shallots, aromatic herbs, and some citrus.  The composition of integrated flavors strikes a beautiful harmony that makes beef a completely irrelevant subject matter in the crafting of great pho.  For those stopping in to the restaurant for dinner, a spring vegetable pho features the same broth and pho noodles, but is garnished with seasonal vegetables, aromatic herbs, Meyer lemon, fresh ginger, and fermented chili.  The menu does change periodically but fear not, as there is always a plant-based pho on the menu, just like this seared mushroom & leek vegan pho, because these are extremely popular presentations.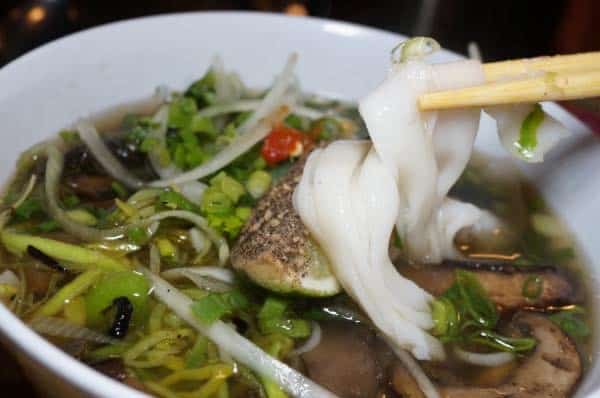 The Pig & The Lady
Website:  https://thepigandthelady.com/
83 N. King Street, Honolulu, HI
Phone:  (808) 585-8255
Business hours:  Tue-Sat, 11:30am – 2:30pm; 5:30 – 9:30pm (closed Sun & Mon)
Mushroom Dip from Planted by La Tour Cafe
The plant-based eatery by local bakery La Tour Cafe offers a variety of snacks, salads, sandwiches, and burgers that are completely vegan.  Among the recommended dishes is the mushroom dip, a non-meat based twist on the prime rib sandwich served with an au jus dip,  This rendition garlic roasts maitake, eryngi (or king oyster), and shimeji mushrooms to express deep earthy flavors with meaty textures nuanced by the aromatic allium.  The filling is sandwiched in a toasted organic baguette schmeared with vegan "mayonnaise," and then topped with plant-based smoked "Provolone" and caramelized onions.  A side of umami broth, a suitable substitute for au jus, is available for dipping the sandwich, which provides hearty, fulfilling sustenance.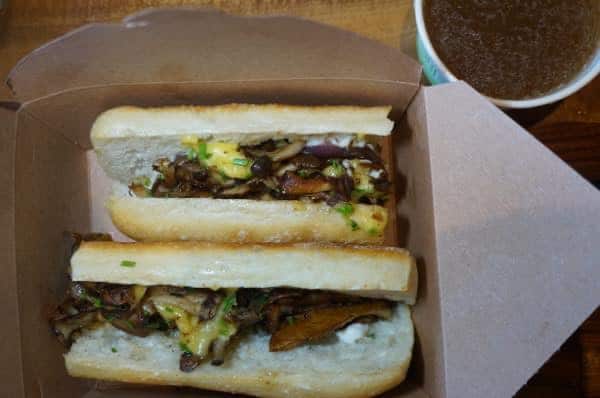 Planted by La Tour Cafe
Website:  https://latourcafe.com/
Aina Haina Shopping Center, 820 W Hind Drive, #1291, Honolulu, HI
Phone:  (808) 373-5174
Business hours:  Sun-Sat, 10:00am – 8:00pm
Whatever reason you may have to eat healthy, these options are appealing to all types of diners.  Some, in fact, may be so surprisingly good, that it will make you reconsider eating meat.  Well, maybe not that far, but at least it presents some options that would make you consider adding healthier alternatives to your regular diet.