While Mother's Day seems more befitting for an elegant outing to celebrate, many fathers seem fine with something understated.  After all, most of the dads we know aren't so thrilled about getting too dressed up.  So for those who are still strapped for funds because of the pandemic or just overall financial challenges, we decided to come up with a list of places where you can treat your father to a beefy meal but at reasonable prices.  
1) HI Steaks
Working closely with Foodland, a local supermarket chain, HI Steaks seems to have its location inside or adjacent to a number of Foodland locations.  The popular steak plate outfit currently has four locations–inside the Foodland Farms stores at Ala Moana, Pearl City, and Ka Makana Ali'i in Kapolei, as well as next to Foodland in Kailua.  For just $14.49, you can enjoy a top sirloin steak plate with white or brown rice, spring mix salad, or Asian potato salad with a choice among their sauces–chimichurri, lilikoi barbecue, teriyaki, garlic butter, kim chee, or horseradish cream.  And just in case someone in the family is not in the mood for beef, there are other options available, including ginger shoyu barbecue chicken, garlic chicken, garlic shrimp, kiawe smoked pork butt, and more.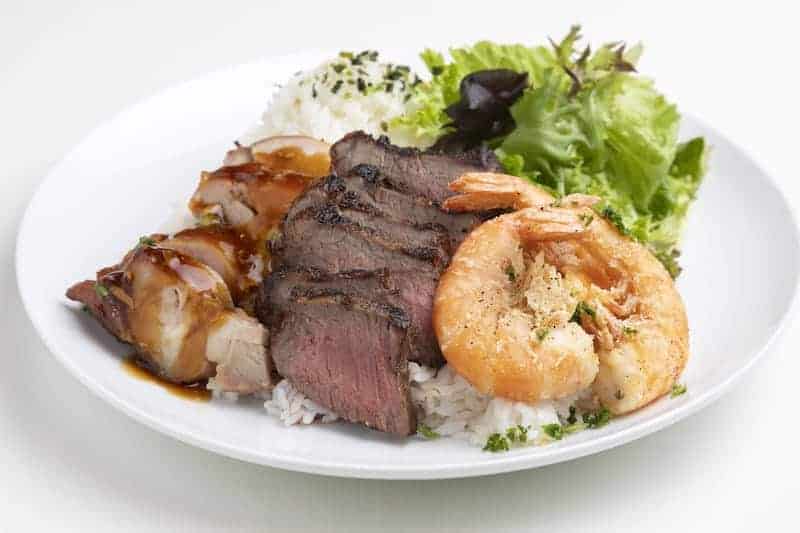 HI Steaks  >> Get a special offer!
https://www.histeaks.com/
Ala Moana Center – Foodland Farms, 1450 Ala Moana Boulevard, Honolulu, HI
Phone:  (808) 949-8746
Sun-Sat, 11:30am – 7:30pm
108 Hekili Street, Kailua, HI
Phone:  (808) 261-2066
Sun-Sat, 10:00am – 9:00pm
Foodland Farms, 1150 Kuala Street, Pearl City, HI
Phone:  (808) 453-4507
Sun-Sat, 11:30am – 7:30pm
Ka Makana Ali'i – Foodland Farms, 91-5431 Kapolei Parkway, Suite 1704
Phone:  (808) 670-2774
Sun-Sat, 11:30am – 7:30pm
2) Champion's Steak & Seafood
In the heart of Waikiki is Champion's Steak & Seafood, a take away counter that boasts high quality steak and seafood at affordable prices.  The Pāʻina Lānai Food Court vendor in Royal Hawaiian Center showcases a Champion's Steak, which is either an 8-ounce or a 16-ounce New York striploin with a housemade onion-based sauce with two scoops of rice and a tossed salad.  There is also a ribeye in 8 ounces or 16 ounces, but if your father is a voracious carnivore, a combination of ribeye and striploin steak is also available.  Otherwise, there are a number of other combos, such as steak & garlic shrimp, chicken & garlic shrimp, steak & chicken, steak & fried chicken, or fried chicken & garlic shrimp as well.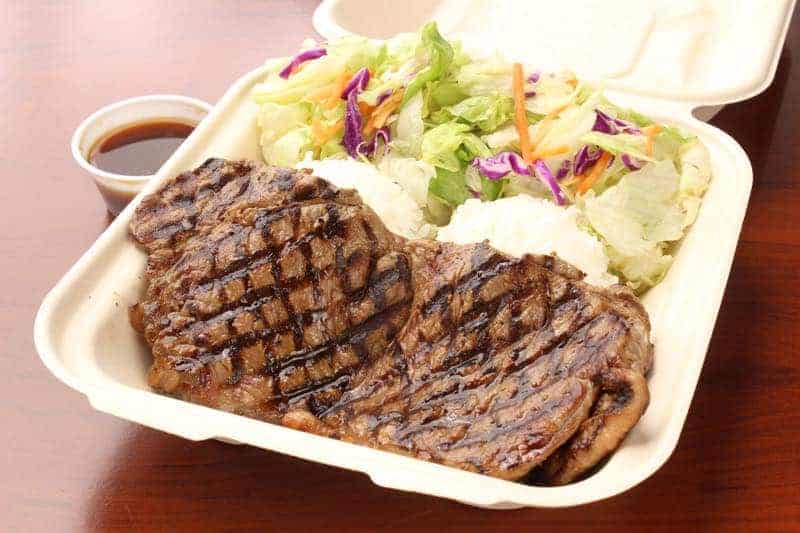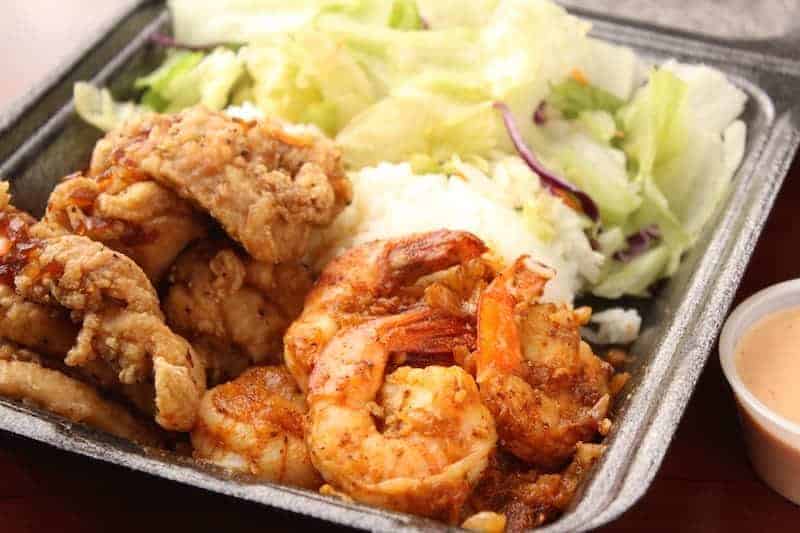 Champion's Steak & Seafood  >> Get a special offer!
http://championswaikiki.com/
Pāʻina Lānai Food Court in Royal Hawaiian Center, 2201 Kalakaua Avenue, Honolulu, HI
Phone:  (808) 921-0011
Sun-Sat, 10:00am – 10:00pm
3) The Butcher & Bird
Head Butcher Chuck Wakeman made a name for himself with his premiere full-service butcher and deli shop.  Sourcing his specialty meats locally, Wakeman crafts some of Hawaii's finest sausages and charcuterie.  His deli showcases a selection of burgers, sausages in buns, and sandwiches featuring carved meats presented with inspired combinations.  However, patrons may simply purchase meats to prepare at home, and among the recommended cuts include boneless chuck roast, Porterhouse steaks, bone-in rib steak, and Kansas City strip.  Of course, not everything offered is beef, as Wakeman also features pork chops from Snake River Farms, baby back ribs, veal rib chops, veal osso bucco, and a selection of cured meats that will make any meat-loving father happy.  Perhaps the best part is that there are pre-set packs to take home, of which three are specially crafted for the upcoming holiday, with The Big Poppa ($200) featuring two 24-ounce USDA Prime dry aged rib steaks, steak rub seasoning, a koozie, and hat; The Daddy Pack ($100) with two 16-ounce Snake River Farms American wagyu ribeyes, steak rub seasoning, and a koozie; and the Dad Pack ($50) including two USDA Prime New York strips, steak rub seasoning, and a koozie.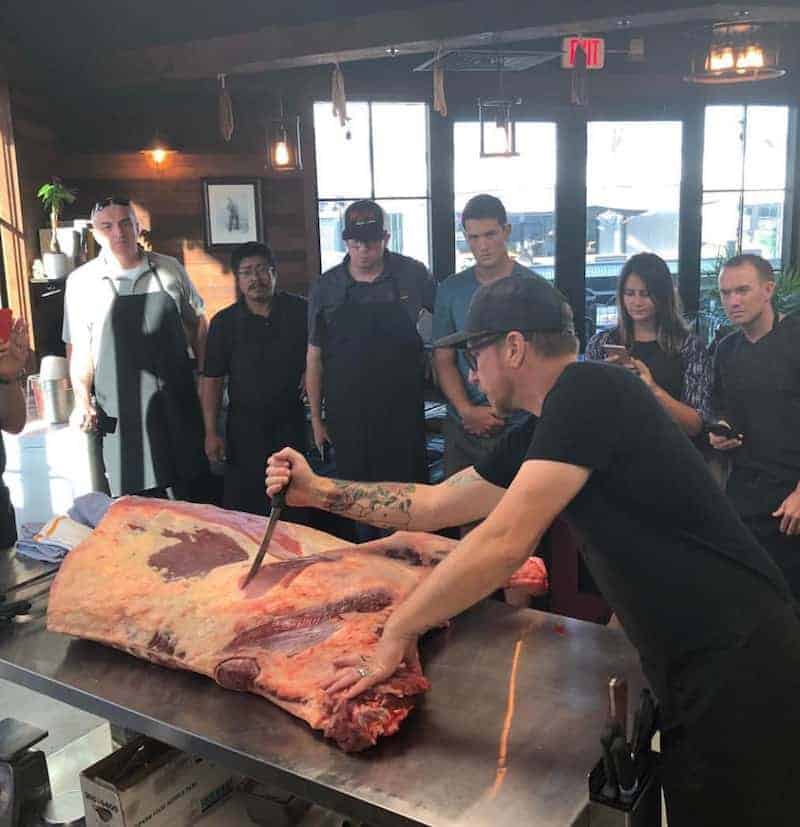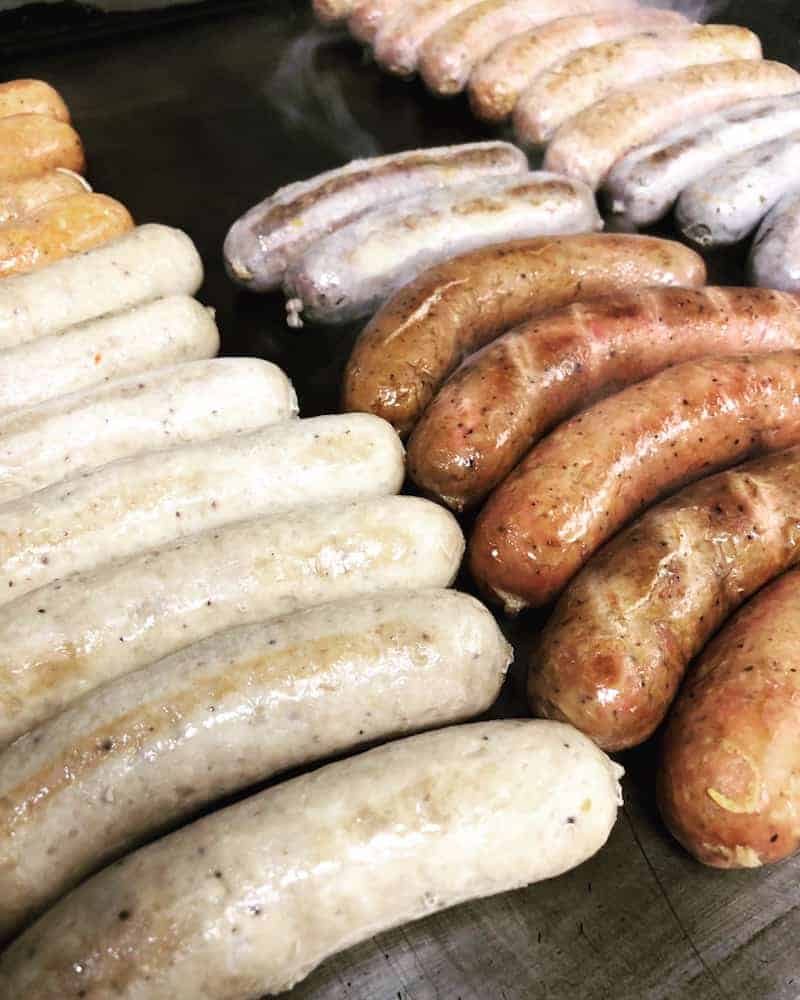 The Butcher & Bird  >> Get a special offer!
https://www.butcherandbirdhi.com/
324 Coral Street, Honolulu, HI
Phone:  (808) 762-8095
Tue-Sun, 11:00am – 6:00pm
4) Gyu-kaku 
For those who prefer to cook their own meats but just not at home, Japanese barbecue may be an option.  And most popular in Hawaii for grilling meat right at your table is Gyu-kaku.  Sitting in an air-conditioned room around a table fashioned with a personal grill and vent will transform the worst cooks into a master griller.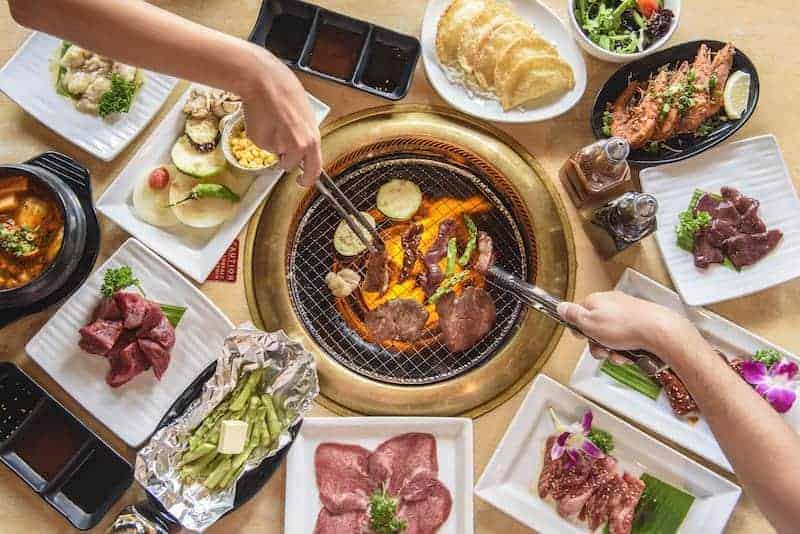 For Father's Day, Gyu-kaku is offering a special menu for 2, 3, 4, 6, 8, and 12 guests.  Starting at $85 for two, there are a few menus to consider.  "The Works" consists of five starters and small plates, followed by portions of Prime kalbi short rib, harami shio steak with negi miso, filet mignon, umakara ribeye, pork belly, garlic shrimp, and broccoli & cheese fondue.  The "Bring the Heat" also includes five starters and most of the same meats to grill but features a few spicy dishes, including a spicy beef sukiyaki bibimbap and a spicy shrimp.  Of course, the more the merrier, but additional orders must be done in increments of two people.
Gyu-kaku  >> Get a special offer!
https://www.gyu-kaku.com/
307 Lewers Street, Honolulu, HI
For other locations click here:  https://www.gyu-kaku.com/locations-menus-2/?_ga=2.2184880.1071731316.1655412351-168843831.1655412351
Phone:  (808) 926-2989
Sun-Thu, 11:30am – 10:00pm; Fri & Sat, 11:30am – 10:30pm
These affordable beef-centric eateries can help make for a perfect low-key Father's Day celebration.  Some may be in the comfort of your own home, but the others are very casual, so if your father is anything like ours, he will want to dress comfortably, which could possibly mean wearing a tattered old T-shirt and elastic waistband pants.