While every day seems like a great day for sushi, June 18 is officially International Sushi Day.  And being the closest state in America to Asia, Hawaii has some of the finest nigiri and rolls outside of Japan.  Here are a few amazing sushi restaurants to experience that boast a fun selection of sushi rolls.
1) Furusato Sushi
Located on the ground floor of Hyatt Regency Waikiki Beach Resort and Spa, Furusato Sushi is an established favorite sushi restaurant in Waikiki.  Most patrons love their unique rolls named after Hawaiian icons, such as the Hawaiian Sunset, which includes a round salmon-veiled ball sushi surrounded by slices of sushi rolls featuring yellowtail and cucumber enrobed in rice topped with slices of maguro and avocado.  The Diamond Head Roll includes spicy tuna topped with salmon and avocado as well as spicy yellowtail topped with yellowtail and avocado, all drizzled with a spicy mayonnaise and a soy-based reduction. 
However, the most impressive displays are the Hawaiian Bridge ($68) which includes 18 assorted nigiri sushi plus California, tuna, and cucumber rolls, and the Waikiki Bridge ($68) which features a wide variety of sashimi flanked by a Rainbow Roll and Dragon Roll.  Both come to the table served on a wooden bridge.
Furusato Sushi >> Get the special offer!
2424 Kalakaua Avenue, 1F, Honolulu, HI
Phone:  (808) 922-4991
Sun-Sat, 11:30am – 5:00pm (lunch), 5:00 – 10:00pm (dinner)
2) Akira Japanese Restaurant
Named after the owner/chef's father, Akira Japanese Restaurant features Taiki Kawai's approach to traditional Japanese cuisine using local ingredients.  The chef, who once worked at the New Otani Hotel in Japan, opened this izakaya and sushi restaurant in 2018.  Most known for the contemporary style of kaiseki cuisine, Akira Japanese Restaurant is also reputed for its fine sushi.  Nigiri sushi is available to order by the pieces, but there are a number of traditional and innovative sushi rolls worth trying.  Those who love caviar must have the Caviar Roll, individual rice balls topped with a shiso leaf roll and one of four types of roe–uni, ikura, mentaiko, and tobiko.  An Ume Shiso Roll exhibits bright tart and herbaceous flavors in a popular Japanese expression.  Or consider going the simple route with a Toro Taku Roll, fatty tuna belly minced with thin slices of takuan, or pickled radish, for a rich, opulent roll that features bright acidity and a contrasting crunchy texture.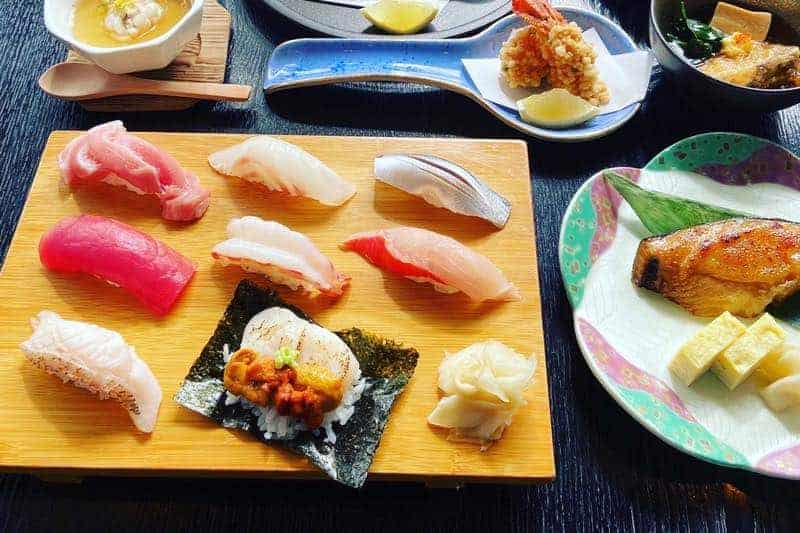 Akira Japanese Restaurant >> Get the special offer!
1150 South King Street, Honolulu, HI
Phone:  (808) 376-0928
Mon-Sat, 4:30 – 9:30pm
3) Hatsuhana Japanese Restaurant
Another long-standing icon of Japanese restaurants is Hatsuhana, located in the Hilton Hawaiian Village.  The all-day restaurant serves a variety of teishoku or classic Japanese set meals, including broiled butterfish, chicken teriyaki, grilled salmon, tonkatsu, and tempura, among others.  However, no Japanese restaurant seems complete without a selection of sushi.  Among the offerings are two sushi sets that feature nigiri sushi along with roll sushi, as well as a wide variety of roll sushi.  The ever-popular Rainbow Roll takes a California Roll and tops it with fresh Hawaiian tuna, salmon, yellowtail, avocado, and masago caviar.  Locals particularly love the Garlic Ahi Roll, which uses a California Roll as a base but layers fresh tuna with garlic chips and jalapeno for a touch of heat.
Hatsuhana Japanese Restaurant >> Get the special offer!
Hilton Hawaiian Village, 2005 Kalia Road, Honolulu, HI
Phone:  (808) 946-8287
Sun-Sat, 10:30am – 9:30pm
4) Chiba-Ken
Locals just love Chiba-Ken, a small Japanese eatery tucked away on Ena Road, just half a block from Waikiki's bustling Kalakaua Avenue.  The restaurant prides itself on a variety of small pub-style bites, grilled meats, and of course, sushi.  With a modest selection of nigiri sushi available, there are also a few fun roll sushi to be discovered.  Skinnier rolls as oshinko maki, kanpyo maki, natto maki, and tekka maki are among the more traditional Japanese renditions.  This modest watering hole also serves as a popular after hours place for the restaurant industry workers, since it is open later than most eateries.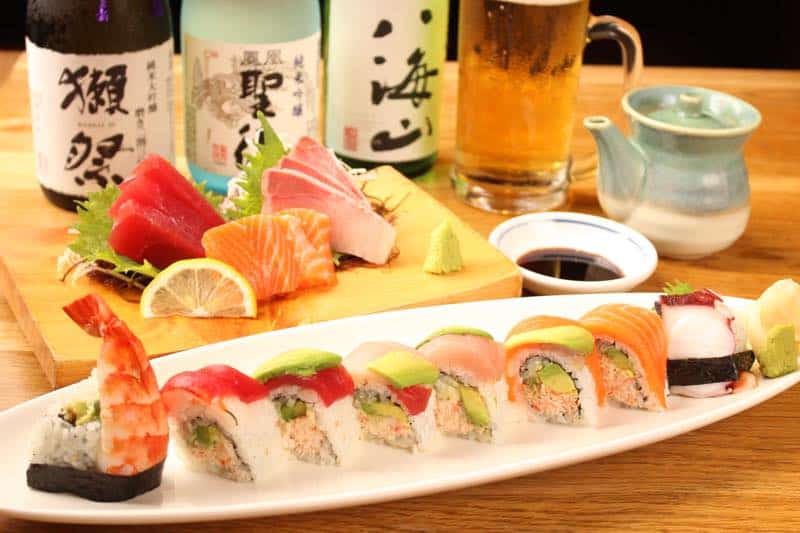 Chiba-Ken >> Get the special offer!
468 Ena Road, Honolulu, HI
Phone:  (808) 941-2800
Tue-Sun, 5:30 – 11:00pm
5) Tokkuri Tei
A once hole-in-the-wall located near Ala Moana Center, Tokkuri Tei is one of the very first izakaya-style eateries in Hawaii.   In its current location along Kapahulu Avenue, just walking distance from Waikiki, Tokkuri Tei maintains that Japanese pub-like atmosphere, featuring small dishes of classic Japanese bites as nasu dengaku (eggplant lacquered with miso sauce) and assorted tempura, but shattering expectations of tradition with avant-garde plates of nori nachos, teriyaki cream tofu, unagi risotto, and butterfish tempura with a miso sauce.  However, the bulk of the menu features nigiri sushi, fatter inside-out rolls of uramaki, and specialty rolls that are extremely unique, a number of which are named after Hawaiian volcanoes.  The Mauna Loa Roll is a double-length roll loaded with shrimp tempura, unagi, crab, soft shell crab, avocado, cucumber, ahi, hamachi, and more.  The Mauna Kea is much simpler, with a shrimp tempura roll garnished with cheese and coconut flakes.  The Kilauea is a California roll with spicy tuna, sweet sour sauce, and tempura flakes.  With so many specialty rolls from which to choose, it is no surprise that locals who dine there do so with larger groups.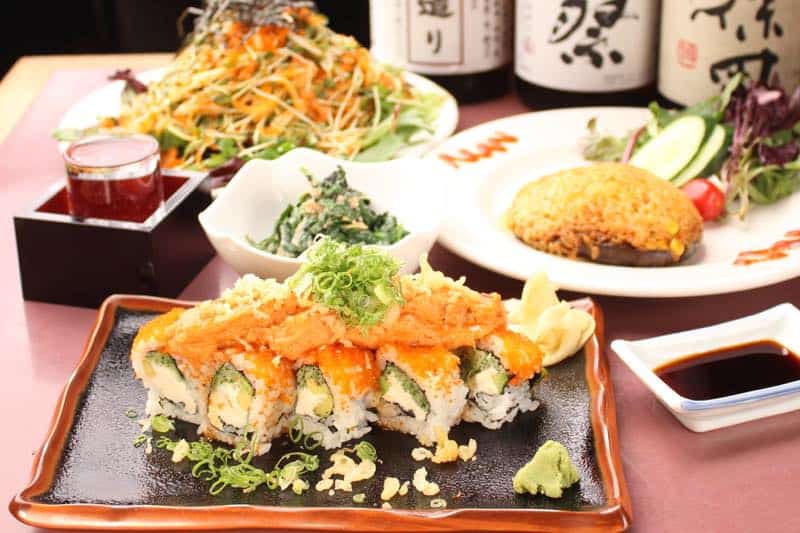 Tokkuri Tei >> Get the special offer!
449 Kapahulu Avenue, #201, Honolulu, HI
Phone:  (808) 732-6480
Tue-Sat, 11:00am – 1:30pm (lunch), 5:30 – 10:00pm (dinner); Sun, 5:00 – 9:00pm
While most Japanese may appreciate nigiri over sushi rolls, when dining with a group of friends and family, rolls may be a fun way to go.  Plus, with the various combinations of raw and/or cooked fillings and toppings, along with sauces and accents, the sky is the limit on possibilities.