Lure in a Prosperous 2022 by Celebrating in Style
The holidays serve as a time of reflection.  With the hustle and bustle of Christmas over, a retrospective look reveals all the challenges conquered throughout the year.  With hopes of a more promising 2022, here are five fashionable ways to welcome in the New Year in Hawaii with style.  (Please note that some of these may be sold out by the time this post is published.)
1) STRIPSTEAK Waikiki
Michael Mina's steakhouse STRIPSTEAK Waikiki will offer two celebratory dinner options on New Year's Eve:  a three-course dinner with sides for $135 per person and a lavish four-course degustation with upgraded accompaniments for $195.  Consider inaugurating the merry-making with a chilled shellfish platter of oysters, shrimp cocktail, Alaskan king crab, and lobster for an extra $85.  Revelers seeking to pull out all the stops in the festivities may be tempted to opt for the four-course culinary extravagance with a wine pairing add-on for $95.  The degustation will start off with a decadent caviar parfait featuring Osetra caviar, potato cake, smoked salmon, crème fraiche, and an egg mimosa, followed by a Kona lobster risotto with parmesan and brown butter.  The Surf & Turf entrée showcases a beautiful American Washugyu filet mignon and red miso butter king crab with truffled potato puree and broccolini (for added indulgence, foie gras may be added for $29 more).  A chocolate decadence cake with a 24 karat gold flake, chocolate shavings, and Luxardo cherries will conclude the meal, preparing partygoers for their next stop leading up to midnight.
The caviar parfait alone makes the four-course dinner a worthwhile celebration.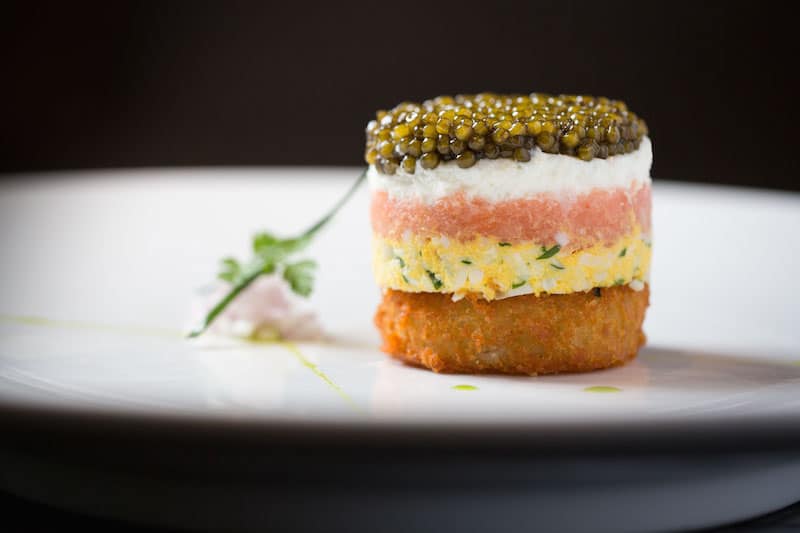 Consider dining in the breezy outdoor patio area.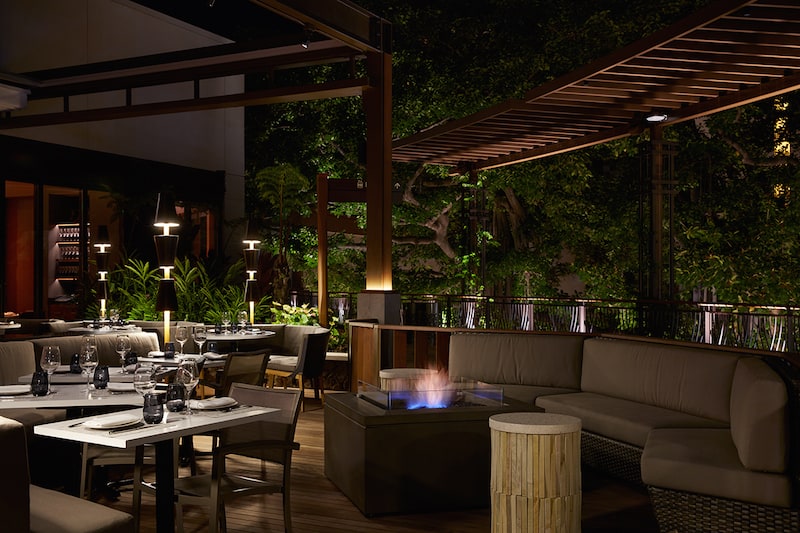 STRIPSTEAK Waikiki
International Market Place, 3rd floor, 2330 Kalakaua Avenue, Honolulu, HI
4pm – 10pm (dinner reservations for New Year's Eve will be accepted from 4 – 9pm)
Closed Mondays
(808)800-3094
https://www.michaelmina.net/restaurants/stripsteak/waikiki/
2) Star of Honolulu
Welcome in the New year aboard the Star of Honolulu's Celebration Cruise.  Relish a three-course whole Maine lobster and tenderloin steak dinner, while enjoying live entertainment from a pierside hula performance to Hawaiian and jazz music, as well as a "60 Years of Aloha" show.  Then, enjoy spectacular views of the Honolulu city skyline, engaging in a "Champagne toast" complete with party favors as the clock turns midnight.  The special cruise runs from 10:15 p.m. on December 31, 2021, to 12:30 a.m. on January 1, 2022.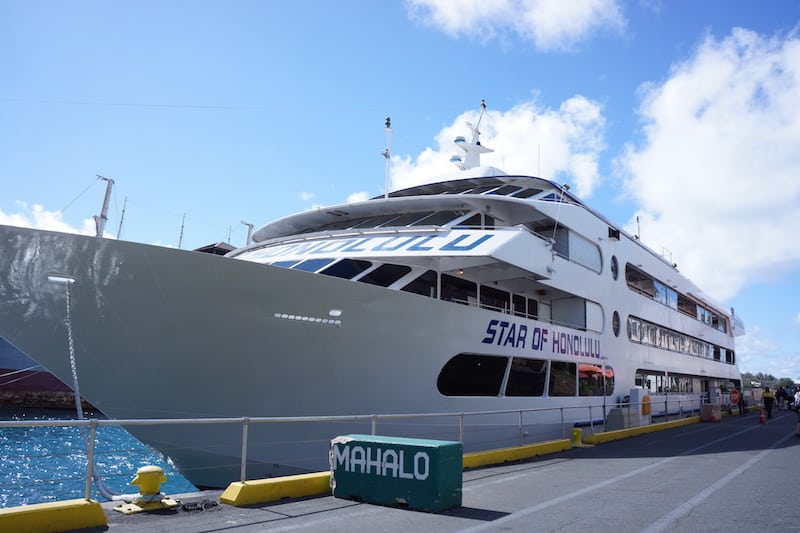 Star of Honolulu
Pier 8 at Aloha Tower Marketplace, 1 Aloha Tower Drive, Honolulu, Hawaii  96813
Celebration Cruise on New Year's Eve:  December 31, 2021, 10:15pm
(808)983-7730
https://starofhonolulu.com/
3) Big Island Candies
The Hilo-based confectionary Big Island Candies is releasing an almond shortbread on January 3, in time for the Lunar New Year.  The Chinese-inspired cookies retain a rectangular shape but are adorned with a red dot to emulate a version familiar to Hawaii locals.  Available in original and white dipped versions for just a limited time, be among the first to taste these aromatic biscuits intended to bring good fortune and prosperity for the Chinese New Year, also known as the Spring Festival.
The almond shortbreads will be included in a Chinese New Year box as well as part of a box of assorted treats.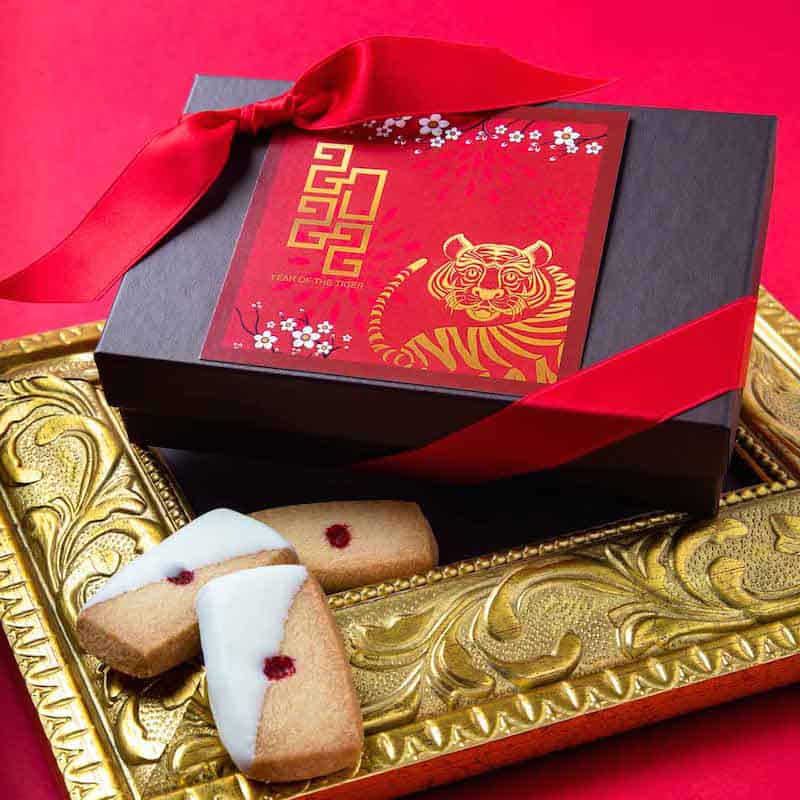 While the Hilo Flagship Store and Factory will be closed, the Ala Moana location will be open on New Year's Day.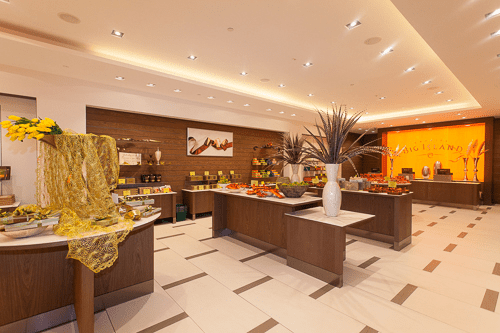 To order online, visit https://www.bigislandcandies.com/
Big Island Candies
Ala Moana Center, 1450 Ala Moana Blvd., #1230, Honolulu, HI 96814
Special hours this week:
Monday – Thursday, 10am – 7pm
Friday (New Year's Eve), 10am – 6pm
Saturday (New Year's Day), 9am – 6pm
(808)946-9213
https://www.bigislandcandies.com/
4) Dean & Deluca Hawaii
Another way to celebrate the New Year luxuriously is with Dean & Deluca's Osechi box.  Adapting the Japanese traditional New Year's meal to the Hawaii milieu, Executive Chef Kevin Carvalho is preparing a jewelry-box presentation of Hawaii's bountiful ingredients framed by Japanese sensibilities.  The surprisingly affordable $60 box (minimum order of at least two boxes) is comprised of six components:  1) an ahi "cloud" fresh ahi tartare with brunoised ahi, chives, shallots, ogo (seaweed), and sesame oil on a bed of an ahi poke mousse simmered in heavy cream and kabayaki sauce; 2) morel mushroom arancino with cream of risotto, folded with whipped ricotta; 3) poached Keahole lobster with French Osetra caviar, gold leaf, and Big Island lemon zest served with a raspberry demi-glace mounted with foie gras; 4) French Vadouvan-glazed duck breast with confit of cinnamon apple brandy and a raspberry demi; 5) brown butter-seared Canadian foie gras accented by a Poha berry gastrique over minced strawberries and apples; and 6) seared Hokkaido scallop with a yuzu brown butter Gribiche made with roasted local cauliflower.  While orders must be placed by Tuesday, December 28, at 2:00 p.m., HST, for a pickup on January 1 or 2, there is a good chance that these may already be sold out.  There is usually a waitlist, but if the opportunity is gone, consider ordering this next year.
The Osechi Box may break with orthodox Japanese tradition, but features an inspiring selection of Western-inspired bites perfect for the first meal of the year.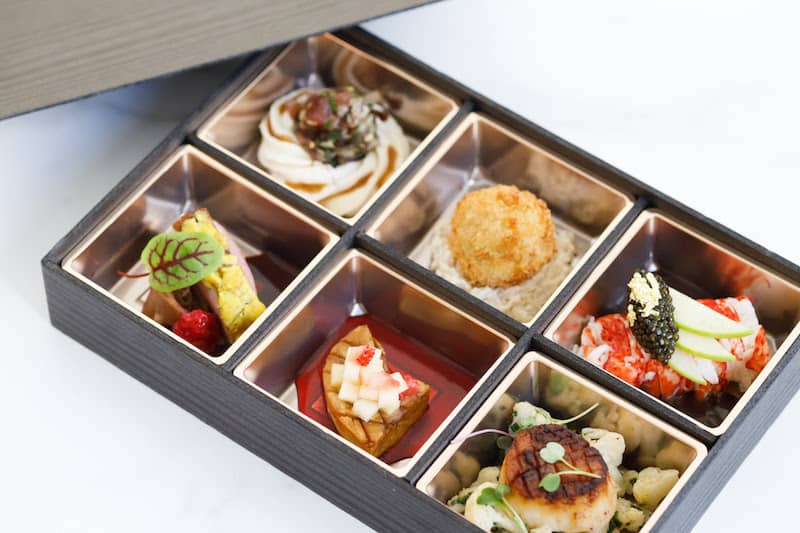 Dean & Deluca Hawaii
Ritz-Carlton Residences Waikiki Beach, 383 Kalaimoku Street, 1F, Honolulu, HI 96815
Sunday – Saturday, 7am – 5pm
(808)729-9720
https://www.deandeluca-hawaii.com/
(To order the Osechi box, complete the order form online at https://www.deandeluca-hawaii.com/2021/12/new-years-osechi-box/  or via email at [email protected])
5)  International Market Place
The Japanese concept of fukubukuro is celebrated every New Year's Day in Hawaii, with retailers throughout the state offering a fukubukuro, or "lucky bag," filled with unknown contents valued much greater than the price at which the bag is sold.  While these bags are normally sold just on January 1, International Market Place will be offering them over two days, on New Year's Eve and New Year's Day.  Plus, as an added bonus, shoppers may receive a gift card with the purchase of each Fukubukuro, while supplies last.  Those who purchase Fukubukuro from among the participating retailers may bring their receipts to the customer service desk on the first floor to draw a prize from hundreds of dollars in gift cards, merchandise, and more, with a maximum of five gift cards awarded per person.  For a participating list of stores, visit www.shopinternationalmarketplace.com/holiday.
The Fukubukuro available are from the full gamut of retailers, ranging from local businesses to internationally-recognized brands.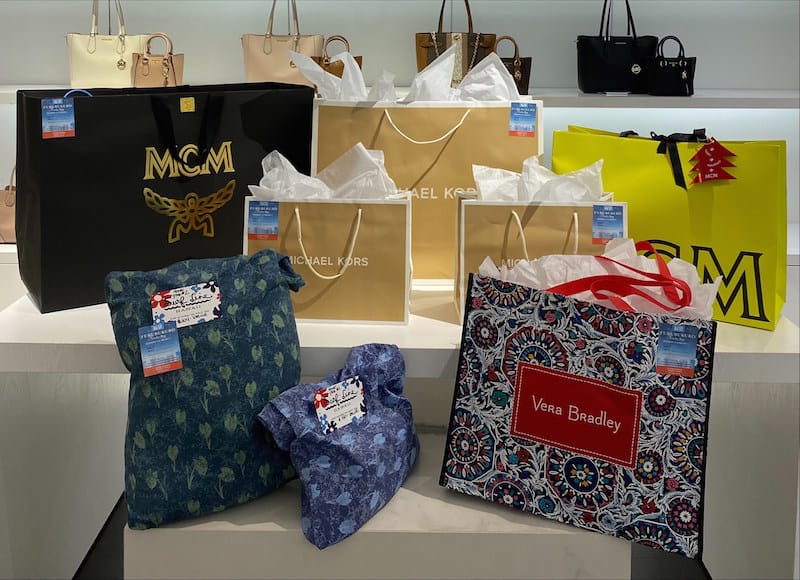 International Market Place
2330 Kalakaua Avenue, Honolulu, HI 96815
Sunday – Saturday, 11am – 8pm
(808)931-6105
https://shopinternationalmarketplace.com/