Locals in Hawaii call it "Kanak attack" and other Americans call it "food coma."  It's that state of paralysis induced by overconsumption of food, also known as postprandial somnolence.  This effect is normal after a meal replete in carbohydrates and protein because the body experiences an influx of tryptophan and then a rush of serotonin.  Furthermore, eating causes blood sugar levels to rise, leading in a more sluggish output of energy.  As long as you don't have to work after or perform any activity that requires heightened attention, such as heart surgery, here are some places to dine should you ever feel a bout of insomnia.
1) Alejandro's Mexican Food
It is difficult to beat the urge to siesta after a fulfilling Mexican meal.  Alejandro's Mexican Food loads up tacos, burritos, quesadillas, nachos, and Mexi bowls of rice and beans with a variety of meats—seasoned ground beef, slow-cooked carnitas, seasoned carne asada, and sautéed shredded chicken. For those with heartier appetites, taco combo plates with rice and beans and 12" macho burritos will induce enough serotonin to keep diners asleep until the next day.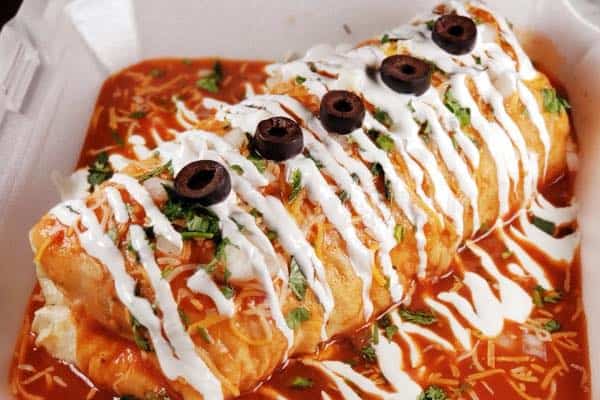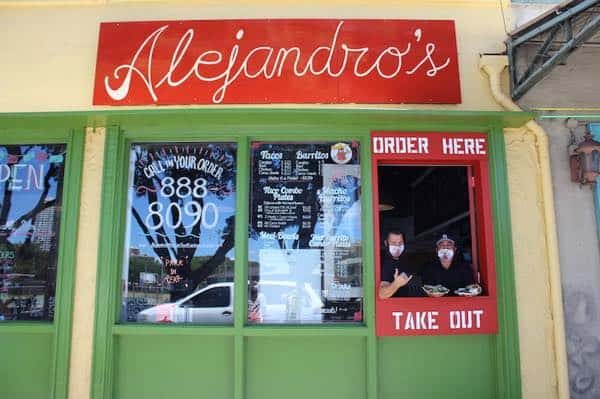 Alejandro's Mexican Food >> Get a special offer!
949 Kapahulu Avenue, Honolulu, HI
(808) 888-8090
Sun, 4:00 – 9:00pm; Mon-Sat, 11:00am – 9:00pm
2) Aloha Melt Waikiki
Thick sandwiches dripping with cheddar, mozzarella, and provolone cheeses are the signature calling cards of Aloha Melt Waikiki.  Whether they are spruced up with beef patties, bacon and caramelized onions, or Sriracha aioli and pickled jalapeños, these loaded bocadillos are beautifully enhanced with a dip in the tomato basil soup. Then, all you have to do is take a plunge into bed.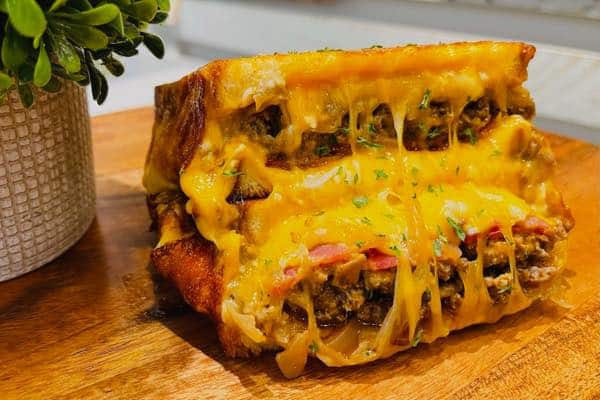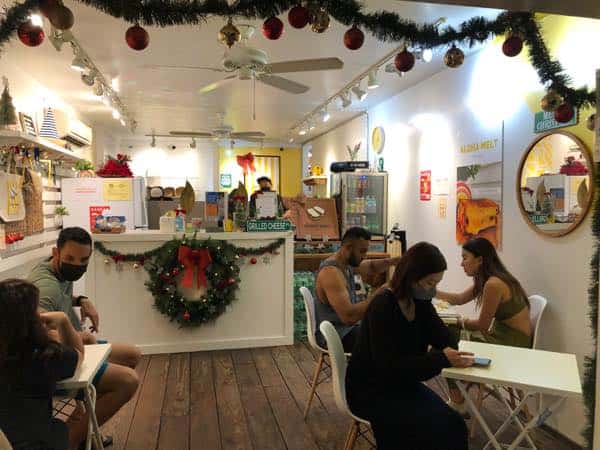 Aloha Melt Waikiki >> Get a special offer!
355 Royal Hawaiian Avenue, Honolulu, HI
(808) 600-8887
Sun, 9:00am – 1:00pm, 6:00 – 11:00pm; Mon-Sat, 9:00am – 1:00pm, 6:00pm – 1:00am
3) Seven Brothers
The family of seven brothers crafts some of Hawaii's finest burgers. Piled high with a variety of ingredients, your eyes will widen when seeing delectable presentations such as the Shem Burger with guacamole, bacon, and American cheese or the towering Paniolo featuring a stack of onion rings, grilled pineapple, bacon, and American cheese slathered with barbecue sauce. Think of it as eyelid training because after polishing off these burgers, it will muster a tremendous amount of strength to keep your eyes open.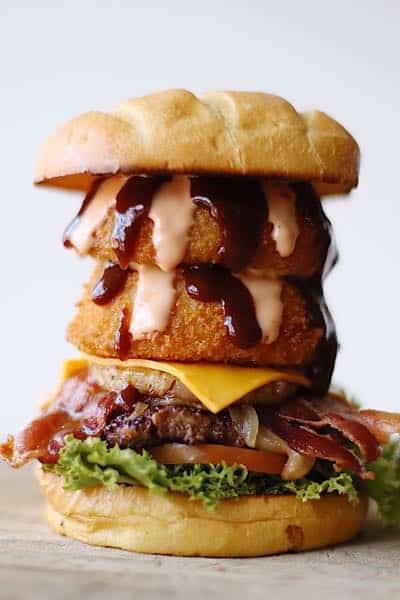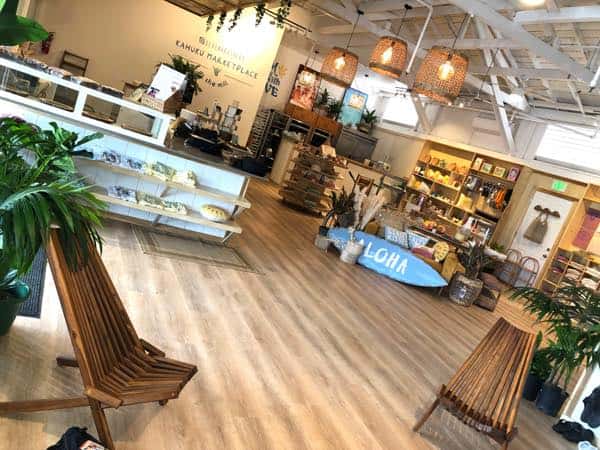 Seven Brothers >> Get a special offer!
55-510 Kamehameha Highway, Laie, HI
(808) 744-6440
Mon-Thu, 11:00am – 10:00pm; Fri, 11:00am – 11:00pm; Sat, 11:00am – 9:00pm
4) Guieb Cafe 
A meal at Guieb Cafe is always satisfying.  Now with locations in Kalihi, Aiea/Waimalu, and Wahiawa, it is much easier to access their generous portions at affordable prices.  Including inspired stacks such as ube mascarpone pancakes and Oreo cheesecake pancakes, unique Benedicts as the bao bun benedict or braised ribeye benedict, prime rib loco moco, whole lobster and Pulehu short ribs, Philly cheesesteak omelette, and all day lunches such as homestyle golden fried chicken or garlic shrimp, Guieb Cafe may be the perfect way to end your day just as it's starting.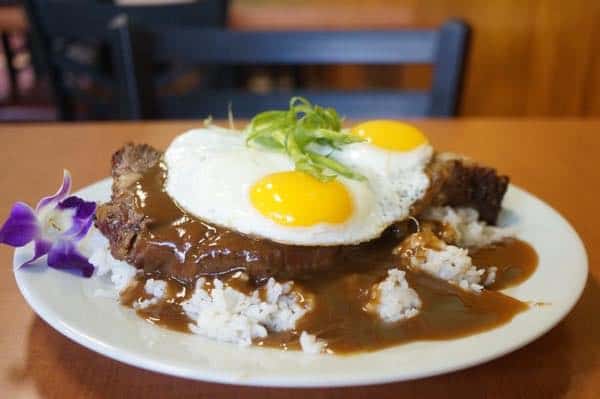 Guieb Cafe
1311 N King Street, Honolulu, HI
(808) 913-2131
Sun-Sat, 7:00am – 3:00pm
5) Buca di Beppo
Perhaps among the highest sleep-inducing foods are pasta.  And some of the largest portions of Italian cuisine found in Hawaii are found at Buca di Beppo.  At this popular chain that started out of a basement in Minneapolis, everything comes in abundance, including the salads, pizzas, and entrees.  The chopped antipasti salad may be a healthy way to start before indulging in an oversized portion of chicken marsala, margherita pizza, or shrimp fra diavolo.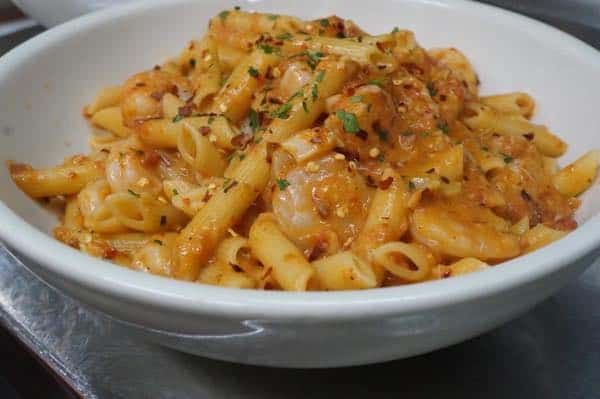 Buca di Beppo
1030 Auahi Street Bay 1, Honolulu, HI
(808) 591–0800
Sun-Wed, 11:00am – 9:30pm; Thu, 11:00am – 10:00pm; Fri & Sat, 11:00am – 11:00pm
These eateries will certainly fill your belly with their large portions or rich flavors.  After all that scooping food and bringing it to your mouth, you will certainly feel a need to take a break…or an extended nap.  Bon appetit and nighty night!