When people say someone laughed all the way to the bank, that probably has never really happened.  Laughing for such extended periods of time is not only debilitating but it does cause abdominal pain.  However, there are activities besides making obscene amounts of cash that do make people happy.  And on the International Day of Happiness, perhaps you should consider taking part in one of these fun activities.
1) Paradise Watersports
There cannot possibly be too many other fun water activities other than snorkeling near gentle water creatures, parasailing, or cruising.  Paradise Watersports offers a variety of tours for the water-lover in everyone.  One option could be a seasonal whale watching cruise–which is in season now until April 15- If you don't see whale during single fluke (a lobe of the whale's tail, for those who are not as familiar with these esoteric terms), then a second trip will be free of charge.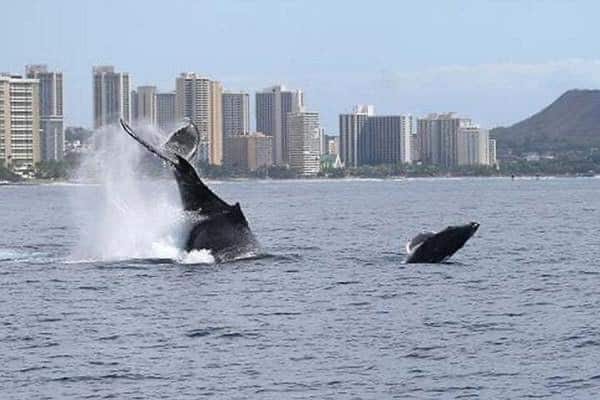 A parasailing cruise that takes participants up to 1,000 feet in the sky in a double or triple-seated parasail offers tours for people and their children, ages 3 and up.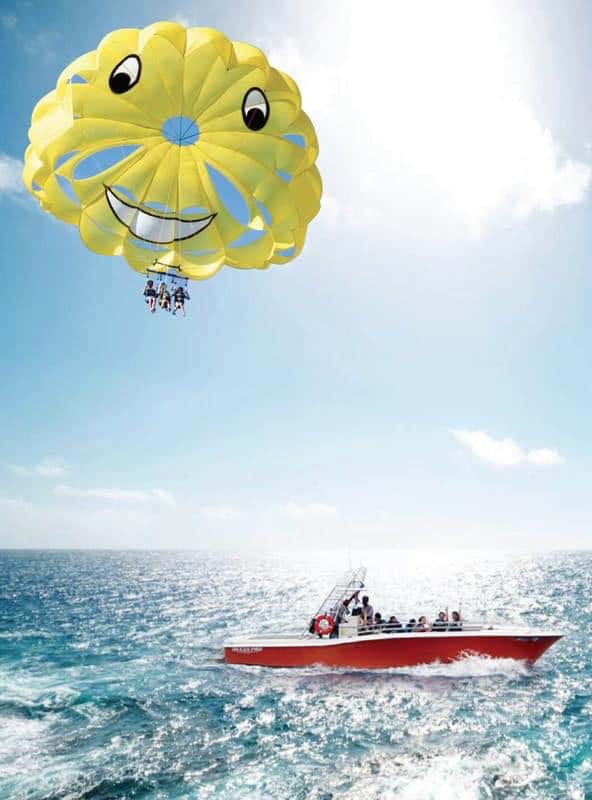 For those who are not fond of heights, a turtle snorkeling package takes people into the depths of the ocean to swim within a safe (for the turtle) range to view the majestic creatures.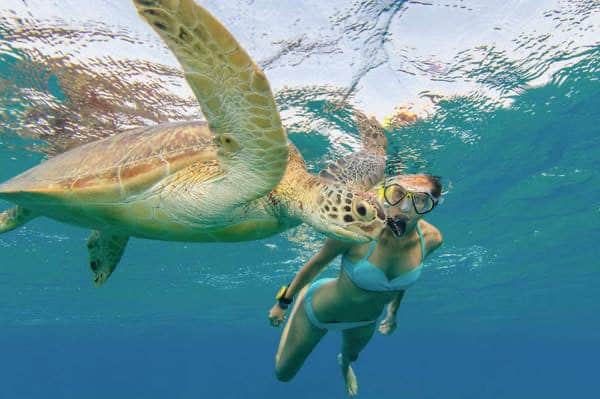 Then, for the partygoers, a firework party cruise every Friday takes people out to sea to view the Hilton fireworks from a different vantage point which, with the help of a little of the two free Mai Tais, will certainly bring a smile to your face.
Paradise Watersports >> Get a special offer!
Location: 1025 Ala Moana Blvd, Honolulu, HI
Website: https://eseadiver.com/
(808)697-2787
2) Sports Box
Those who prefer to be in the game rather than just spectating, Sports Box is Hawaii's first and only simulated sports facility.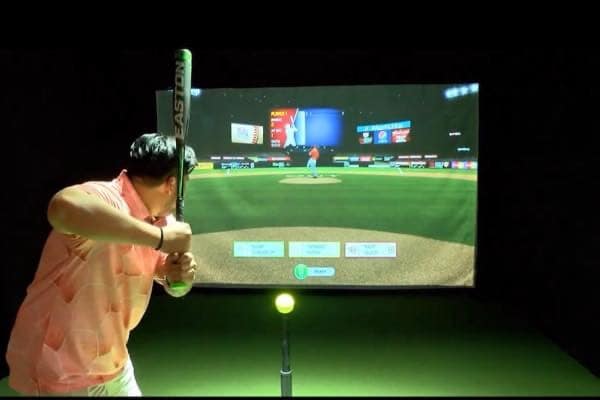 Patrons may choose golfing, baseball, soccer, bowling, hockey, dodgeball, disk golf, footgolf, or shooting to hone their skills by the hour.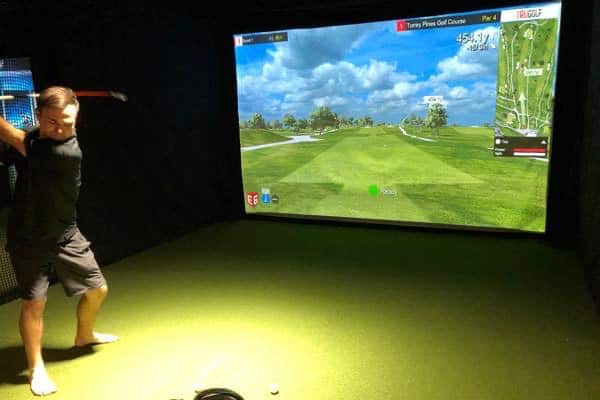 The best thing is that equipment is provided so you don't have to bring anything along except some friends–up to 5 of them.  With two convenient locations, one in Sheraton Waikiki and the other at the Ala Moana Center in the Target wing, you can simulate some exercise by playing all 9 sports during your reservation time!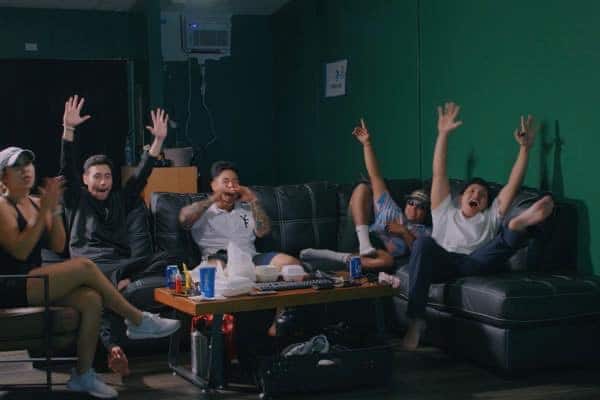 Sports Box >> Get a special offer!
Located in Ala Moana Center Target wing, 2nd floor
&
Sheraton Waikiki Hotel
Phone: (808)341-2964
https://www.sportsboxhi.com/
3) Adu Spa 
Happiness can come in the form of doing nothing, especially when someone else is doing all the pampering work.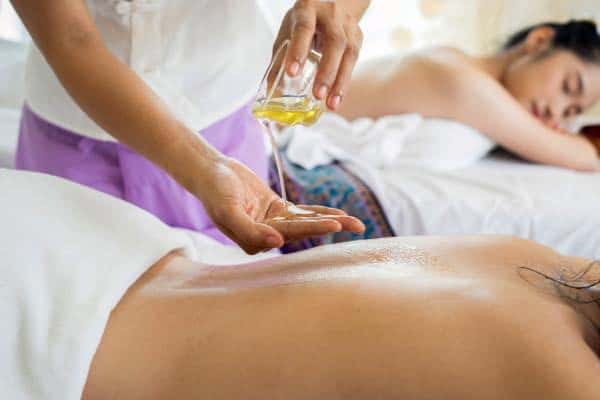 Adu Spa's licensed massage therapists craft customized treatments designed to relax and bring blissful peace to your body and mind, while replenishing your soul.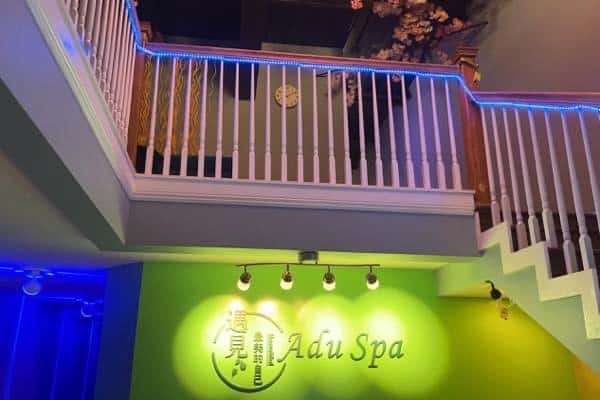 Unwind and reduce stress, while relieving pain as the skilled therapists employ their rejuvenating methods.  Couple and group sessions are available should you prefer to be with your family or friends.  Treatments start from an incredibly low price of $30, which should make anyone happy.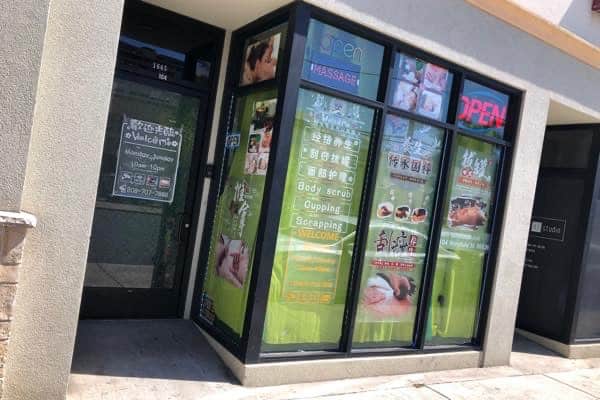 Adu Spa >> Get a special offer!
Location: 1665 Kalakaua Ave #104
Across from Palama Supermarket
Hours: 10am – 10pm daily
Phone: (808)707-7888
4) Amar Waikiki Massage & Spa
Whether it be a full body massage, some foot reflexology or the signature technique massage, Amar Waikiki Massage & Spa offers relaxing treatments that will melt away your tension and pain.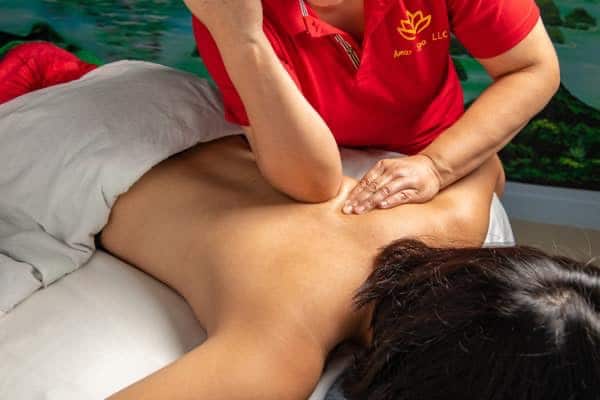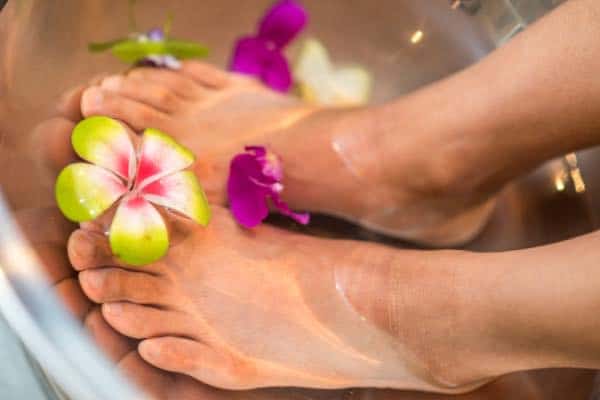 The trained and licensed massage therapists also work with hot stones or Thai herbal compression balls to augment the treatments.  Consider having a couple's massage in the comfort the serenely designed treatment room.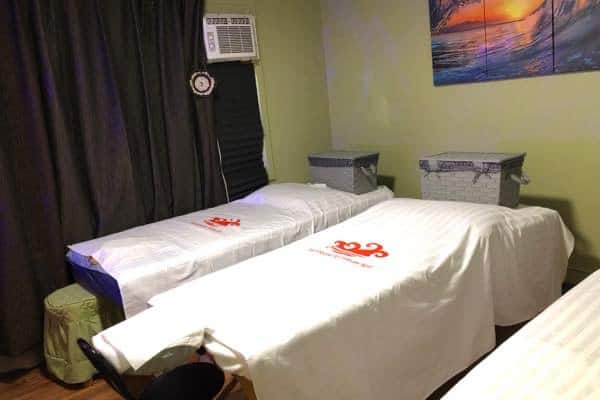 Amar Massage Waikiki >> Get a special offer!
Location: 334 Seaside Ave. #201.
*Across from Ross
*Take a left once you get off the elevator. Store is at the end of the hall.
Hours: 9am – 7pm daily 
Phone: (808)556-7888
5) Hawaii Cat Cafe 
Claiming to be Hawaii's first cat cafe, Hawaii Cat Cafe serves handcrafted beverages along with European-style pastries surrounded by adoptable rescue cats.  The cafe is designed to change the lives of these furry friends who are often in shelters, seeking to place them in forever homes, while educating the public about responsible pet ownership and reducing euthanasia rates.
Hawaii Cat Cafe
415 Kapahulu Avenue, Honolulu, HI
(808) 744-3192
Mon-Fri, 10am-7pm; Sat, 10am-8pm; Sun, 10am-5pm
Participating in one of these activities may not necessarily make the owners laugh all the way to the bank but they should bring a smile on your face. So get out, and try to be happy occasionally!