The Fourth of July is an opportune time to have a picnic, barbecue, or party with friends and family.  If that can be done within the viewing vicinity of a spectacular fireworks show, then it is all the better.  Throw in a concert, and it is just about the perfect way to spend the all-American holiday.  Here are a few places to consider spending your weekend, while taking in a breathtaking display of aerials.
Schofield Barracks
The celebration begins as early as Saturday, July 1 at Schofield Barracks.  Starting at 12:00 noon, the public is invited to Weyland Field to enjoy food, vendors, inflatable bounce houses, games, costumed characters, and entertainment, including a parachute demonstration by the USA Army Golden Knights, a Patriotic Salute, performances by the 25th ID band and 100th Army Band from Fort Knox, and a concert featuring The Plain White T's and Elle King at 6:00 p.m. 
The day of festivities concludes with a 15-minute laser show and fireworks display at 8:45 p.m.  Admission is free, with some activities charging a fee to participate.  For more information, call (808) 656-0129 or visit https://hawaii.armymwr.com/calendar/event/69324.
Ohana Day at Turtle Bay
On July 1 and 2, American Idol Season 21 winner Iam Tongi will be performing at the Stables at Turtle Bay Resort on Oahu's North Shore.  Reggae band Spawnbreezie will be performing with Tongi on July 1, and a roster of other talented performers including Kapena, Likkle Jordee, Paula Fuga, and Natural Vibrations, along with a fireworks spectacle will be hosted on July 2.  Attendees will get to enjoy food trucks, vendor booths, and drinks at this family-friendly event. 
Doors open at 3:00 p.m. (parking at 2:00 p.m.) and are $39 plus fees for both nights, but prices creep up to $50 on the day of the show, so plan. If you want to spend the holiday weekend at the resort, there are stay packages as well.  For more information, visit https://www.turtlebayresort.com/things-to-do/events/ohana-day?od1.
Haleiwa 4th of July Fireworks and Car Show Festival at Haleiwa Beach Park
On July 4, the North Shore Chamber of Commerce is hosting its 2nd annual Haleiwa 4th of July Fireworks and Car Show Festival at Haleiwa Beach Park. Free to the general public from 12:00 to 8:00 p.m., the event will feature classic cars, trucks, and motorcycles, along with food, jewelry, retail, and craft vendors. There will be live musical entertainment by local bands, hula, fire knife dancing, activities for the children, a food-eating contest, and more. 
Fireworks start at 8:00 p.m.  For more information, visit https://haleiwajuly4thfestival.com/.
Independence Day Parade and Fireworks Show in Kailua
The Kailua Independence Day Parade will take place on Kainalu Drive from 10:00 a.m. to 12:00 noon on July 4. There will also be a fireworks show, with the website promising to have details coming soon. 
In the past, the fireworks show would start around 8:00 p.m.  Some shuttles run between Long's Drugs parking lot bus stop and The Beach Center between 4:30 and 10:30 p.m. For more information on the fireworks, keep checking out the website at https://www.kailuafireworks.com/.
Celebrate Freedom at Hukilau Marketplace at Polynesian Cultural Center
A family-friendly day of live entertainment, face painting, carnival games, food vendors, and fireworks will be held at the Hukilau Marketplace at the Polynesian Cultural Center on July 4.  Spend an evening in Laie on the North Shore of Oahu as you enjoy a concert from 4:00 p.m. featuring Kapena, B.E.T., Peni Dean, and Nesian N.I.N.E. Stay long enough and you will also be able to enjoy the fireworks show that starts at 9:00 p.m.  The event is free and open to the public.  
Should you be interested in having a nice meal before or after these events, consider checking out the great deals and offers available at various restaurants located throughout Oahu at https://oahusbestcoupons.com/.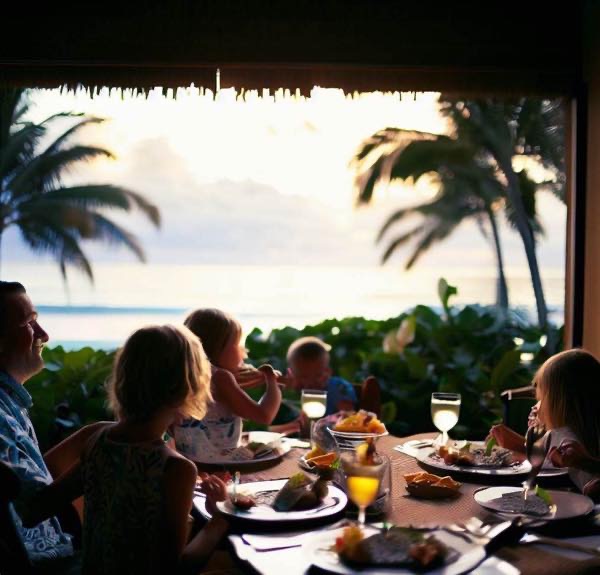 And remember to stay safe!  Happy Fourth of July!