As promised, here is the second part of our roundup of some of Honolulu's favorite breakfast restaurants!
1) Fire Grill Waikiki
Fire Grill Waikiki on the first floor of the Hilton Garden Inn Hotel on Kuhio Street in Waikiki offers a breakfast menu from 6am to 10am.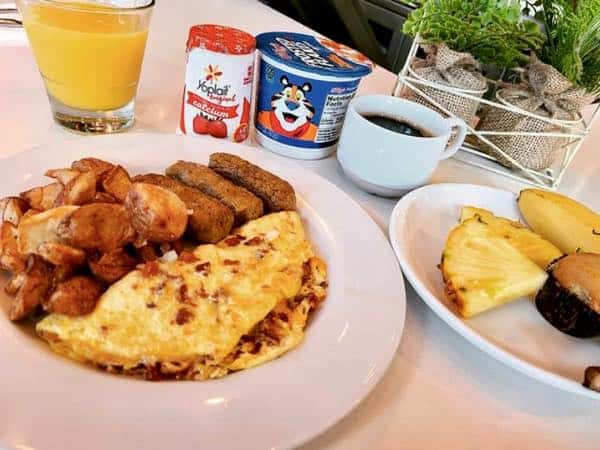 Pictured is the Bacon & Cheddar Omelet ($18.00).
You can choose two sides among bacon, Portuguese sausage, chicken link sausage, or potatoes.  There is also an option to add $3 more for each additional side.
Incidentally, all entrées include access to the "Help Yourself" station, which includes a self-serve selection of bagels, bread, yogurt, cereal, coffee, juice, milk, and more to enjoy as much as you want while enjoying your entrée at the restaurant.
Fire Grill Waikiki
2330 Kuhio Ave. Honolulu, HI
(808) 921-2330
Breakfast 6am – 10am, Lunch 11:30 am – 3:30 pm, Dinner Sun – Thu 3pm – 9pm, Fri & Sat 3pm – 10pm
2) DECK
Deck restaurant, in the Queen Kapiolani Hotel across the street from the zoo in Waikiki, serves up breakfast from 6:30am to 10am daily, with brunch and lunch menus available from 10am to 2pm.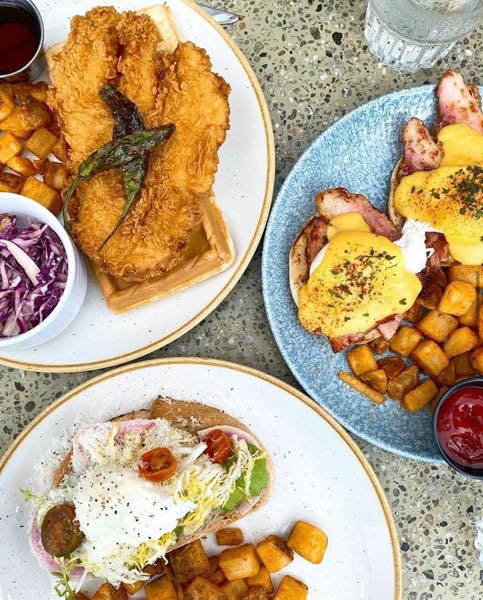 The restaurant offers a variety of breakfast items such as eggs benedict, avocado toast, acai bowls, but the signature Tokyo Style Pancakes ($18.00) are a must order!  Imagine fluffy soufflé pancakes with homemade whipped butter and maple honey, making for a dreamy way to start your day.   If you want to make your morning meal a little more decadent, ask for the sauces such as the haupia cream sauce, fresh berry compote, or chocolate which may be added.  The pancakes do take about 15 minutes to cook, so you may want to order that as soon as you can.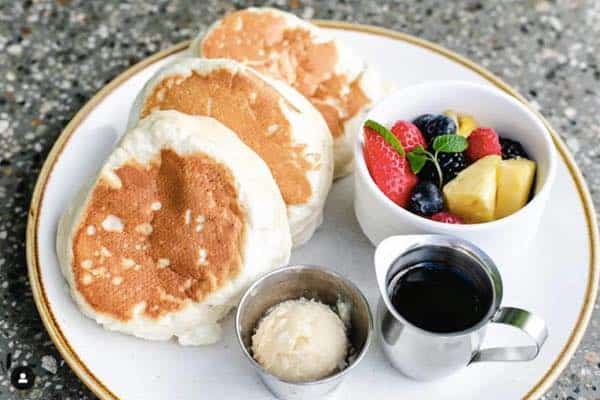 The Deep Dish Haupia French Toast ($19.00) is another luxurious breakfast menu item.  Slices of Punaluu Sweet Bread from a local bakery are dipped in a delightful Coconut Haupia French Toast Sauce before being topped with corn flakes to add that crispy layer of texture!  Pair it with caramel and Haupia coconut sauce to up the ante.  They are served with breakfast potatoes on the side for the added carbo load.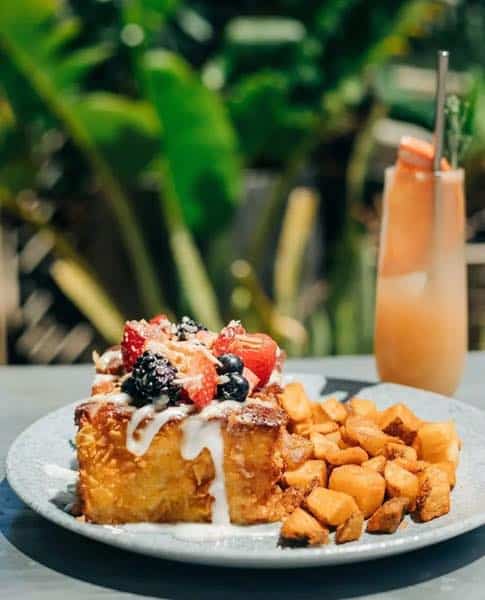 DECK
150 Kapahulu Ave, Honolulu, HI
Queen Kapiolani Hotel, 3rd floor
(808) 931-4488
Wed-Fri 3pm-9pm, Sat & Sun 7am-9pm
Closed Tuesdays
3) Waikiki Leia
Another ideal place for breakfast opened at the foot of Diamond Head just off of Monsarrat Avenue.
Waikiki Leia offers dining patrons a breathtaking view of Diamond Head.  Savor a relaxing meal while in the comfort of the breezy dining room, or consider the patio seating if you prefer outdoors.  It will feel like you are on an upscale picnic but with full restaurant service.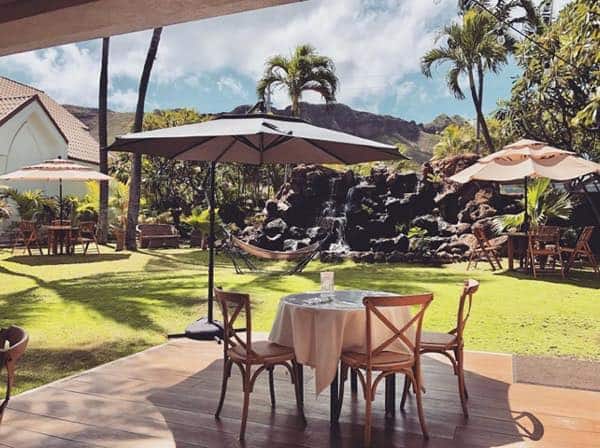 Waikiki Leia offers fluffy soufflé pancakes ($15.00), breakfast sandwiches ($13.00), and thick baked French toast ($10.00).  On top of it all, the breakfast menu items come with coffee, tea, or fresh juice!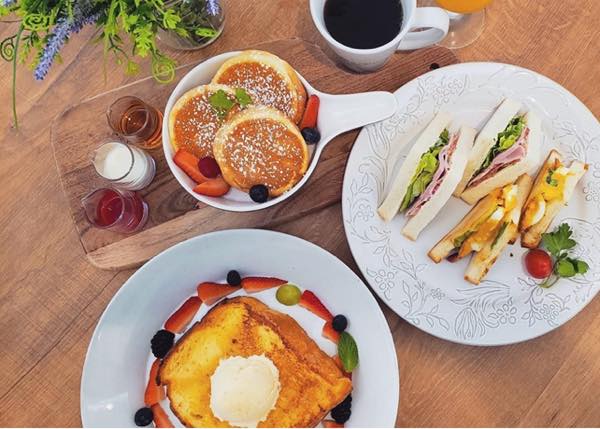 Waikiki Leia offers breakfast from 8am to 11am.  If you want to fold it into your morning walk, the stroll from Waikiki is also nice.
Waikiki Leia
3050 Monsarrat Ave, Honolulu, HI
(808) 735-5500
Breakfast 8am-11am, Lunch 11am-2pm, Dinner 5:30pm-8:30pm (Fri & Sat only),
Closed Tues & Wed
4) Cafe Kaila
Café Kaila in the Market City Shopping Center is a local favorite breakfast spot, and it is also the 2021 winner of coveted Hale 'Aina's Gold Award for Best Breakfast by HONOLULU Magazine.
If anything, definitely think about ordering the pancakes for breakfast.  Three fluffy buttermilk pancakes ($9.25) loaded with fresh fruits is not only a local favorite, but it is also quite Instagrammable!  Juicy berries, sweet bananas, and caramelized apples are piled atop with a dollop of whipped cream.   And if you still feel you need more fruit, you are more than welcome to order additional servings for $2.50 and up.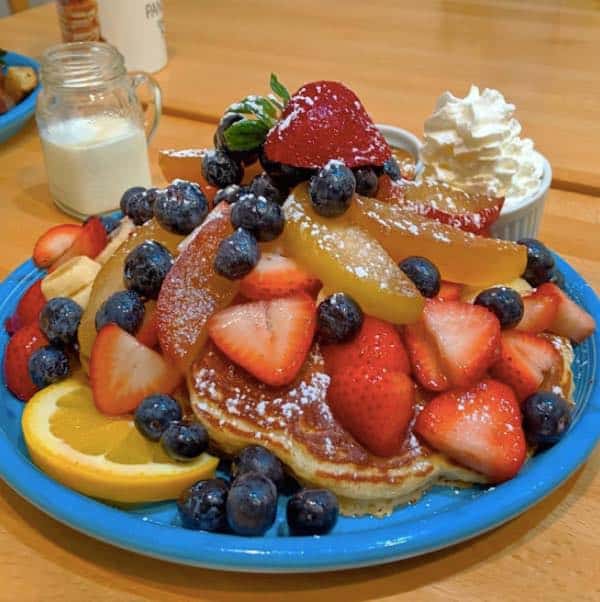 If you are craving a savory approach to breakfast, have the Breakfast Wrap ($10.50).  This generous wrap enrobes sun-dried tomatoes, spinach, onions, mushrooms, potatoes, and scrambled eggs in a choice of either a spinach or regular tortilla.  For an added dose of protein, there are a selection of breakfast meats from which to choose, including sausage or bacon.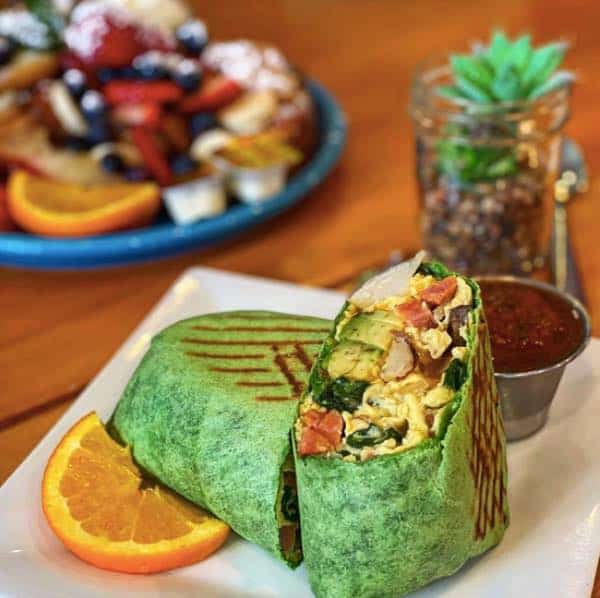 Some people are completely happy with a traditional breakfast, which Café Kaila is more than happy to oblige.  Two eggs any style ($9.50) are prepared just about any way you want, and comes with two slices of bacon, ham or sausage, along with some rice and toast.  Zhuzh up your breakfast with fried rice instead of regular rice as pictured here.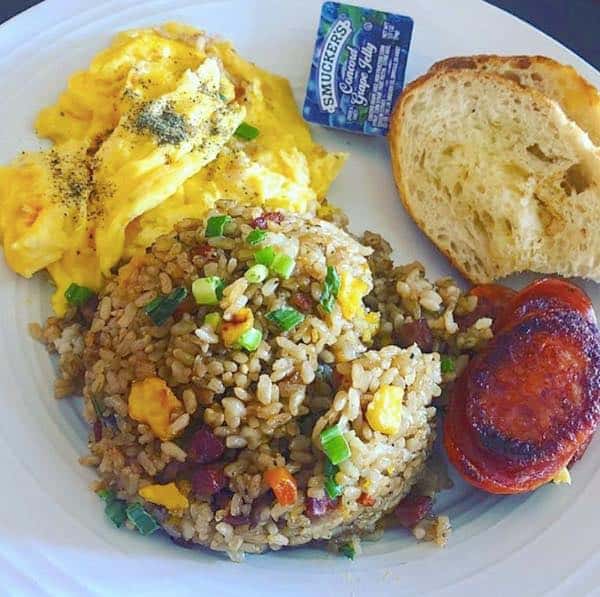 Cafe Kaila
2919 Kapiolani Blvd. Honolulu, HI
(808) 732-3330
7am – 3:30 pm
5) Koko Head Cafe
Located in Kaimuki, Koko Head Café is an immensely popular breakfast and brunch spot among locals and visitors alike.  The brainchild of celebrity chef Lee Anne Wong of Bravo TV's "Top Chef," Koko Head Café recently relocated to the former site of its sister restaurant, 12th Avenue Grill, which shuttered during the pandemic.  The café is now open Wednesday through Sunday from 7am to 2pm.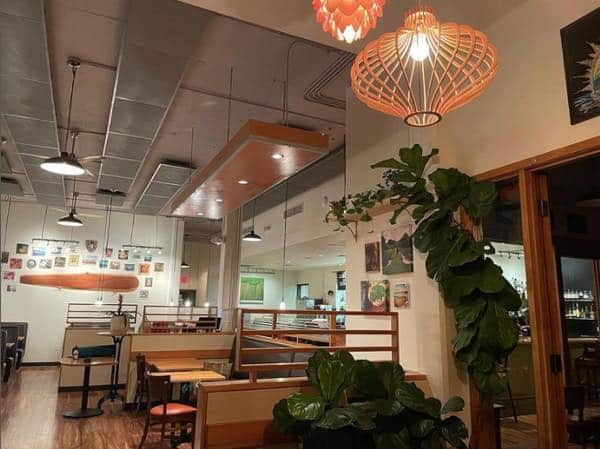 The full breakfast selection is still available, including the Breakfast Bruschetta and Cornflake French Toast for sweeter bites, and Poke Omelette and Koko Moco, the café's own rendition of the provincial Loco Moco dish, for savory selections.
Skillet style breakfasts are extremely in vogue, and the Breakfast Bibimbap ($20.00) fits the bill perfectly.  It is one way to get your daily dose of nutritious vegetables first thing in the morning.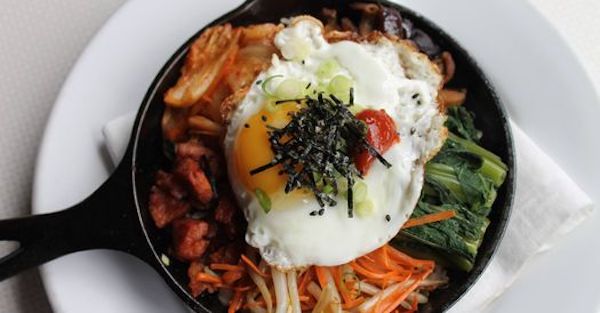 Also recommended are the breads, which are baked fresh daily.  A number of inspired pastries and other baked goods are also available, so ask the server about bakery items du jour.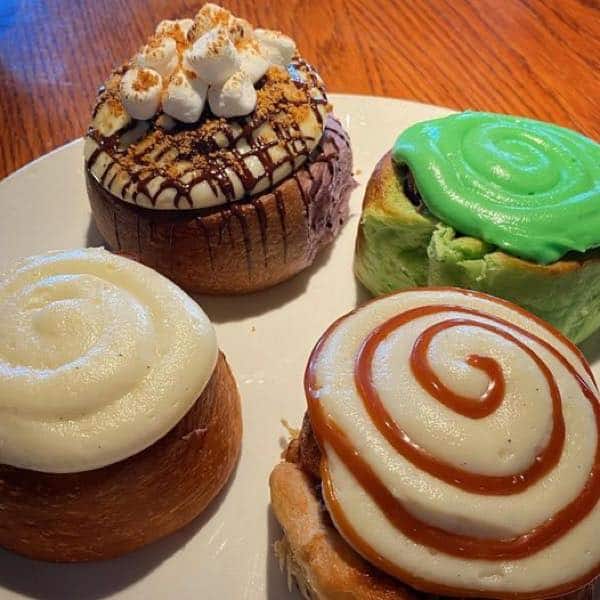 Koko Head Café
1120 12th Ave, Honolulu, HI
Wed-Sun 7am – 2pm
(808) 732-8920
Hawaii offers a ton of reasons why one should be active from early in the morning.  So, treat yourself right and start your day off with a delectable breakfast from one of our most recommended!