What originated as an ancient Celtic tradition involving lighting bonfires and wearing costumes to ward off ghosts–something that were incorporated to some degree into All Saints Day which was designated by Pope Gregory III on November 1–the festival of Samhain eventually became better known as All Hallows Eve, and later Halloween.  Trick-or-treating, carving pumpkins into jack-o-lanterns, donning costumes, hosting festive parties, and eating sweets were folded into the day's evolution.
Today, just about every consumer-based establishment in Hawaii has some type of Halloween event, from trick-or-treats at just about every shopping center to large scale costume parties at food and beverage establishments.  With so many things to do and consider, we decided to compile a list of parties, themed dishes, and other activities to get you into the spooky mood.
Halloween Parties
1) BUHO Cocina y Cantina (October 27 to 31)
If you cannot make it to Mexico for El Dia de los Muertos on November 2, get your costumed fix at BUHO Cocina y Cantina during their 5-day Boo-Hoo Halloween Marathon from October 27 to 31, featuring different promo drinks and specials each night. 


From Friday, October 28 to Monday, October 31, the restaurant is promising to have a "Trick or Treat Surprise" and costume contests for cash prizes, with the first three customers to reserve a table each night receiving a $50 discount on their tab.  The parties start at 9:00 p.m. for those nights and runs until 1:00 a.m.  On October 31, however, there will be a $10 cover charge after 9:00 p.m. but those who dine in from 4:00 to 5:30 p.m. will be allowed free admission.  Just be sure to launder your costume if you decide to go every night, unless that is part of your strategy to horrify people.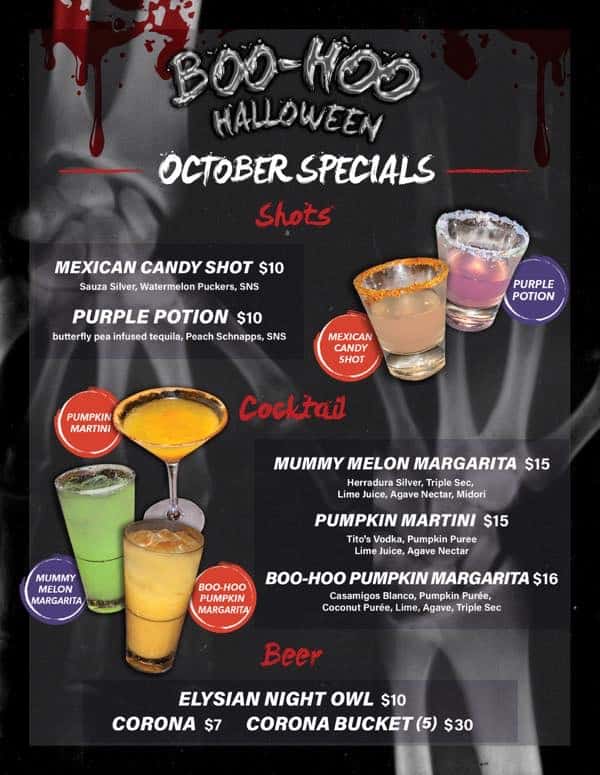 BUHO Cocina y Cantina 
2250 Kalakaua Ave. #525
(808) 922-2846
4pm – 1:30am (until 12am, Wed, Sun & Mon)
2) Leahi Bar & Grill (October 29)
Leah Bar & Grill located behind the Hyatt Regency Waikiki Beach Resort and Spa is hosting a "Boos and Booze" Halloween party on Saturday, October 29.  WIth a live DJ and a costume contest with cash prizes, people will be incentivized to dress up a few days early.  The party starts at 9:00 p.m., with those only ages 21 and over allowed to stick around after 10:00 p.m.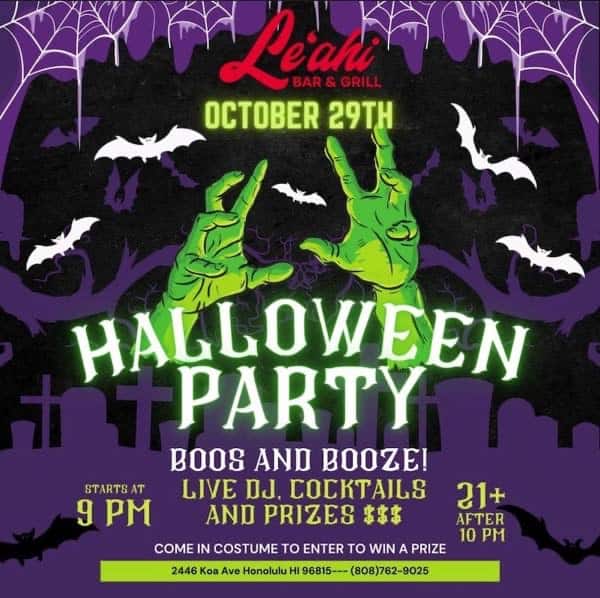 Le'ahi Bar & Grill >> Get a special offer!
2446 Koa Ave. *Across from Hyatt Regency Waikiki Entrance.
(808) 762-9025
7am – 2am, 4pm – 2am daily
3)  Deck. Waikiki (October 28 to 30)
Deck. Waikiki in the Queen Kapiolani Hotel will be celebrating Halloween for several days leading up to October 31.  A series of cocktails themed after Halloween movies will be sure to get you into the mood.  Some of the juicy potions with matching presentations include the dripping red-rimmed Redrum (inspired by "The Shining"), the shimmery sugar-rimmed The Ring, the red balloon-tied Pennywise (after the spooky clown from "IT"), and the double-paired cocktail Jack & Sally (the couple from "The Nightmare Before Christmas").  Then, from Friday, October 28 to Monday, October 31, a special Hocus Pocus Cauldron replete with fruit juices may be ordered virgin for the entire family to enjoy.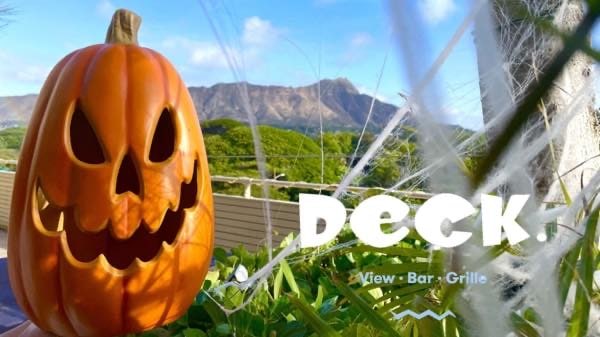 Also starting Friday, October 28 and also happening on Saturday, October 29, there will be a photo booth with a photographer to snap some cool shots you patrons whether in costume or not.  The family may enjoy the Halloweend brunch and children's costume contest on Saturday, October 29, but for the grown ups, the party will really takes place on Sunday, October 30, with local artist Kimie Miner, who will be performing live.  There will also be a costume contest for those who decide to dress up a day early.  There is no cover charge, but just a $50-65 food & beverage minimum, but who goes to a party and does not eat or drink?  
Deck.
Queen Kapiolani Hotel, 150 Kapahulu Avenue, Honolulu, HI
(808) 556-2435
Sun-Sat, 6:30am – 10pm
4) Ocean and You (October 28, 29, & 31)
Take your party to the high seas with a Waikiki party cruise by Ocean and You.  For three nights, the booze cruise will have a live DJ and host Halloween costume contests featuring prizes for a male and a female winner.  There will also be a dance contest, so bust out those angel flights and platform shoes and call it a real costume.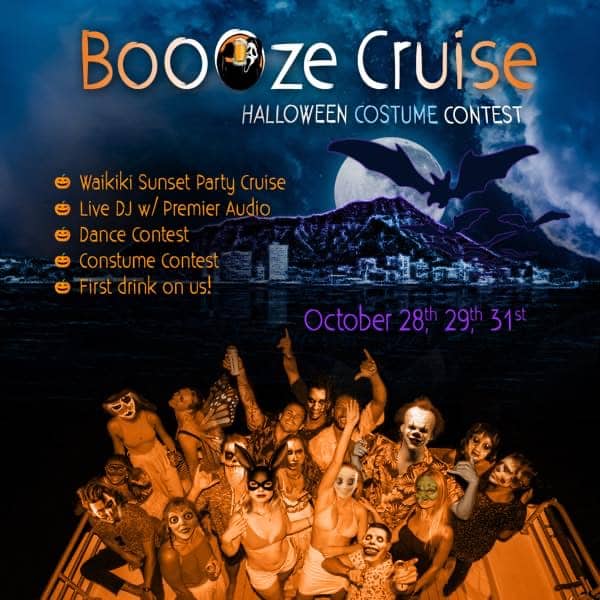 Halloween Costume Contests (10/28, 10/29, 10/31)
On the nights of October the 28th, 29th, & 31st. And You Creations will host a costume contest with multiple prizes, up to a $189 value.
1 Male & 1 Female winners.
Costume Contest:
1. (1) Dolphin Tour
2. (1) FLSK
3. (1) Drink Ticket
Dance Contest:
1. (1) Drink Ticket
https://andyoucreations.com/ocean/
Ocean and You >> Get more offers!
Reservations: (808) 696-4414
Office Hours: 8am – 6:30pm daily
Special Halloween Menus
5) Shingen Soba Izakaya at Heart Moon (October 28-31)
If you are a fan of Spider-Men ("men" as in noodles–get the pun?), then you may want to check out Shingen Soba Izayaka at Heart Moon.  A special Halloween-inspired presentation will be a deep fried soft shell crab served atop an ube (purple sweet potato) udon with tobiko, wakame, takuan, tororo (grated mountain yam), and a kabocha tempura over which you pour the signature tsuyu sauce.  The arrangement of the dish resembles a spider with web and is available from October 28 to 31, for $24.80, so work out your arachnophobic apprehension in time to enjoy this savory meal.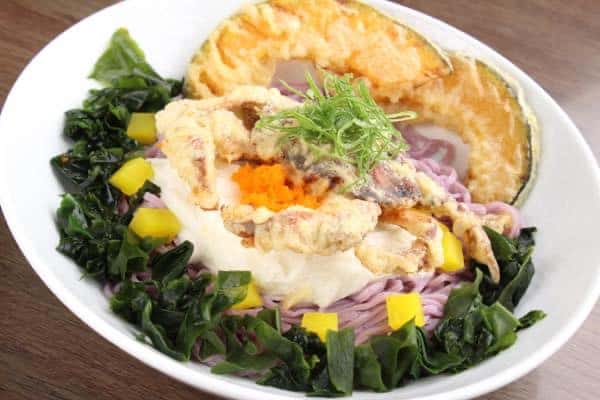 Shingen Soba Izakaya at Heart Moon >> Get a special offer!
2334 South King Street
(808) 926-9255
Sun-Sat, 11:30am – 2:00pm; 5:00 – 8:30pm 
6) Oh My Grill (October 29-31)
The popular plate lunch outfit at Pearl Kai Shopping Center in Aiea–is offering a special limited time Halloween menu featuring dishes with creepy names such as Bloody Rangoon for a crispy crab rangoon, Bloody Worms for spaghetti with chili sauce mentaiko spaghetti, Bat Wing Plate of chicken wings and rice, and even Fried Veinilla Ice Cream with cinnamon, among others.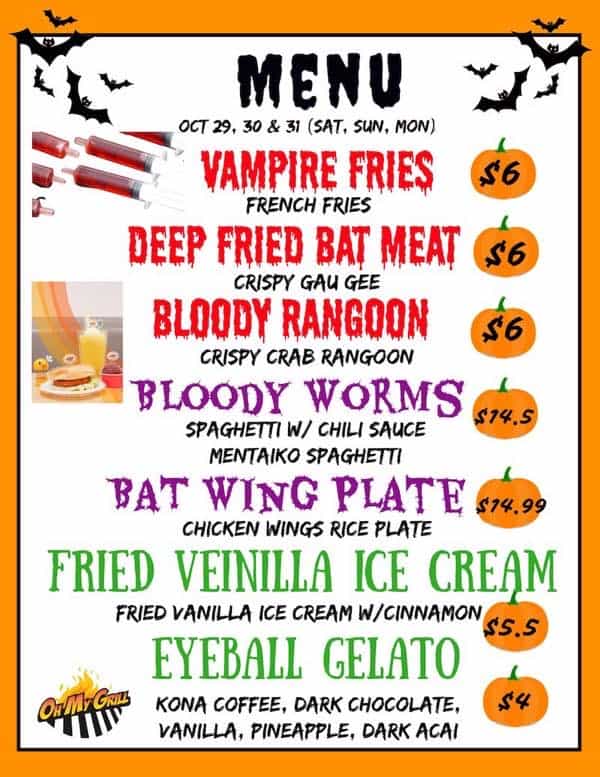 The menu prices range from $4 to 14.99.  Pair those dishes with some of the specialty non-alcoholic drinks such as Vampire Blood Bag of raspberry fruit punch, Bury It Alive of mixed berry sparkling water, and Zombie Brain Juice of pink lemonade, all in cool blood pouches, and other vessels.  Turn a casual bite into a horrifyingly fun meal.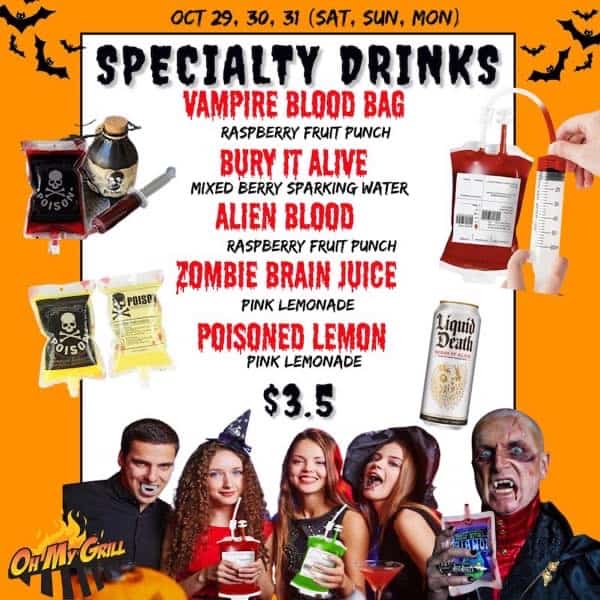 Oh My Grill >> Get a special offer!
McCully: 1960 Kapiolani Blvd. #102
(808) 664 – 2121
Pearl Kai: 98 – 199 Kamehameha Hwy.
(808) 456 – 2121
Waipahu: 94 – 144 Farrington Hwy. #16
(808) 676 – 3377
Special Halloween Services
7) Paradise Adventure Tours
Rated one of the top three tours on Oahu, Paradise Adventure Tours is going to be changing things up with its first ever diving in Halloween costume activity.  The best costume wins free photos taken by Paradise Adventure Tours, so make a call and make a booking for this unique experience.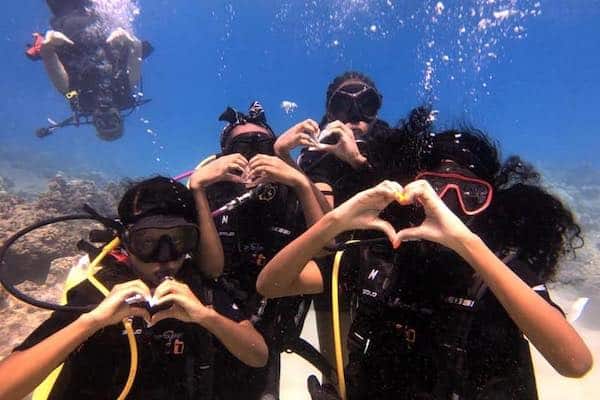 Paradise Adventure Tours >> Get a special offer!
Reservations: (808)223 – 1584
https://www.paradiseadventuretours.com/
8) Marc Photo Factory (October 24-31)
Get some photographs of you with your family and friends, possibly even pets, in costume at Marc Photo Factory from now until October 31.  For the first time ever, the professional photography company is offering a special priced photo session for $230 (regular price $250) for those in costume.  So book your appointment today and get some photos to share before the big day.
Marc Photo Factory >> Get another offer!
1777 Ala Moana Blvd. Ilikai Hotel 1F
(808)351-5491
8am – 8pm daily
Limited Halloween-Edition Items
9) Snoopy's Surf Shop (October 15-31)
The store specializing in Snoopy launched a Happy Halloween Project on October 15.  A number of Halloween limited design tote bags and sticker sets are now available for purchase at either the Haleiwa store on the North Shore or the Diamond Head store near Waikiki.  Impress friends with your original Halloween bag as you go trick-or-treating.  The number of bags and sticker sets are limited, and at a retail price of $21, there is a good chance they will run out before the end of the month.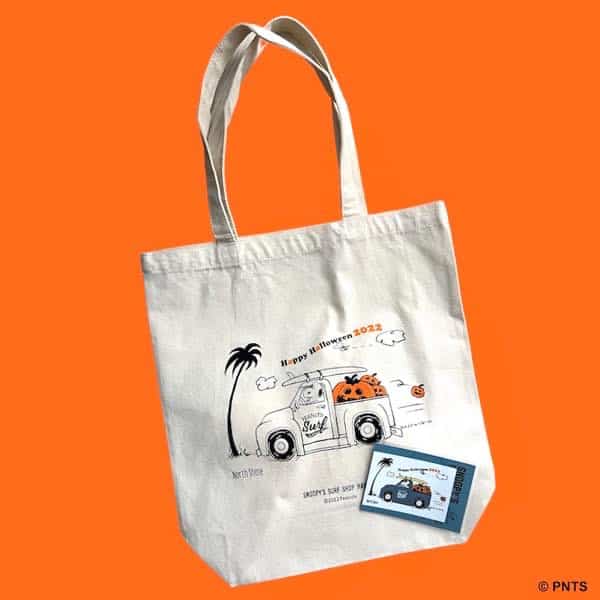 Snoopy's Surf Shop >> Get a special offer!
Haleiwa : 66-111 Kamehameha Hwy. #901 
Diamond Head : 3302 Campbell Ave. 
10am – 6pm daily
10) Lawson Station 
The popular Japanese convenience store with two locations in Waikiki is now selling Ty Beanie Babies with Halloween motifs.  Tatters the white mummy ($10.99), Bearla the black vampire bear ($10.99), Salem the black cat ($9.99), and Hastie the purple bat ($9.99) are available at Sheraton Waikiki and Moana Surfrider locations.  A hand band with ears ($4.99) and a Halloween-themed box of Pocky Strawberry Cream Covered Biscuits ($6.99) are also available during the month until they are sold out.  And with so many collectors out there, they may not last until Halloween.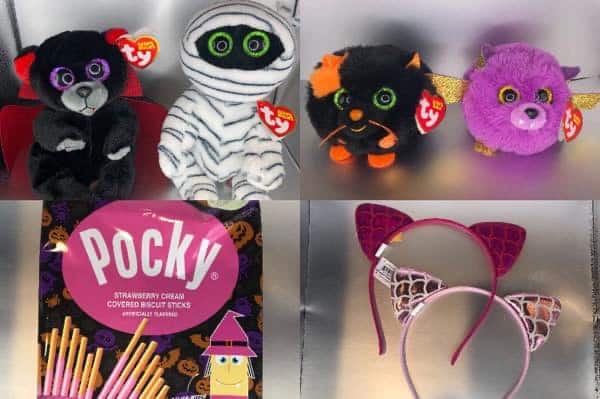 Lawson Station
Sheraton Waikiki Location: 2255 Kalakaua Ave.
(808)926-1701
7am – 11:30pm daily
Moana Surfrider Location: 2365 Kalakaua Ave. >> Get a special offer!
(808)926-1819
9am – 11pm daily
11) Waikiki Chocolates by Lutgarda
The specialty chocolatier Waikiki Chocolates by Lutgarda is now selling Halloween-themed treats.  Bonbons ($2.50), cocoa bombs ($10), a chocolate cauldron with broom ($15) filled with chocolate gummies and Halloween chocolate candies, and a Halloween pouch ($10) of assorted Halloween and dinosaur plain solid chocolates will make for great party favors if not luxurious trick-or-treat giveaways to satiate that hunger for chocolate.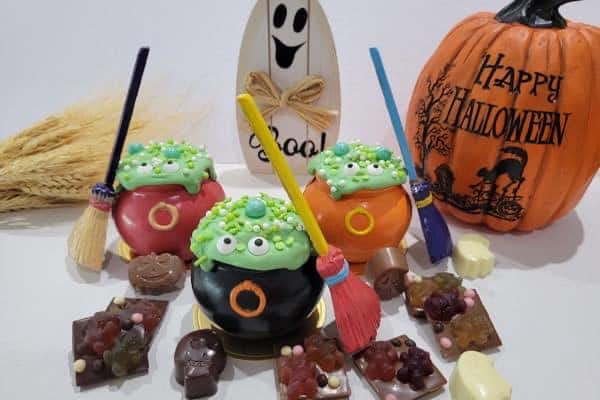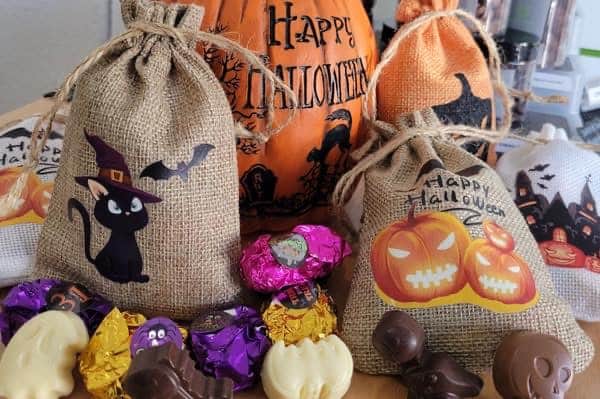 Waikiki Chocolates >> Get a special offer!
744 Kapahulu Ave.
(808) 300 – 2472
12pm – 7pm (Tue – Sat)
There are so many things to do for Halloween this year.  Since the special day actually falls on a Monday, there are more activities that take place leading up to All Hallow's Eve, so plan ahead and enjoy all the spooktacular things to do!