Hawaii and Texas share a very special relationship dating back to World War II.    Today, the relationship is perpetuated through food, via a sweeping popularity of Texas-style barbecue outfits in Honolulu.  Hawaii locals, raised on more Kansas City-style barbecues with meats slathered in sauce, are suddenly appreciating meats slow-cooked at low temperatures that are so tender and juicy, they do not really need any accents.
Three of the hottest Texas-Style BBQ restaurants in Hawaii
1) TEX 808 BBQ + Brews
Tex 808 BBQ + Brew opened a location on the first floor of the Laylow Hotel on Kuhio Avenue in Waikiki.  The restaurant takes pride in its brisket and pulled pork, which are slow-smoked for 12 hours right on premises.  The proteins are not basted in BBQ sauce, but rather feature a dry rub that extract the original flavor of the meats.  However, there is some sauce available for those who just cannot resist a pour.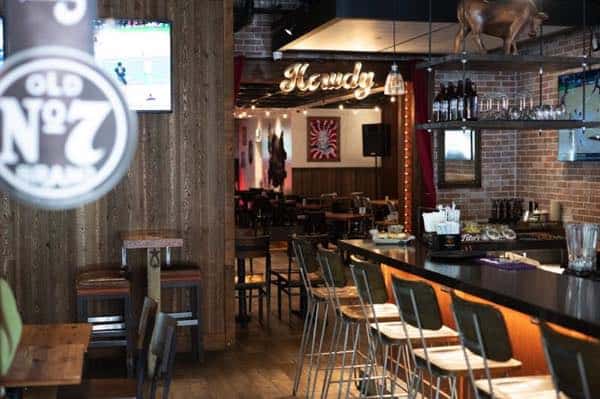 A top recommended dish is the BBQ plate, which comes in a mini size with one meat and one side, a single with one meat and two sides, a double featuring two meats and two sides, and a triple for heartier appetites that can put away three meats and two sides.  Choices of meats include brisket, pulled pork, pork ribs, BBQ turkey, and sausage, while sides showcase beans, mac & cheese, French fries, hash browns, mashed potatoes, corn, coleslaw, potato salad, salad, and rice, considered a necessary staple in Hawaii.
A perfect fusion of flavors celebrating both Hawaii and Texas is the restaurant's version of a loco moco, which offers a choice among the standard hamburger steak, brisket, or pulled pork over a mound of rice, all swimming in gravy.  The tender, moist Texas-style BBQ meat brings the popular local dish to new heights.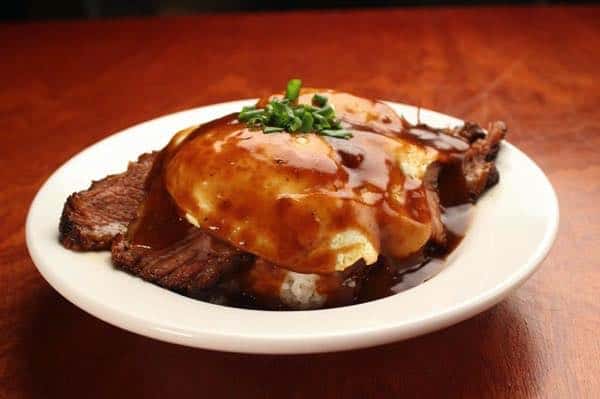 Tex 808 BBQ + Brew also has a location in Moanalua, closer to the airport.
TEX 808 BBQ + Brews >> Get a special offer!
2299 Kūhiō Ave. Space A, Honolulu, HI 96815
11am -11pm daily
(808) 888-2495
https://www.tex808.com/
2) CHEE HOO B-B-Q
Just as its celebrated name suggests, Chee Hoo B-B-Q is designed to please the customer at its newly opened location in the Kuhio Avenue Food Hall on the first floor of the International Market Place.  The food hall located on the Kuhio entrance to the shopping center is home to a number of eateries and bars, making this a dynamic eating spot in Waikiki.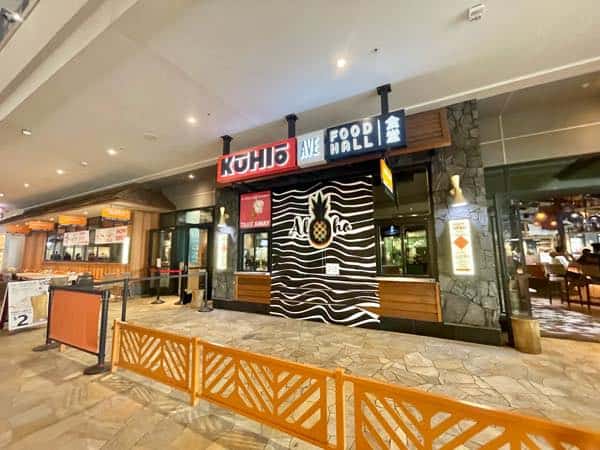 At Chee Hoo B-B-Q, the Texas style BBQ menu is simple, with five different choices such as a baby back ribs, short ribs, beef brisket, spicy sausage, and a combo plate highlighting the brisket, ribs, and sausage.  For those wanting a little surf with their turf, there is also a garlic shrimp plate to consider.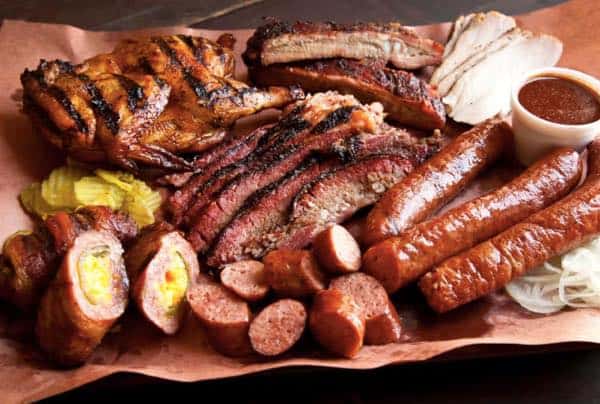 The ambiance is quite casual, with patrons ordering at the counter before choosing a seat anywhere within the food hall.  There are some great local beer options available at the other counters, and what better way to enjoy some BBQ than with a cold glass of beer?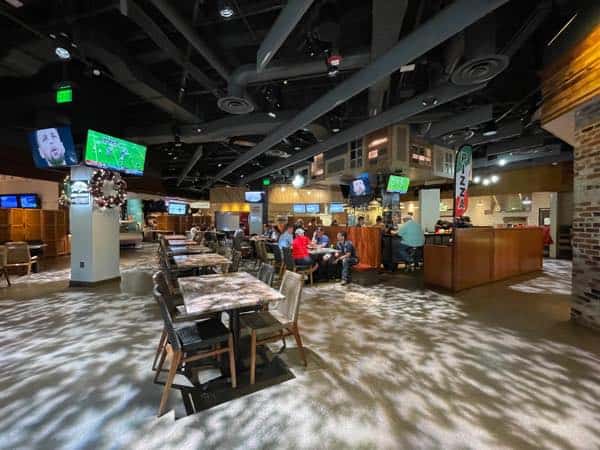 CHEE HOO B-B-Q
2330 Kalakaua Ave Honolulu, HI (in International Marketplace, Kuhio Avenue Food Hall)
11 am – 9 pm daily
https://www.kuhioavenuefoodhall.com/
3) Sunset Texas BBQ
James Kim may not sound like he's from Texas, but the owner of Sunset Texas BBQ is serious about barbecue.  Hailing from the Lone Star State, Kim left his career at a major corporation to relocated to Honolulu, his bride's hometown.  But before Kim left Austin, he made sure he understood the ins and outs of making good ol' Texas style barbecue.  After first moving to Hawaii, he opened Sunset Smokehouse Barbecue in Wahiawa, where the dedicated pitmaster witnessed a throng of customers lining up outside his door for his juicy meats with a simple salt and pepper rub, slow-cooked for about 12-14 hours.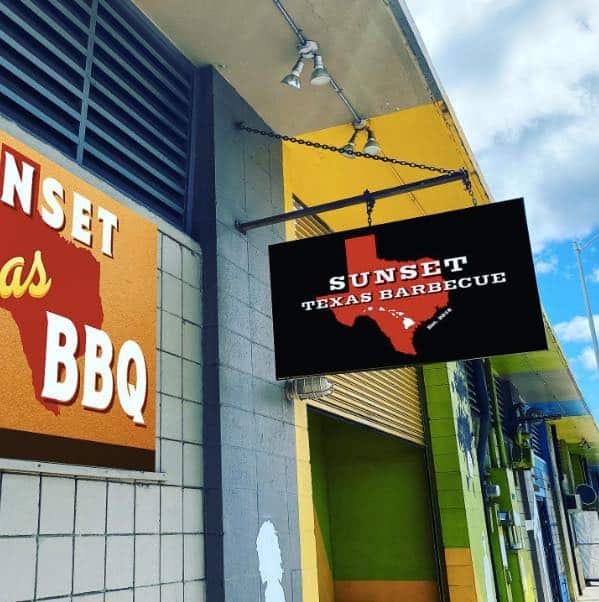 Usually within an hour or two of opening, he sold out of the melt-in-your-mouth brisket and ribs.  Now, located in the Kaka'ako area in Honolulu under the name Sunset Texas BBQ, Kim continues to offer his selection of proteins including USDA prime beef brisket, beef ribs, pulled pork, pork belly, pork spare ribs, housemade sausages, and turkey breast.
Kim understands the Hawaii market as well, and while it is uncommon to serve white rice with Texas-style BBQ, Kim believes that if you want people to enjoy this type of cuisine in Hawaii, it must be with rice.  This adaptation to authentic Central Texas-style offering is another reason why Kim's establishment is so loved by locals.  The restaurant opens at 11:00 a.m. and closes when he sells out, so it is best to get there shortly after opening.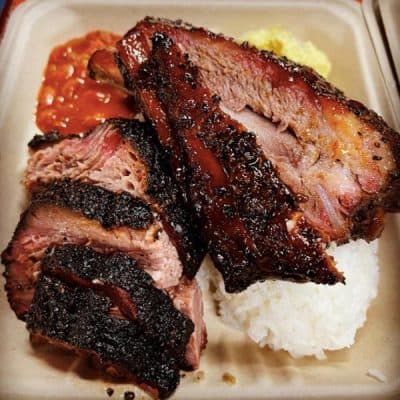 Sunset Texas BBQ
443 Cooke St, Honolulu, HI
11 am – 3 pm (close when sold out)
(808)476-1405
https://www.sunsetq.com/
The growth of Texas-style BBQ in Hawaii is greatly in part due to the support of the military presence in the islands.  However, with these fine establishments adding local flavors to wean Hawaii locals off of sauce-based barbecues, there is a good possibility that more dry rub-based Texas BBQs will surface in the islands.