June 23 is National Go Fishing Day, and since Hawaii is surrounded by water, it is not difficult to take time out of your daily routine to hop on a boat to catch some dinner.  You can even seek out a stream to catch, although your yield of gobies may not constitute a substantial meal. However, if you want to fish in a pond, Ali'i Agriculture Farms offers affordable options for those wanting to try to pull up a tilapia or catfish.
But should you fail, or are just not into fishing, and you prefer to have someone else gut and filet the fish, here are a few spots to go grab some fresh poke to fool your friends into believing that you are an expert.
Poke Waikiki
Poke Waikiki's fresh ahi sprinkled with tobiko, combined with salmon or deep-fried mochiko chicken, are delivered as poke bowls.  Each bowl includes 9 different toppings, with choices including edamame, lettuce, seaweed salad, tomato, red onions, white onions, pineapples, crispy garlic chips, and more.  And if you prefer to avoid the added carbs, switch out the rice bowl and turn it into a burrito.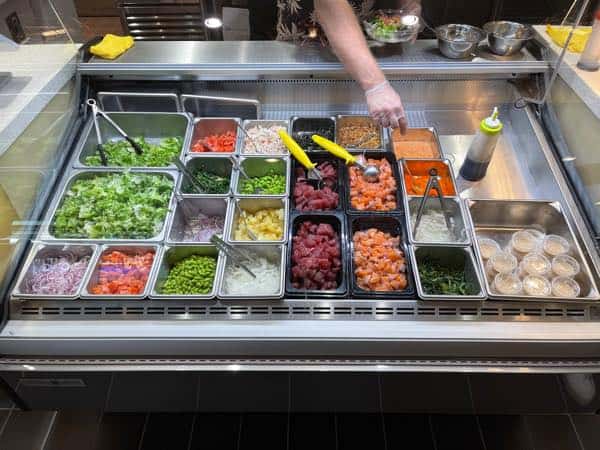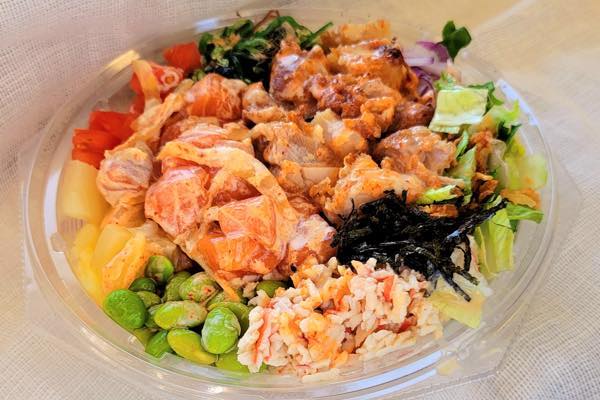 Poke Waikiki
Royal Hawaiian Center, 2201 Kalakaua Avenue, B205, Honolulu, HI
Sun-Sat, 11:00am – 9:00pm
POKE FIX HAWAII
Specializing in customizable poke bowls, POKE FIX HAWAII features a variety of pokes, such as ahi shoyu, spicy ahi, spicy garlic shrimp, and shoyu furikake salmon. Select toppings from among edamame, tofu, avocado, pickled garlic, taegu, seaweed salad, and more, and have a fulfilling meal.
POKE FIX HAWAII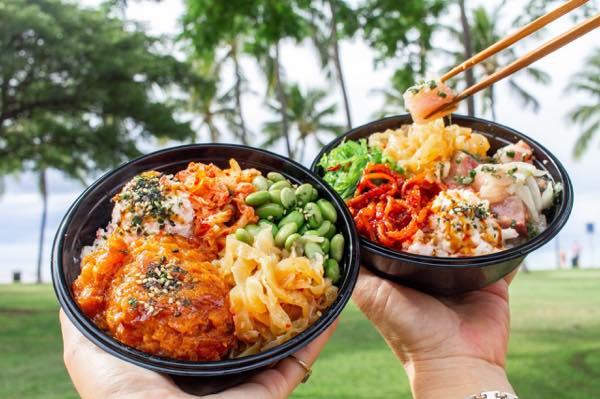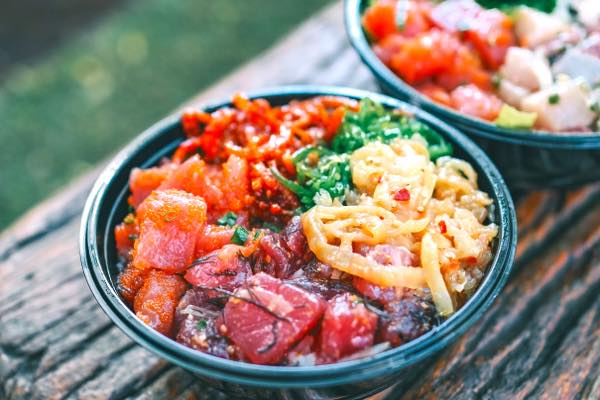 334 Seaside Avenue #108, Honolulu, HI
(808) 807-7999
Sun, 11:00am – 8:00pm; Mon-Sat, 11:00am – 7:00pm
Komedokoro M's
While this shop is known for its musubi (rice balls) accented with savory flavors such as tuna, spicy tuna, salmon, and spicy cod roe with mayonnaise, Spam, unagi, and egg, they do create poke bowls using high-quality tsuyahime rice that makes for a great take away meal.  If you love spicy ahi poke or shoyu ahi poke, consider doing half and half!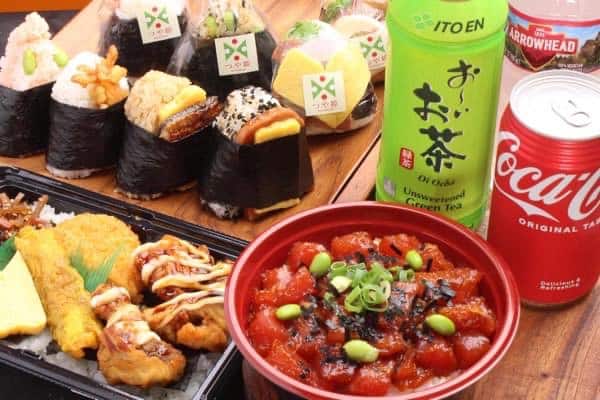 Komedokoro M's
438 Hobron Lane #107, Honolulu, HI
(808) 913-2021
Mon-Fri, 10:00am – 2:00pm
Domo Cafe
Besides Domo Cafe, we cannot think of any other poke shops that purchase whole ahi each day from the fish auction.  Therefore, Domo Cafe is probably one of the poke spots where you can get truly fresh ahi poke.  There are fourteen poke bowls from which to choose, ranging from $12.95 to $17.95.  Whether it be a shoyu ahi with the special house sauce, seared salmon or scallop with garlic mayo, or a spicy tempura bowl with shrimp tempura jazzing up the spicy ahi with ocean and crab salads over rice, you will immediately realize the high quality of ingredients for which Domo Cafe is known.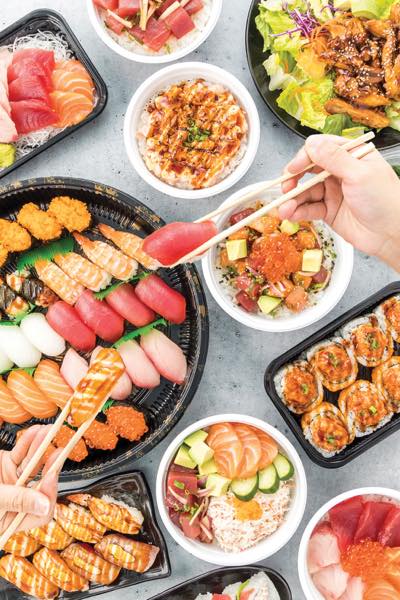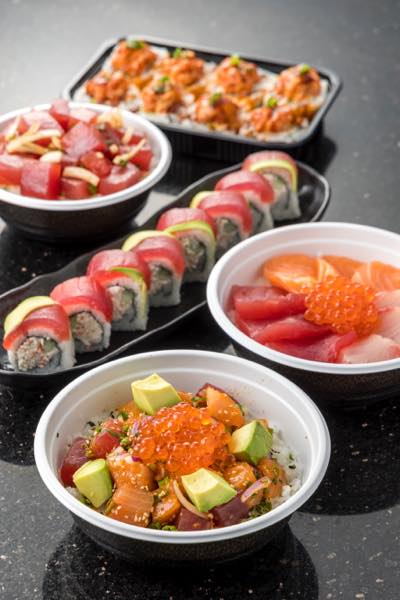 Domo Cafe
4346 Waialae Avenue, Honolulu, HI 
Phone:  (808) 888-8860
Sun-Sat, 10:00am – 8:00pm
Foodland Farms
It may not sound like the most glamorous of poke spots, but the local supermarket chain Foodland Farms delivers on flavor and selection.  The supermarket offers a wide variety of poke bathed in its signature sauces. There is the ahi shoyu poke or the spicy ahi poke, but other inspired flavors include limu ahi, California roll ahi, oyster sauce ahi, secret spicy sauce ahi, wasabi ahi, and more…and that was just some of the ahi selections.  There are salmon, tako, and a variety of other proteins incorporated into the array of poke found at the counter in each location.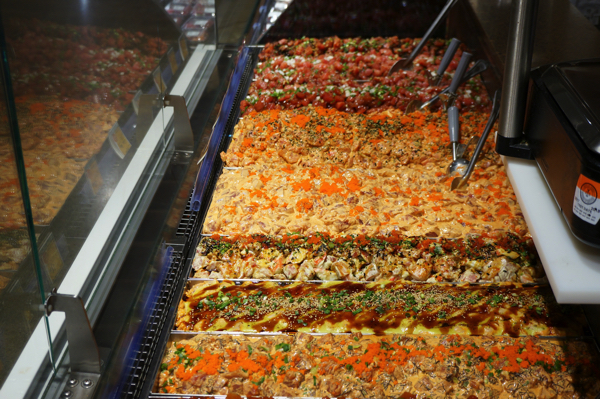 Foodland Farms
1450 Ala Moana Blvd., Honolulu, HI 
Phone:  (808) 949-5044
Sun-Sat, 6:00am – 9:00pm
Ono Seafood
Something about jasmine rice and poke make for an intoxicating combination.  Ono Seafood crafts some of Hawaii's finest poke bowls because of this alluring pairing. Consider shoyu ahi or tako (octopus), Hawaiian style ahi or tako, miso ahi or tako, spicy ahi or tako, or wasabi ahi over fragrant rice for a fulfilling meal.  And that is why people are waiting in line out front. (Sadly, they no longer carry salmon as shown in the photo, but you won't be able to lie about fishing for salmon in Hawaii anyway.)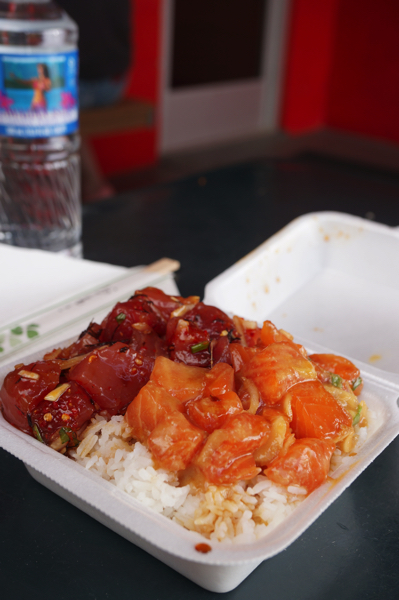 Ono Seafood
747 Kapahulu Avenue, Honolulu, HI
Phone:  (808) 732-4806
Tue-Sat, 9:00am – 4:00pm
Take some time off to cast a line into the water on National Go Fishing Day.  If you are unable to have that luxury, or just want some fresh seafood instead, make sure you get your fill of Hawaii's ono poke!