Grilled cheese sandwiches are not only admired for their Instagramably photogenic pulls, but also for their economical approach to a fulfillingly rich meal.  Grilled cheese were once referred to as "cheese dreams" and were popular in the 1920s as affordable meals comprised of inexpensive bread and processed cheese.  By the 1930s, the sandwiches served as a simple meal to help feed families who were struggling financially during the Great Depression.  The humble sandwich would also be filled with a variety of other fillings, such as ham, bacon, tomato, eggs, cayenne, mustard, or mayonnaise.  These "depression sandwiches" became a staple of the American diet.  Since its open-faced origins, the sandwich as evolved further to incorporate more lavish ingredients and are now found as popular favorites in some of Hawaii's casual dining spots.  Here are a few sandwiches to consider, along with other cheesy cousins:
1) EARL Sandwich
The specialty hand-crafted gourmet sandwich eatery with locations in Kaka'ako and Kaimuki have a few cheesy allures.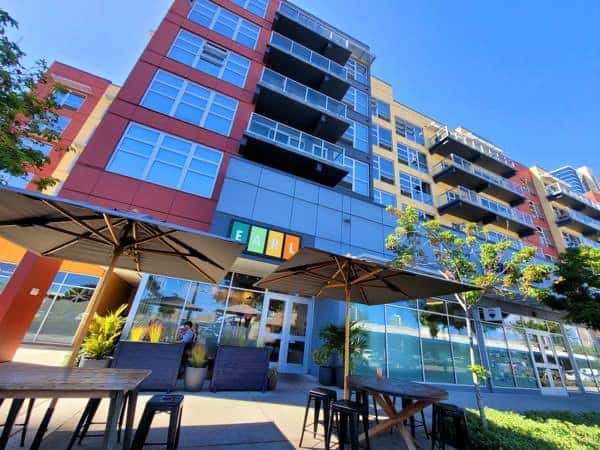 One is the Fun Goat, a lavish display of goat cheese, fennel onion marmalade, pesto, cucumber, tomato, mushrooms, spinach, extra virgin olive oil, and balsamic vinegar that balances the slightly alluring funk from the goat cheese with sweet and herbaceous flavors. Another, the Pastrami Single Cheeseburger shifts more to the hamburger realm but showcases a patty laced with pastrami, Swiss cheese, American cheese, remoulade, ketchup, and pickles for a savory series of cheesy and meaty bites balanced by bright pickled acidity.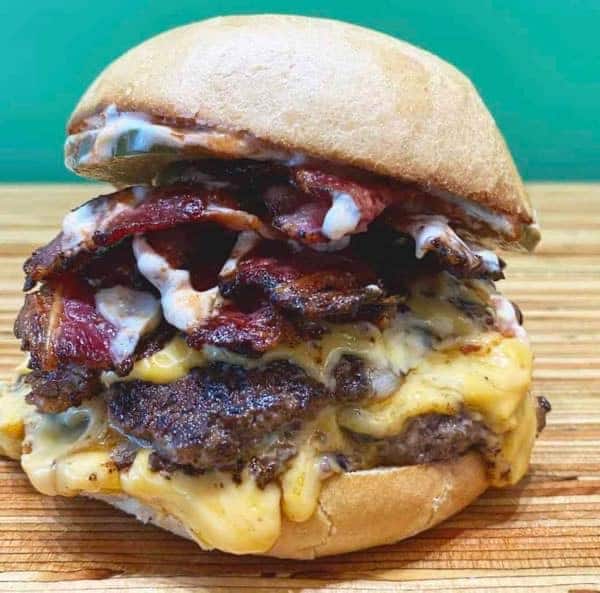 EARL Sandwich >> Get a special offer!
Kaka'ako: 400 Keawe St.  (808)744-3370
Kapahulu: 2919 Kapiolani Blvd. (808)200-4354
Hours: 10am – 8pm (Mon – Sat), 10am – 4pm (Sun) 
2) Teddy's Bigger Burgers
The burger shop started by two guys doing backyard cookouts is now a popular chain in Hawaii and beyond with seven locations on Oahu alone, and locations on Maui as well as in Japan and the Philippines.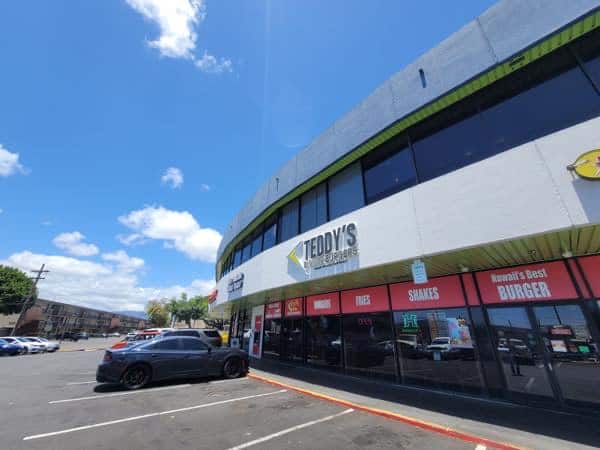 The retro 50's burger joint inspired business prides itself on 100% fresh chilled ground chuck meat with no fillers or binders.  Charbroiled to order, people cannot get enough of the sandwiches such as the Nom Nom Burger with garlic, bacon, grilled onions, and Swiss cheese or the Kilauea Fire Burger with bacon, cheddar cheese, crispy onion rings, and the Kilauea Fire BBQ sauce or perhaps even the racy Volcano Burger with jalapenos, pepper-jack cheese, and the BBQ sauce.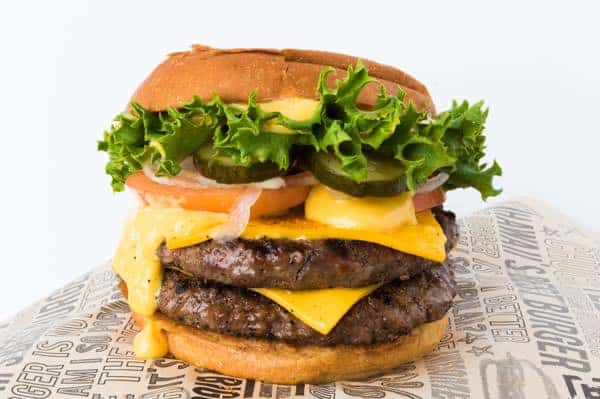 If you are planning on satisfying your grilled cheese craving with a grilled cheeseburger solution, this will do it.
Teddy's Bigger Burgers >> Get a special offer!
WAIKIKI
Location: 134 Kapahulu Ave. 
Phone: (808) 926-3444
Hours: 10am – 11pm Daily
HAWAII KAI
Location: 7192 Kalanianaole Hwy. E124
Phone: (808) 394-9100
Hours: 10am – 9pm Daily
KAILUA
Location: 539 Kailua Rd. #101
Phone: (808) 262-0820
Hours: 10am – 9pm Daily
HALEIWA
Location: 66-111 Kamehameha Hwy., Suite #801
Phone: (808) 637-8454
Hours: 10am – 9pm Daily
3) Jugem
While technically not a grilled cheese sandwich per se, the Crispy Coedo Cheese Curry Bread at Jugem may be a satisfying alternative.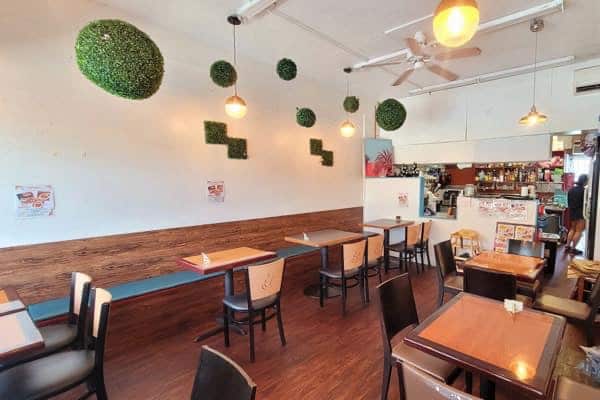 Jugem seeks to make people smile and live happily ever after, and the establishment stands behind its secret original curry roux and recipe.  Coedo, the nickname for Kawagoe, a city in Japan, crafts a delectable snack of curry with cheese with a crispy deep-fried exterior.  These buns will be a snack worth remembering.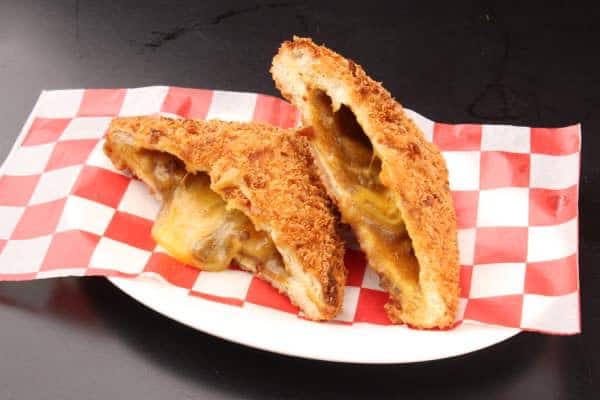 Jugem >> Get a special offer!
1407 S. King St.
10am – 8pm *Closed Tue
(808) 772 – 7654
4) K Street Food
In the lower level of Waikiki Shopping Plaza is one of Hawaii's newest food halls.  One of the tenants at STIX Asia is K Street Food, a casual eatery that combines the popular street food cuisines from Korea under one roof.  While cheeseburgers or even bulgogi burgers may be assimilated into the Korean culture, an equally popular street food item is the K Rice Dog.  A battered hot dog and gooey mozzarella is encrusted in bread crumbs before being deep-fried.  While it is not in sandwich form, the fact that a bready exterior encasing a savory sausage with stringy cheese makes this an ultimately Instagrammable food item.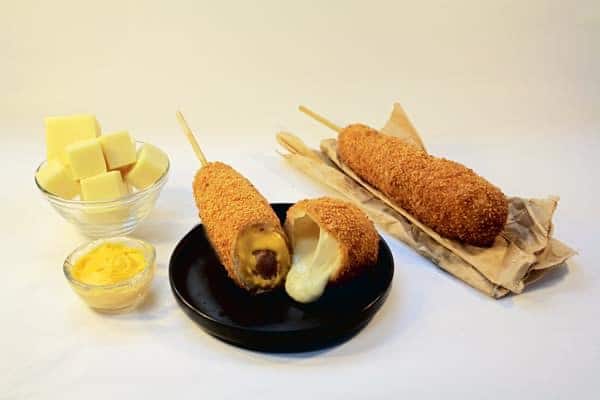 K Street Food >> Get a special offer!
Location 1: Waikiki Shopping Plaza
2250 Kalakaua Ave. (LL 100) STIX ASIA WAIKIKI
Location 2: 138 Uluniu Ave.
Hours:  Open Daily 11am – 10pm
Phone : (808)927 – 6077
So as our consumption of food is being driven more about showing off the aesthetic and mouth-watering appeals of the dishes we eat via social media, grilled cheese sandwiches and other gooey presentations are among the most response-driving posts.  And if the financial predictions about slipping into a recession come true, we may be better prepared to resort back to "depression sandwiches" with these alluring casual bites.