Gyu-kaku Waikiki is part of a wildly popular yakiniku chain from Japan, which now boasts over 700 locations worldwide.  You'll be comfortable at a Japanese yakiniku restaurant if you've ever had  Korean BBQ.  The dishes mainly consist of thin strips of meat cooked by diners on a hot grill built into the table.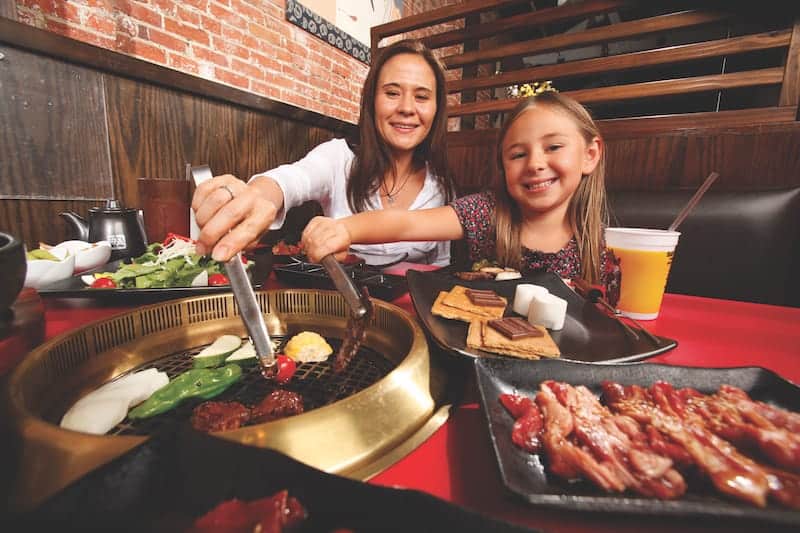 Yakiniku literally means "grilled meat", and is a very popular dish in Japan. Once seated, customers can order cuts of meat ala carte, or opt to go with any number of combo dishes Gyu-Kaku Waikiki has preselected.  Whenever we visit, we always run into tourism industry acquaintances which speaks to the good value of their offerings.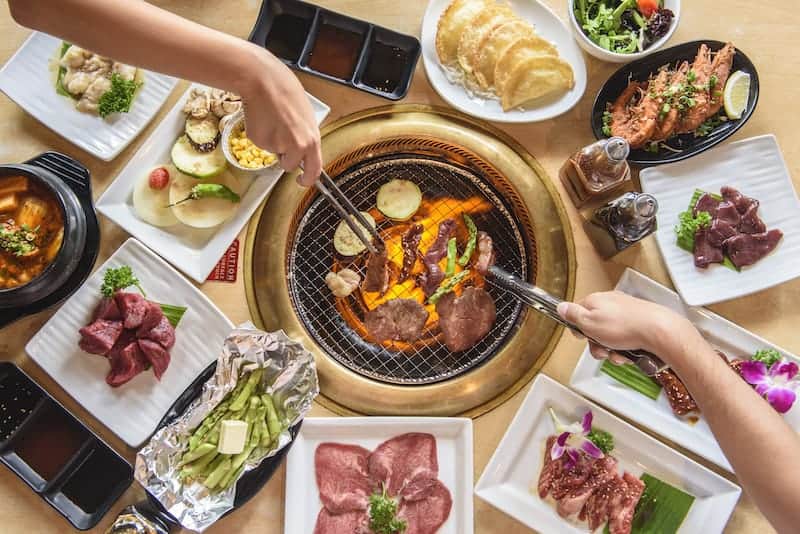 If you've ever worked a back yard grill, grilling yakiniku is a cake walk. Just grab the meat with the supplied tongs, and get grilling! The meat is precut into bite size portions so they cook up fast.  Once the meat is done, dip into one of the several dipping sauces before enjoying. Protip – if your grill gets too hot, ask the staff to lower the temperature for you. If you get burned buildup on the grill, you can always ask the staff to change out the removable grill top.  Grabbing, cooking, and serving the meat to friends and family always makes for great involvement and conversation as well.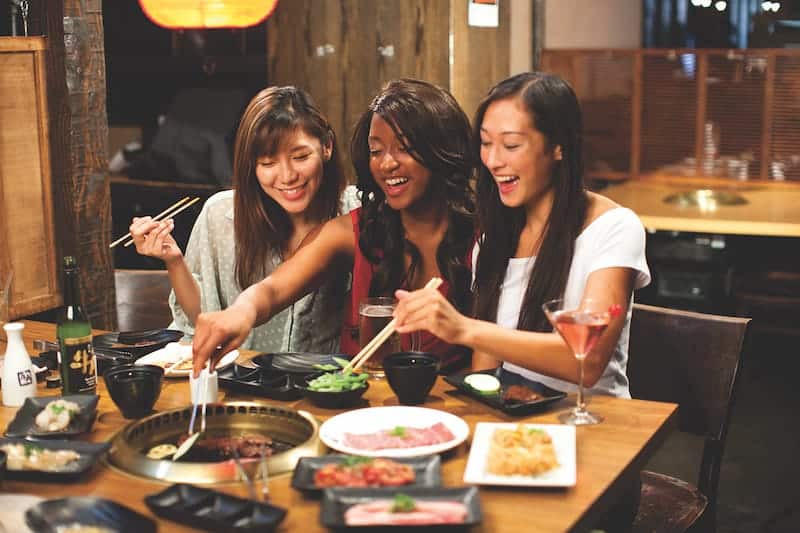 Gyu-kaku Waikiki has some fantastic lunch options and deals, which typically feature 3 or 4 proteins, a rice, soup, salad, and drink.  After a morning of beach activities, grilling up some tasty meat and washing it down with a cold beer is very pleasurable. 
To get to Gyu-Kaku Waikiki from Kalakaua Ave, look for the iconic blue-roof of the Louis Vitton store. Turn onto Lewers street away from the ocean and towards the Ala Wai canal, and you'll find it on the right hand side. 
Locations
<Waikiki>
307 Lewers St. 
Open Hours: 11:30am-11:30pm Daily 
Happy Hour: 11:30am-6:30pm & 9:30pm-Close Daily 
Phone: (808) 926-2989
<Kapiolani> 
1221 Kapiolani Blvd. #105 
Hours: Sun-Thu 11:30am-10:30pm
              Fri & Sat 11:30am-11:30pm
Happy Hour: Monday All Day 
Tue-Sun 11:30am-6:30pm & 8:30pm-Close 
Phone: (808) 589-2989