With nigiri and makizushi (roll sushi) under your belt figuratively and maybe literally, you may now be ready to explore other incarnations of sushi.
Narezushi 
Commonly prepared prior to the 18th Century when refrigeration was non-existent, Sushi was served fermented after about six months using salted and drained fish and rice.  Considered the ancestral or traditional form of sushi, Narezushi comes from Fukuoka and is dated to about 1,000 years ago.  A type of fish called funa was often used but has since expanded to incorporate other types of fish. Kyoto and Shiga Prefectures still serve the sour, almost cheese-like flavored today.
Oshizushi
Hailing from the Kansai region of Japan, oshizushi is sushi that features vinegared rice pressed together with toppings in wooden mold or box.  The sushi is removed from the mold, and then sliced.  Sometimes the sushi is made with multi-tiers, giving it a beautiful layered appearance when cut.  Also referred to as hakozushi (boxed sushi), the slices are often topped with konbu or sea kelp.  
Battera
Battera is the boat-shaped oshizushi often made from saba and topped with konbu.  The sushi gets its name from the Portuguese word for boat.
Masuzushi 
From the Toyama prefecture of Japan comes Masuzushi, another type of oshizushi, which showcases trout, or masu, sashimi over a bed of vinegared rice.  Often part of an ekiben (bento box meal found in train stations) in Toyama, Masuzushi sits on a bed of bamboo leaves and resembles a pie, sliced and served as wedges.
Kakinohazushi
Wrapped in persimmon leaf, kaki no ha, this type of oshizushi is popular in the Kansai area of Japan.  Hailing from the Nara Prefecture, the sushi's  persimmon leaves have tannins which act as natural preservatives, so it can last up to several days without any refrigeration.
Chirashizushi 
Labeled "scattered sushi," Chirashizushi is a bowl of vinegared rice topped with toppings loosely strewn over it.  It is popular during the Hinamatsuri, or Festival of the Dolls on March 3, and is blanketed with fish, seafood, egg, and sometimes vegetables.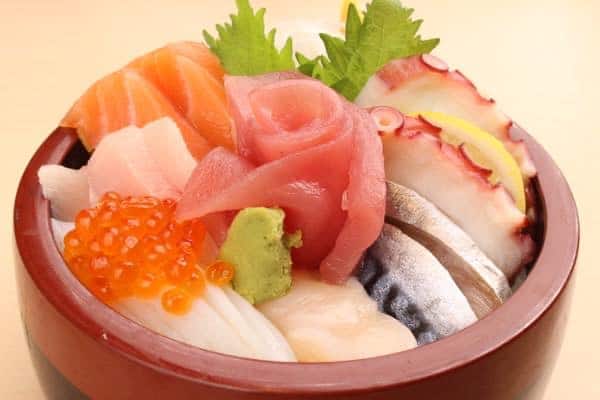 Kaisen don 
Kaisen don puts a spotlight on seafood, or kaisen.  This type of lavish chirashi is often served at restaurants, showcasing beautiful slices of sashimi over hot rice.
Barazushi / Gomoku Sushi / Mazezushi
These three are often used synonymously.  They are humbler versions of chirashi that incorporate fish, seafood, and/or vegetables cut into pieces, and many are made at home parties to celebrate a special occasion.
Gomoku Sushi, in particular, mixes the vinegared rice with a variety of five ingredients, as designated by "go" which means "five."  That may include shiitake, carrots, fish cake, seafood, soy-simmered gourds or kanpyo, vinegared lotus roots.  
Sakazushi 
In Kagoshima, Sakazushi replaces out the vinegar in the rice with a sweet local liquor from Kyushu, giving it a more regional twist.
Mushizushi
Mushi means to steam, so Mushizushi consists of vinegared rice topped with steamed fish.  Native to Osaka, and traditionally served at kabuki performances or family gatherings, this rare discovery, even in Japan, typically contains shiitake, chopped anago, chestnuts, shrimp, and/or cuttlefish, topped with seaweed and scattered with ribbons of cooked egg.  Unlike most of its other sushi cousins, Mushizushi is served hot, making it a preferred meal during colder seasons in Kyoto and Osaka Prefectures.
Inarizushi
Named after a Shinto god, inarizushi takes the skin of deep fried tofu, also known as aburaage, and fills it with vinegared rice.  It is called agesushi or fried sushi, and in Hawaii, cone sushi.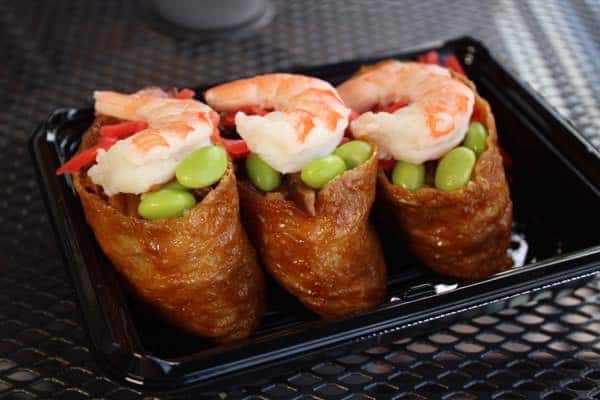 Chakinzushi 
A variation of inarizushi is chakinzushi, but instead of the deep fried tofu, the pouch is an omelette made by mixing eggs, with sugar and mirin.  This type of sushi is popular during Girls' Day in March.  
While most of these types of sushi are not readily found in restaurants, some casual eateries and sushi bars do serve a few of these dishes.  Here are a few places you may discover them.
1) Sushi Izakaya Gaku
The sushi bar and izakaya along King Street serves battera on a seasonal basis.  While the saba mackerel is available year-long, the peak seasonality falls between fall and spring.  Also available is the bara chirashi which incorporates the bounty of seafood, such as maguro, shrimp, ikura, uni, salmon, and more.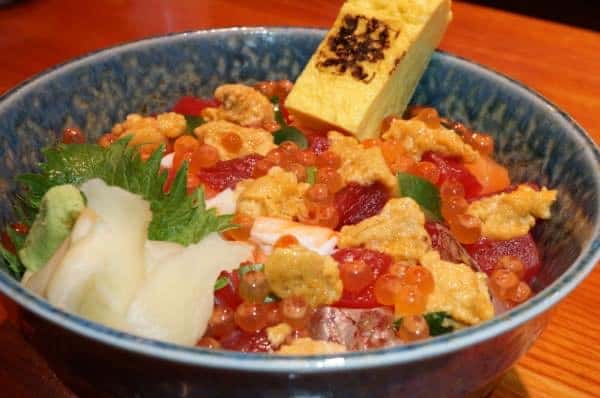 Sushi Izakaya Gaku
1329 S. King Street, Honolulu, HI
(808) 589-1329
Mon-Sat, 5:00 – 9:30pm
2) @sushi
Chef Atsushi Kumagai at @sushi produces an amazing oshizushi as part of his $150 omakase.  While it looks like battera because it is comprised of similar ingredients but prepared slightly differently, this one in particular takes mackerel and presses it onto the rice before adding a dab of minced scallions with ginger veiled by a thin veneer of konbu.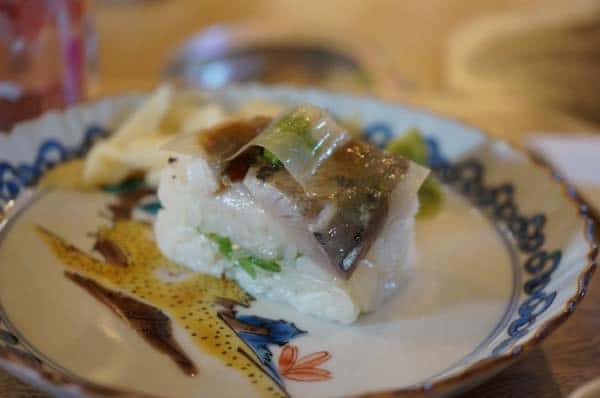 @sushi
500 Ala Moana Blvd. #2, Honolulu, HI
(808) 358-4593
Tue-Sat, 11:30 – 16:00
3) i-naba
The soba specialty restaurant i-naba serves a few combinations that incorporate these other types of sushi presentations.  A battera and soba set features marinated mackerel sushi with konbu seaweed served along with a half-sized cold zaru soba or hot kake soba.  A bara chirashi and soba combination also features the chopped sashimi over sushi rice with the half-sized soba, and a chirashi bowl and soba meal features a kaisen don that leaves the seafood unchopped over rice, along with the soba.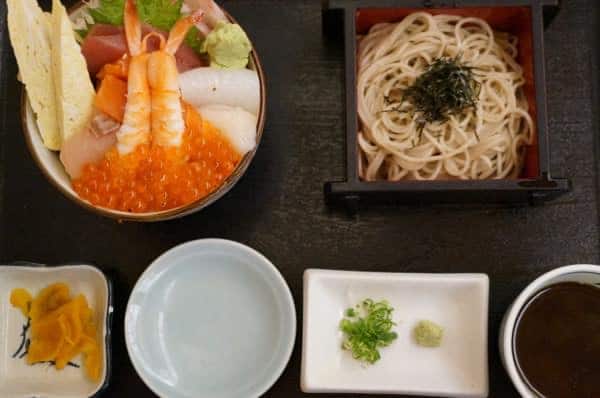 i-naba
1610 S. King Street #A, Honolulu, HI
(808) 953-2070
Thu-Mon, 11:00am – 2:00pm, 5:00 – 8:00pm
4) POKE FIX HAWAII
Tucked away on a side street in Waikiki is POKE FIX HAWAII which specializes in customized poke bowls.  In addition to the poke bowl selection which offers a variety of poke, such as ahi shoyu, spicy ahi, spicy garlic shrimp, and shoyu furikake salmon, POKE FIX HAWAII is able to make inari sushi with advanced notice.
Currently, those Inaris have to be pre ordered. They will start to serve Inaris everyday in one month.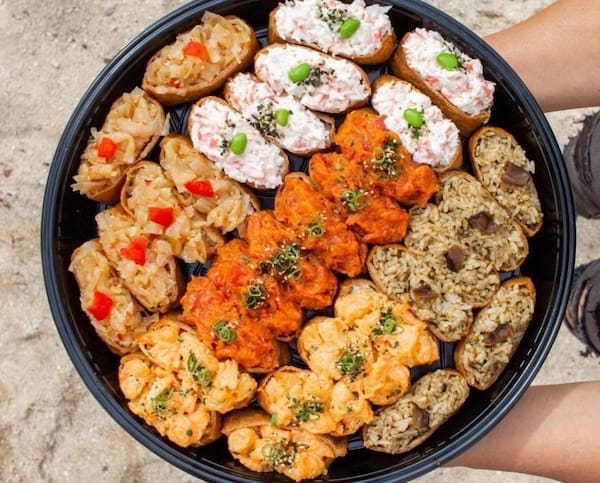 POKE FIX HAWAII >> Get a special offer!
334 Seaside Avenue #108, Honolulu, HI
(808) 807-7999
Sun, 11:00am – 8:00pm; Mon-Sat, 11:00am – 7:00pm