With ideal weather in Hawaii featuring soft kisses from the sun tempered by gentle tradewinds, the spring is an ideal time to enjoy meals outdoors.  Whether it be a quick bite at the beach between swim sessions or a relaxing picnic on a sprawling lawn at one of the many parks around Waikiki, here are a few items worth seeking:
・Asato Family Shop Truck
The artisanal "local kine" sherbert shop that crafts icy treats inspired by Hawaii flavors that transport locals to their childhoods, Asato Family Shop features unique offerings as green river (lemon-lime), yuzu, umeboshi (Japanese pickled plum), ramune (Japanese cider), cotton candy, sakura, vanilla li hing float, and more.  The shop near Downtown Honolulu often has lines wrapped around the corner just for customer pre-order pickups, but for those wanting to enjoy them in Waikiki, there is now a scoop truck parked near Fort DeRussy at 2057 Kalakaua Avenue from Tuesday through Friday, 11:00 a.m. to 5:00 p.m.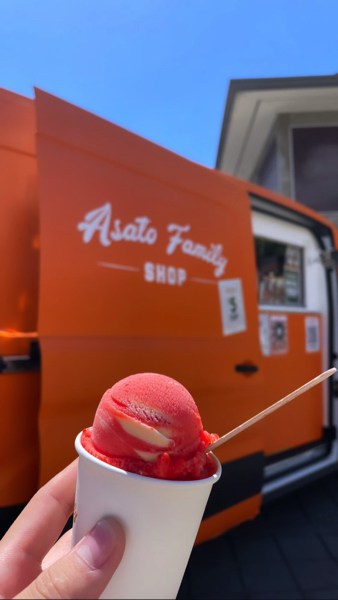 Asato Family  Truck >> Get a special offer!
2057 Kalakaua Ave.
Hours: 11am – 5pm (Tue-Fri)
・Champion's Steak & Seafood
Boasting "Big flavors in a box," Champion's Steak & Seafood offers high quality juicy steaks at incredibly reasonable prices.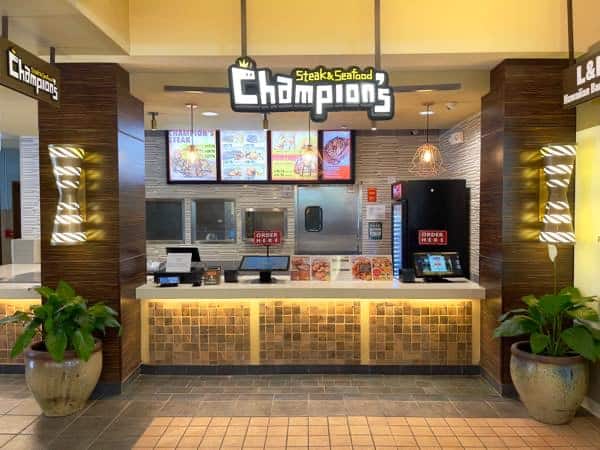 Whether it be a New York striploin paired with succulent garlic shrimp, teriyaki chicken, or deep-fried mochiko chicken, or a ribeye steak finished off on the grill, the boxed meals available at Royal Hawaiian Center's Paina Lanai food court on the second floor make it convenient to grab a hot plate before heading to the beach.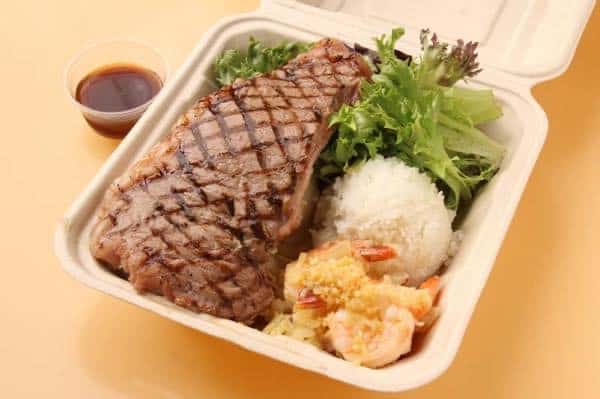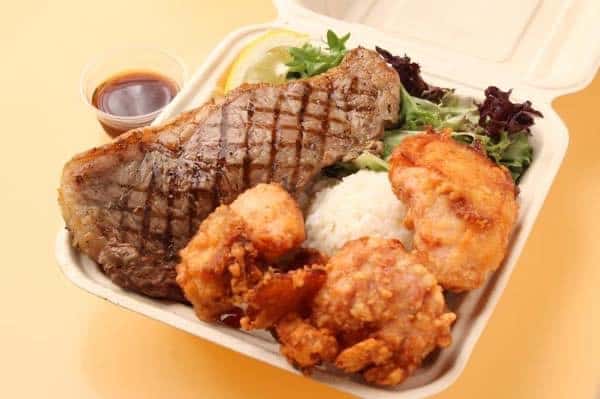 Champion's Steak & Seafood >> Get a special offer!
2201 Kalakaua Ave. Royal Hawaiian Center Building B (Level 2) *Paina Lanai Food Court
Hours: 10am – 9pm daily
(808) 921-0011
・Komedokoro M's
A hole in the wall located in Eaton Square, within walking distance from the Hilton Hawaiian Village, is Komedokoro M's.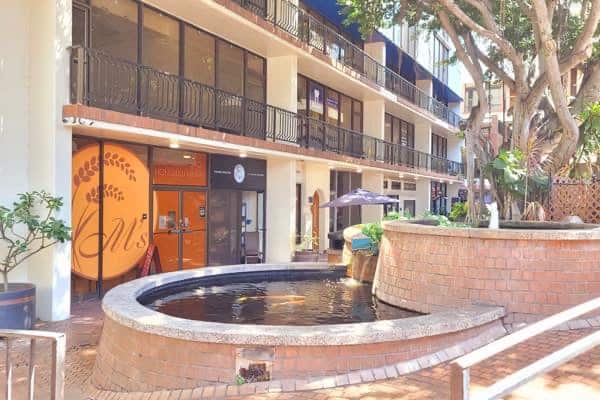 This modest shop specializes in musubi (rice balls) with a variety of fillings such as tuna, spicy tuna, salmon, mentai mayo (spicy cod roe with mayonnaise), Spam, unagi and egg, and much more.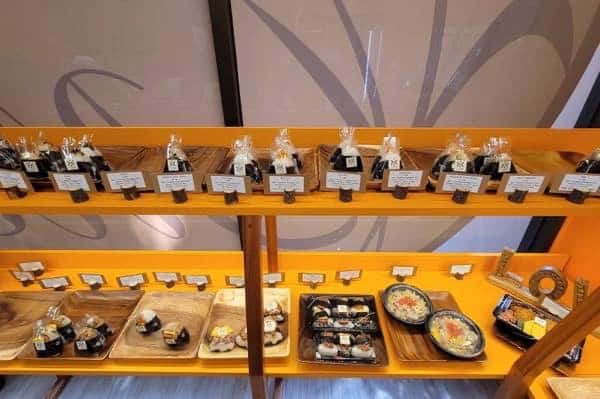 There are also simple sushi and poke bowls, as well as curry rice plates that are also very accessible for those on the go.  For the casual picnicker, load up a bunch in a bag and feast for a bargain, as musubi start at around $2, with other bowls and plates going for about $7.49, and bento boxed lunches as affordable as $5.99.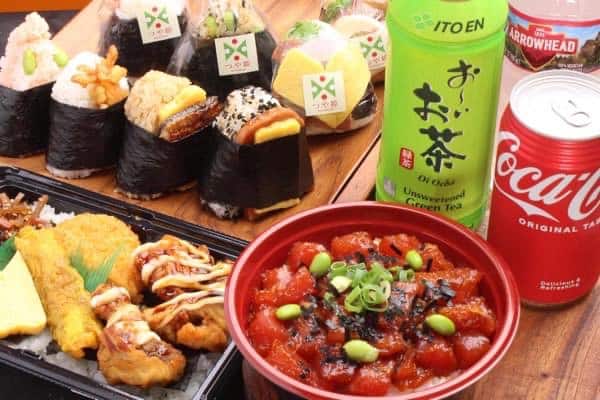 Komedokoro M's >> Get a special offer!
438 Hobron Ln. Ste 107 *Behind Food Pantry
Hours: 10am – 2pm (Mon – Fri) *Closed Sat & Sun
(808) 913 – 2021
・Tapas Kitchen
This adorable monster-themed Mexican and Hawaiian food truck nestled one street behind Kalakaua Avenue on Lauula serves festival plates of quesadillas, tacos, nachos, and birria.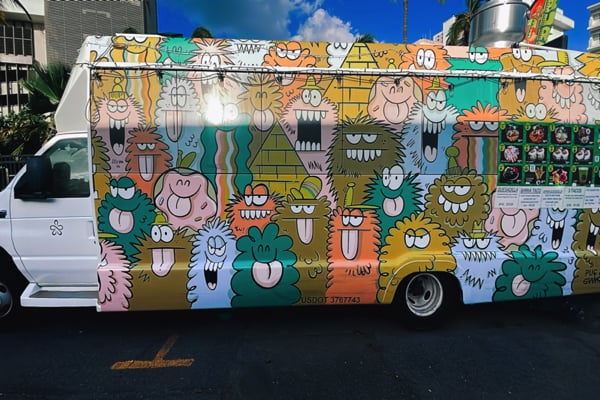 Throw in some fried calamari or fish fries and make it a meal worth transporting to a nearby park. On Tuesdays, the truck features a taco Tuesday special with 3 tacos for just $10, so if the timing of your picnic is right, you can fill up on beef/carnitas, chipotle chicken, or pork belly tacos and take a little siesta under a shady tree.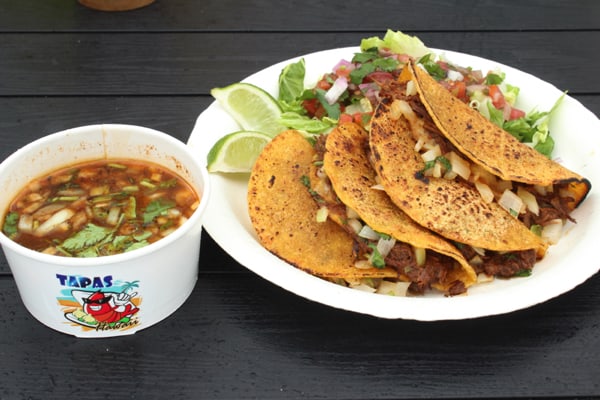 Tapas Kitchen >> Get a special offer!
2152 Lauula St
Hours: 3pm – 9pm (Thu – Mon), 12pm – 9pm (Tue)  *Enjoy Taco Tuesdays!
(808) 348 – 7972
・Tucker & Bevvy
One of the most known picnic grab-and-go spots is Tucker & Bevvy.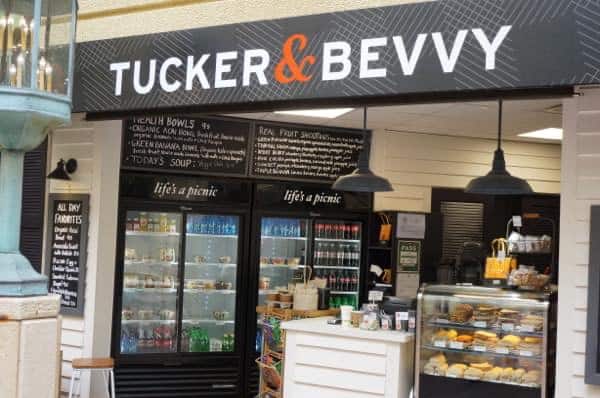 With a location at the Park Shore Hotel and one in the Hyatt Regency Waikiki, getting sandwiches, salads, acai bowls, green banana bowls, and smoothies is simple.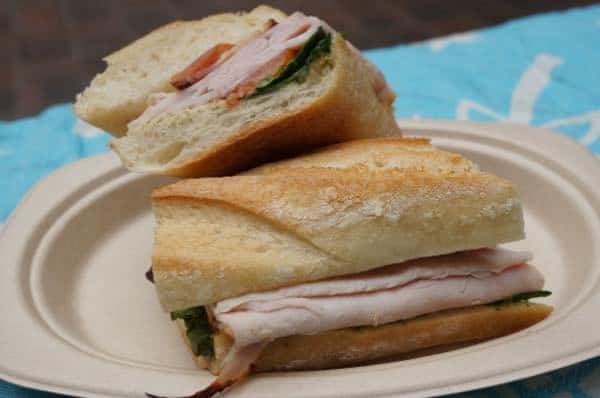 Whether it be an egg salad or curried chicken sandwich or a more glamorous Caprese or chicken pesto panini, Tucker & Bevvy can pack it with some picnic sides as hummus, smoked Gouda dip, fresh cut fruit, crudites, or even a S'Mores cookie so you can hike up Diamond Head to treat yourself a meal set to a spectacular backdrop.
Tucker & Bevvy
・Park Shore Hotel
2586 Kalakaua Avenue
Phone:  (808) 922-0099
Sun-Sat, 6:30am – 3:00pm
・Hyatt Regency Waikiki
2424 Kalakaua Avenue, Honolulu, HI
Phone:  (808) 922-2088
Sun-Sat, 6:30am – 3:00pm
Turn your life into a picnic and zhuzh things up with some of these fabulous foodie finds in Waikiki.  Part of any good vacation is sometimes a vacation from that vacation, and the rejuvenating effects of just relaxing in the shade of some monkeypods or lying on the beach as you listen to the gentle rolling of waves may sometimes best be paired with inspired cuisines ideal for an outdoor setting.