Roses, chocolates, and Champagne seem par for the course for any Valentine's Day dinner, and in Hawaii, so is the breathtaking ocean view.  These picturesque venues are preparing a special meal for Valentine's Day or in some cases, for days around the event, keeping the romance alive for more than just one night.  A number of aphrodesiacs are included to ensure the mood stays in full swing.
1) Pesca Waikiki Beach
The seafood specialty restaurant boasting panoramic views of the ocean and Honolulu's yacht harbor is offering a special prix fixe menu to celebrate Valentine's Week.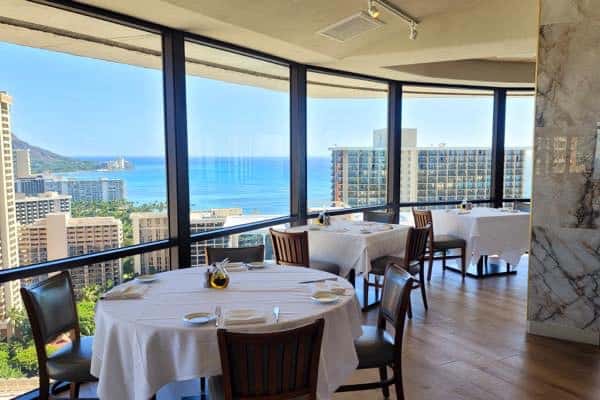 Starting from Sunday, February 12, and ending on Saturday, February 18, guests may savor a $120++ per person menu loaded with seductive offerings including an oyster platter of fresh West Coast oysters and a trio of accents–cocktail sauce, Mignonette, and ponzu jelly.  An arugula fig prosciutto salad glistens with a sweet balsamic glaze and some local Sweet Land Farms goat cheese, whetting the appetite for the entree, a choice between a wild halibut a la Meuniere or grilled USDA prime filet mignon with winter black truffle and red wine reduction.  The meal concludes with a rose red velvet, red velvet cake lacquered with white chocolate and vanilla before being topped with dried Turkish rose petals.
1777 Ala Moana Blvd.
Ilikai Hotel (Sky Floor : 30th Floor)
(808)777-3100
Breakfast : 7am – 11am
Lunch : 11am – 3pm
Happy Hour : 3pm – 6pm at the bar
Dinner : 3pm – 10:30pm
2) Michel's at The Colony Surf
One of Honolulu's iconic oceanfront restaurant epitomizes romance with its multi-course degustation for $175 per person, plus tax and tip.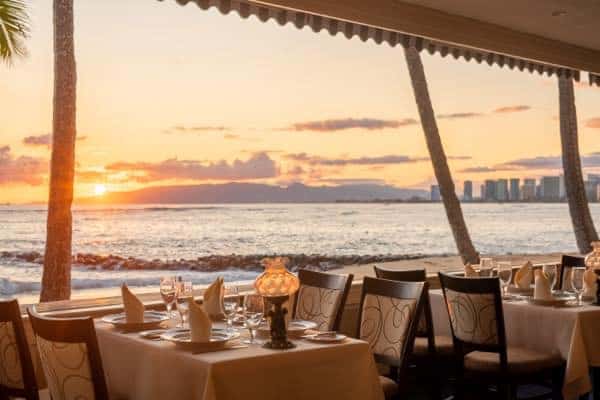 Starting with an amuse bouche of yellowfin ahi tartare with caviar, the culinary journey continues with a choice of creamy abalone and wild mushroom soup or citrus-dressed seared Hawaii raised beef carpaccio on crostini.  Baked oysters Rockefeller, foie gras with a pineapple demi-glace and warm raisin bread, or roasted Kamuela tomato salad with fresh mozzarella and crisp prosciutto spruced up by an aged balsamic vinaigrette prepare the palate for the main course of Michel's steak Diane flambeed in Cognac or a lobster triumph with Maine lobster, gulf shrimp, and diver scallops with a trio of sauces.  Rounding out the meal are two dessert options:  a chocolate coulant with Tahitian vanilla gelato or an orange mascarpone coupe with fresh orange Grand Marnier gelee.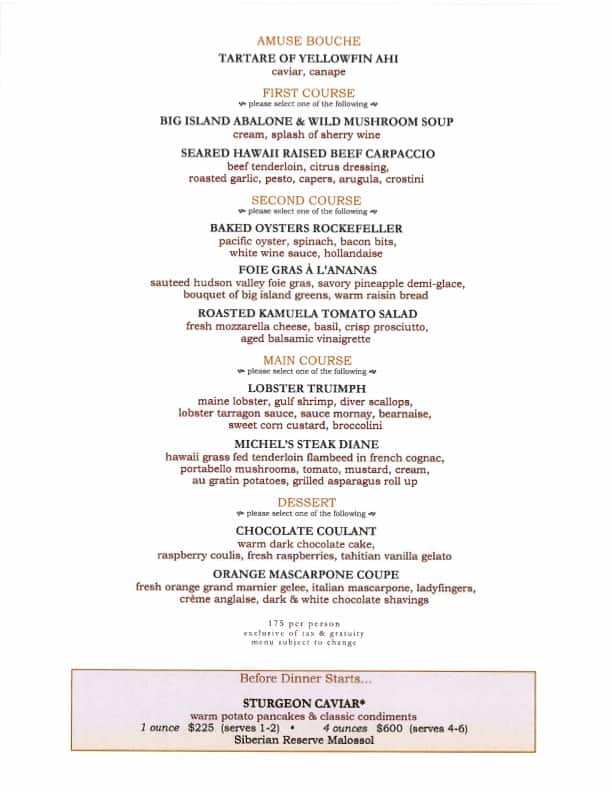 Michel's at the Colony Surf
2895 Kalakaua Ave.
(808)923-6552
5pm – 9pm daily
*Sunday Brunch: 10am- 1:30pm
(Open every first Sunday of the month)
3) Azure
The beachfront restaurant located in The Royal Hawaiian Hotel features a $150 three-course menu for Valentine's Day from 5:30 to 8:30 p.m., with a wine pairing option for an additional $55.  Patrons will be serenaded by a lobster salad with green goddess, a beef Wellington with mushroom duxelles and Madeira jus, and a strawberry short cake with Kula strawberries nestled over chantilly.  Having a meal at The Pink Palace of the Pacific will be certain to make any date feel like royalty.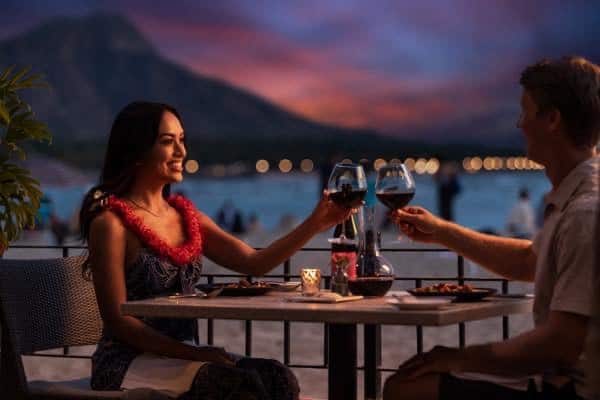 Azure
2259 Kalakaua Avenue, Honolulu, HI
(808) 923-7311
Tue, February 14, 5:30 – 8:30pm
4) Beachhouse at the Moana Surfrider
The historic hotel also known as The First Lady of Waikiki is preparing an elegant 4-course meal with amuse bouche for $135 (with a wine pairing option for $65 more).  Feel the gentle caress of the seabreeze as you enjoy an intimate moment on the veranda.  Your taste buds will be courted by an oyster shooter laced with a rose mignonette and coconut pearl caviar before indulging your senses with a cauliflower vichyssoise sprinkled with a trio of caviar and sorrel.  The entree course encourages sharing with a choice of either a lobster ravioli with saffron butter and nasturtium or wagyu beef with a Maui onion soubise and cabernet jus.  The dessert, a profiterole featuring vanilla bean and chocolate, praline crunch, whipped vanilla cheesecake, and dark chocolate dulce sauce will then leave diners wanting for more, if not each other.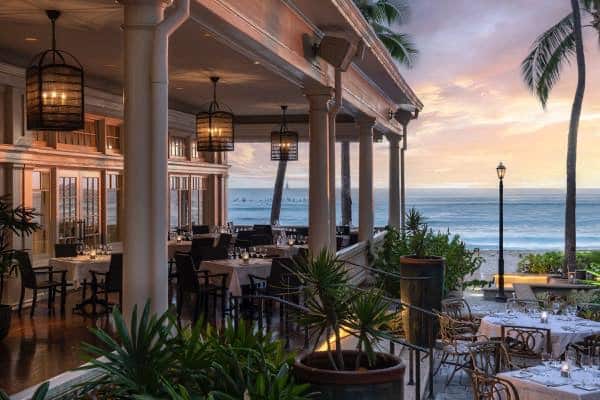 Beachhouse at the Moana Surfrider
2365 Kalakaua Avenue, Honolulu, HI
(808) 921-4600
Tue, February 14, 5:30 – 9:30pm
5) 100 Sails Restaurant & Bar
100 Sails at Prince Waikiki will mystify with its sweeping views of the yacht harbor and a special Valentine's dinner and cocktail menu available from February 13 to 15.  Be swept away by a glass of bubbly or one of the finely crafted cocktails such as the Hibis-Kiss featuring Ketel One vodka, hibiscus, Chambord and lemon or the Flight of Passion with Jack Daniel bonded, Hamakua Coast premium lilikoi, Aperol, and Amaro before settling in to dinner with an optional starter of oysters on the half shell with spicy ponzu, Mignonette, and cocktail sauce.  The $85 dinner turns up the heat with a grilled Romaine salad and yuzu kosho vinaigrette, followed by a beef Wellington with cherry Bordelaise and potato puree married to a half lobster tail with shiso Bernaise and farm vegetables.  Sealing the romance is a chocolate dome concealing a chocolate flourless cake cozying up with a chocolate raspberry cremeux.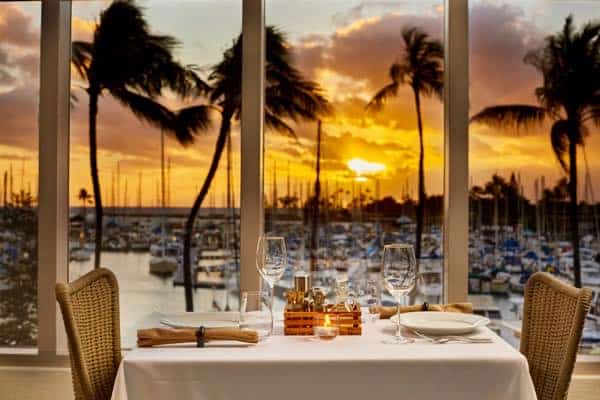 100 Sails Restaurant & Bar
100 Holomoana Street, Honolulu, HI
(808) 944-4494
Mon-Wed, February 13-15, 5:00 – 9:00pm
You can keep Cupid busy in the upcoming days by dining around at several of these restaurants.  After all, why make just one night romantic, when you can have a few?