October just came and went and with the protracted Halloween weekend, it started to feel as though October would last much longer.  Instead, it disappeared in a blink but left behind a plethora of new eateries worth experiencing.  Here is the first part of that long list.
New Openings in Hawaii in October 2022
1) Sundays Waikiki
This food truck made a statement when it opened along Uluniu Street in Waikiki because of its noticeably bright yellow color.  Sundays, now located in the space across from the surf shop Moku, serves a roster of delectable burgers, including the original DA OG Burger, Big Kahuna with bacon and pineapple, and other generously-portioned burgers to satiate any large appetites.  Barbecue plates are also available for those seeking meat with rice.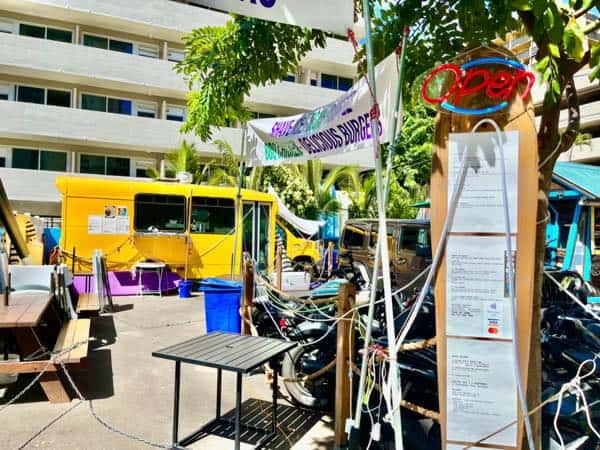 Sundays Waikiki
138 Uluniu Ave, Honolulu, HI
8:30am – 12:00 midnight
2) Sabrozon Mexican Kitchen
Sabrozon Mexican Kitchen is now open in the food truck area along Seaside Avenue in Waikiki near Ross Dress for Less.  Classic Mexican fare including street tacos and burritos are prepared with seasoned meats, pico de gallo (salsa), and cilantro.  Other items including the fried chimichanga, burrito bowls and plates, and Sonora-style de la parilla fajitas with marinated meat are available alongside a few more Cali Mex dishes as Baja Tacos with beer-battered cod or grilled shrimp and a California Burrito with steak and cheese showcase a diversity of flavors.  Consider taking some out and enjoying them on the beach, or just getting a quick bite at the tables fronting the truck.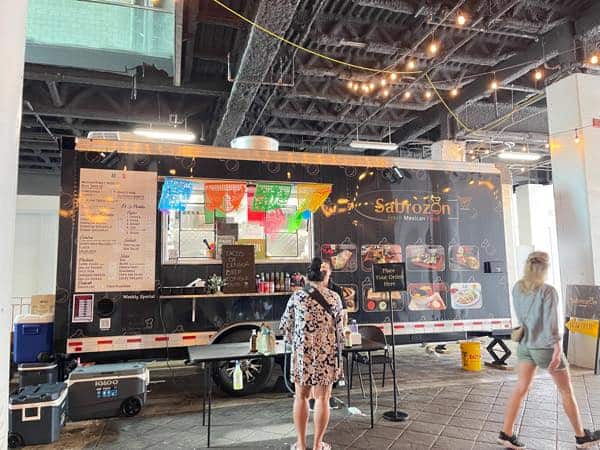 Sabrozon Mexican Kitchen
325 Seaside Ave, Honolulu HI
Tuesday – Saturday 11 am – 8 pm
(808)482-9495
http://sabrozonmexicanfood.com
3) Chick-fil-A
Hawaii witnessed its first ever Chick-fil-A, which opened in the Makai Food Court in Ala Moana Center! The fast food chain out of Georgia specializes in fried chicken, including chicken sandwiches and chicken nuggets, but also non-chicken presentations as the waffle fries.  The anticipated eatery attracted so much attention in Hawaii such that on its opening day, long lines of people got there early to get their first taste of the sumptuous fried chicken!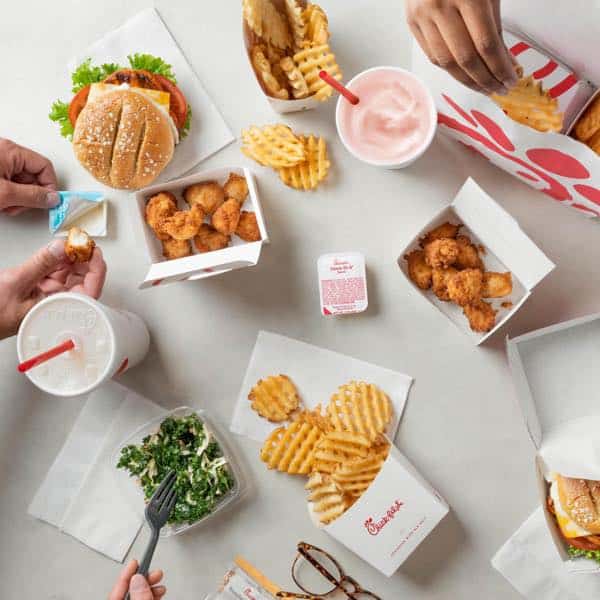 Chick-fil-A
1450 Ala Moana Blvd Honolulu, HI
10 am – 8 pm
(808)202-2701
https://www.chick-fil-a.com
4) Kapiolani Seafood Restaurant
Kapiolani Seafood Restaurant, which opened between Makaloa Avenue and Kapiolani Boulevard, is a Chinese restaurant that places a strong emphasis on seafood.  Located next to Pho Saigon, the restaurant features a variety of menu items, such as stir-fried dishes, fried plates, fried rice, and noodles.  However, many acknowledge their dim sum service is quite good.  Steamed dumplings, roasted pork dumplings, and fried shrimp dumplings are among the must-order items that attract a steady base of regular customers.  The restaurant also offers a wide selection of aromatic Chinese teas, for those to enjoy during and after the meal.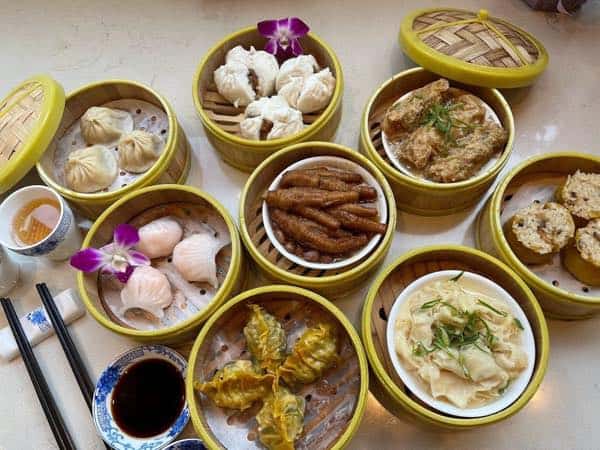 Kapiolani Seafood Restaurant
1538 Kapiolani Blvd Honolulu, HI
9 am – 9:30 pm
(808)946-8688
5) Hnl Poke Company
Craving poke in the middle of the night?  Well, Hnl Poke Company, a food truck serving Hawaiian cuisine, opened across from the Convention Center along Kapiolani Avenue and serves fresh poke bowls until 3:00 a.m. in the morning.   Doled out in cute cups that resemble those you get soft serve in, the poke bowls are among the most popular, as are the poke nori rolls.  However, not everything is poke as there are also steak and shrimp plates and nachos at affordable prices.  This seems to be a popular haunt recently for those who are hungry after a hard night of partying.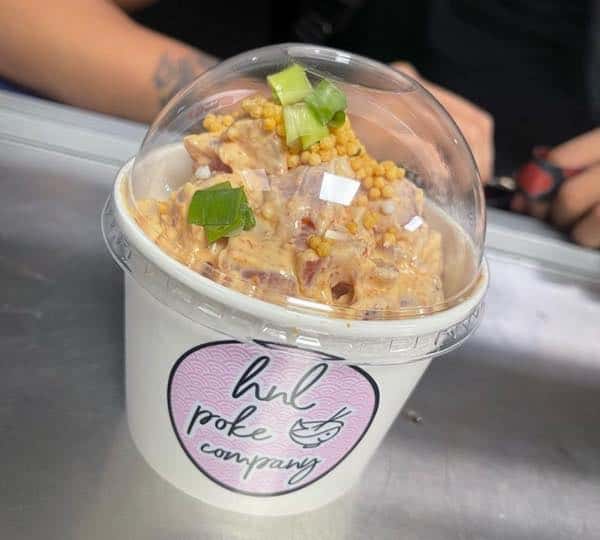 Honolulu Poke Company
1770 Kapiolani Blvd Honolulu, HI
Thursday-Saturday 10 pm – 3 am
(808) 382-9564
https://www.instagram.com/hnlpokeco/
6) Honolulu Hotpot Hale
Hotpot in Hawaii seems unusual as most people tend to dine at these types of establishments when the weather is cold.  However, with Hawaii where summer is year-round, it is curious that hotpot restaurants thrive.  One taste of the alluring broth at Honolulu Hotpot Hale, and you will understand why people are unphased when deciding to dine in front of a boiling pot of soup in which they cook loads of different ingredients.  This new eatery attracts groups—families and friends—seeking their addictive soups which range from the original beef to a spicy version with chiles and Sichuan peppercorns.  A Chinese sauerkraut version takes pickled cabbage and turns it into a savory broth with bright vinegary notes, while a tomato soup comforts with more familiar flavors.  Once the broth is chosen, then patrons simply have to decide how many ½ yard or yards of meat to order as they thinly sliced proteins are laid out on long paddles.  There are also a number of seafood, vegetables, dumplings, fish cakes, and noodles from which to choose.  No matter what is selected, the ingredients are of great quality, with the restaurant even serving premium meats as lamb and A5 wagyu from Miyazaki, Japan.  After you heat up with dinner, a selection of soothing desserts as ice cream and shave ice will cool you back down.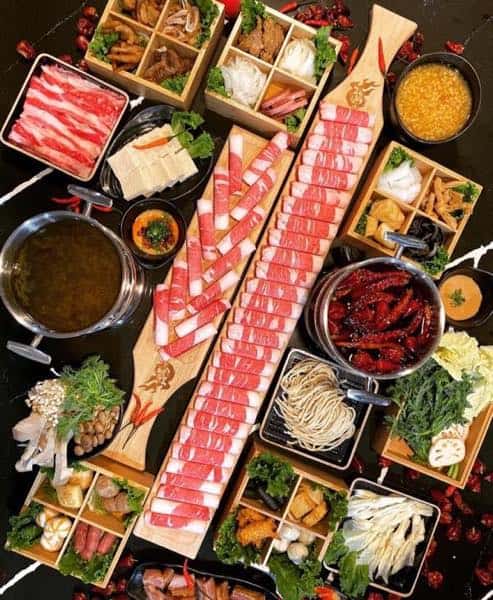 Honolulu Hotpot Hale
1440 Kapiolani Blvd Honolulu, HI
5 pm – 10 pm
https://www.instagram.com/hnlhotpothale/
7) Pho K&A Local Vietnamese Cuisine
The popularity of pho continues to go strong with another Vietnamese restaurant opening in Honolulu.  Pho K&A Local Vietnamese Cuisine on Kapahulu Avenue serves up the usual suspects of Vietnamese dishes such as pho, spring rolls, fried spring rolls, and bahn mi, but the restaurant also offers a few flavors of Thailand.  Steak and papaya salad, vegetarian dishes, and sweets such as tapioca milk and pudding are all very popular, as are the spring rolls, which have the chewy consistency of the sticky rice paper that complements the fresh vegetables and plump shrimp!  Still very new, this restaurant is anticipated to be another hot topic of culinary discussion in the upcoming weeks.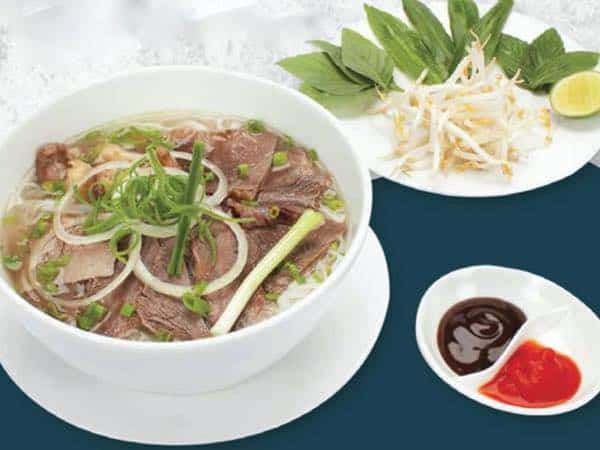 Pho K&A Local Vietnamese Cuisine
760 Kapahulu Ave Urban Honolulu, HI
10 am – 9 pm
(808) 737-8888
https://www.instagram.com/phoknahawaii/
The diverse multi-cultural dining mise en scene continues to be peppered with exciting new perspectives.  While many are out of a food truck, with enough support, those budding establishments may find themselves in a brick-and-mortar that continues to enrich the culinary landscape of Honolulu.  Stay tuned for the second half of the new opening list!