New eateries are sprouting up across a number of food courts, while brand new food halls are also emerging. This is the latest update on the openings for 2020 and 2021, with a sneak peek into what is to launch in 2022.
Here is the second installment in the series. >>To see the first food court feature, click here.
What's new at food courts in Hawaii
3) Kuhio Avenue Food Hall, The Street Food Hall in Waikiki redefined
While the pandemic witnessed the sad closure of The Street Food Hall at the Kuhio Avenue entrance of the International Market Place, Kuhio Avenue Food Hall emerged from its ashes.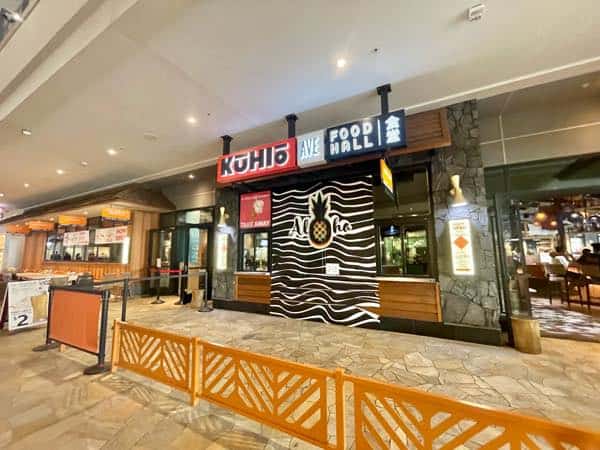 Inaugurating its operations in April 2021, the new food hall maintains the ambiance of its predecessor—a casual dining space offering vibes of live music each evening. However, the family-friendly environment is replete with a number of cool new outlets.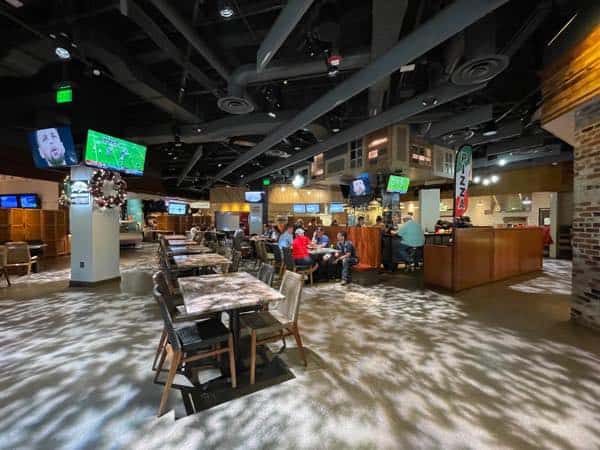 Aloha Pizzeria offers pizze baked to order in a triple-deck oven using freshly made, hand-tossed dough. Leaning toward a local twist on the New York style of pizza, Aloha Pizzeria offers all the usual favorites, including cheese, pepperoni, supreme, Hawaiian with pineapple and ham, and others. Those torn between what toppings to choose may do a half and half, or just order different slices, which are a quarter of a pizza in size. Three pasta sauces are also available, including an Alfredo, marinara, and Bolognese with a choice of grilled chicken or any pizza toppings thrown in to satisfy that craving for American Italian fare.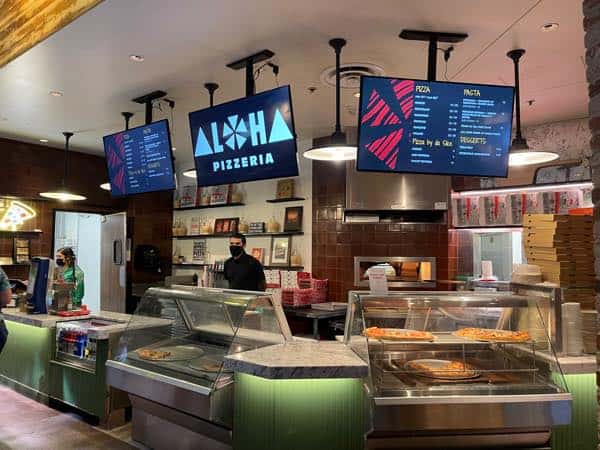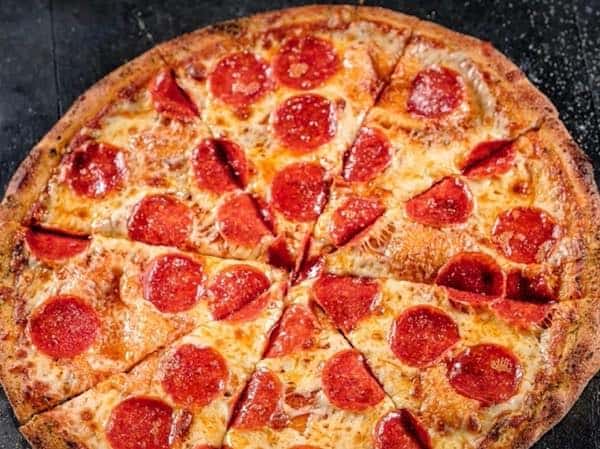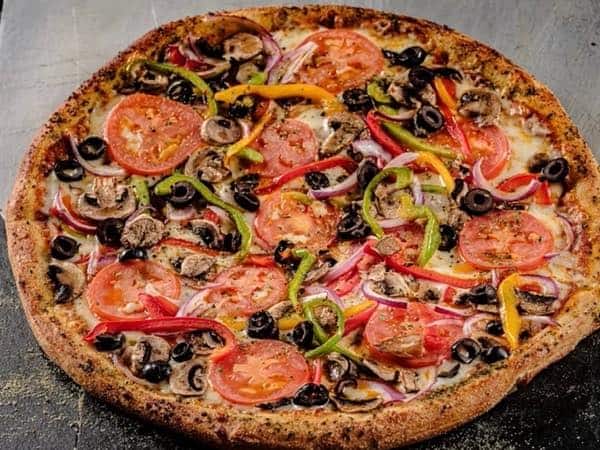 There are also two bars located in the food hall. The first, Beer Bar, featured in the left photo, is frequented by both local and visitors each night for the 20 beers on tap, most of which are local and end with "Brewing Company"—Maui Brewing Company, Kona Brewing Company, Honolulu Brewing Company, Aloha Brewing Company, and Waikiki Brewing Company—among others.  However, what draws in a crowd every night is the Kirin beer special available for just $2 a glass.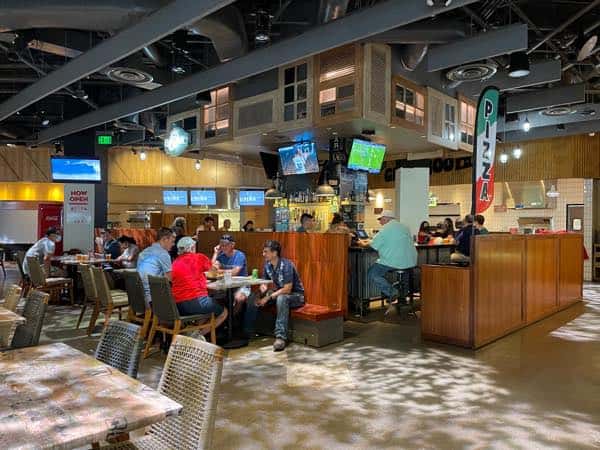 In the photo on the below is the Tipsy Tiki, a tiki bar featuring the classic tropical cocktails as mai tai, pina colada, and a slew of other rum-based drinks. There are also ten types of margaritas from which to choose, making this another popular watering hole.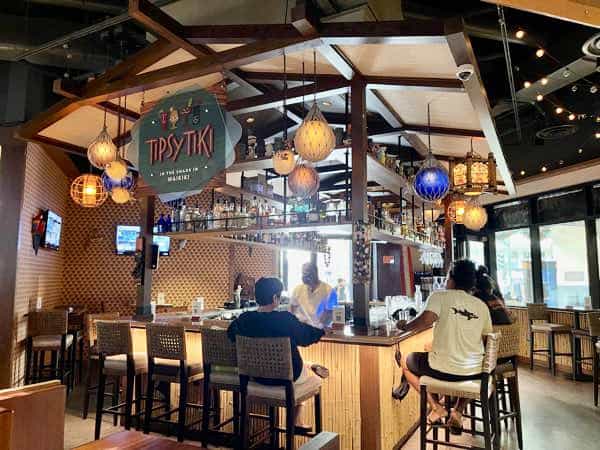 Those seeking to satisfy their sweet tooth may look no farther than Il Gelato for its award-winning gelato flavors, including a number inspired by the islands.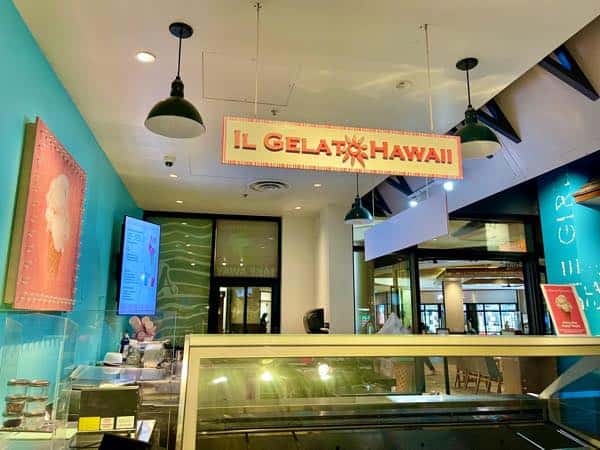 Two of the open restaurants are visible along Kuhio Avenue.
The first is La Peña Cantina, a Mexican restaurant serving up a full Mexican menu of ceviche, burritos, tacos, nachos, quesadillas, and even a carne asada plate.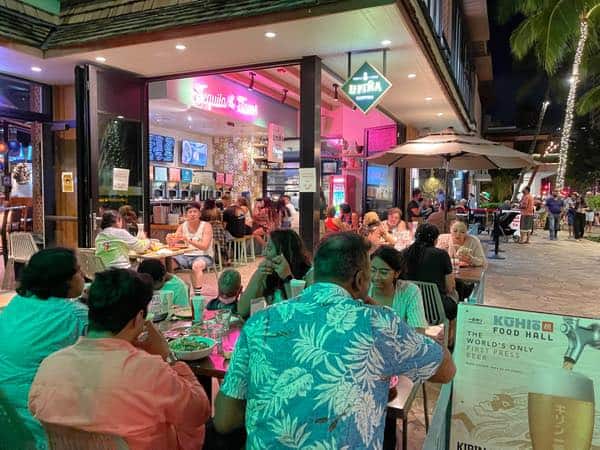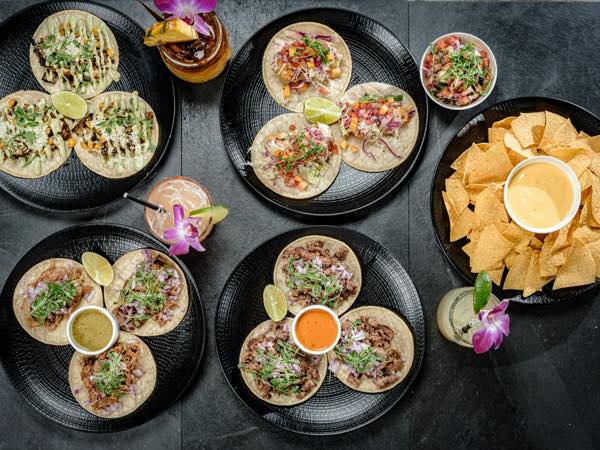 The other is Banzai Burger, which proudly serves voluminous burgers featuring patties made from a custom blend of ground steak trim. The smash burgers are hand-made and served on pillowy brioche buns. Consider a Classic Pipeline burger with cheese, lettuce, onion, and tomato; a Waimea with whopping two patties, bacon, and grilled onions; or a Hawaiian with grilled pineapple and a teriyaki glaze. Or a fried chicken sandwich, local fish sandwich, or portobello burger make great alternatives to the all-beef patties.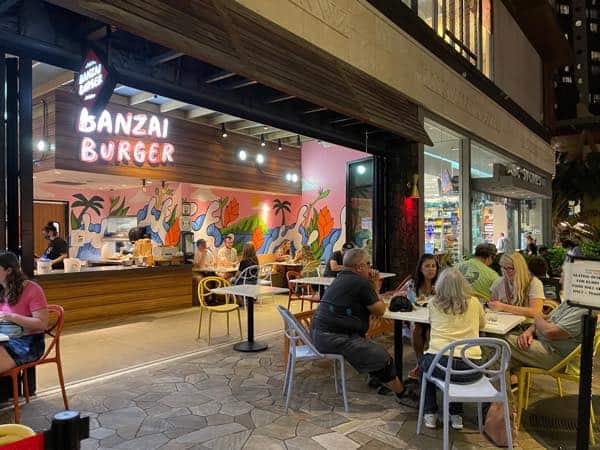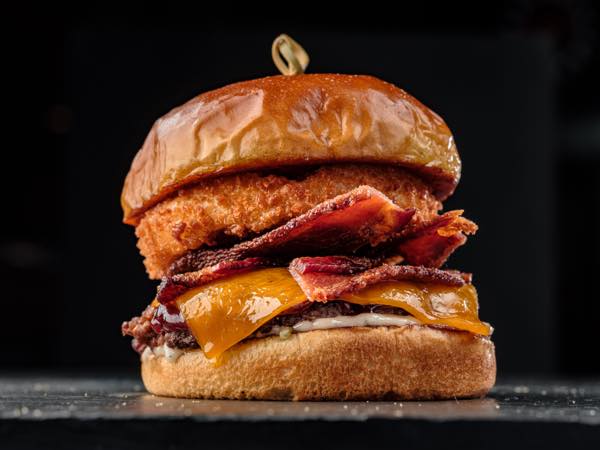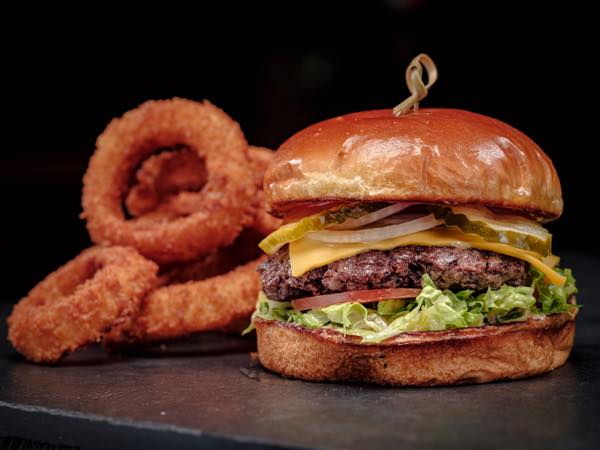 Adding that additional charm is the vibrantly painted mural gracing the walls, making it extremely visible from the street.
The newest addition is the Greek Grotto, a Greek eatery preparing gyros, rice plates and Greek salads. Whether it be a rotisserie-cooked beef and lamb mixture dripping with flavor, grilled chicken or grilled vegetables in a pita wrap, over fragrant basmati rice, or on fresh salad greens, the Mediterranean-inspired flavors are healthy and fulfilling. Throw in a side of hummus or baba ghanoush to complete the experience.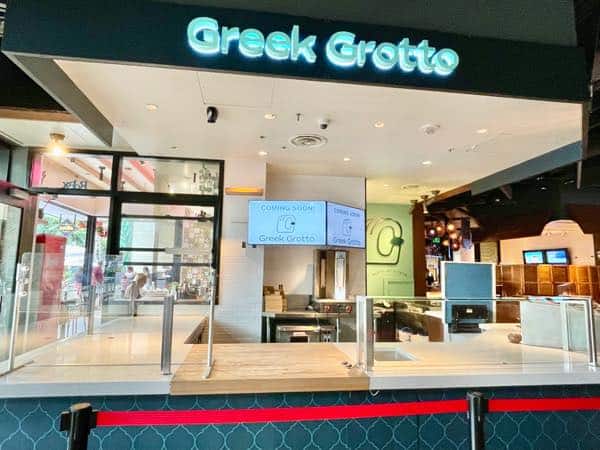 Other new restaurants slated to open in Kuhio Avenue Food Hall include Hawaii Hoagie Co, a submarine sandwich shop; Hashi & Spoon featuring local noodles wading in a choice of four different ramen broths (tonkotsu, shio, miso, and shoyu); Cheehoo BBQ, a Texas-style BBQ concept infused with a Hawaiian sensibility to deliver smoked beef brisket, sausage, pork ribs, North Shore style garlic shrimp, and even kalua pork plates with sides; and Cafe Waikiki, a healthy option serving acai bowls, smoothies, crepes, and bagels.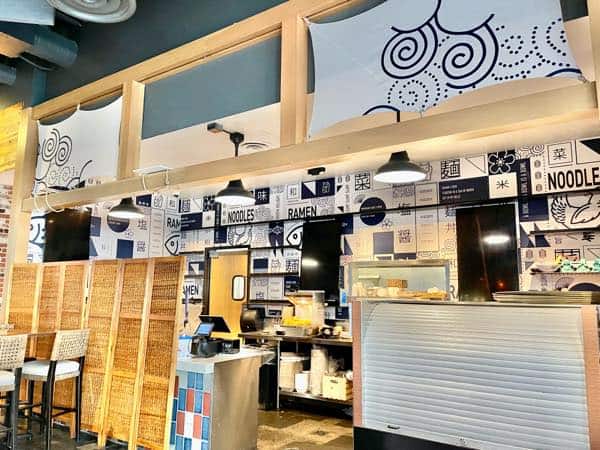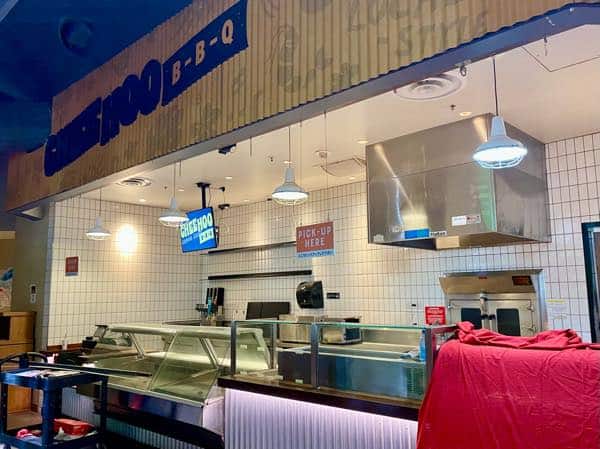 The food hall may be under construction, but here is a glimpse of the exterior of a location brimming with novel choices.
Kuhio Avenue Food Hall
2330 Kalakaua Ave., Honolulu, HI  96815
11am – 9pm
(808)470-3463
https://www.kuhioavenuefoodhall.com/
4) Royal Hawaiian Dining Plaza, a new hidden gem in the heart of Waikiki
Tucked away in a little alley across the Royal Hawaiian Avenue from the old T Galleria by Duty Free is the Royal Hawaiian Dining Plaza. Having just opened in the summer of 2021, there are currently three eateries in operation.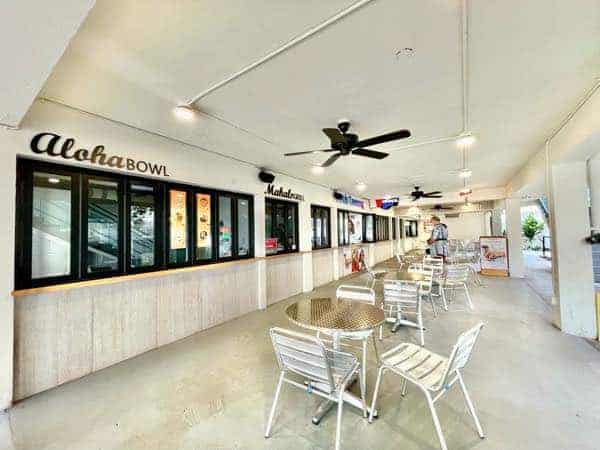 Waikiki patrons are excited about Ezogiku, a long-standing ramen stand that ceased operations in Waikiki a few years ago, but has since decided to re-open in this food court. >>View coupon page.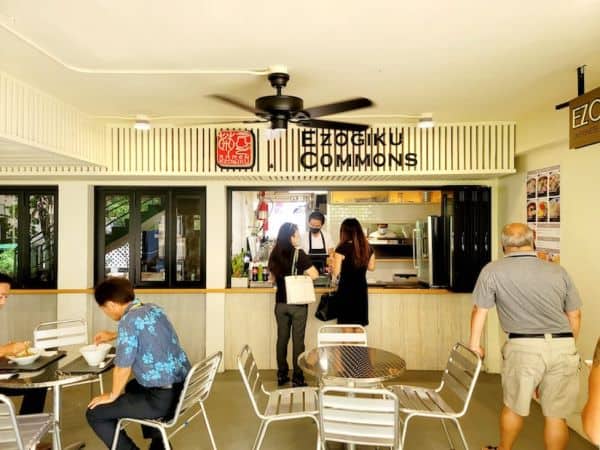 Its specialty is the delectable miso ramen, a broth prepared with a blend of secret spices.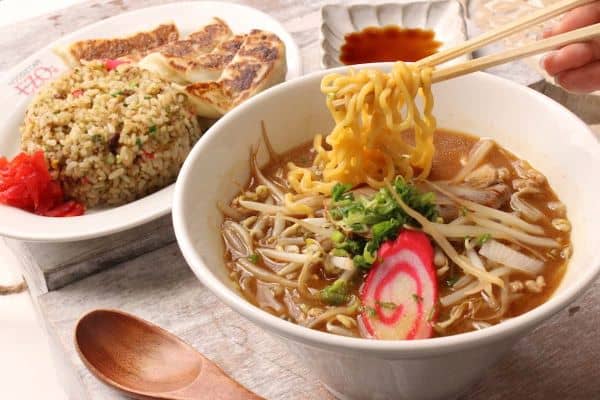 Daily specials, such as discounted ramen and fried rice or mini rice bowl lunch sets, or a jumbo gyoza set meal, rotate daily.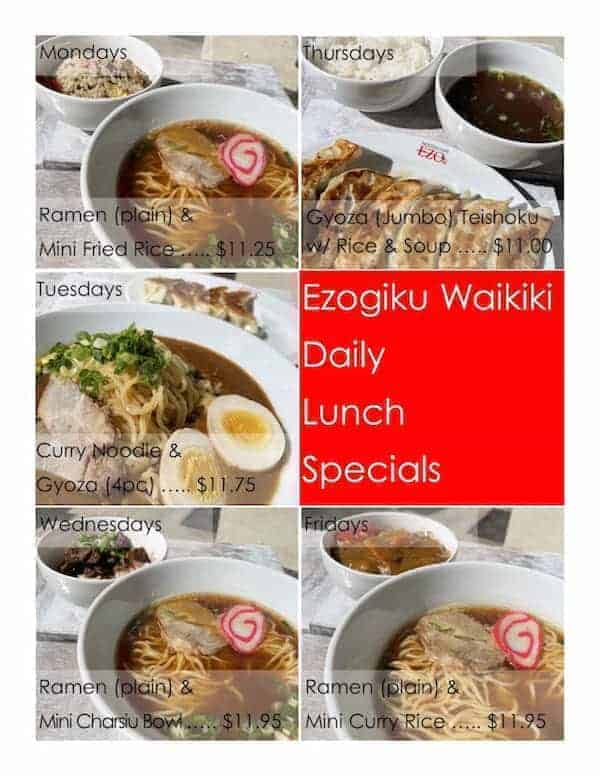 Pictured is the Thursday special, the jumbo gyoza. One bite into the glutinous dumpling wrapper reveals the juicy, pork-based filling, dripping with sapidity.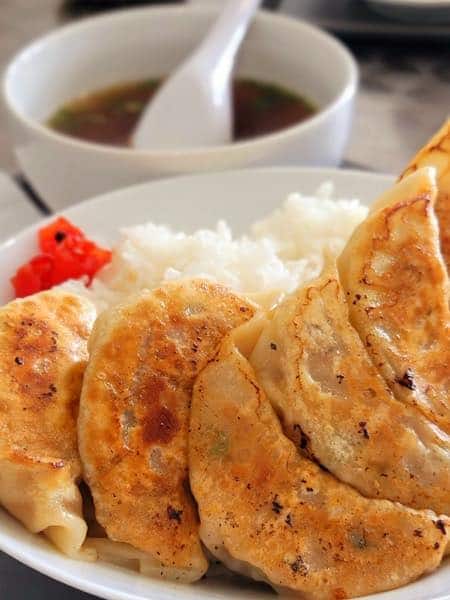 Leo's Taverna, known for its Greek gyros among locals, also serves up the rotisserie-cooked strips of meat over fresh salad greens. >>View coupon page.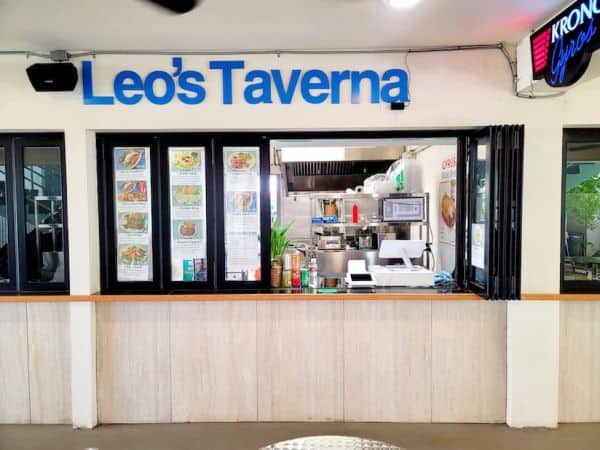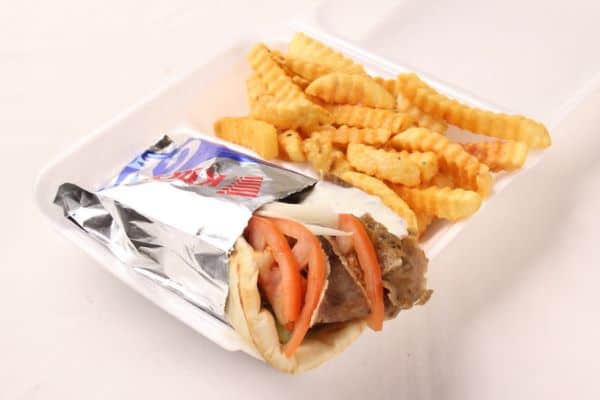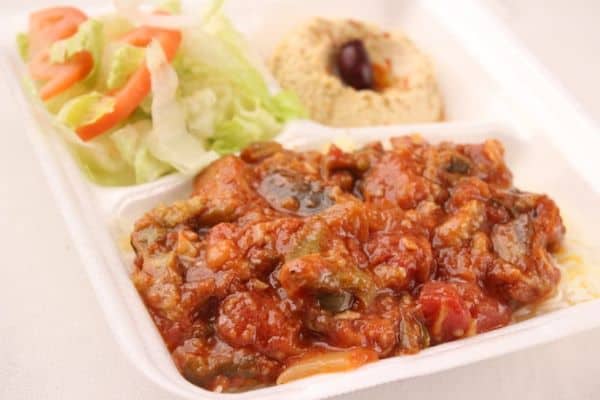 The last is Aloha Bowl, a counter serving an eclectic blend of popular American, Japanese, and local plates, including cheese corndogs, garlic shrimp, curry udon, chicken katsu, teri loco moco, and fried rice bowls.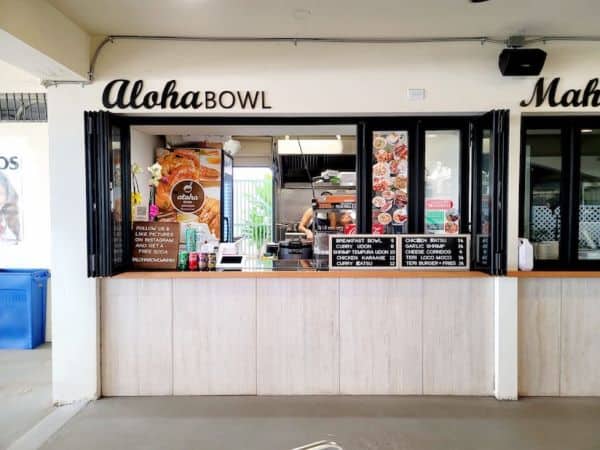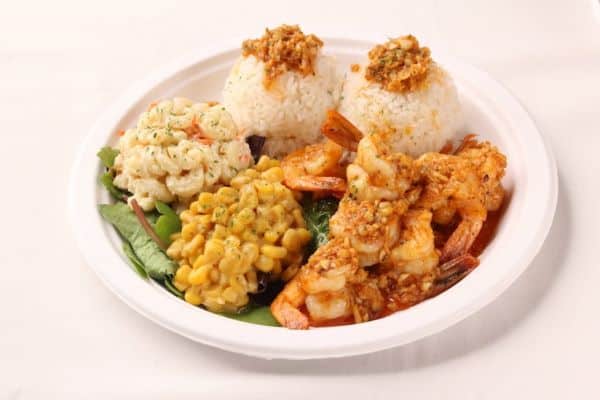 This is just a preview of what is to come, as more restaurants will open in this food court in the upcoming months.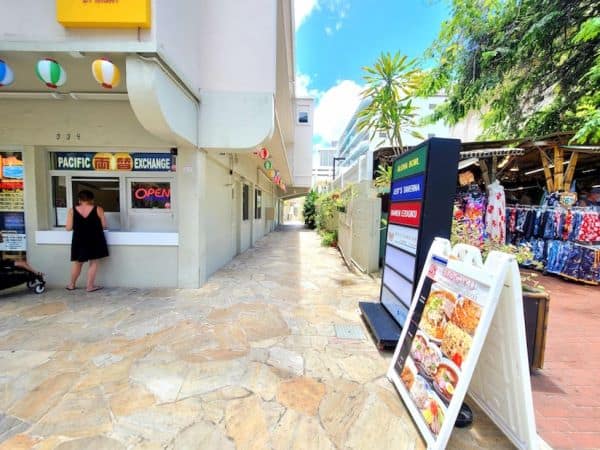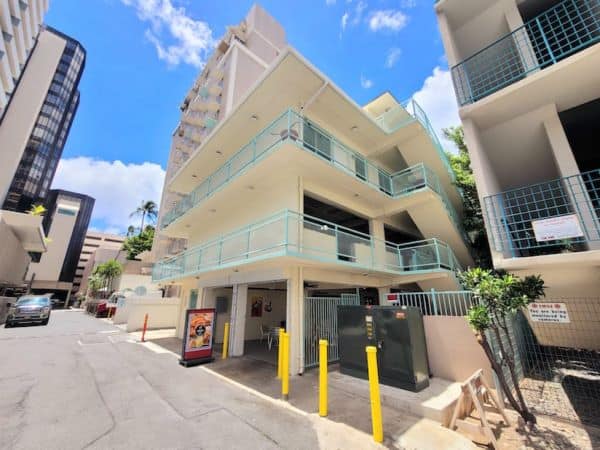 Royal Hawaiian Dining Plaza >>Here is the article that was introduced
2239 Waikolu Way, Honolulu, HI
5) STIX, a brand-new food court opening in the fall of 2022
Another food court highly anticipated to open is STIX, which will assume the space formerly occupied by Waikiki Yokocho, which shuttered in 2020. While many miss the Japanese-themed food alley lined with inspired discoveries as ramen stands, a rice ball shop, and a crepe shop, foodies will rejoice to learn that the new occupant STIX will carry on the torch of an Asian-inspired food hall but will expand its offerings to include fine gastronomy beyond the borders of Japan to encompass a wider range of Asian flavors.  While it is still unknown as to what eateries will open in STIX, diners will simply have to wait until the winter of 2022 to discover for themselves.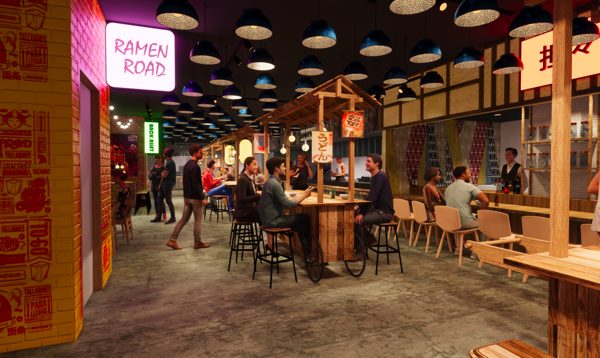 Oh, and for those who already miss the Shirokiya food court at Ala Moana Center which has also closed, there is a rumor circulating that it too may become another food court location for the STIX concept.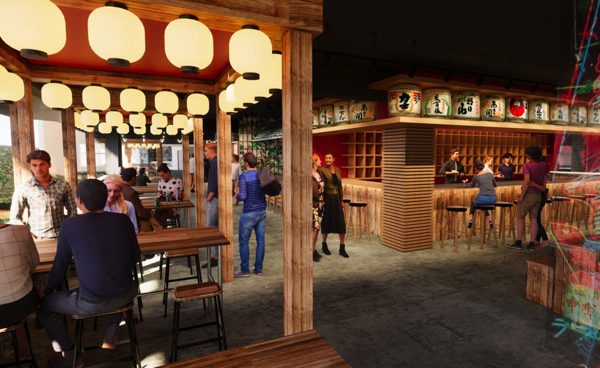 The pace of the food court's evolution in Hawaii is faster than anyone here could ever expect. It is comforting to know that a variety of restaurant-quality cuisine may now be enjoyed in such casual settings at a fraction of the price, especially during these challenging times. And the beauty of the food court is that discerning foodies may all agree to sit at one table in one location, while satisfying their divergent cravings for the international selection of cuisines Hawaii has to offer.