Few dishes rank higher in comfort to Asians than a warm bowl of noodles in soup.  However, the appeal of ramen in particular has stretched beyond the borders of Japan.  Since the Japan National Tourism Organization (JNTO) did a survey in 2009, and found that foreign visitors to Japan considered ramen as the second most satisfying meal in Japan after sushi, the Chinese-originated dish has attracted tremendous attention.  In the United States, a spate of ramen shop openings occurred prior to that in the early 2000s, and ramen seems to have graduated beyond the notion of an ephemeral fad into being assimilated as a mainstay in American food culture.  
In Hawaii, ramen shops continue to open, adding fresh options–some uniquely original, some popular noodle houses from Japan–to an industry that continues to accommodate the original ramen pioneers to the islands.  There are so many variations beyond the standard salt, shoyu, miso, and tonkotsu, with unique broths being crafted by innovative chefs featuring a myriad of topping combinations.  Here are a few spots to consider:
1) Ezogiku
Ezogiku is one of the first ramen establishments in Honolulu, having opened its doors in the early 1970s.  The Tokyo ramen chain decided to make Hawaii its first location outside of Japan, and the casual shop in Waikiki continues to serve the community comforting bowls of miso ramen and charsiu ramen.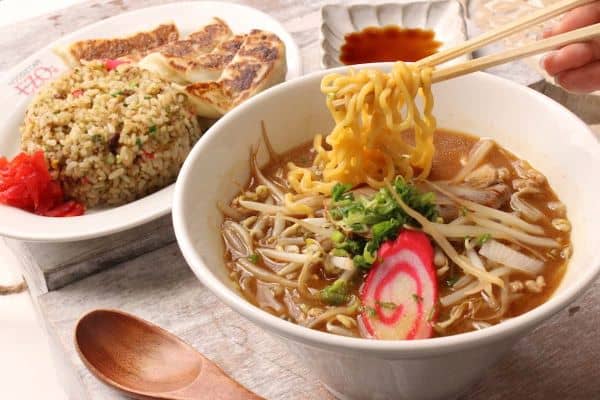 Despite the competitive nature of the ramen industry in Hawaii, Ezogiku maintains relevance with the ever-evolving market by offering innovative dishes, such as the Mulberry Tomato Ramen and the Silky Vegan Ramen.  It will continue to be a Hawaii mainstay hopefully for generations of noodle lovers to come.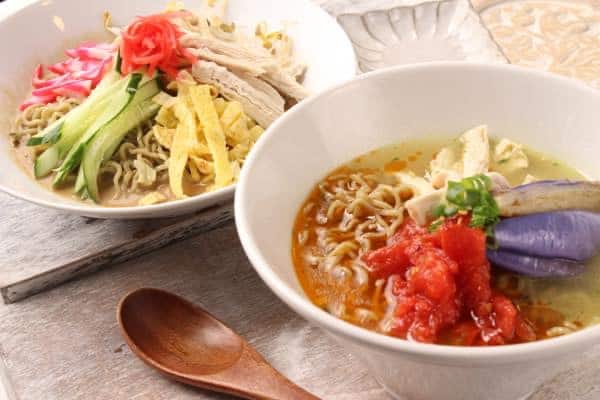 Ezogiku >> Get a special offer!
2239 Waikolu Way, #6, Honolulu, HI
(808) 379-0490
Sun-Sat, 11:00am – 8:00pm
2) Naniwa-ya Ramen
Although the ramen stall located in Ala Moana Center's Makai Market no longer has any ties with the original founder who operated a Japanese restaurant under the Naniwa-ya name at the Royal Hawaiian Center, Nanawa-ya Ramen maintains its popularity among locals and visitors.  After being purchased about three years ago by Dome U.S.A., LLC, the parent company which also owns Ramen Santouka, Naniwa-ya continues to offer its signature tontori-based soup (made from boiling down pork and chicken bones) scented with dried shrimp, shiitake, ginger, and shoyu among a host of other ingredients.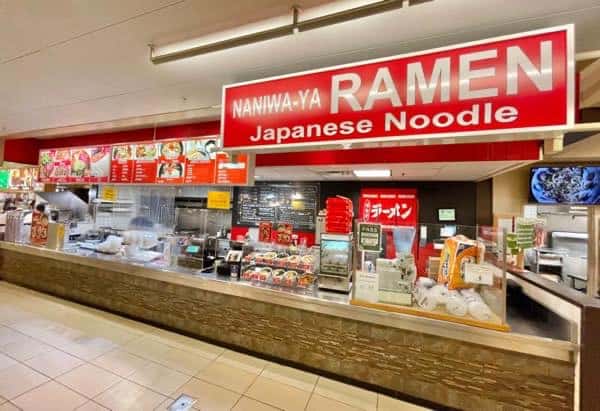 Among the most popular ramen, the shoyu and miso broths express a lighter quality than most found in Hawaii, which tend to lean towards the heavier and creamier tonkotsu style soups.  The noodles maintain the original recipe, having the perfect amount of koshi (firm texture).  The shoyu ramen exhibits beautiful aromatics, with an authentic but delicate note that exhibits a balanced saltiness.  The spicy beef ramen adopts a more Chinese spicy beef noodle approach with stewed beef cubes cooked down for 4-5 hours before being added atop the base soup infusing star anise and raiyu (chili oil).  The soup takes on a slightly gamey nuance with the extracted beefy flavors, resulting in a beautiful layering of flavors that makes this one of the top sellers.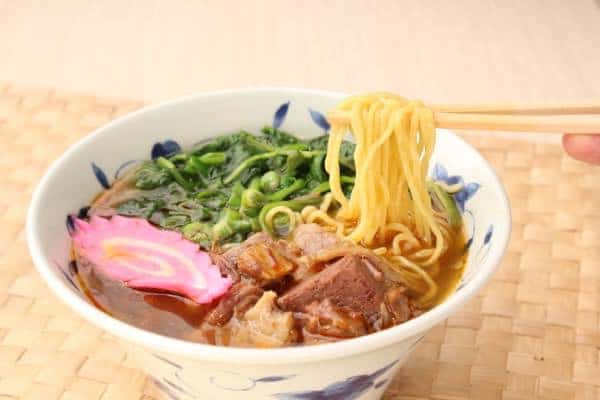 Naniwa-ya Ramen >> Get a special offer!
Ala Moana Center, Makai Market, 1450 Ala Moana Blvd., Honolulu, HI
(808) 955-0066
Mon-Sat, 11:00am – 8:00pm; Sun, 11:00am – 7:00pm
3) Hokkaido Ramen Santouka
Also belonging the same parent company as Naniwa-ya Ramen, Hokkaido Ramen Santouka offers a different take on ramen.  While Naniwa-ya Ramen expresses lighter notes, Hokkaido Ramen Santouka features a creamy, white tonkotsu base for each of its noodles.  The founder, Hitoshi Hatanaka, who hails from Asahikawa in the northern island of Japan, set out to craft his ideal ramen and has since succeeded.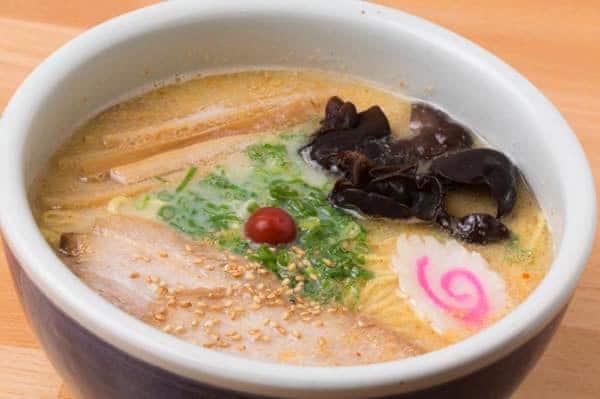 Using the mild-flavored white pork-based broth as a base, Santouka creates a variety of soups including shio (salt), shoyu, miso, spicy miso, charsiu, and a tokusen toroniku ramen which showcases roasted pork cheeks that have beautiful marbling and must be served separately or the fats will immediately melt into the soup.  The noodles have a toothsome quality that has gained this ramen shop its loyal following.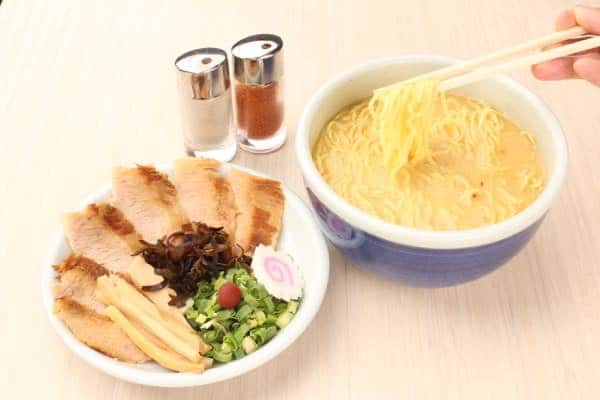 Hokkaido Ramen Santouka >> Get a special offer!
https://www.santouka.co.jp/en
801 Kaheka Street, A-8, Honolulu, HI
(808) 941-1101
Sun-Sat, 11:00am – 10:00pm 
4) Ramen Bario
Hailing from Shimbashi in Tokyo, Ramen Bario prides itself on its rich, tonkotsu broth created by boiling pork bones down for over 20 hours.  Each fresh batch of soup infuses some of the finished soup from a previous pot, ensuring a silky richness and depth of flavor.  The Bario Original Ramen incorporates the boldly flavored Tokyo-style pork bone broth with a garlic shoyu tare paired with a thick noodle.  Just for Hawaii, Ramen Bario also prepares an exclusively different line of tonkotsu ramen that features the mother broth accented with a salt tare and black garlic oil to impart a different flavor profile.  Plus, the noodles are thinner, providing an entirely unique experience from its original offering.
Among the most popular presentations are the Bario Egg Ramen which showcases the original soup with thick slices of charsiu made in-house using a proprietary soy-based marinade and a beautifully seasoned ajitama with a melty soft yolk.  Those who love spicy foods will appreciate the Spicy Ramen, which comes in four tiers–mild, hot, fire, and Kilauea, the ultimate level that requires the signing of a liability waiver prior to consumption because of its overtly spicy nature infusing lethal Carolina Reaper peppers.  Are you up for the challenge?  Buyer beware!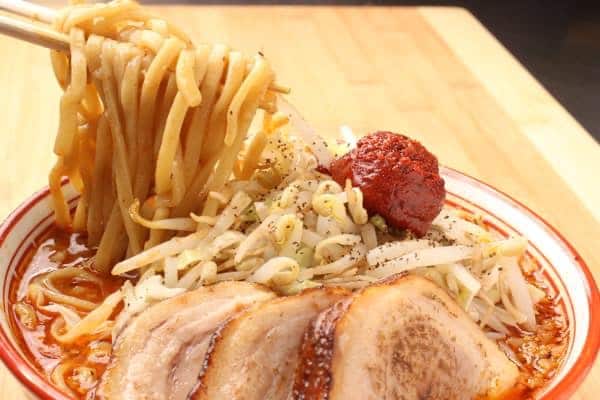 Ramen Bario >> Get a special offer!
https://www.bario-hawaii.com/
Ala Moana Center, Makai Market, 1450 Ala Moana Blvd., Honolulu, HI
(808) 942-2025
Mon-Thu, 11:00am – 7:00pm; Fri & Sat, 11:00am – 8:00pm; Sun, 11:00am – 6:00pm
5) Kamitoku Ramen
Kamitoku Ramen, which originated in Tottori, Japan, offers gyu-kotsu (beef bone) ramen, featuring noodles bathed in a rich, emulsified beef broth.  While it is relatively new to Hawaii, Kamitoku Ramen has enjoyed a long history of doing business in Japan–65 years strong–before taking the leap overseas with its first brick-and-mortar locations outside of its home country.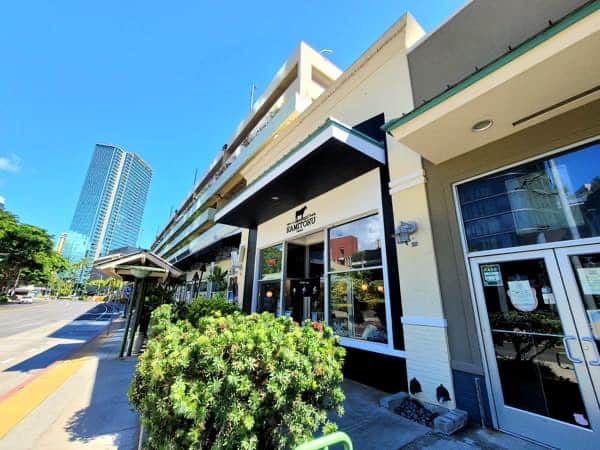 The ramen is inspired by the Chinese beef noodle dishes found in Manchuria but takes on a uniquely Japanese approach with each of its different presentations, including shoyu, yuzu, miso, spicy, tantan, se-abura, and the signature "Beefy Wild" presentations.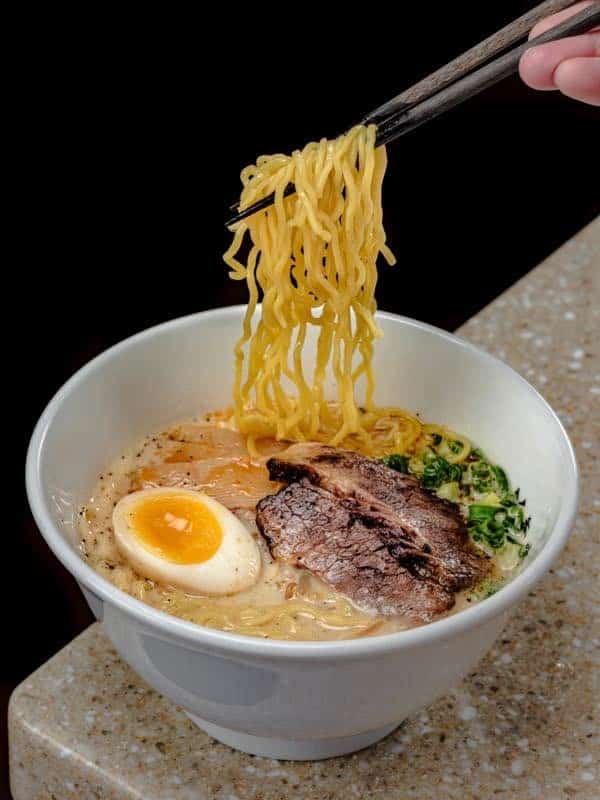 Kamitoku Ramen >> Get a special offer!
https://kamitokuramen.com/ward-center/?lang=en
1200 Ala Moana Blvd., Suite 657, Honolulu, HI
(808) 784-0292
Mon-Sat, 11:00am – 3:00pm, 5:00 – 9:00pm; Sun, 11:00am – 3:00pm, 5:00 – 10:00pm
6) Hokkaido Ramen Natsuboshi
A newer, original ramen shop located in the second floor food court of H Mart in Kaka'ako, Hokkaido Ramen Natsuboshi is the culmination of years of experience by a ramen chef who worked in the kitchens of a famous Hokkaido ramen chain.  After relocating to Hawaii, the entrepreneur decided to make an attempt at crafting his own ramen in May of 2020, modeling his bowls along the Sapporo style as found on the northernmost island of Japan.  
Here, the complexity of the soup is expressed through boiling down pork bones, chicken bones, seafood, ginger, garlic, and other ingredients for over 10 hours.  To amp up the flavors, the chef sautes vegetables with meat in oil before reincorporating them back into the broth of each individual bowl before adding a house-made shoyu or miso tare.  The noodles are yellow in color, in line with Sapporo tradition, but are thicker so as to resist becoming soggy quickly when submerged in the broth.  Toppings are generally orthodox, with bean sprouts, green onions, bamboo shoots, fish cake, ajitama, and char siu, but some bowls do feature a few surprises.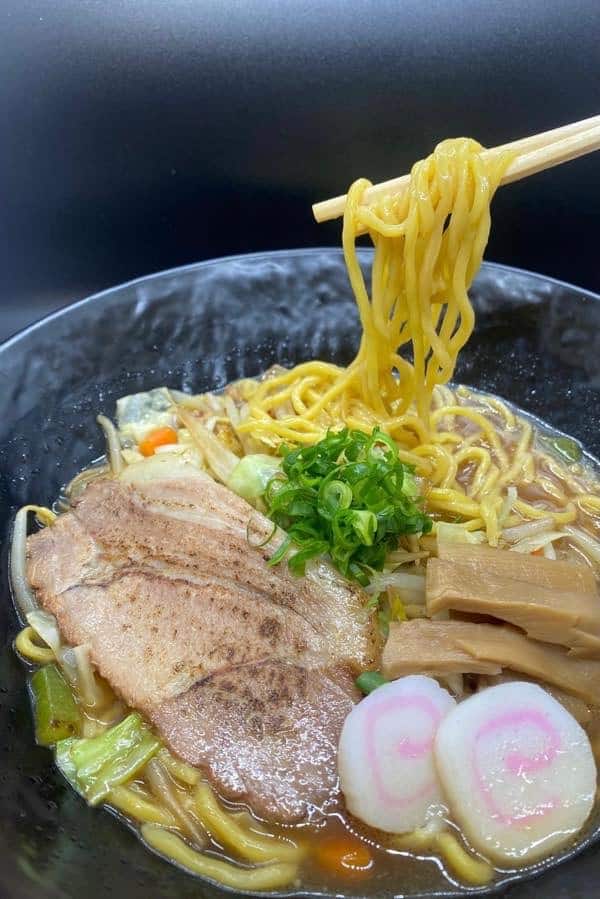 The popular miso ramen, for example, adds sliced onions and green bell peppers as toppings to complement the flavorful broth that elicits a lighter, more elegant style.  Another, the spicy ramen is spruced up by chopped choi sum mixed with capsaicin.  The addicting bowl of ramen is deceptive in that the broth does not otherwise feature many visual traces of chili which do reveal themselves immediately upon taking a sip of the broth.  However, the amalgam of flavors are beautifully orchestrated, making this another bowl of ramen worth the endorphin trip.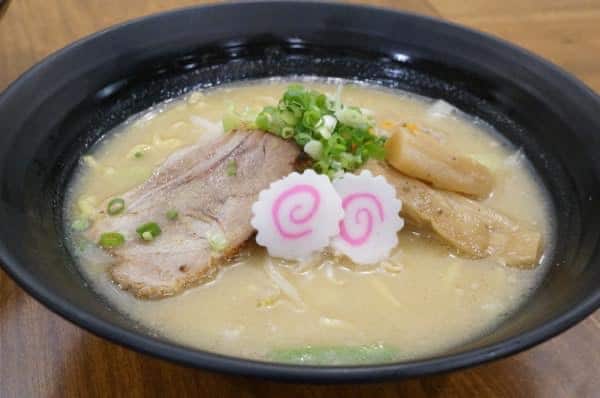 Hokkaido Ramen Natsuboshi >> Get a special offer!
458 Keawe Street, 2nd Floor, Honolulu, HI 
(808) 201-3938
Sun-Thu, 11:00am – 8:00pm; Fri & Sat, 11:00am – 9:00pm
7) Kamukura Ramen
One of the newest ramen shops to open in Hawaii is Kamukura Ramen, a noodle outfit that opened in Osaka, Japan about 36 years ago.  The brainchild of a French chef, Kamukura Ramen seeks to establish a unique experience unlike any other.  Forging a new type of broth crafted along the lines of a French consomme but scented with the infusion of soy, founder Masato Fuse developed proprietary soup, tare, and chuka chijirimen noodle recipes that together strike a delicate balance.  Natural sweetness extracted from the boiling down of vegetables and chicken, each bowl of Oishi Ramen adds chopped Chinese cabbage to offset the sodium of the broth.
The Seasoned Egg Ramen is by far one of the most popular, adding an ajitama (seasoned egg) and slices of house-made charsiu to the delicate broth punctuated by bold soy notes.  A new menu item to the Hawaii location that was just added days ago is the Age-Gyoza Ramen which tops the original ramen with crispy deep-fried gyoza stuffed with a flavorful combination of pork and chives.  The eatery has a dine-in counter, but is more designed as a take away stall, so the ramen is served in a disposable vessel.  Be sure to keep an eye out for the second location of Kamukura Restaurant in Hawaii is slated to open next spring at Lilia condominium currently under construction in Waikiki.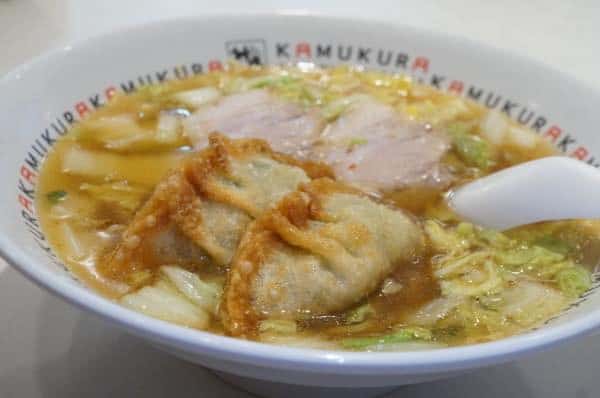 Kamukura Ramen >> Get a special offer!
Lanai Food Court in Ala Moana Center, 1450 Ala Moana Blvd., Honolulu, HI
(808) 400-0705
Mon-Fri, 10:30am – 7:30pm; Sat, 10:00am – 7:30pm; Sun, 10:00am – 6:00pm