Our short roundup ranges from traditional saimin stands to newer but popular watering holes.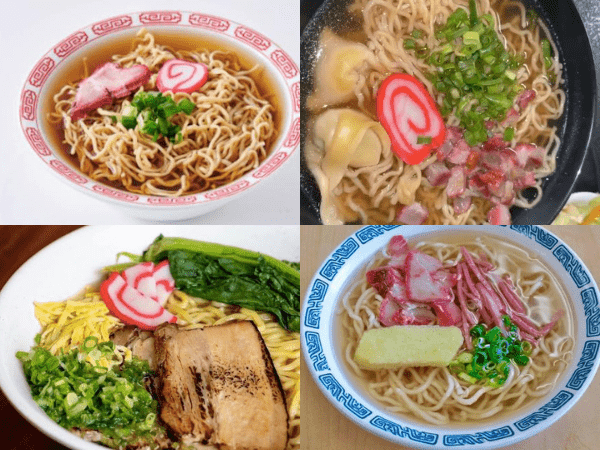 A blending of Chinese, Japanese, and Filipino immigrant cultures, saimin is a unique local food that originated in Hawaii.  Among the many saimin restaurants, some have longstanding histories, while others are relatively new.  This roundup will introduce our preferred selections for Hawaii's very own noodle soup.
What is Saimin?
Saimin has its roots in the plantation era of Hawaii.  It is believed to have originated when Japanese plantation workers, longing for a taste of their homeland, began to eat Chinese noodles bathed in a light Japanese soup stock made from shrimp and kelp. 
Saimin's contemporary presentation has a colorful aesthetic, including garnishes as crimson glazed char siu (barbecued pork) scented with Chinese five spice, spongey pink and white naruto (fishcake), egg, and scallions, similar to a shoyu (soy sauce) ramen.  Its delicate taste is equally captivating.  An accompanying bowl of hot mustard, to be mixed with soy sauce, makes for an optional condiment for dipping noodles, char siu, or supplemental wun tun dumplings, but many simply dissolve it into the broth to make for a bolder flavor.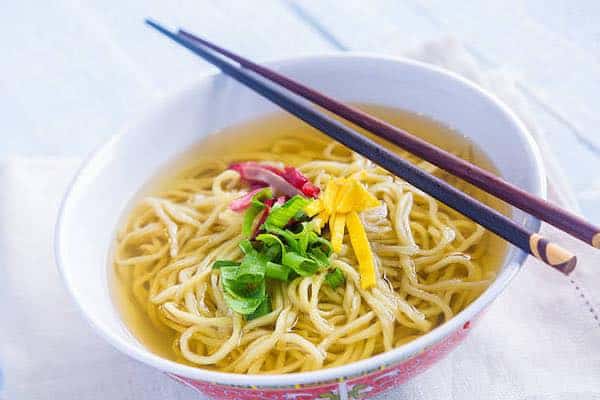 Our picks for saimin spots
One of the most convenient locations on Oahu to order a hot bowl of dashi soup with noodles is Zippy's, a popular local chain with dine-in restaurants and take-out counters boasting over 20 locations on the island, including one on the Big Island and one on Maui.  Most locals appreciate the simplicity of Zippy's saimin, served with char siu, naruto (referred to as "kamaboko" in Hawaii), and green onions.  The broth is equally modest, light in composure and flavor, often complemented by shoyu and mustard.
The Zip Min, available for dine-in only, is a heartier version of saimin with added toppings such as eggs, fried shrimp, and wun tun dumplings served in a metallic bowl.  This elevated perspective on saimin is quite popular among locals.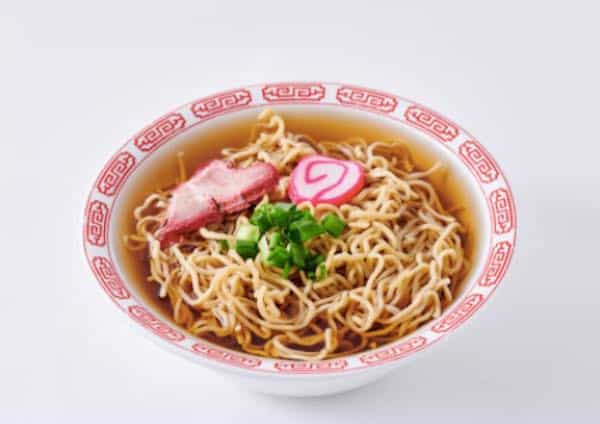 Zippy's
1222 South King St. Honolulu HI
6:00a.m. – 10:00 p.m.
808-594-3720
https://www.zippys.com/
2) Sekiya Restaurant
Sekiya Restaurant, a long-standing restaurant established in 1935, is located across the street from Kaimuki High School. This modest establishment is popularly known as an "okazu-ya," an Asian version of a delicatessen where patrons may enjoy Japanese-style side dishes, rice balls and sushi. Saimin is among those popular menu items.  The rendition is quite chaste, topped with just char siu and green onions. The broth is clean and refreshing, with a subtle hint of dried shrimp.  Consider ordering the "Saidon," a hybrid noodle soup comprised of equal portions of Chinese noodles and its thicker cousin, the udon.
 

 

View this post on Instagram

 
Sekiya Restaurant
2746 Kaimuki Ave, Honolulu, HI
Monday and Thursday 9:00-20:00, Tuesday and Wednesday 9:00-16:00, Friday and Saturday 8:00-21:00, Sunday 8:00-20:00
808-732-1656
http://sekiyasrestaurant.com/
3) Tanaka Saimin
Tanaka Saimin, located along the bustling Nimitz Highway on the way to Waikiki from the airport, has been in business for over 60 years.  Here you can enjoy a simple saimin with scallions, char siu, and naruto, but the Wun Tun Min as shown in the photo is another a popular pick. Tanaka Saimin's soup boasts a particularly bold note of dried shrimp and konbu (kelp).  Other variations of saimin are also offered, including Kim Chee Saimin, Moyashi (bean sprouts) Saimin, and Teriyaki Beef Saimin.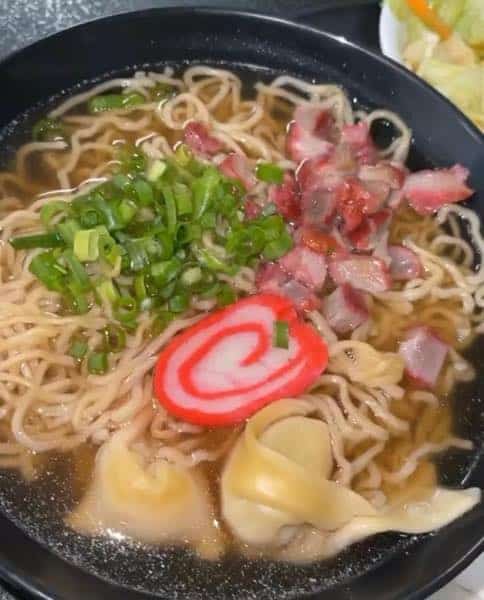 Tanaka Saimin
888 N. Nimitz Highway, Unit #103 Honolulu, HI
Mon-Thu-Sun 7:00am-9:00pm, Fri-Sat 7:00am-10:00pm
808-524-2020
https://tanakasaimin.com/
4) Papa Kurt's
Paying homage to Chris Kajioka and Mark "Gooch" Noguchi's mentor, the late Kurt Hirabara of Hirabara Farms, Papa Kurt's is a local saimin stand that opened amidst the pandemic in 2020.  The menu is straightforward:  saimin (and wun tun min), burgers, teri sticks, and bento. The char siu incorporated in their version of saimin is not the Cantonese red glazed version often used in Chinese noodle soups.  Instead, Papa Kurt's features the melt-in-your-mouth slice of pork belly often found draped over a bowl of Japanese ramen. Since the broth and char siu are more along the lines of a Japanese ramen as compared to other saimin found in Hawaii, this adaptation may be more appreciated by ramen lovers.
Papa Kurt's is currently relocating from its Isenberg location to its new home next to 808 Island Katsu Burger in the 808 Center, a commercial building near the Walmart in Honolulu, so stay tuned for its reopening.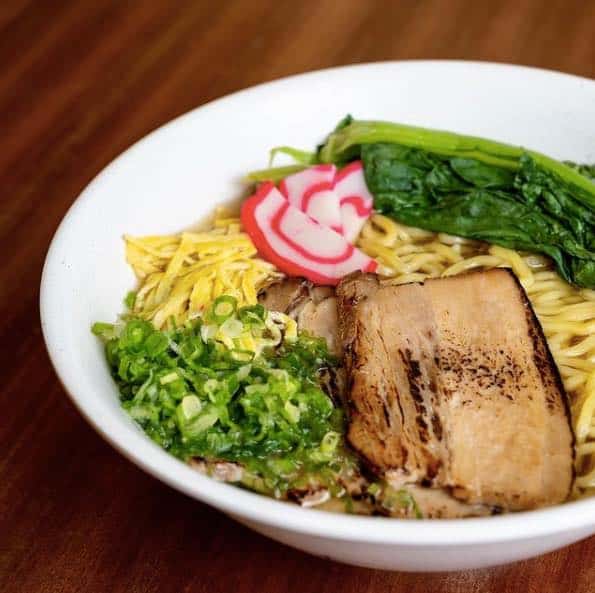 Papa Kurt's
808 Sheridan street.
https://www.papakurts.com/
5) Shiro's Saimin Haven
Shiro's Saimin Haven has its locations in Aiea and Ewa Beach.  A hard-working Japanese-American named Franz Shiro Matsuo founded his eponymous saimin stand in 1969, and the two locations are currently run by his children and grandchildren.  Maintaining Shiro's mission to serve home-style comfort food at reasonable prices, the cost of a saimin with simple garnishes is still only $5.10.  The restaurant offers an impressive roster of saimin and wun tun min, boasting over 50 selections!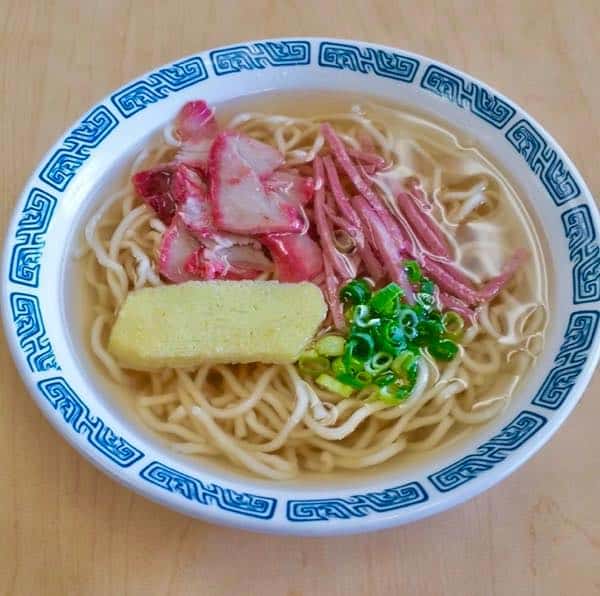 Shiro's Saimin Haven
Waimalu Location
98-020 Kamehameha Hwy Aiea, HI 96701
7:00am – 8:30pm
808-488-4834
Ewa Beach Location
91-919 Fort Weaver Rd. Ewa Beach, HI 96706
7:00am – 8:00pm
808-689-0999
https://shiros-saimin.com/
6)Shige's Saimin Stand
Shige's Saimin Stand is a saimin eatery located in Wahiawa in Central Oahu, and has been very popular among locals ever since it opened in 1990.  The noodles are handmade daily, and the broth enriched with a bold beefy flavor.  Topped with char siu, pork, naruto, egg, Spam®, and scallions, Shige's Saimin Stand represents the quintessential saimin.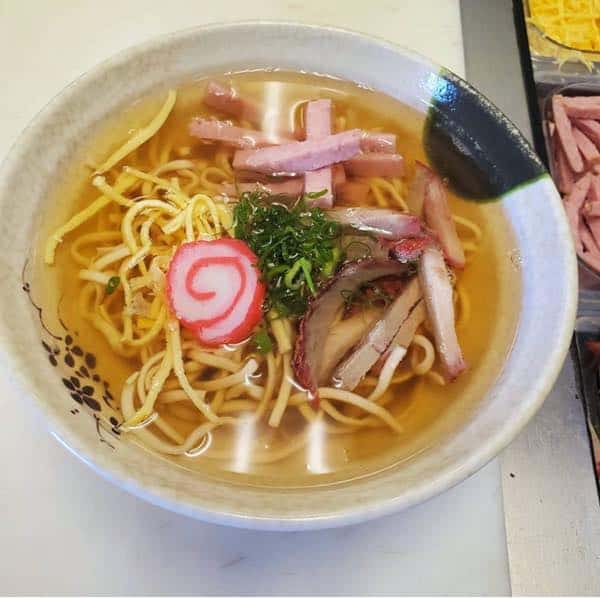 Shige's Saimin' Stand
70 Kukui St, Wahiawa, HI
Tuesday – Saturday 10:00 – 22:00
808-621-3621
https://www.instagram.com/shigessaiminstand/
There are dozens of restaurants in Hawaii where you may enjoy a soulful bowl of noodles wading in a warm comforting broth. Besides the spots highlighted above, saimin may be found in a variety of locations, anywhere from local family restaurants to specialty stands.  So if you are a true noodle lover, give Hawaii's take on ramen a try.