We've seen a lot of new Waikiki restaurants open in 2021. A combination of pandemic closings and new opportunities means a whole crop of new players in the in Waikiki. Featured below are some of our favorite new Waikiki restaurants. Click the name of the restaurants below to see exclusive Oahu's Best Coupons deals! 
(808) 888-2112
A sister store of popular Kaimuki Thai restaurant, Thai Issan, Dokkeo serves up Thai classics in the heart of Waikiki. Thai Issan has been a go to Thai spot for locals for years, so we are happy that we can finally grab some of the Thai flavors we love right in Waikiki.  
(808) 922-1500
Upstairs Waikiki is located on Waikiki Beachwalk, home to popular restaurants such as Hard Rock Cafe. Opened in October of 2021, it's a relative new comer to the Waikiki restaurant scene. What makes Upstairs Waikiki unique is that they feature menu items from other popular Honoulu resturants like Hachibei and Sushi Sho.  Featuring a stunning interior and full bar,  take a break from the hustle bustle of Waikiki Beachwalk and enjoy a nightcap at this new restaurant lounge concept. 
(808) 926-8082
Another great Waikiki Beachwalk restaurant opened in 2021, Ginza Bairin Yoshoku Bistro is worth a visit.  One side of the restaurant offers their wildly popular tonkatsu (breaded and deep fried pork cutlets), and the newly opened side offers yoshoku cuisine. We've covered yoshoku here on OBC before – it's basically Japanese style western food. Think pastas, burgers, and sandwiches with a distinctly Japanese twist. For example, the burger won't come on a bun, it'll come sautéd in a tomato based sauce and served with a side of rice or bread. 
Yoshoku developed as western influences grew in the Meiji period of Japan in the late 19th century.  Some popular dishes include Hamburg Steak, Omurice (omelette rice), curry rice, and katsu sandwiches.  There aren't too many restaurants that mainly serve yoshoku cuisine outside of Japan, so make sure to try some while you're on the island. 
(808) 931-6222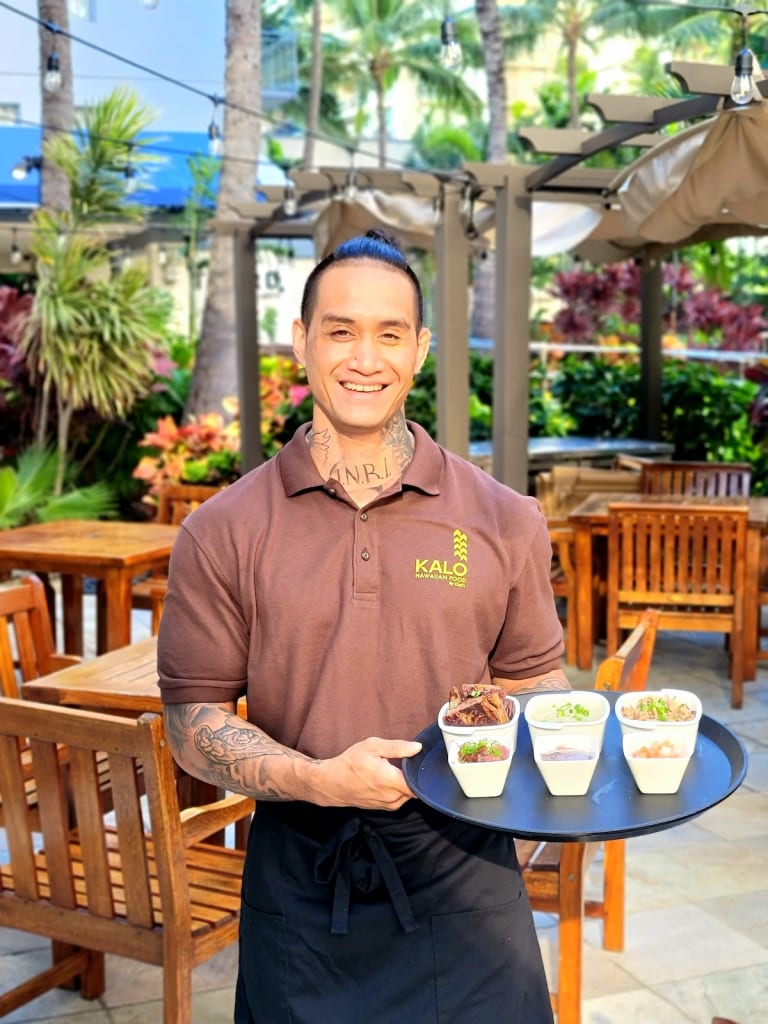 Founded by award-winning Hawaii Chef, Chef Chai, Kalo Hawaiian food offers traditional Hawaiian food right in Waikiki!  If you're looking past the lunch plate fare and want to try authentic Hawaiian flavors,  you'll find delicious, truly local dishes at Kalo. It's also one of the few Waikiki restaurants that serve Hawaiian food for breakfast and dinner, so you've got some scheduling options available. 
Chef Chai recommends the Hawaiian Signature Sampler. It features Pipikaula, Kalua Pork, Ahi Poke, Chicken Long Rice, Lomi Salmon, Poi and Steamed Rice. Our mouths are watering just looking at the photos! 
(808) 888-0332
Royal Lobster is a little hard to find, but is worth the visit. Tucked away one floor down off of Royal Hawaiian Avenue, the small storefront serves fresh, finger licking good lobster rolls made with 100% fresh lobsters from Maine! They load the whole lobster in a sweet brioche bun, lightly seasoned and doused in a delectable butter sauce. All rolls are market priced, so make sure to use our coupon when visiting to get the best deal!
We are keeping our eyes on the streets of Waikiki, and will bring you anything new that we find! Make sure to follow us on instagram for the latest info,  and check out our coupon pages for deals to Oahu restaurants and activities!